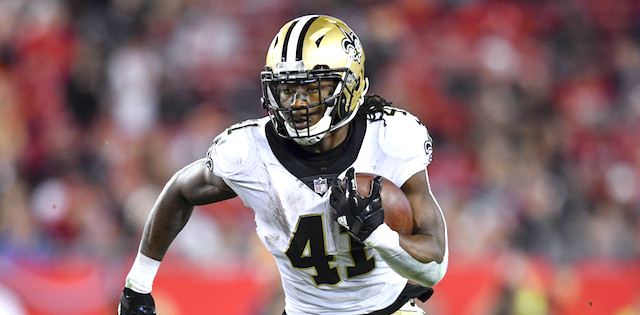 The Saints are coming off a hard-fought loss to the 49ers. It was an amazing game that featured no defense whatsoever. On the other hand, the Colts' best player in their loss was second-year linebacker Darius Leonard. This game should be different. Not only is the New Orleans defense going to show up, this means the Colts offense is not going to put up 35 points. Not in the Super Dome and not against an angry and elite Saints Defense.
The Saints, for their part, just might put up a 50-burger. New Orleans knows they need to win out to have a chance at a bye week. Currently one game back of the 49ers and tied with the Packers, New Orleans will do everything it can to win these last three games. Drew Brees played out of his mind last week, even throwing in a rare rushing touchdown to boot. Michael Thomas is emerging as the best receiver in the NFL this season. If Alvin Kamara can get anything going these last three weeks, the Saints might be unstoppable. As a Saints fan, I can only hope.
In this contest, the fantasy goodness should reside almost solely on the New Orleans sidelines. With Jacoby Brissett floundering due to lack of weapons, the Colts can only hope to be competitive in this one. Well, here's to hoping...
Editor's Note: Get any rest-of-season NFL Premium Pass for 50% off. Our exclusive DFS Tools, Lineup Optimizer and Premium DFS Research through the Super Bowl.
Sign Up Now!
Indianapolis Colts vs New Orleans Saints
Game Time: Monday December 16, 2019 8:15 pm
Game Line: New Orleans -9.5  O/U 47.5
Team Records:
Indianapolis Colts 6-7
New Orleans Saints 10-3
Indianapolis Colts Offensive Rankings: Pass 25th, Run 6th
Indianapolis Colts Defensive Rankings: Pass 22nd, Run 8th
New Orleans Saints Offensive Rankings: Pass 8th, Run 16th
New Orleans Saints Defensive Rankings: Pass 20th, Run 5th
Must-Starts
Top Performers That Have To Be In Your Lineups
Drew Brees (QB, NO) - Holy great game Batman! Six touchdowns, including a rushing score in a loss to San Francisco shows that Brees is far from done being a fantasy monster. The game also helped him tie a dubious record. He is now tied with Ben Roethlisberger for the most games with four or more pass touchdowns and over 300 yards in a loss. If he does this again this week, it will not be in a loss. The all-time leader in yards, completions and accuracy will show again this week how good he and this Saints offense can be. Don't expect a down week from anyone on the New Orleans team, starting with their emotional leader and quarterback.
Alvin Kamara (RB, NO) - Let's face it, he has been disappointing much of the season as a consensus first-round pick. But how can you sit him now? After double-digit touchdowns last season, the only time he has scored this season was against the Buccaneers. But we still stick with him. Why? Explosiveness. He is still one of the best weapons in the NFL and he is still a PPR monster at the position. The touchdowns may or may not come. But the points are still there in form of receptions and this still means a lot. After waiting this long for him this season, you just can't quit him. Not now.
Latavius Murray (RB, NO) - In the absence of Kamara, Murray has taken a step up. Along with 40 receiving yards last week, Murray led the team with a nice 69 rush yards as well. The big bruiser has done more this season than a lot of people thought as the backup in this offense. He has taken over the productive Mark Ingram role and run with it. In a plus matchup this week, he will continue to run.
Michael Thomas (WR, NO) - Do you really need an explanation? Thomas is #1 in the NFL with 121 receptions and 109.5 receiving yards per game. *drops mic
Jared Cook (TE, NO) - Two touchdowns in the first quarter before a concussion last week shows his potential in this one. He has had a touchdown in four straight games. As long as he is healthy and playing in this game, he is a must-start. But watch the injury reports to make sure he is a start. If not, Josh Hill will make a good replacement. Unless you know early and can grab someone who plays Sunday. David Njoku or O.J. Howard for instance.
Jack Doyle (TE, IND) - I had to at least get one Colts player into the start column. With Eric Ebron out, it only makes sense to make it their only remaining offensive weapon who is healthy. Doyle is not great but neither is the tight end position on the whole. With a 25% target share in the offense, the amount of opportunity can make up for the lack of big plays. A top-10 tight end finish could be in the cards by default. He should not kill you at the position, as even without a touchdown, he could find a solid six-for-70 line with a possible touchdown.
Consider Sitting
Players To Avoid Putting In Your Lineup If Possible
Nyheim Hines (RB, IND) - The pass-catching back in Indy. Not much more needs to be said here. His snap count will be far below that of Marlon Mack. Mack is not expected to have a good game, so why should we want to trust Hines in the same game.? We don't.
Zach Pascal (WR, IND) - He is the WR1 by default only, when T.Y. Hilton is out. Against a typically strong team defense in New Orleans and a former Pro Bowl cornerback in Marcus Lattimore, this is not a good reason to start him. Pascal could be taken out of the game pretty easily in this one. This could lead the Saints pass rush, behind Cam Jordan, to get to Brissett early and often. This will, in turn, lead to even less time for anything to happen on offense. The Colts have gotten worse on offense as the season has gone on. Injuries have had a lot to do with it but the injuries are still there. This means Pascal is going to be on my bench alongside the other injured Colts stars already there.
Update: T.Y. Hilton is expected to make his return and play.
T.Y. Hilton (WR, IND) - Hilton is finally back in the lineup. Some thought he would miss the rest of the season, so this comes as a bit of a pleasant surprise. But being back does not mean immediate dividends for those who held on to him and are still in the playoffs. Speed is a major part of his game and coming off a calf injury, he could still be slowed a bit. Another factor to worry about is his matchup against Marshon Lattimore, the number one corner for the Saints. If Hilton is not fully healthy, he may struggle in the game. He could break one Monday night, but it will be tough to rely on. Even if he does suit up, it would be startling to see him get full usage. At this point, you probably don't have room for him in your lineup as he was questionable to start all week. If you are in a tough spot, you start him and hope for the best. But if you have other options, it may be best to hold off on the risks of low usage and in-game re-injury.
Potential Sleepers
Which Players Could Surprise?
Jacoby Brissett (QB, IND) - If we don't like his surrounding cast, it is hard to like the conductor of the orchestra either. With T.Y. Hilton, Parris Campbell and Eric Ebron all out, the chances of Brissett doing much of anything against Marcus Lattimore and company are slim. That is not a chance worth taking in the semi-finals of your playoffs. If you have been riding him, or if you are in a deep league and he is the only option, it is going to be tough sledding getting a win. But again, like with Mack, it is hard to make him a full sit as a starting quarterback. Brissett could put up garbage time stats if this game gets out of hand early.
Update: T.Y. Hilton is expected to make his return and play.
Marlon Mack (RB, IND) - You would think a starting running back on an NFL team is a must-start. But not this one. Coming back last week, Mack had 38 rush yards and a touchdown against the top-ranked Buccaneers run defense. This week is not much easier as the Saints come in ranked fifth in run defense. The scoring for the Colts will be hard to come by this week. A touchdown is much less certain than it was last week as the New Orleans pass defense is far superior to the Buccaneers. It will be a struggle for any player to have a good game against them here. The only reason he is not a must-sit is the fact he is a starting running back and you may have no other option than to play him here.
Ted Ginn (WR, NO) - He may not be the fastest player in the league anymore, but he is still fast enough to run by most safeties and cornerbacks in the game. It only takes one of those plays to make his week and win you a game. Isn't that really what it is all about? He should get his four to five targets. If he hits on one of them, it will be golden. If he doesn't, it will be a wasted roster spot. Depending on the rest of your team and its makeup, he might still be worth the risk of a start.
Tre'Quan Smith (WR, NO) - We saw Smith finally get involved in the Saints passing attack last week. New Orleans was able to do anything they wanted against San Francisco, shockingly. This week should be no different against Indianapolis. With Drew Brees coming out and acknowledging the trust he has in Smith, this could be a sign of better things to come for the so-far disappointing receiver.
Josh Hill (TE, NO) - After Jared Cook went out last week, we saw Josh Hill get his own touchdown reception. If Cook were to miss this week, Hill could be a solid bet for another one. But if Cook is going to be in the lineup, this sleeper immediately becomes null and void.
More Start/Sit Advice