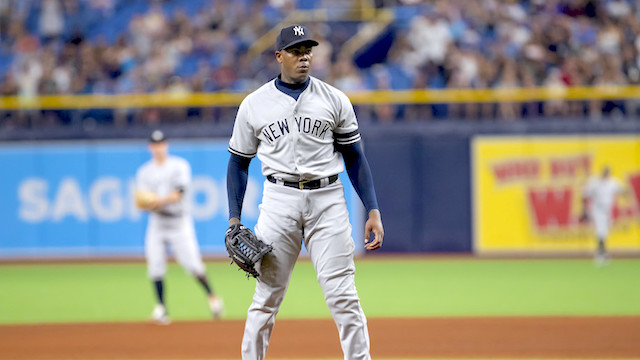 It was a very interesting week in bullpens across the league as one closer had a baby, another landed on the injured list, and another got demoted after narrowly avoiding the injured list. Some messy bullpens got a little clarity and some previously clear bullpens got quite a bit murkier. A closer who has been perfect is apparently not good enough, and a closer far from it may get his job back.
Bullpen news seems to come in waves, as we'll go one week where maybe a pair of blown saves is the biggest news to discuss into another week where five bullpens have gone through major changes. Fantasy baseball, folks! There's a reason why most people I asked to join my dynasty league said, "no, yeah, no thanks".
Be sure to also keep an eye on our RotoBaller Fantasy Baseball Closers and Saves Bullpen Depth Charts. They're updated daily, or sometimes even more often in this wild 2022 baseball season. 
Editor's Note: Our incredible team of writers received 13 award nominations by the Fantasy Sports Writers Association including Baseball Writer of the Year, Football Writers of the Year, Golf Writer of the Year and many more! Be sure to follow their analysis, rankings and advice all year long, and win big with RotoBaller!
Read More!
New York Yankees - Bullpen and Closers News
The Yankees are 30 games over .500 and closer Clay Holmes is on a 30-game scoreless streak. He's been unbelievable this season, going 11-for-11 in save opportunities with a 0.29 ERA. Zero point two nine. He's allowed just one run in 30 2/3 innings. So...he's definitely the closer, right? Well, maybe not. Manager Aaron Boone has said that once Aroldis Chapman returns from the injured list, Holmes will be used in "high-leverage situations against the toughest parts of opposing lineups". In other words, Holmes will be in the fireman role, while Chapman will be the one reserved for the more traditional ninth-inning save chances. Holmes will still be in the mix for saves, as those high leverage situations against the toughest parts of opponent lineups will sometimes be in the 9th inning, but he won't be working exclusively as the closer once Chapman returns, which will obviously impact his fantasy value.
Risers: Aroldis Chapman
Fallers: Clay Holmes
Philadelphia Phillies - Bullpen and Closers News
The Phillies phamously went out and spent a lot of money on a bunch of designated hitters to play in their outfield. That's worked out as expected on the field. They also did some fixing in their bullpen, but there's just something that happens to relief pitchers when they put on a Phillies uniform...Corey Knebel was outstanding last season for the Dodgers serving as a setup man and occasional opener. This year, he entered the season as the Phillies closer and pitched his way right out of the role. A 3.24 ERA looks alright, but the 14.4 BB% and four blown saves tell a better story. After his most recent blown save this week, the team announced that Knebel would be working in lower leverage situations for a while and that they'd use a committee approach in the ninth inning for now. Seranthony Dominguez and Brad Hand are the most likely candidates to fill that role, with either one capable of taking the job and running with it. This will be a key bullpen to watch and pay attention to over the next week or so. Both Dominguez and Hand should be rostered in holds leagues and watched closely in standard formats as well.
Risers: Brad Hand, Seranthony Dominguez
Fallers: Corey Knebel
Chicago White Sox - Bullpen and Closers News
Liam Hendriks took a few days off hoping it would heal a strain in his throwing arm, but no such luck. He was placed on the IL this week, so Kendall Graveman will take over the ninth inning for as long as Hendriks is gone. That may be the one good thing about Tony LaRussa as manager: we never really have to worry about there being a closer by committee on any team he manages. Graveman is worth picking up in all formats even if his value in saves-only leagues will be temporary.
Risers: Kendall Graveman
Fallers: Liam Hendriks
Short Relief - Other Bullpen News
-The Marlins may have found their closer, as Tanner Scott has been in for the past five save opportunities for Miami. He did blow his first save this week, but is still 5-for-6 in save chances, and the Marlins don't really have any better options anyway.
-Dany Jimenez continues to struggle and the early season story that was the A's bullpen has drastically changed. He's still "the guy" in Oakland, but he's on incredibly thin ice and could lose his job with one more bad outing.
-The Red Sox bullpen continues to encapsulate the Elmo fire gif. Tanner Houck seems to be trending toward the role, but he has yet to pitch two consecutive games this season, and Boston figures to be careful with his workload.
-Josh Hader was placed on the paternity leave list and will miss about three games. Devin Williams will close things out for the time Hader is gone.
-Cubs first baseman Frank Schwindel has pitched more than Cubs closer David Robertson this week. The Cubs are very bad.
-The Reds bullpen is also a mess, with Alexis Diaz picking up an ugly save this week. It's probably best to leave Reds relievers alone in most leagues.
Download Our Free News & Alerts Mobile App
Like what you see? Download our updated fantasy baseball app for iPhone and Android with 24x7 player news, injury alerts, sleepers, prospects & more. All free!


More Fantasy Baseball Advice