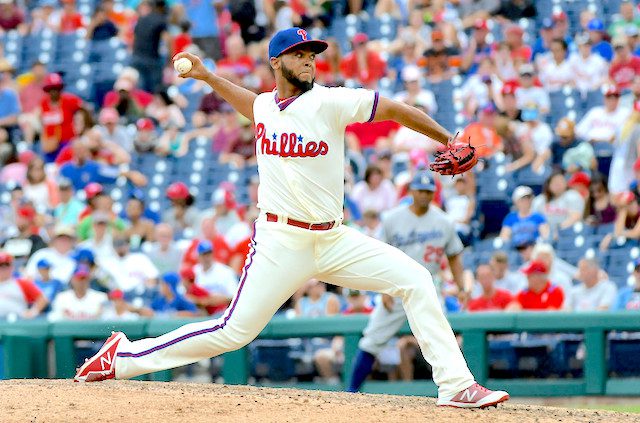 We made it folks! The World Series starts TONIGHT! After weeks of super exciting playoff baseball, we were handed a full work week of...nothing. No Major League Baseball games at all. But now? The World Series. Baseball's two best teams (?) facing one another. After dominating the American League and the National League (?) the Astros and the...(is this right?) Phillies (yeah?) will face off in a best-of-seven to see who wins Rob Manfred's piece of metal.
There's not a lot of fantasy baseball left to speak of, but some leagues run all the way through the end of the playoffs, and DFS and sports betting never sleeps, so we'll take a look at what's left of the two big league bullpens heading headfirst into the World Series.
Be sure to also keep an eye on our RotoBaller Fantasy Baseball Closers and Saves Bullpen Depth Charts. They're updated daily, or sometimes even more often in this wild 2022 baseball season. 
Featured Promo: Want a free RotoBaller Premium Pass? Check out these sports betting promo offers from the top sportsbooks! All new sign-ups get a free bonus offer on their first deposit, and a free year of RotoBaller's Premium Pass for all sports ($450 value)!
Sign Up Now!
Houston Astros - Bullpen and Closers News
The Astros bullpen has been a strength this postseason, with closer Ryan Pressly pitching 5 1/3 scoreless innings while earning four saves. He's allowed just two hits and two walks while striking out eight. Working ahead of him has been Rafael Montero. Montero has also pitched 5 1/3 innings in the playoffs. He has a win and three holds, allowing a run on three hits and three walks with six strikeouts.
Hector Neris has two wins and a hold in just four innings pitched. He's allowed a run on a solo home run but has not allowed any other baserunners and has struck out five. Finally, Bryan Abreu has certainly emerged this postseason, pitching 6 1/3 scoreless innings. He's earned three holds and allowed three hits and two walks while striking out 10.
Philadelphia Phillies - Bullpen and Closers News
The Phillies bullpen has been much less strictly set up than the Astros bullpen has, but they've still been a mostly effective group. Seranthony Dominguez has been outstanding, pitching 7 2/3 playoff innings while picking up a save, two holds, and a win. He's allowed a run on three hits but hasn't issued a walk and has struck out 15. That's a 1.17 ERA but a -0.80 FIP/0.17 xFIP. He's very good. David Robertson missed a series after celebrating too hard, but he's still worked 3 2/3 innings, earning a win and two holds while giving up one run on four hits and two walks with six strikeouts.
Brad Hand has been the weak link in the bullpen for the playoffs, pitching 3 2/3 innings and somehow earning two wins while allowing three runs on five hits and a walk plus a hit batter. He may see lower leverage work in the World Series. The preferred lefty reliever for the Phillies will likely be Jose Alvarado. He's pitched eight postseason innings, allowing three runs on five hits and four walks while striking out nine. He's been anything but lights out, but he's been good enough to collect a win, a save, and three holds. Speaking of lefties, Ranger Suarez has started two games but also earned a save in the game that clinched the pennant for the Phillies. He could be used in a more versatile role if needed.
2023 Locked In Closers: Early Look
There are no sure things in a baseball offseason, and with the rising prevalence of committee bullpens this becomes harder and harder to predict each season, but there are still some bullpens around the league that are pretty much locked in with their closers for next year. Of course, injuries happen, but barring anything wild that no one could predict (like the Josh Hader trade??) the following bullpens seem to have their closers set for 2023:
-Toronto Blue Jays: The Jays could always make a trade or sign a free agent, but Jordan Romano seems pretty certain to be the Opening Day closer in 2023.
-Chicago White Sox: Liam Hendriks is signed through next season and had another great season in 2022. He'll be closing for the White Sox's new manager on Opening Day.
-Cleveland Guardians: Even with the resurrection of James Karinchak, Emmanuel Clase's closer role was never at risk in Cleveland. His 42 saves and 1.36 ERA in 2022 will return for another likely excellent season in 2023.
-Milwaukee Brewers: Devin Williams took over once Josh Hader was traded and will resume closing duties in 2023. With a full season ahead of him, he could be one of the first closers drafted in most leagues.
-Pittsburgh Pirates: David Bednar dealt with some nagging injuries throughout 2022 which limited him a bit throughout the season, but he was still excellent while on the mound. Unless he's traded, he'll open 2023 as the closer for the Pirates.
-St. Louis Cardinals: Ryan Helsley also dealt with some injuries in 2022, but he'll be firing more 104 mph fastballs in the ninth inning for a Cardinals team without Yadier Molina behind the plate in 2023.
-Colorado Rockies: The Rockies gave Daniel Bard a contract extension for some reason, so he'll be the unquestioned closer once Opening Day comes around.
-San Diego Padres: Josh Hader worked his way through struggles and had an elite postseason. He'll open next year as the Padres closer and while his struggles may give some drafters pause, he's likely still among the first closers off the draft board.
Download Our Free News & Alerts Mobile App
Like what you see? Download our updated fantasy baseball app for iPhone and Android with 24x7 player news, injury alerts, sleepers, prospects & more. All free!


More Fantasy Baseball Advice