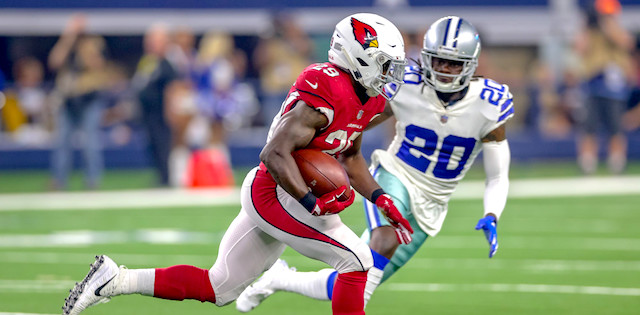 Welcome to another edition of "The Tape Tells All," where I break down some film of an NFL's player performance and try to draw some fantasy football conclusions from that film. After a two-week absence because I was busy prepping RotoBaller for NBA season, I'm back to talk about football.
This week, I'm looking at a Arizona Cardinals running back Chase Edmonds, who just had an incredibly shocking performance in a game where starting running back David Johnson had just one carry.
While this column is usually heavy on the tape, that's going to be a smaller part of this week's column because there are two pressing questions that need to be addressed: what is Edmonds' fantasy value if David Johnson is back at full strength, and what's his value if Johnson is actually injured. We'll spend a good bit at the end of the article talking about this issue.
Editor's Note: Get any full-season NFL Premium Pass for 50% off. Our exclusive In-Season Lineup Tools, Lineup Optimizer and over 150 days of Premium DFS Research.
Sign Up Now!
Background Information
Chase Edmonds is a second-year back out of Fordham. As a rookie, Edmonds rushed 60 times for 208 yards and a pair of touchdowns on a really, really bad Cardinals offense. He was stuck behind David Johnson on the depth chart and with poor offensive line and quarterback play, there was no path for Edmonds to take to find fantasy success.
This year, though, things are different. Edmonds already has 51 carries for 287 yards and four touchdowns in seven games and he's also added 10 receptions for 100 yards and a score. The Cardinals are running significantly more plays now that they have Kliff Kingsbury coaching the team and Kyler Murray quarterbacking the team, which has given a huge boost to this offense.
And then there's David Johnson's injury situation. He played just one snap against the Giants this week after entering the game questionable with a back injury. We don't know if Johnson will be available on Sunday when the Cardinals visit the Saints or not, and if he is available, we don't know how much you can count on him, which brings us back to Edmonds.
In his first workhorse-like action, Edmonds had 27 carries, finishing with 126 yards and three rushing touchdowns. He also added two receptions for 24 yards. Against a Giants Defense that is, admittedly, not super good, Edmonds looked...well, he looked kind of David Johnson-y, if you ask me.
Edmonds has a 96th percentile agility score, which is probably part of how he was able to find success on Sunday. And while he isn't the fastest back in the world -- he ran a 4.55 40-yard dash -- he's still shifty and capable. That was enough against the Giants.
The Game Tape
As I said earlier, I don't want to devote too much time to the tape of Edmonds this week, because I want to save the limited amount of words I've got for the big question, which is what we do with him in fantasy. But let's at least look at a few of his runs from Sunday's contest.
All of Edmonds' touchdown runs were of the 20-ish yard variety, so let's take a look at these plays and try to assign some credit to Edmonds or the line or the lack of defense.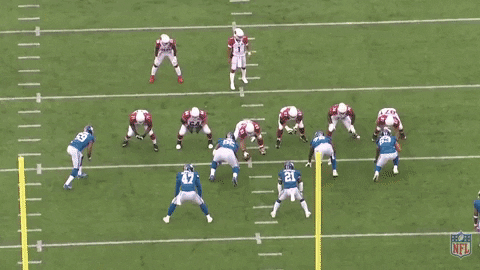 On the above play, the Cardinals run some motion in the backfield, faking the jet sweep, which helps put Edmonds in position to make this play. And while this offensive line has gotten a lot of heat over the last couple of years, they open a huge hole here for Edmonds. I mean, Arizona has so much room that one lineman is able to get through that hole and block a defensive back, further opening space for Edmonds. This is a good run, and he makes a nice cut to get through the hole, but the offensive line does a lot to open this play up. (Which isn't a slight on Edmonds -- there are plenty of backs who see this open hole and then don't do anything with it!)
Another touchdown, this time on a draw play. Defense retreats a little bit and the offensive line does a good job blocking at the first level, but without Edmonds just barreling through an attempted tackle, this is a five or six yard gain. But Edmonds bounces off of that tackle attempt and then is gone. If we're giving credit for this one, let's give most of it to Edmonds, though the offensive line did its job.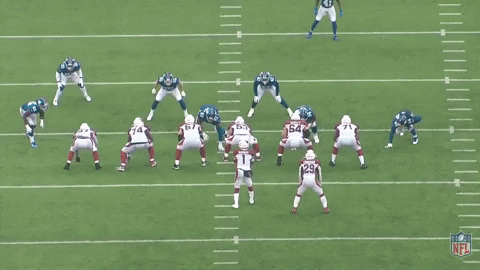 The last touchdown for Edmonds. A much more traditional run play here, though it does look like Murray had the option of keeping it here if he'd wanted to. The offensive line does not do what it did on those first two plays; there are Giants defenders behind the line almost immediately. But Edmonds sees a tiny hole on the left side and scoots through it, and then he's gone for the end zone and the touchdown. I really, really like his running and his vision on this play. Some good footwork before he hits that hole. Elusive. Fun. Chase Edmonds!
Fantasy Impact
There are two separate questions here. Let's address them both:
What is Edmonds' fantasy value if we assume David Johnson is limited/will miss time with his back injury?
This is the easy question. Arizona is right near the middle of the pack in adjusted line yards and have the third-best power running success rate. Edmonds with full control of this backfield would be a very good running back.
Of course, defense matters, and Arizona faces the 49ers in two of their next four games. That'll be tough, so you can't just assume that Edmonds is going to be a locked-and-loaded RB1. As well as he did this week, he is not David Johnson and he won't be the same kind of passing game factor that Johnson is. That means that if a defense can take him out of the game as a runner, they've taken him out of the game.
So, there's risk. But there's also the kind of upside we've seen over the past two weeks, and if Johnson misses time, you should be starting Chase Edmonds in most leagues.
What is Edmonds' fantasy value if we assume David Johnson is playing moving forward?
Here, though, is the tough one. If David Johnson doesn't miss time and is back for the Saints game, what kind of value does Edmonds possess?
This is tough. On one hand, we can look at his usage before this week. Over the first five games of the year, Edmonds topped out at eight carries and was never on the field for more than 40 percent of offensive snaps.
But 40 percent is still...a lot, isn't it? And while the Cardinals have been playing well, the NFC West is a tough division and we have to assume that the Cardinals aren't going to need to make some all-out push down the stretch to try to win it. In the case, you'd think that they'll look to limit Johnson's workload at least a little, right? And that we see a split that still leans in Johnson's favor, but gives Edmonds chances?
But even then, a tough upcoming schedule and a limit on his touches means we wouldn't see anything close to Week 7 Chase Edmonds again this year. In that scenario, he feels like a deep league flex option or a bye-week fill-in in shallower leagues. That's fine, but you need to temper your expectations accordingly.
More Fantasy Football Analysis