Viktor Hovland finally broke into the winners' circle on US soil, and ladies and gentlemen, the floodgates are now wide open, and a ball-striking fluid is gushing out of the only desired openings of the Hovland Hoover dam wall, as all short-game cracks seem to have been repaired over the last few weeks. We need somebody to rival Rahm and Scottie at the top of the world rankings, and with this win, the Norwegian scoots up two spots to fifth in the world and will be looking to clinch his first major next week. Congrats Vik!
I just typed out a massive paragraph about the PGA "merger" and how the PIF bullied their way into the position as sole investor in the "soon to be named" entity that we currently know as the PGA Tour. You probably don't want to read all that, but just know that I feel gross, as a fan and content creator of this awesome sport, knowing that an infinity-pool of money seemingly solves all problems, despite where it comes from. >puke<
For those of you who are new to the article, Breaking $100 is a comprehensive PGA betting guide on how to squeeze every cent out of your $100. We will be breaking $100 into a betting card of outrights, first-round leaders, placings, and a "farewell fiver," all in an attempt to turn a structured betting strategy into a profitable and entertaining Sunday sweat. $100 is easily divided or multiplied, so please only bet amounts that you can afford to lose. You can find me on Twitter an unhealthy amount of the time @TheModelManiac, if you have any questions, compliments, or insults for me.
Outrights ($12.50)
With the majority of big names out of the field this week and Rory McIlroy seemingly not on his A game at a course that may expose his C+ wedge play, we feel like the guys we have picked this week finally have a chance (famous last words). We are upping our exposure to $12.50 which is 8x return on investment, requiring a winner once every 8 tournaments.
 Justin Rose ($5.50 @ +2000 @ DraftKings) 
The strategy with Justin Rose on the outright card is simple. The last time he played golf he had his best iron performance in the last 2 years, while simultaneously having his worst putting performance in the last year. Rose is one of the best putters on tour and will continue to be the 2nd-best iron player in the field (L24 rounds) in pursuit of the many birdies that need to be made if looking to win this week (7th in BoB%). A 7,200-yard par 72 seems like an ideal course fit for Rose, who lacks length off the tee but is top-20 in driving accuracy. Our guy also finds himself having gained the second-most strokes on easy courses recently, having won at Pebble Beach earlier this year. There are not all that many thorns on this rose, and if he feels like romancing us with a win, we will gladly oblige.
Sahith Theegala ($3.36 @ +3300 @ Barstool)
On the card last week at a course that probably didn't suit his lack of driving accuracy off the tee. Now, after just mentioning that Rose can rely on his accuracy here, the lengthy Theegala will have to do the same... with that trusty driving iron that he almost won the WMPO with two years ago. With his biggest liability sidelined (hopefully) for most of the week, lets focus on what he does well.
Theegala leads the tour in good shot % from 100-150, meaning that on roughly 15% of his shots from this range, he is gaining over half a stroke on approach (6 feet or less). At a course where we can expect roughly half of the approach shots to take place inside 150 yards, give me the guy who is the best in the field at knocking those wedges to kick in range. Did we mention that Theegala is also 2nd in Birdie-or-better % (behind Cam Young)? If the winner is going to be in the -20 range we want somebody who can make enough birdies to get there. He is also entering the week having gained the 4th most strokes putting over the last two-dozen rounds. He is one of the most talented non-winners on tour, validated by the fact that he sits 27th in the world golf rankings, yet is the only golfer in the top-30 without a win on the PGA Tour. >Channels inner Bruce Buffer< .... IIIIIIIIITS TIME!!!! Go get em Theegs!!!!
Michael Kim ($1.15 +10000 @ Barstool)
The numbers don't necessarily jump off the page for Michael Kim, but the vocal twitter personality has rattled off two top-10s in his last three starts. Since the Mexico Open, he has averaged at least +0.2 in each of the 4 key SG areas. At 100-1 we will take a shot on the recent form, hoping for a win in a weakish field. 7 of Kim's first 9 starts on tour this season were missed cuts, so the 2023 stats are not going to be pretty, which is why we are leaning on his last 14 rounds for this week's win.
Brandon Wu ($0.93 +12500 @ Barstool)
In his last four non-elevated starts, Brandon Wu has finishes of T23, 3rd, T58, and T14, while his last three missed cuts have been in elevated events. This week is a non-elevated event and we are shooting for the moon with Wu at 125-1. He is 14th in the field in BoB% and has the 10th-best weighted good shot % in the field. He is an accuracy-over-distance kinda guy and we are hoping that he can lean on that this week. He finished T2 at Pebble Beach which may be considered a comp course. He is a long shot who can make enough birdies, lean on the ball striking, and hopefully get a scorching putter needed to win this week.
Mark Hubbard ($0.90 +13000 @ DraftKings)
The reason the tweet claiming Rose was #1 in SG APP L24, while we wrote him up as #2, is because of Mark Hubbard stealing that spot from him after the Memorial stats were updated on Monday afternoon. At 130-1 we get the best iron player in the field over the last 24 rounds? Why the heck not. Hubbard is also an accuracy-over-distance driver of the ball and has averaged the 31st most strokes gained on easy courses. If we can get him to heat the putter up on the ample birdie opportunities he will see, then we are in business in Canada!
Chez Reavie ($0.66 +18000 @ DraftKings)
The reason Chez Reavie is 99th in the field OTT is because he is 124th in driving distance. However, if we think everybody may be hitting from the same spots in the fairway this week, Reavie can knock driver down to where everybody else is hitting 3-woods and driving irons as he is 9th in driving accuracy. Now for the fun part about ol cheddar Chez. Over the last 24 rounds of golf he has gained the 2nd-most strokes putting. He has gained putting in all 7 of his most recent starts, making the cut in 6 of them. His approach play has been rather volatile but he is 21st in SG APP L24 and is 11th in good shot % for the year. If we can stay in the fairway, hit some irons close, and make those putts, this 180-1 long shot will be looking to improve on his T6 he had at the Valero Texas Open, a similar kind of course (me thinks). Go make us some cheddar, Chez!
Did you know RotoBaller has a Premium DFS PGA subscription? Like what you read today? You can show your support for Byron by using the discount code MANIAC when purchasing a PGA Premium Pass. You get 10% off and full access to all of our Premium PGA articles, DFS tools, models, projections and Lineup Optimizer! You also get access to weekly betting picks from Spencer Aguiar, one of the top betting minds in the industry.
End of the Season Totals: @rotoballer @BettorGolfPod

2017 +54.26 Units
2018 +55.88 Units
2019 +27.743 Units
2020 + 37.015 Units
2021 + 68.846 Units
2022 +67.485 Units

Total Winnings: +311.229 Units

Total Outright Wins Since 2017: 36

H2H Totals Inside Thread… https://t.co/pNQrSK1rFE

— Spencer Aguiar (@TeeOffSports) December 12, 2022
Placings ($56)
Well, we only lost -$16 in the placement market thanks to Eric Cole and his heroic T24 to cash T40 +200. What was not heroic, was the rest of the gang going 62nd, MC, MC, WD... Matt Kuchar lost strokes around the greens as the best ARG player in the field, Svensson missed his first cut since the Masters, and Brendon Todd blew his shoulder out but is teeing it up this week? Tom Kim was the only tolerable missed cut as we tried too hard to make him work. Woof. We gotta start catching some better breaks here.
Let's take a peek at who we will be tilting over in Cleveland this weekend. We are betting $8 on each of the bets. After the WD last week, no Brendon Todd. 
Nick Taylor T20 +250
Eric Cole T20 +250
Harry Hall T40 +165
Brandon Wu T40 +130
Nate Lashley T40 +150
Aaron Baddely T40 +190
Dylan Wu T40 +160
Matchups ($26.50)
Matchups are my favorite golf bet to place, as it is one of the safer bets as you can still cash in on a matchup even if our guy misses the cut, which was the case in two wins below.
the Memorial Recap (3-1-1) +$12.46  (+$5.26 if we remove Day matchup)
Shout out to Hideki who landed up pushing with Sam Burns at even par despite being -10 at some point over the course of Saturday.
Rickie got his revenge on Burns ... barely
Svensson went +7 over two rounds, but beat Billy by 5 shots. Top tier fade right there.
Jason Day landed up beating Cameron Young after both missed the cut and J Day had a bone bruise on his wrist (apparently). We came back late Wednesday to hedge out of that bet after hearing the news.
Sahith was just lost all week and was our only L on the card. Not terrible.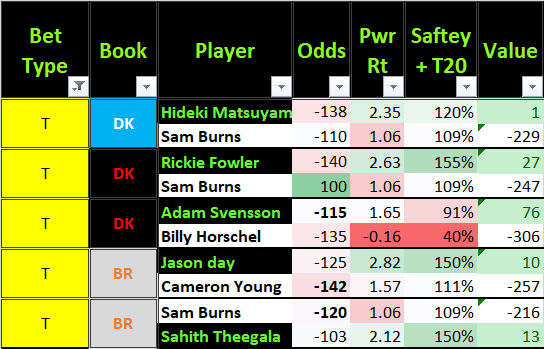 We are going with the below three matchups this week. We are hoping to take on Shane Lowry and his inability to score much lower than -10 over the course of his career.
Hatton over McIlroy +133 $8
Theegala over Lowry +105 $8
Rose over Lowry -120 $10.50
The Farewell Fiver ($5)
Ludvig Aberg Top 20 +250 $5
Bezzy was sitting in third place at some point on Saturday yet neither our T10 or T20 on him cash for the farewell fiver. This week are going to be rolling with Ludvig Aberg to finish inside the top 20 at +250. He topped the PGA U leaderboard, clinching his tour card, and then went on a qualified for the US Open, so he is playing good golf. Good luck this week, and as always, may the odds be ever in your favor!!!
Win Big With RotoBaller
Golf is back, and it's time for you to win big with RotoBaller!
Our PGA DFS Premium Package
 features several savvy analysts and proven DFS winners.
Our very own Joe Nicely recently took down a big DraftKings DFS tournament for the Travelers Championship. And as an encore, RotoBaller subscriber @tenndolly2 won $100K on FanDuel with the help of Joe and the rest of our Premium PGA team:
If you read my articles @RotoBaller or listen to @TheTurnGolfPod I've been telling y'all it was #WinningSeason when golf came back! Shoutout to the entire @RotoBallerPGA squad and all you guys that support my work for all the ❤️ pic.twitter.com/07a4ynvbSU

— Joe Nicely (@JoeNicely) June 28, 2020
Congrats @tenndolly2 ???

Thanks for being a @RotoBaller PGA DFS Premium subscriber & checking out all the amazing golf content that @JoeNicely produces every week! https://t.co/tHKZVsPbbt

— RotoBaller PGA (@RotoBallerPGA) August 10, 2020
Between all the incredible
Premium PGA DFS
content and tools we put out each week, and our Premium Slack Community where we chat with our subscribers before lineups lock, RotoBaller PGA subscribers are armed with the tools, analysis, and advice to win big.
Golf DFS News and Player Outlooks
More PGA Analysis and DFS Lineup Picks