Last week, our primary outright pick for the week decided to lose eight strokes putting through the first two rounds, and still somehow managed to make the cut on the back of the sensational ball striking we picked him for. He then went on to have the round of the tournament, gaining +8.21 strokes on the field on Friday to enter Saturday in third place, two back of Jon Rahm. A few hours later, Tony Finau underclubbed what felt like every approach shot, leaving us with our secondary outright pick, Keegan Bradley, needing to get up and down from a greenside bunker on 18 to force a potential playoff. It was a rollercoaster of a Saturday that ultimately ended in double heartbreak for Breaking $100 bettors.
Max Homa has been a staple of our betting card throughout the last few months and currently sits at 80-1 in our futures section to win The Masters. I guess we got that going for us ... Regardless, Homa is blossoming into a stone-cold killer in front of our very eyes and an ascension into inevitable stardom could not happen to a nicer guy. Congratulations to Max Homa and 90% of Twitter for cashing that ticket at the Farmers Insurance Open. He is destined for great things!
For those of you who are new to the article, Breaking $100 is a comprehensive PGA betting guide on how to squeeze every cent out of your $100. We will be breaking $100 into a betting card of outrights, first-round leaders, placings, and a "farewell fiver," all in an attempt to turn a structured betting strategy into a profitable and entertaining Sunday sweat. $100 is easily divided or multiplied, so please only bet amounts that you can afford to lose. You can find me on Twitter an unhealthy amount of the time @TheModelManiac, if you have any questions, compliments, or insults for me.
Featured Promo: Want a free RotoBaller Premium Pass? Check out these sports betting promo offers from the top sportsbooks! All new sign-ups get a free bonus offer on their first deposit, and a free year of RotoBaller's Premium Pass for all sports ($450 value)!
Sign Up Now!
Outrights
If you are interested in tailing along as soon as I place my bets, join our discord, where I share my picks as I make them, along with entertaining any other questions and conversations taking place there throughout the week. By the time I get to writing this article, odds have often shortened to varying degrees, so if you are interested in following along with the best numbers, jump into that discord. This week, we have seven outrights that range from 28-1 to 210-1. We will be spending $15 to net $110 or more.
Seamus Power ($4.34 @ +2800)
Seamus Power flexed on the field last year, shooting -16 through his first two rounds at the Pebble Beach Pro-Am. He showed us why he inevitably landed up winning a PGA tour event in Bermuda later in the fall swing, overcoming the major meltdown that he suffered here last year over the weekend leading to a fall from grace and T9 once all was said and done.
Power has been rather erratic with his irons lately, stringing together four negative rounds on approach the week before he won in Bermuda. He then went on to do the same thing at the Tournament of Champions, failing to gain on approach in a single round. Between the two slices of moldy approach sits three top five finishes at courses with predominantly no shot link data, making his approach numbers seem a little grosser than they actually are.
Seamus represents a style of golf that can be considered a little more old school, as his scoring stats (birdies, bogeys, and Par 5s) all rank inside the top 15 in this field, and is the only golfer who survives that filter. He simply gets the ball in the hole, which may be exactly what is needed around a blustery Pebble Beach. If we get a Seamus who gains on approach, the Irish Thanos will hoist his second trophy of the season.
Andrew Putnam ($3.79 @ +3300)
Andrew Putnam finds himself on our card courtesy of his propensity to excel on shorter, positional courses like this one. His distance off the tee is a major hindrance to success at most courses that don't require the accuracy that he has in abundance. As is common with most short hitters on tour, Putnam has an incredible short game and avoids danger off the tee, leading to a bogey avoidance rate and short game that both rank inside the top 10 in this field.
Putnam has also been trending towards a win, finishing T2 at the ZOZO and T4 more recently at the Sony Open. If you couple those performances with his T6 finish here last year, the stars may be aligning for this sharpshooter to finally win on a course that gives him the best opportunity to do so. Robinhood does not offer success early in the story, overcoming many obstacles which we are hoping Putnam can lean on and finally give us all the riches we deserve after backing him for so long.
Joel Dahmen ($2.78 @ +4500)
Since his missed cut at the Fortinet to begin the season, Joel Dahmen has averaged +1.77 strokes over the 24 rounds leading up to Pebble this week, where he finished T6 last year. He also ended the calendar year with finishes of T3, T9, and T5. Just like his buddy Max, it appears Joel has found comfort on the PGA Tour and is on a trajectory that screams imminent victory.
He ranks as the fourth-best ball striker in the field and has befriended a bipolar putter that doesn't know in from out half the time. If Joel's putter behaves this week and he wins, instead of busting out my $100 bill shirt, I will do my podcast topless in honor of Joel. Check out this week's episode of Back 9 Bets here. (I'm not sure I want him to win, for my viewer's sake).
Matthew NeSmith ($1.25 @ +10000)
If this event was played the week of the Houston Open, with Matthew NeSmith having just rattled off a pair of T9s and a T2 heading to a course where he has two top 20s, he would not be 100-1. Instead, he has since missed three of his last four cuts and we get him in triple digits going to a plodder's course that could see his robotic ball striking have success en route to a Californian victory.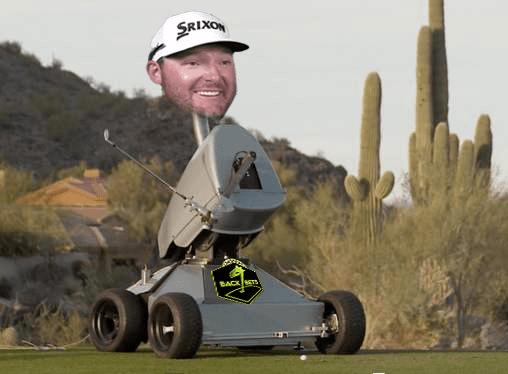 Nick Hardy ($1.25 @ +10000)
If we got excited about NeSmtih and his iron play, Nick Hardy will have you falling out of your chair. He FINALLY lost strokes on approach in one single round at the Sony in R1 (-0.83) but bounced back with a scorching +3.28 strokes gained on approach in R2 to continue striking his irons at an ELITE level. He has now gained half a stroke or more on approach in 19 of the last 20 recorded rounds this season.
Not only is he the second-best approach player in the field behind Tom Hoge, who has not lost strokes on approach in a single round this season, but he also grades out incredibly well (10th) off the tee on courses shorter than 7,200 yards, probably because he is striping a 3-iron 250 yards down the fairway. If Ironman finds himself a putter this week, we could see Hardy and his rocket thrusters shoot all the way up the leaderboard.
Nate Lashley ($0.89 @ +14000)
If we are looking for a glimmer of form returning to a golfer's game at a Sony Open course that has a decent amount of similarities to Pebble, Nate Lashley's T7 two events ago is enough to get us to bite at 140-1. Nate thrives on courses that require accuracy off the tee and exceptional wedge play, which is why his last two starts here have been T28 and T5. Whether or not Lashley is capable of winning or not is yet to be determined, but he has the skillsets needed to win, and at this price tag, that is more than enough for us.
Aaron Baddeley ($0.60 @ +21000)
Our final golfer to round out the card at 210-1 is an Australian that fancies himself on shorter coastal courses, finishing T6 in Bermuda and T7 at the Sony Open a little more recently. Aaron Baddeley has the short game needed to overcome his inability to get nuclear on approach for extended periods of time. He should thrive on another short course and potentially putt himself to victory as his luscious locks help us climb into the winner's circle at Pebble.
Did you know RotoBaller has a Premium DFS PGA subscription? Like what you read today? You can show your support for Spencer by using the discount code TEEOFF when purchasing a PGA Premium Pass. You get 10% off and full access to all of our Premium PGA articles, DFS tools, and Lineup Optimizer! You also get access to weekly betting picks from Spencer Aguiar, one of the top betting minds in the industry.
Placings
Folks, we are back, going one of two last week, with Keegan netting us $12 on the placement market. Adam Hadwin was sitting outside the top 30 most of the week and then lost -2.64 strokes around the greens on Saturday to finish T44. We will take it.
Last week's results +$12:
Keegan Bradley T20 +220: +$22
Adam Hadwin T20 +250 -$10
If ever there is a reason to join our growing discord community, it would be to take advantage of the weird and wonderful things that happened on the DraftKings odds board this morning. For a few hours this morning, they had every golfer in the field priced at plus-money odds to finish T20, while the rest of the books had Hovland, Spieth, and Fitzpatrick in the -150 range.
As it is a Pro-Am and the variability of this event is ramped up even more with celebrities trudging across the putting lines of golfers and giggling on their backswings, we are only betting a 1/3 of a unit on our placements. Our unit is $10 for the sake of this article. BUT, when we saw Matt Fitzpatrick at +105 to finish T20, we pounced and bet 2 units on that as he has finished T20 in 69% of his last 16 events with a cut. We have eight placement bets totaling $43 and will not be utilizing our entire $100 budget this week.
Matt Fitzpatrick +105 T20 $20
Matt Kuchar +200 T20 $3.33
Brendon Todd +280 T20 $3.33
Andrew Putnam +175 T20 $3.33
Matthew NeSmith +125 T40 $3.33
Russell Knox +125 T40 $3.33
Nick Taylor +120 T40 $3.33
Ben Griffin +100 T40 $3.33
Matchups
My favorite golf bet to place, as it is one of the safer bets that can be placed, and you can still cash in on a matchup even if our guy misses the cut. We are back to honing in on a golfer who the books love a lot more than we do. We will be setting a pair of Matt's onto Taylor Pendrith this week.
Pendrith does the majority of his scoring with distance off the tee, which is very much nullified here. He also has not nearly been playing as well as either of the Matts in 2023, who are also much better course fits. We are betting to return $5 on matchups, which are typically safer bets in my opinion.
Matthew NeSmith over Taylor Pendrith +100 (DraftKings): $5
Matt Kuchar over Taylor Pendrith -118 (FanDuel): $5.90
A Look Into The Future
With all the majors behind us, we now have an opportunity to identify odds for majors, which may be drastically shorter by the time the week of the event rolls into our lives. We are going to give ourselves a budget of $12 to spend on futures for each major to return $200, which is double our usual return, but we are investing double the capital (futures + week of) to have double the fun in major weeks.
The Players
Tom Kim ($5.60 @ +4000 on DraftKings)
After just winning his second event in back-to-back regular season starts, Tom Kim is a star that is burning bright, and if he continues to play the quality of golf we have now become accustomed to, 40-1 will not be available the week of The Players, especially if he wins again before then. TPC Sawgrass puts a premium on driving accuracy and stellar approach play, which could not suit Tom's game any better. This may be my favorite of the two futures bets we have placed so far.
The Masters
Max Homa ($2.80 @ +8000 on PointsBet)
If you take a look at the odds board, the players around Max Homa at 80-1 are relics, who have either fled to LIV, required some sort of exemption to remain on tour, or are just straight-up bad at golf. Homa has won four times in the last two years and just proved that he can handle immense pressure on the biggest of stages, sinking clutch putts at the Presidents Cup a week after winning at the Fortinet.
His game translates incredibly well to what Augusta requires from its past winners. Golfers with distance off the tee, impeccable iron play and imagination, and touch on and around the greens have had success at one of golf's most treasured venues. Max does all three of those really well and after making his first cut in three tries last year, he should be a serious contender when he returns there next year.
The Farewell Fiver
Top 10: Jordan Spieth +150
Last week's Farewell Fiver was Jon Rahm T5 at +105 and finished ... T7. Back-to-back weeks now that our farewell fiver has finished a shot out of the money.
The model is not the biggest fan of Jordan Spieth this week, but we know what he has done around this venue, finishing inside the top 10 in six of his 10 appearances. In a field lacking talent outside of Fitz and Hovland, we will take our chances on Jordan's track record as he is fun to root for and that's what this bet is designed to promote. Good luck this week, and as always, may the odds be ever in your favor!!!
Win Big With RotoBaller
Golf is back, and it's time for you to win big with RotoBaller!
Our PGA DFS Premium Package
 features several savvy analysts and proven DFS winners.
Our very own Joe Nicely recently took down a big DraftKings DFS tournament for the Travelers Championship. And as an encore, RotoBaller subscriber @tenndolly2 won $100K on FanDuel with the help of Joe and the rest of our Premium PGA team:
If you read my articles @RotoBaller or listen to @TheTurnGolfPod I've been telling y'all it was #WinningSeason when golf came back! Shoutout to the entire @RotoBallerPGA squad and all you guys that support my work for all the ❤️ pic.twitter.com/07a4ynvbSU

— Joe Nicely (@JoeNicely) June 28, 2020
Congrats @tenndolly2 ???

Thanks for being a @RotoBaller PGA DFS Premium subscriber & checking out all the amazing golf content that @JoeNicely produces every week! https://t.co/tHKZVsPbbt

— RotoBaller PGA (@RotoBallerPGA) August 10, 2020
Between all the incredible
Premium PGA DFS
content and tools we put out each week, and our Premium Slack Community where we chat with our subscribers before lineups lock, RotoBaller PGA subscribers are armed with the tools, analysis, and advice to win big.
Golf DFS News and Player Outlooks
More PGA Analysis and DFS Lineup Picks