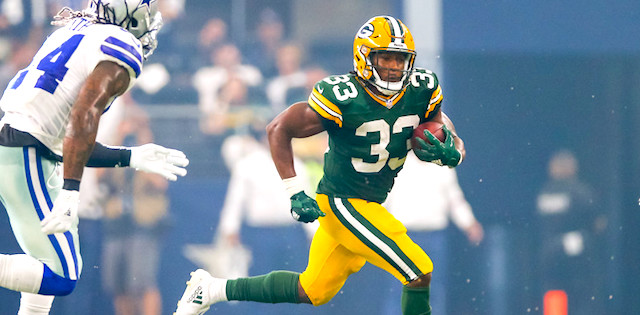 The NFL season continues to roll right along as we head into Week 9. With just 10 games on the DraftKings main slate - and only two with a projected O/U of over 50 points - we'll have our work cut out for us this week! Thanks for joining me here at RotoBaller, let's dig in and find some huge scores this week!
These DraftKings lineup recommendations are based on matchups, projected ownership, overall upside/talent levels, opportunity, and other factors such as Vegas odds, home-field advantage, and more. There are quite a few great plays available, so read on to find out which players are the best for Week 9.
Good luck with your DraftKings DFS lineups, let's Break The Slate together!
Editor's Note: Get any rest-of-season NFL Premium Pass for 50% off. Our exclusive DFS Tools, Lineup Optimizer and Premium DFS Research through the Super Bowl.
Sign Up Now!
DraftKings DFS Quarterbacks - Week 9 Picks
Russell Wilson - TB @ SEA ($7,100)
As I mentioned briefly in the intro, there isn't a lot to love on this slate. For that reason I expect this TB vs SEA matchup to garner lots of attention as one of the few potential 'shootout' games of the week. If you read this article regularly, you've probably heard me talk about Seattle's stubborn (and stupid) refusal to turn Russell Wilson and this passing attack loose on a regular basis. The conservative approach has worked from a "real football" perspective and the Seahawks head into Week 9 with a 6-2 record, but they will most likely be forced to abandon the run against this Tampa Bay unit that is one of the NFL's true 'funnel' defenses. The Bucs rank first in the NFL in run defense DVOA and yards allowed per carry while standing 31st in the league in yards allowed per pass. It's a stark contrast and one that could add up to a "Russ Gone Wild" game. Wilson has attempted over 30 passes in four games this season, which has resulted in DraftKings scores of 15.3/28.9/44.3/28.2. With Tampa's beatable secondary and aggressive offense, this has all the makings of a smash spot for Russ.
Matthew Stafford - DET @ OAK ($6,800)
It appears the days of 'Bargain Matt Stafford' are over, as DK has bumped his price up to $6,800 for this Week 9 matchup against the Raiders. Obviously, I wish Stafford's price was still in the low $6k range, but the increase is justified due to his unbelievable recent output. Detroit is a team that wants to be a run-first offense, but the combination of ineffectiveness and an injury to Kerryon Johnson have led to Stafford throwing the ball with more frequency. He's attempted over 30 passes in every game this season (with two games of 45-plus pass attempts) and has racked up just over 700 yards and seven TDs in Detroit's last two. He draws a matchup against an Oakland defense that ranks 30th in the NFL in yards allowed per pass and has relinquished the second-most passing TDs in the league (19) to this point. I expect Stafford to continue slinging it against a soft Raiders secondary this week in one of the few games on the slate that has true shootout potential.
*SATURDAY UPDATE: I realize that both QBs highlighted in this week's article are pretty pricey. If you need to save some salary there are solid options. I think we've all come to grips with the fact that Jameis Winston isn't a "good" NFL quarterback, but he continues to be viable in DFS. Oakland's Derek Carr is hard to trust, but has a greenlight matchup against the Lions at $5.5k. We know the Chargers want to run the ball, but Philip Rivers sits at a crazy-low $5.1k and has attempted over 30 passes in seven of L.A.'s eight games.
DraftKings DFS Running Backs - Week 9 Picks
Dalvin Cook - MIN @ KC ($9,500)
This slate is going to be light on value, so spending up for Dalvin Cook is tough, but I'm going out of my way to get the electric Vikings back in my lineups this week. Outside of Christian McCaffrey (who literally never comes off the field), Cook has looked like the best running back in the NFL this year. He leads the league in rushing yards (823), TDs (nine), and is tied for the most runs of 20-plus yards (six). He also has a legitimate pass-catching role in this Minny offense and has been targeted 34 times this season. He's set to attack a Kansas City defense that has allowed the most DK points in the NFL to opposing RBs and is 30th in the league in yards allowed per carry. On a slate with a lot of uncertainty, Cook offers both a safe floor and slate-breaking upside.
Aaron Jones - GB @ LAC ($7,000)
I'm sure that legions of fantasy football regulars rejoiced with the firing of Green Bay's Mike McCarthy in hopes that a new coach would finally unleash talented running back Aaron Jones. New Packers coach Matt LaFleur has been frustratingly similar to McCarthy in his refusal to give Jones a true bellcow-type workload, but things have indeed been slightly better with Jones settling in at 15-20 touches per game. The one truly encouraging change has been Jones' expanded role in the Packers passing game. He's been targeted 42 times this season, which is actually tied for the sixth-most RB targets in the NFL. Jones has also toted the ball 114 times and is tied for the second-most rushing TDs in the league with eight. Lack of opportunity is the only real concern for him this week in a breezy matchup against a Chargers Defense that has allowed opposing backs to run for 896 yards and six TDs at a clip of 4.5 yards per carry. Jones is coming off a monster receiving game in Week 8, which will hopefully open LaFleur's eyes to the type of all-around weapon he can continue to be.
Jaylen Samuels - IND @ PIT ($4,000)
Over the last few weeks, it seems as though we're always waiting on injury news at the RB position. Unfortunately, Week 9 is no different, as I'm once again listing a "keep an eye on injury status" play in Jaylen Samuels. Starting Pittsburgh RB James Conner is yet to practice at the time of this writing and appears to be highly questionable with a shoulder injury, while Pittsburgh's other back, Bennie Snell Jr., has also been absent from practice. It's a scenario that will have to play itself out over the next couple of days, but if Conner misses Sunday's game against the Colts, Samuels is a proven player that is capable of playing a true three-down role and would step into a huge workload at just $4k.
*SATURDAY UPDATE: I feel great about all of our highlighted running backs this week and it looks as though we'll be able to fire Jaylen Samuels up! I suppose it goes without saying, but Christian McCaffrey is always in play if you can fit him in. On the other side of the Carolina/TN game, Derrick Henry isn't usually someone I go out of my way to roster on DraftKings, but his matchup and price tag do make him intriguing. We haven't seen much out of Melvin Gordon since he returned from a holdout, but the Chargers fired offensive coordinator Ken Whisenhunt this week for not running the ball enough. With a $5k price tag, in a spot where he might be force fed carries, Gordon is an interesting pivot from an uber-chalk Jaylen Samuels.
DraftKings DFS Wide Receivers - Week 9 Picks
Chris Godwin - TB @ SEA ($7,300)
We'll be forced to make some tough decisions at WR this week. There are lots of guys I want to play at the high end of the salary scale, but unfortunately we can't #PlayThemAll. So, while it pains me to skip over Kenny Golladay and Tyler Lockett, let's kick things off with Tampa Bay's Chris Godwin. Speaking of tough decisions, just choosing between Godwin and his teammate Mike Evans is its own little game of 'whack-a-mole', as it seems that one is just as likely to go off as the other. I settled on Godwin here due to Seattle's zone scheme (I usually lean Evans against man) and the likely scenario that he will mostly be looking at Jamar Taylor for the majority of the day out of the slot. That said, you can consider Godwin 1A and Evans 1B...just get one of them in your lineup this week!
Allen Robinson - CHI @ PHI ($6,800)
I'm from Tennessee and a famous southern saying always pops in my head when I think about Allen Robinson..."Bless his heart." Robinson is such a talented player, but he's been forced to deal with devastating injuries and has spent the majority of his career being thrown passes by a combination of Blake Bortles and Mitch Trubisky. Like I said...bless his heart. This Philly secondary is one we want to target, as they are dead last in the NFL in DK points allowed to opposing WRs, but it's just so hard to trust Trubisky and this Bears offense. I know I'm straddling the fence here, but I guess Robinson's slot in this week's 'Break The Slate' is more of a shout-out than a true hardcore recommendation. I love the spot, I love him as a player, and I love the projected ownership...but there are legitimate reasons to be concerned, as Trubisky is truly awful. Robinson has shown that he's talented enough to overcome the Bears' offensive deficiencies in any single-game environment, so he does have a slate-breaking score in him, but he profiles as a 'GPP ONLY' play.
D.K. Metcalf - TB @ SEA ($5,700)
Seattle's Tyler Lockett might be tough to squeeze into lineups this week, but D.K. Metcalf offers a little salary relief at $5.7k. The touchdown-regression pendulum finally swung in Metcalf's direction last week, as he nabbed two TD catches against Atlanta, which matched his total for the entire season. We can expect more to come, as Metcalf's 11 red-zone targets are tied for the third-most in the NFL. The rookie gets a great matchup against a Bucs secondary that ranks 31st in the NFL in yards allowed per pass. His volume is always a concern with this offense's run-first mentality, but a league-leading Tampa Bay run D should force Seattle to the air more often than normal. Metcalf has yet to post a true slate-breaking score this season (in large part due to Seattle's offensive philosophy), but this game has the possibility of supplying an environment for the type of monster score that we haven't seen from the rookie yet.
Danny Amendola - DET @ OAK ($4,700)
Danny Amendola isn't really a "slate breaker", but on a week where value is hard to find, the Lions receiver definitely deserves a mention here. Detroit's inability to run the ball has boosted Amendola's numbers over the last couple of weeks, as Matthew Stafford is continually hitting him on short throws underneath. He's had back-to-back games with eight catches for a combined 200 yards on target counts of eight and 11. I look for the good times to keep on rolling against a Raiders Defense that ranks 30th in the NFL yards allowed per pass and has been highly susceptible to slot receivers this season. This may very well be one of those situations where we can catch everyone in the field looking at Kenny Golladay, while we sneakily roster the all-of-a-sudden-high-usage Amendola as a contrarian way to gain exposure to this game.
*SATURDAY UPDATE: I get all the Kenny Golladay love this week - and I feel the same way to a certain extent - but man...he's expensive. Minnesota's Stefon Diggs has been on an absolute tear since Week 6 and I don't think I've heard one person in the DFS industry mention his name this week. He's a really intriguing pivot in large-field GPPs. The same can be said for KC's Tyreek Hill on the other side of that matchup. Minnesota's reputation is better than their actual defense at this point and he's capable of posting a slate-breaking score even with Matt Moore at QB. It looks like it's 'Robby Anderson Chalk Week', which is...interesting. I get it...he's a game breaker playing against an abysmal defense, but I won't hesitate to fade him and hope for another dud if his ownership is huge, as I might actually prefer DeVante Parker (as crazy as that sounds) on the other side of that game. Indy's TY Hilton has been ruled out, which opens up some value with Zach Pascal at $4.1k, though the matchup is difficult.
DraftKings DFS Tight Ends - Week 9 Picks
Darren Waller - DET @ OAK ($6,300)
Like last week, the tight end position doesn't overwhelm us with smash spots that jump off the page in Week 9. Oakland's Darren Waller is probably the closest thing we have to a "safe" play with high upside in a good matchup (Travis Kelce is, of course, always in the conversation...but there are questions surrounding Mahomes' status and the matchup against Minnesota). Waller is Oakland's most dependable pass catcher and is running pass routes on 86% of his snaps. He ranks second in the NFL in TE targets per game at 8.3. The Lions offer a soft matchup, as they're allowing a 70% catch rate and nearly nine yards per target to the TE position. Oakland doesn't really want to play at an accelerated offensive pace, but points could start piling up in a hurry in this matchup against Detroit, and Waller should continue to play a huge role in the Raiders' passing attack.
Zach Ertz - CHI @ PHI ($4,700)
I'm not a stock-market guy, but I know sometimes there comes a point when you believe a quality company's stock is just too damn cheap and you feel you have to buy some. That's basically where I am with Zach Ertz this week...he's a 'quality company' that's in a tough market (a matchup against Chicago) and has been regularly under-performing (just one TD this season). However, if we dig a little deeper, we find that things might not be as bad as they seem...Ertz is priced under $5k for the first time this year at a season-low $4.7k, he trails only Travis Kelce in TE targets this season (65 vs 64), and his respectable, but admittedly un-Ertz-like 424 receiving yards ranks a solid sixth in the league among tight ends. If you've been repeatedly rostering Ertz in hopes that he would snap out of this funk, I totally understand if you want no part of him this week, but I view this as a great 'buy low' opportunity on a very good player that has the ability to destroy salary-based expectations this week.
*SATURDAY UPDATE: Waller remains my favorite spend-up play at TE, but as I mentioned in the write-up, Travis Kelce is always in consideration. I think I've got "Hunter Henry Fatigue", but he's a legitimate option at what's a thin position this week. The TY Hilton injury opens up things for Indy TEs Eric Ebron and Jack Doyle with the only issue being which one to roster. Delanie Walker is out again for the Titans with Jonnu Smith set to continue in his fill-in role, though this week's matchup is tougher than in Week 8.
DraftKings DFS Defenses - Week 9 Picks
Denver Broncos Defense - CLE @ DEN ($2,900)
Let's be clear, Denver is a really bad team...but this defense is talented and still playing hard for Vic Fangio. The Broncos have only allowed 52 points over their last four games and get a home matchup against a star-studded, but sloppy and undisciplined Browns offense that is tied for the second-most giveaways in the NFL this season with 17. Baker Mayfield has been constantly under siege behind a bad Cleveland offensive line that has relinquished 21 sacks in seven games. This matchup has a Vegas O/U of just 39 points and I look for the Broncos to dig in defensively at home this week.
Carolina Panthers Defense - TEN @ CAR ($2,800)
It isn't often that I'm interested in rostering a defense that's fresh off giving up 51 points, but despite a thrashing at the hands of the Niners, I'm still a believer in this Carolina unit for DFS purposes. The Panthers are second in the NFL with 30 sacks this season and tied for third with 16 takeaways. They face a Titans team that is the opposite of turnover-prone but has an offensive line that struggles mightily in pass protection and has relinquished 34 sacks, the most in the NFL this season. This is an interesting 'recency bias play' as Carolina's ownership should be down on the heels of their disastrous outing in San Francisco last week.
More Weekly DFS Analysis