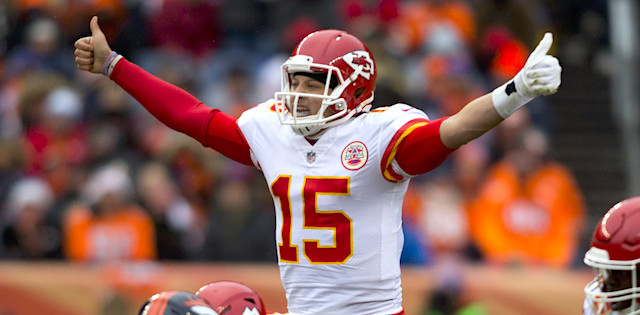 Fantasy football pundits and prognosticators love making predictions as much as Rachael Ray loves making dinner. I love making both, but this column is about my predictions, not my pasta.
I have no crystal ball or portal to the future to help make these predictions, nor can I speak to the dead like Tyler Henry and get advice from ghosts from the grave. I will take 100 percent of the credit or 100 percent of the blame at the end of the season, depending on how the predictions pan out.
My predictions may sound far-fetched or may sound like something you already predicted on the message board of your fantasy league. Feel free to criticize or congratulate me as the season goes on via Twitter! For now, let's have some fun and see what bold predictions of mine you agree with, disagree with and cannot wait to debate with others in your leagues!
Editor's Note: Get any rest-of-season NFL Premium Pass for 50% off. Our exclusive DFS Tools, Lineup Optimizer and Premium DFS Research through the Super Bowl.
Sign Up Now!
Craig Rondinone's Bold Predictions for 2018
Tom Brady will have his worst season since 2008 (when he tore his ACL)
We all know "Tom Terrific" is an ageless wonder. He looks the same, keeps playing at the highest level, never gets injured, and continues to be a fantastic fantasy asset even though he is 80 years old (OK, 41). But 2018 will be the season Brady's house of cards crumbles like it did for Francis Underwood. Brady's receiving corps has been decimated thanks to Julian Edelman being suspended and Brandin Cooks being traded. What can Brady do with the trio of Chris Hogan, Phillip Dorsett, and Cordarrelle Patterson? Even when Edelman returns after missing the first month, he and top tight end Rob Gronkowski are among the biggest injury risks in the NFL. On top of all this, the Patriots did not re-sign running back Dion Lewis in the offseason, so Brady might have no rushing attack to fall back on. Brady is not going to be god-awful and turn into Brock Osweiler, but I think he will disappoint fantasy owners who use a decent draft pick on him.
Patrick Mahomes will be the Deshaun Watson of 2018 (without the torn ACL)
There is a reason Kansas City jettisoned Alex Smith after the veteran signal caller had the best year of his long career last season. Mahomes has more tools than the Property Brothers. He has one of the best arms in the league and can scramble away from pass rushers and sprint for big gains on broken plays. Mahomes also has speed demons Tyreek Hill and Sammy Watkins to air out 60-yard passes to and Pro Bowl tight end Travis Kelce to throw to over the middle and on third downs. With head coach and offensive mastermind Andy Reid guiding him, the ultra-talented Mahomes will rack up 4,000 passing yards, 400 rushing yards, and 35 total touchdowns during a scintillating season.
Christian McCaffrey's body will not make it through the season
McCaffrey is zooming up the fantasy rankings on cheat sheets quicker than a Post Malone song zooms up the Billboard charts. Fantasy owners love that he is a PPR demigod thanks to all the dinks and dunks he catches from Cam Newton (led running backs in targets in 2017) and because all signs point to him being Carolina's main man this season. I know he has been as durable as a cockroach up to this point, but will he really survive the pounding of NFL defenses if he gets 20 touches per game when he is only 5'11'' and 200 pounds? McCaffrey was chastised for not breaking enough tackles and making many 30-yard plays last season, so unless he masters the art of avoiding defenders then his body is in for a bruising. Look for McCaffrey to fall apart midway through the season and for C.J. Anderson to become a valuable fantasy addition.
T.Y. Hilton will be a Top-5 WR
How quickly fantasy pundits forget. Hilton has been ranked in the 15-20 range among wide receivers in the preseason cheat sheets I have been reading, but do people recall that he had 91 receptions for 1,448 yards just two short years ago when Andrew Luck was his QB? Throw away last year when Jacoby Brissett was chucking wounded ducks at Hilton's feet while T.Y. was getting quadruple-covered. Luck is back and so is Hilton's fantasy value! I am penciling Hilton in for 90 receptions, 1,500 yards, and a career-high 10 touchdowns.
Ben Roethlisberger will be the biggest bust at QB
You have to love Big Ben's toughness, tenacity and fantasy staying power over his illustrious 14-year career, and he is probably a top-10 fantasy quarterback entering the season after an above-average 2017 campaign. His poor body has taken more bumps than Rey Mysterio, though, and he suffered a concussion during the preseason. Roethlisberger also may or may not have bellcow back Le'Veon Bell as his security blanket as Bell is embroiled in another contract holdout. Antonio Brown is due for an off-year one of these seasons, so why not in 2018? I think we have seen the best of Roethlisberger. He starts sliding downhill faster than Lindsey Vonn this season.
David Njoku will be a Top-5 TE
Njoku did not do any fantasy favors for anyone during his rookie season (32 receptions, 386 yards, four touchdowns), but the former first-round pick was not at fault. He was on one of the worst teams in the history of the NFL, and he had scattershot Deshone Kizer failing to get him the ball. Tyrod Taylor is not known for boosting the fantasy values of his pass catchers, but he is better than Kizer, and if he isn't, Baker Mayfield will take over and will be better than both. Njoku will also have Jarvis Landry and Josh Gordon distracting defenses so he can work one-on-one over the middle. Njoku has better speed and athletic ability than most of the leagues' tight ends. Now that he has great receivers freeing him up and capable quarterbacks passing to him, watch him fly by Tennessee's Delaine Walker, Carolina's Greg Olsen and other players at the position to become one of the top tight ends in fantasy football.
There you have it, fantasy folks! My job is done. Now I just need these players to prove me right…or wrong. It will be fun watching it all go down this season. Good luck to you and your fantasy squads!
More Fantasy Football Analysis