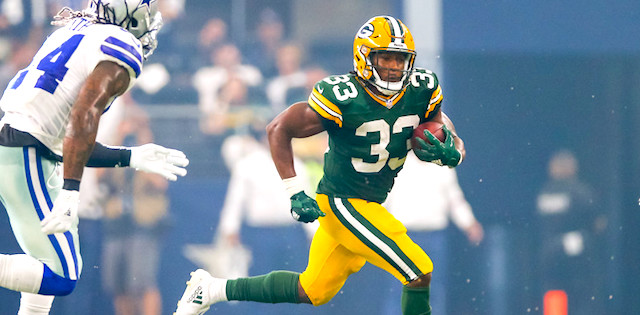 The 2019 fantasy football was filled with plenty of surprises across the board.
Between guys like Devante Parker breaking out and David Johnson being a total dud, there was plenty of action that kept the fantasy season interesting. At the running back position, there were some very interesting young names that took off and broke out. Today I'll be touching on some of those players.
Here are some of the top running back breakout performers of the 2019 season.
Featured Promo: Our friends at Sharp App have created the ultimate tools for sports bettors. Download the FREE app to track bets, compare odds, get daily picks from the most accurate models in the industry, and identify the sharp side of any bet. Use promo code BALLER to get a month free of Sharp Pro access.
Get The App!
With the spotlight in Los Angeles surrounding Melvin Gordon, Austin Ekeler stepped up in a major way this year. In the first four games of the 2019 NFL season, Ekeler was a top-five fantasy running back in three of those games. Not only was he a great replacement while Gordon was on the sideline, but even when Gordon came back, Ekeler was still heavily involved and very efficient for fantasy football purposes.
Ekeler was not just good while Gordon was on the sideline, but he was good all season long. On the season, Ekeler finished as the RB4 in PPR formats and RB7 in Standard scoring leagues. With 108 targets, Ekeler was heavily involved in the passing game all season long, which was a huge factor for his fantasy production. He finished the season with 993 receiving yards and eight receiving touchdowns, which was good for first in the league. Not only that, but he totaled the second-most receiving yards in the NFL for running backs, second to just Christian McCaffrey who had 1,005 receiving yards.
If you're an owner of Aaron Jones, you are probably extremely thankful for his awesome playoff performance this year. Jones was a touchdown machine this year, finishing as the RB2 in PPR scoring and the RB3 in standard-scoring leagues. Jones led all running backs this year with 19 total touchdowns, tied with just Christian McCaffrey for the lead. Jones finished as the No. 11 running back in total rushing yards this year, but his fantasy production saw a massive boost thanks to the touchdowns. After finishing as the RB24 in PPR scoring in 2018, seeing a major jump in production and finishing as the RB2 in PPR in 2019, Jones definitely falls into the category of a breakout.
After a few years of struggling to split a backfield with Jamaal Williams, the Packers finally let Jones loose and we saw just how good he could be. The Packers did continue to utilize Williams, but giving Jones the reigns over that backfield was extremely satisfying to see, as most fantasy owners know just how much better Jones looks with the ball in his hands than Williams does. The Packers should continue to lean on Jones heading into 2020, but I'd expect the touchdown numbers to come back down to earth. Either way, Jones was a nice breakout candidate this year and ultimately, a fantasy stud.
The 2019 rookie class has turned out to be much better than expected heading into the season. Between rookie wide receivers Terry McLaurin, Deebo Samuel, and A.J. Brown it is clear that this class was a bit better than many expected. A major part of this class that was a surprise was Miles Sanders out of Penn State. This class of running backs was a bit underwhelming outside of the top three, being Josh Jacobs, Miles Sanders, and David Montgomery. After an injury to Jordan Howard, the Eagles were able to unleash Sanders and let him show everyone just what he is capable of.
Sanders is an excellent runner and is very versatile. Many fantasy owners are aware of the Eagles backfield situation and just how much of a committee it has been in the past. I am a firm believer that the Eagles have not had a running back of Sanders' caliber, and seeing him unleashed into a full role showed us all just how good he can be. Sanders finished the season as the RB15 in PPR and standard leagues. His second-half breakout was a big surprise, aided by the injury to Howard. Look for Sanders to be the lead back in Philadelphia and a great fantasy football weapon moving forward.
As someone who has never be a huge fan of Derrick Henry, it's time we all take a step back and appreciate just how good he has been. Finishing as the RB5 in PPR scoring leagues and the RB2 in standard-scoring leagues, Henry just had the best season of his career. Even though he may not be utilized very much in the passing game, it's clear that the Titans are going to continue to just feed him the ball.
With 5.08 YPC, Henry just had his most efficient season running the ball of his four seasons in the NFL. Not to mention he totaled a whopping 16 rushing touchdowns. Henry did have 18 receptions this year, which was the most of his career by just a hair, but he did find the end zone twice through the air. Henry is clearly the key piece of this offense and a player who the Titans are going to run through, and his efficiency is undeniable. As long as Henry continues to get the volume, he's going to be a stud in the NFL. With 303 total carries, he saw more than his previous season-high of 215, and that's in one less game than he played in 2018. The involvement in the passing game clearly doesn't matter, and as long as Henry gets this ridiculous volume, he's going to be a fantasy stud.
Dalvin Cook has been arguably one of the best runners in the NFL. With 14 total games played this year, Cook has been active for the most games of his three seasons in the NFL, and it's clear that when he's on the field, the Vikings are going to run their offense through him.
Cook finished the season as the RB6 in PPR formats and RB5 in standard-scoring leagues. With 4.54 YPC, Cook did see his worst yards per carry in his first three seasons in the league. Despite this, he ran for 13 total rushing touchdowns and added 53 catches for 519 receiving yards with zero receiving touchdowns. Cook is the real deal and as long as he's on the field, the Vikings are going to feed him the ball and he's going to be a fantasy stud. After finishing as the RB30 in PPR scoring in 2018, it was great to see a breakout season from the third-year running back in Minnesota.
While we are discussing breakout running backs, this next name is the total opposite of David Johnson who was a major bust this year. Kenyan Drake was traded to the Arizona Cardinals midseason and really came on in the second half. Drake's first big game came in Week 9 against an excellent 49ers Defense, where he ran for 110 yards and a touchdown, adding 52 yards through the air catching four of four targets.
Drake really broke out over the second half of the season, despite having a few inactive games in the first half as well as not seeing the field much, Drake still finished as the RB17 in PPR scoring leagues and the RB18 in standard-scoring leagues. The Cardinals appeared to be making a statement with Drake, whether this is to trade him or Johnson in this coming off-season, it will be fun to see how this backfield plays out. Drake had several great performances this year, including one against the Browns where he ran for 137 yards and four rushing TDs. Drake also totaled 50 catches on 68 targets, showing that the Cardinals can and will utilize him heavily in the air if he's their lead running back.
Honorable Mentions
Nick Chubb, Cleveland Browns
Ronald Jones II, Tampa Bay Buccaneers
Raheem Mostert, San Francisco 49ers
More Fantasy Football Analysis