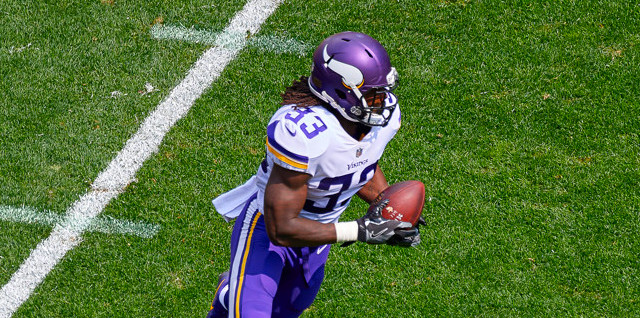 As the month of August continues its relentless advance toward the long-awaited kickoffs of Week 1, the team at RotoBaller continues its unwavering dedication to your championship aspirations. That is why we deliver an all-inclusive stream of information, exhaustive research, and conclusive recommendations.
We are also providing a detailed analysis of our tiered rankings in every format, including the immensely popular Best Ball leagues. This will prepare you for remaining drafts, and help you build rosters that remain potent despite injuries and substandard performances.
This article will breakdown the critical running back position. These players remain prominent throughout our rankings, as eight backs are contained within our top 12. We will continue to update the rankings during these final days of draft season, and you can find the latest rankings here.
Featured Promo: Get any full-season NFL Premium Pass for 50% off and win big in 2022. Exclusive access to our Premium articles, 15 lineup tools, new Team Sync platform, Lineup Optimizer, Premium DFS tools and cheat sheets, and much more!
Sign Up Now!
Updated Running Back Rankings - Best Ball
Below are RotoBaller's consensus staff rankings for the 2019 fantasy football season. These best ball rankings are compiled by Pierre Camus, Phil Clark and Chris Mangano.
In case you missed it, our very own "Big Pick Nick" Mariano was the #11 overall most accurate industry expert ranker for the 2018 season, and #9 overall in 2017. Additionally, industry legend Scott Engel recently joined the RotoBaller team and provides his insights as well. Scott is an FSWA Hall Of Famer and award winner.
Tier 1 
Christian McCaffrey, Saquon Barkley, Alvin Kamara, Ezekiel Elliott 
McCaffrey has muzzled an assembly line of naysayers on his way to becoming an elite all-purpose back. He was second to Barkley in fantasy scoring while thriving as a workhorse rusher (219 attempts/1,098 yards/5.0 YPC), and maintained his prowess as a receiver by leading all backs in targets (124), receptions (107), and yardage (867). He also achieved an 86.3% catch rate led all backs in Football Outsiders' YAR (yards-after-replacement), and his collection of skills ensures that he will be entrusted with another enormous workload. McCaffrey is a viable selection at the onset of your draft and there is no reason to overthink it.
Barkley promptly secured his place among the league's top tier backs by finishing at RB1 in PPR scoring and accumulating a league-high 2,028 all-purpose yards. The accomplishments of his rookie season also included the second-most rushing yards (1,307) and attempts (261), along with the most runs of 20+ yards (16), and 40+ yards (7). He also finished second among all backs in receptions (91), third in targets (121), and fourth in yardage (721). Even though alarming deficiencies permeate the Giant offense, Barkley's possesses a level of talent that will keep him highly productive.
The elusive Kamara remains cemented within the tier 1 options after generating 31 touchdowns during his first two seasons. 18 of those were accrued in 2018, which helped him finish at RB4 in PPR and standard scoring. He averaged 4.6 yards-per-carry with his 194 rushing attempts while residing among the top five among backs in targets (105), receptions (81), and yardage (709). Kamara also led all backs with 26 red zone targets and was second to Todd Gurley with 51 carries inside the 20. Despite growing speculation surrounding the potential workload of Latavius Murray, Kamara is far too effective to lose an appreciable number of touches.
Once you progress beyond the uncertainty that exists regarding Elliott's status, his numbers underscore his proficiency whenever he on the field. He has led the NFL in rushing during both years that he has played 15+ plus games (1,631/1,434) and has paced the NFL in yards-per-game average during each of his three seasons (95.6/98.3/108.7). His exceptional rushing output was also supplemented by career-best numbers as a receiver in 2018 (95 targets/77 receptions/ 567 receiving yards). Even if Elliott's status remains unclear during your draft, he remains worthy of selection among the top four picks. You can safeguard your decision by securing additional backs in the early rounds.
Tier 2
James Conner, David Johnson, Le'Veon Bell, Todd Gurley, Dalvin Cook, Joe Mixon, Nick Chubb, Leonard Fournette 
Le'Veon Bell's 2018 absence enabled Connor to vault from a region outside the fantasy landscape into unquestioned RB1 territory. He was entrusted with 215 carries, and his 74.8 yards-per-game average placed him eighth among all backs. He also finished 11th in rushing yardage (973) despite being sidelined in Weeks 14-16 (ankle), caught 55 of 71 targets, and finished ninth in receiving yards (497). He was also sixth with 1,470 all-purpose yards and will maintain his role as Pittsburgh's primary back. However, Jaylen Samuels lurks as a threat to siphon targets.
Johnson has resurfaced as an appealing first-round selection following his escape from the debilitating constraints of substandard coaching. Johnson somehow managed to finish at RB9 in PPR leagues, while laboring within a 32nd ranked offense that averaged 14.1 points-per-game. Impractical usage failed to take advantage of Johnson's strengths, including a massive decline in his involvement as a receiver (4.75 targets-per-game). Kliff Kingsbury's adaptation of the air raid approach should schematically place Johnson in space as a rusher, and deploy him with greater frequency as a pass-catcher. That should vault him among the top five in scoring.
Multiple factors will prohibit Bell from matching the level of production that he achieved before his self-imposed hiatus. He will be functioning behind a questionable offensive line, and the Jets cannot match the firepower of Pittsburgh units that ranked among the top seven from 2014-2017. However, the 2017 rushing leader does not have a legitimate competition to pilfer carries (Ty Montgomery/Bilal Powell/Trenton Cannon/Elijah McGuire). The blend of enormous talent and significant volume should produce numbers that justify a Round 1 selection.
Gurley assembled more touchdowns (21) and fantasy points (standard leagues) than any other back last season. He also generated nearly 4,000 total yards (3,924) in 2017-2018. But the price of ownership includes determining whether his potential for production outweighs the risks of diminished workloads and disruptive health issues. His 21 attempts-per-game average from Weeks 1-8 plunged to 14.5 in Weeks 9-15 and plummeted to 12.8 if you discard Week 13 (23 carries). His troublesome knee could force owners to endure limitations in his usage once again.
Cook's enticing situation presents the convergence of vision, speed, elusiveness, and an opportunity to showcase it. He can also explode for significant yardage as both a runner and pass-catching weapon, and owners can elude the annoyance of a production-inhibiting committee by selecting him. Cook will function as a workhorse for a head coach that is insistent on a commitment to the run, and Minnesota's ground-oriented approach will feature Cook as the foundation of the offense. The only development that could obliterate this dream scenario would be another setback with his health.
Mixon's 17-attempts-per-game average was exceeded by just three other backs, and there are no concerns regarding his workload this season. His ability to run effectively has also been confirmed, after he finished third among all backs with an 83.4 yard-per-game average. He will be performing as the clear RB1 in Cincinnati, which presents an opportunity to approach last year's yardage total (1,168). But his viability as a Round 1 option has been undermined by A.J. Green's temporary absence and the elimination of two starters from the offensive line (Jonah Williams/Clint Boling).
Chubb averaged 10.2 yards-per-game from Weeks 1-6 but was limited to an anemic 2.6 attempts-per-game during that sequence. His workload expanded significantly from Weeks 7-17 (18.5 attempts-per-game), and Chubb capitalized by accumulating 823 yards during those matchups (89 yards-per-game). He accomplished this even though just three backs encountered a higher percentage of 8+ men stacked in the box (34.38% - 8+D%) according to NextGenStats. Kareem Hunt lurks as a threat for touches from Weeks 10-17. But the exodus of Duke Johnson has cleared a gaping path toward an enormous workload until Hunt reemerges.
Fournette did not endear himself to owners following their investment of a first-round draft selection. An assortment of health problems (ankle/foot/hamstring) combined with a needless altercation to sideline him for eight games. When he was available, Fournette only managed 3.3 yards-per-carry, and his 2018 output (439 yards/5 touchdowns) dropped considerably from 2017 (1,040 yards/9/touchdowns). Nevertheless, he should confiscate a mammoth workload, including more frequent opportunities in Jacksonville's passing attack. His responsibilities as the centerpiece of the Jaguar offense should override your uneasiness about last year's debacle.
Tier 3
Aaron Jones, Marlon Mack, Devonta Freeman, Kerryon Johnson, Melvin Gordon, Damien Williams, Derrick Henry, 
The explosive Jones should no longer be relegated to head-scratching committee status with the perpetually ineffective Jamaal Williams, This should finally dispense with all debate concerning which Packer running back to own. When Jones' workload expanded in Week 8 (14-attempts-per-game), he bolted for 532 yards and seven touchdowns during his next seven contests. He has averaged 5.5 yards-per-carry during each of his first two seasons, while Williams has averaged just 3.7. Dexter Williams is destined to surpass Jamaal Williams on the depth chart. But Jones will perform as Green Bay's lead back if he can avoid further injury.
A troublesome hamstring restricted Mack's early-season production. But he ignited for 874 yards (79.5 per-game) during his final 11 games. Mack also carried 36 times in the red zone and generated nine touchdowns during that sequence. However, Andrew Luck's escalating ankle issue has diminished the appeal of Mack's Round 3 ADP.  Having Jacoby Brissett under center would not instill the same level of concern with opposing defenses. That would allow them to deploy additional resources toward neutralizing Mack. A Brissett-led attack would also be playing from behind with greater frequency, which would increase the percentage of game action in which Mack would lose touches to Nyheim Hines.
Neither Freeman's recent production nor his cluster of health issues provides an incentive to draft him at his current ADP. He was limited to 19 touches and 91 total yards in 2018 and has missed 16 matchups during the past two seasons. But despite the plethora of injuries (concussion/knee/groin/foot), memories of his most productive seasons linger. He led all backs in standard and PPR scoring in 2015, while accumulating 619 touches and 3,175 total yards during 2015-2016. Freeman also will not contend with a legitimate competitor for carries in Atlanta's potent attack. That will make him the recipient of a substantial workload if he can evade further health problems.
Johnson adeptly handled feature back responsibilities during his final eight games (Weeks 3-11), averaging 13.1 attempts and 72.6 yards-per-game. He was also ninth in rushing yardage before suffering his knee injury (641) and was on pace to surpass 1,000 yards. While his involvement as a receiver was moderate (39 targets/32 receptions/213 yards), an expanded role is imminent following the departure of Theo Riddick. If Johnson can also collect a higher percentage of red zone touches than he received in 2017 (17 carries/6 receptions), that could propel him among the top 12 in scoring.
Gordon's ADP still resides in Round 2, although when and where he will perform remains a mystery. But owners must determine if the output that he is capable of delivering is worth the risk of enduring an extended holdout. He missed four games in 2018, and owners will undoubtedly remember his absence in Weeks 13-15. He has only performed in 16 games once during four seasons. However, he has still managed to finish at RB8 or higher (standard) for three consecutive years. Anyone who invests in Gordon should safeguard against a prolonged holdout by drafting for depth at the position.
Andy Reid's description of Kansas City's backfield situation as" kind of a running back by committee deal" should not be surprising in view of the career touch totals for Williams. However, Reid's statement should create caution for anyone intent on targeting Williams in Round 3. Even though he experienced a statistical awakening in Weeks 15-17 (322 total yards/4 touchdowns), he had only been allotted six touches before Hunt's suspension. The concept of owning a workhorse back in Kansas City's high-octane attack remains enticing. But Williams has averaged just 58 touches during his five NFL seasons, and there is genuine potential for Carlos Hyde and Darwin Thompson to poach touches.
Henry's Round 3 ADP is not egregious, but he is still being selected after several backs who do not share his pathway to a massive workload. Any concerns that focus solely on Henry's numbers before his statistical explosion in Weeks 14-17 (585 yards/146 yards-per-game/7 touchdowns) should be offset by his success in taking advantage of the late-season usage. He also finished second among backs in Football Outsiders' DYAR -Defense-adjusted Yards Above Replacement (280), and in DVOA -Defense-adjusted Value Over Average (23.1%). Henry remains entrenched as the workhorse back within a staunch run-first philosophy.
Tier 4 
Josh Jacobs, Mark Ingram, Chris Carson, Sony Michel, David Montgomery, Phillip Lindsay
The Raiders plan to unleash Jacobs as their unquestioned feature back after securing him with the 24th overall pick in April's draft. The 5-10 220 pound newcomer will assume those responsibilities after absorbing just 299 touches during his three seasons at Alabama. Perpetual underachievement throughout Tom Cable's career as an offensive line coach does provide a reason for caution. However, Jon Gruden remains a proficient play-caller, and Oakland's offense has been bolstered with new weaponry. That improves Jacobs' opportunity to deliver a highly productive season.
Ingram is destined to perform lead back duties in an offense that will maintain a steadfast allegiance to the run. The Ravens averaged 34.2 rushing attempts per game in 2018, while also finishing third in run-play percentage (47.7%). Baltimore also dialed up the league's highest percentage of rushing plays from Weeks 15-17 (54.7%), and Greg Roman's arrival as offensive coordinator will only perpetuate the team's ground-oriented approach. Lamar Jackson will match or exceed last season' 13.1 carries-per-game, while the electric Justice Hill will make weekly contributions as a pass-catcher. But Alex Collins and Gus Edwards combined for 251 attempts, and Ingram will commandeer an enormous percentage of those carries.
Among the most intriguing storylines in recent weeks has been the potential workload distribution between Carson and Rashaad Penny. Carson capitalized on his 247 attempts by finishing fourth in yards-per-game average (82.2), fifth in rushing yardage (1,151). and seventh in rushing touchdowns (9). Penny could commandeer a larger percentage of touches, but it is equally possible that Carson will maintain an extensive rushing workload while also exceeding last year's modest target total (24). Attempting to project Pete Carroll's mindset is an impossible task. But the obsessive nature of Seattle's commitment to the ground game should keep Carson highly productive.
Michel would have finished sixth in rushing yards last season if his 71.6 yards-per-game average had been sustained over 16 games. He also averaged 4.6 yards-per-carry, bolted for 336 yards and generated six touchdowns during an impressive series of postseason performances. But Michel's apparent stranglehold on responsibilities as New England's undisputed lead runner dissipated when the Patriots selected Damien Harris. Michel should remain heavily involved in the ground game, but Harris will also commandeer an ongoing role. This has created doubt that Michel will replicate last year's 16.1 attempts-per-game.
The results of Montgomery's first preseason performance were promising (6 touches/46 total yards), as he displayed the vision and patience to locate space, then presented defenders with an arduous task during their attempts to tackle him. He should absorb the 270 touches that were allocated to Jordan Howard in 2018 while undergoing a smooth transition into responsibilities as Chicago's feature back. Tarik Cohen's big-play capabilities will keep him highly involved as a receiving weapon. But Montgomery possesses sufficient skills as a receiver and pass blocker to capture targets on a consistent basis.
Lindsay's meteoric rise from undrafted free agent to RB12 was one of the premier storylines of 2018. But the league's ninth leading rusher (1,037 yards) has been presented with significant hurdles that threaten his ability to match last year's workload (197 carries/35 receptions).  Royce Freeman should expand upon last year's allotment of carries (130), while Riddick looms as an eventual challenger for targets. Lindsay can provide respectable numbers with the touches that he is allocated. But the likelihood of a reduced workload creates significant risk with selecting him at his Round 5 ADP.
Tier 5
Tarik Cohen, Austin Ekeler, Tevin Coleman, Derrius Guice, Lamar Miller, Kenyan Drake, Rashaad Penny, James White Jordan Howard, Royce Freemen, Latavius Murray
Cohen is a dynamic receiving weapon whose pass-catching prowess will boost weekly scoring totals. The equally elusive Ekeler provides standalone value regardless of Gordon's situation. But his numbers will soar if he captures an expanded workload. Coleman could surpass his previous highs in carries (167) and targets (44) despite splitting touches with Matt Breida.
The potential emergence of Kalen Ballage could subject Drake owners to yet another discouraging committee. Miller's fragile RB2 appeal was based on the potential of a considerable workload, but Duke Johnson's arrival has eviscerated that scenario. White's responsibilities as a pass-catcher will remain intact, although his opportunities as a rusher will diminish.
Howard's ceiling is lowered by Philadelphia's usage of multiple backs, and the presence of Miles Sanders. Freeman's role is destined to expand, even though that has not compelled owners to select him before Round 8.
Penny and Murray are not located atop their team's depth charts, but they will garner enough touches to function as viable roster options. Guice still has not been cleared to play (hamstring) and will be performing in a congested backfield with Adrian Peterson and Chris Thompson 
Tier 6
Miles Sanders, Kareem Hunt, Duke Johnson, Nyheim Hines, Damien Harris, Darrell Henderson, Matt Breida 
Hunt could become a valuable commodity after Week 10. The other backs in this tier could elevate beyond their current value if pathways to expanded workloads emerge during the year.
Tier 7 and lower
Tiers 7-10 contain backs that are currently located between RB44 and RB78 in our rankings. A combination of factors could allow them to attain greater relevance as the offseason continues.
More Best-Ball League Strategy
Check out all of RotoBaller's fantasy football rankings. Staff rankings are updated regularly for all positions and include standard formats, PPR scoring, tiered rankings and dynasty leagues.