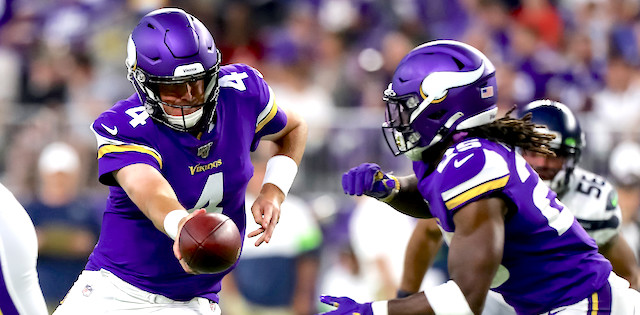 This article will serve as a deep-dive into the current state of the 2019 rookie running back class and determine which players are potential "value" draft picks in accordance with their average draft position. It may seem like an obvious topic to research in fantasy football, but there are plenty of examples of first-year running backs blowing past their ADP en route to season-altering finishes.
Let's analyze the 2019 rookie running back class by considering college statistics, training camp chatter, preseason usage, and projected roles heading into the season. If recent history tells us anything, it's that at least one of these backs is sure to emerge as a fantasy difference-maker this season.
All ADP data is from nfc.shgn.com, updated 8/29/19. Be sure to check out 'Analyzing Value in the 2019 Rookie RB Class (Part 1)' and 'Analyzing Value in the 2019 Rookie RB Class (Part 2)' if you haven't already!
Justice Hill, Baltimore Ravens (ADP: 143, RB52)
Hill was a standout at the NFL combine, putting up a blazing 4.40 40-yard dash time (97th-percentile) and a 133.0 Burst Score (95th-percentile) to go along with a 40-inch plus vertical. He joins all-world talent Saquon Barkley as the only two running backs in the last 15 years to post a 4.4 40-yard dash and 40-inch plus vertical, which is a very impressive feat, to say the least. Hill had a nice career over three years at Oklahoma State, rushing for 3,539 yards and 30 touchdowns (though his junior year was cut short due to injury). He's on the smaller side at 5'10" and 200 lbs, but his athleticism is very apparent and there's a decent chance that he'll step into a third-down role early on.
The Ravens brought in Mark Ingram to be their early-down back, but they're a very run-heavy team and Hill just has Gus Edwards and Kenneth Dixon to compete with for passing-down work. Hill was selected in the fourth round and the Ravens wouldn't have brought in Ingram if they were content with the production from Edwards and Dixon, so there's definitely a pathway for Hill to have a regular role in this offense.
Recommendation
Justice Hill is a player to target late in drafts at his current ADP as a speculative pick. He's projecting to have a passing-down role early on in the season, and he'd be the Ravens back you'd want to own in the event of an Ingram injury. Hill is also an attractive dynasty target - he's an explosive back and is the clear future of the Baltimore backfield.
Alexander Mattison, Minnesota Vikings, (ADP: 152, RB55) 
Latavius Murray is stepping into the Mark Ingram role with the Saints and he's being drafted at RB34. Alexander Mattison, a rookie third-rounder out of Boise State, steps into the Latavius Murray role with the Vikes...but he's RB55? What gives? Latavius Murray finished RB32 (2018) and RB20 (2017) in his two seasons backing up Dalvin Cook, a role that now belongs to Alexander Mattison. Mattison had a solid career at Boise State, highlighted by his 33 rushing touchdowns and a 4.9 yards-per-carry average. He also displayed great hands, a trait that has reportedly shown up in training camp as he has impressed the coaching staff early on in his career.
The 21-year-old doesn't have a standout skill in his arsenal, but he has proven to be a reliable and durable (302 rushing attempts in 2018 ranked second in NCAA) back who is capable of spelling starter Dalvin Cook when needed. Mattison is the clear second option for the Vikings in the backfield, and though we can't project an injury to Cook, he hasn't exactly been the healthiest player since coming into the NFL. It should also be noted that head coach Mike Zimmer has been adamant about running the ball more, so we can safely expect an increase in backfield touches this season and that definitely bodes well for Mattison.
Recommendation
Mattison's ADP has been steadily rising - fantasy owners are wising up to the idea of getting Latavius Murray-lite as a deep-round flyer. Still, pounce on Mattison at his current price as he's absolutely dripping with value here.
Darwin Thompson, Kansas City Chiefs, (ADP: 155, RB56)
Speaking of rising up draft boards - enter rookie sixth-rounder Darwin Thompson from Utah State. Thompson had great numbers in his one year playing DI football, notching a 6.8 yards-per-carry average and totaling 14 rushing touchdowns in his junior year as an Aggie. The 5'8" back is one of the most interesting sleepers at any position, as preseason usage and recent reports are pointing to him being the number two back for the Kansas City Chiefs. The Chiefs, of course, went nuclear last year in Patrick Mahomes MVP rookie season and remain one of the elite offenses in the entire league entering 2019. There's a case to be made for Thompson as a sleeper on this offense in the backup role, but are we sure he's going to be operating as a backup?
Andy Reid has stated his desire to utilize running-back-by-committee multiple times this offseason, and Damien Williams has been an unappealing backup his entire career. Entering his sixth year, Williams has started a total of seven games and averaged just 3.6 YPC prior to his four-game breakout in 2018. Carlos Hyde is likely to be cut soon, while the uninspiring Darrel Williams could work into the mix for touches but isn't much of a threat. There's a non-zero chance that Thompson gets some run as the lead back this season in one of the top offenses in the NFL, and he is absolutely worth a late-round flier in most fantasy formats for that fact alone.
Recommendation:
Thompson is a great value at his current ADP and is someone to give strong consideration to as a speculative depth pick. He should provide return-on-investment in his current projected role, but he could be a league-winner if handed the lead-back reins (which isn't as far-fetched as you'd think).
If you think you know what starter Ezekiel Elliot is going to do, you're lying. Just 10 days away from Week 1's tilt against the Giants, the Cowboys' star running back is still standing firm on his contract holdout. This is vitally important to our assessment of Pollard because he'd likely assume lead-back duties in the event that Zeke misses game-action. Pollard, a fourth-round pick out of Memphis, didn't put up impressive totals in college (though he did average 6.8 YPC). Even still, he has to be on your radar with the season drawing closer and no signs of Zeke returning any time soon. Pollard had a nice preseason, rushing 15 times for 84 yards (5.3 YPC) and a touchdown to go along with three catches for 19 yards. Owner/GM Jerry Jones has been raving about Pollard, "Zeke who?" but the 'Boys brought in veteran Alfred Morris as a threat to vulture touches from the rookie.
Pollard would likely still have a role with Elliot back in the fold, but it wouldn't be a role worthy of fantasy consideration with such limited snaps. Drafting Pollard is all about how you personally view the Zeke situation. He isn't close to worth his current ADP if Zeke returns before Week 1, but if you expect the holdout to last into the season (or for the entire year) he's clearly worthy of his draft slot based on opportunity.
Recommendation:
Your view on Pollard is entirely dependent on your assessment of when you believe Ezekiel Elliot will return. If he returns soon, Pollard is a terrible value here. If Zeke holds out through Week 6 (or later), you have a fantasy gem on your hands.
More Fantasy Football Analysis
Check out all of RotoBaller's fantasy football rankings. Staff rankings are updated regularly for all positions and include standard formats, PPR scoring, tiered rankings and dynasty leagues.