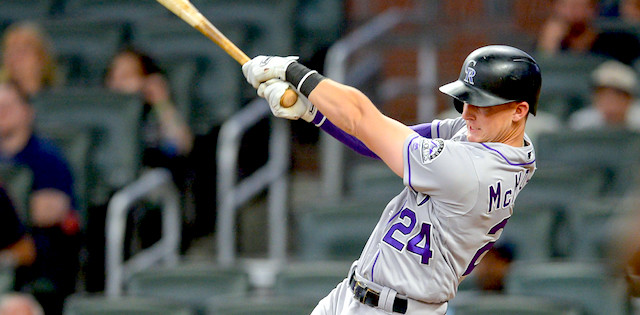 With so many schools starting back incredibly soon (if they haven't already), and so many of us being impacted by the changing of the seasons (whether you have kids in school, you teach, or you're a student yourself), it's important to take a moment to appreciate the days when we have spare time to spend on watching baseball. Football is about to stretch everyone's attention that much thinner, and a lot of folks' evenings are getting that much busier. However, that is hardly an excuse for those of us staring down the barrel of a race to the playoffs while dealing with an onslaught of injuries and streaking/slumping pieces of the lineup. There is roughly a month and a half left of regular season play: that's a lot of shots at the plate and way too much time to plan on your situation to remain static. With so much fluidity and rising talent around the league, there's still ample opportunity for a last-second surge.
As always, the second base and shortstop positions are notoriously lacking in waiver wire depth and are therefore quite fickle to navigate. Each week of the season, we will look at a slew middle infielders who are worthy of acquisition (or strong consideration at the very least) and are owned in less than 50% of Yahoo Leagues. Staying on top of the injury, roster, and statistical trends regarding the middle infield positions will ensure that your team has robust year-long depth and is ready if a crisis were to arise.
With that, let's have at it and take a look at a fresh batch of second base and shortstop waiver-wire targets for Week 21.
Editor's Note: Get our 2020 MLB Premium Pass for 50% off, with exclusive access to our draft kit, premium rankings, player projections and outlooks, our top sleepers, dynasty and prospect rankings, 20 preseason and in-season lineup tools, and over 200 days of expert DFS research and tools.
Sign Up Now!
Pickups for Most Leagues
36% Owned
It's been a hot and cold campaign for Ryan McMahon as he battled for playing time with Brendan Rodgers and Garrett Hampson, but he is finally managing to string together his second straight month of success at the plate, and August has been an absolute doozy. After a four-HR, .921 OPS showing through July, McMahon has put together a highly impressive six home runs and .292/.393/.729 slash in just 48 AB this month.
He is still striking out more often than you'd like to see with a 28.6% rate, however, he has also produced a season-best walk rate of 14.3% for August, but the real story has been the power encapsulated in his robust .438 ISO. While he is still only connecting for 50.4% combined line drives and fly balls, he has upped his hard contact rate on batted balls to a stratospheric 62.5% (from 42.9% in July), while lowering his soft contact rate from 21.4% last month to just 9.4% in August.
The 24-year-old McMahon has gone from giant question mark to future foundation piece of the franchise in just a matter of months. His 91.6 MPH exit velocity and 422-foot average home run distance read extremely positive for continued life in notoriously hitter-friendly Coors Field, and with his plate discipline and batted ball contact quality both on the ascent, "Ry-Mac" is shaping up for a great close to the month and a third straight month of mastery in September.
22% Owned
Nick Ahmed took home a Gold Glove award in 2018, and considering the fact that his dWAR of 2.4 leads all of major league baseball, he is easily on pace to earn more hardware in 2019 for his craftiness at shortstop. Lost on some may be the fact that Ahmed is turning in the best offensive campaign of his MLB career, and has been red-hot in the Arizona sun through August with a whopping six home runs and a .353/.421/.804 slash in 51 AB for the D-Backs.
The train has steamrolled on with the foundation of plate discipline that "Slick Nick" built in July, as he is striking out at just 14% this month while taking free trips to first at a 10.5% clip. He has still been working with a high GB/FB ratio of 1.50 made up of just 32.6% fly balls, but he has kept his batted ball contact quality high with 44.2% hard contact (though an elevated soft contact rate of 18.6%) through the month on the road to a .451 ISO.
Ahmed possesses fantastic sprinting speed with a measure of 28.2 feet per second, and this has allowed him to steal a career-high seven bases (in eight attempts) through 428 AB this season, while also sustaining a .324 BABIP through competition in August. With a potent mixture of focus with every plate appearance and high-quality contact being applied to the majority of pitches he can touch, Nick Ahmed is in prime position to put some poignant punctuation on his career year of 2019 out of Chase Field.
14% Owned
It is not lost on me that the Dodgers just activated Jedd Gyorko off of the IL and that Gavin Lux's call-up likely won't come until September. However, it should not be lost on you that by the time September arrives, it may be too late to get your hands on the highly-rated shortstop, because he has been an absolute force of nature in the highest level of the minor leagues this season.
He started the year off strong with 13 home runs, seven stolen bases, and an .896 OPS through 259 AB with Double-A Tulsa. That on it's own would already be a line to be proud of for a 21-year-old prospect, but then Lux was promoted to Triple-A Oklahoma City, where he began brutally punishing all that dared to throw him a hittable pitch. In just 191 plate appearances for OKC he has recorded a remarkable 32 XBH (eleven home runs, four triples, and 17 doubles), three stolen bases (in an albeit ineffective six tries), and .415/.497/.768 slash.
Lux put together a lengthy 50-game streak of reaching base as well for his Triple-A club with the assistance of a dialed-in 14.1% walk rate, and his .357 ISO reflects a ridiculous ability to hit for extra bases with ease and consistency as he flawlessly navigates the learning curve. If you want to be a part of any Gavin Lux action for a closeout to the regular season, you're going to have to stash him soon. Still, that seems like a rather small price to pay for the potential rewards that may follow.
Jon Berti (2B/3B/SS/OF, MIA)
11% Owned
29-year-old rookie Jon Berti is currently in the middle of the best month of his major league career with eight extra-base hits (six doubles, a triple, and a shot to the stands), four stolen bases (in five attempts), and a slash of .310/.394/.500 in 58 AB. In filling a multitude of defensive positions for the bottom-dwelling Marlins, "Birdman" is finally receiving enough volume at the plate to make some true statistical contributions, and he has the physical talent to support his continuity.
For August, Berti has so far produced decent figures in plate discipline with a 7.6% walk rate and 15.2% strikeout rate, and he has accumulated a dirt-heavy 3.86 GB/FB ratio off of a mere 14.6% fly balls. Honestly, the gaping lack of shots to the sky may be the best possible circumstance for Berti. He has sent 29.2% of batted balls through the air for line drives, onto which he has applied 68% hard contact and a fantastic 4% soft contact for the year.
With that quality of contact on batted balls, Berti has overcome a lack of raw power to net an ISO of .190 for August. His bread and butter remains his base-running. He actually ranks 13th in all of major league baseball in sprinting speed with a measure of 29.8 feet per second, which makes him an elite threat to grab stolen bases and maintain a high BABIP (like this month's figure of .362). With a the promise of further playing time on the horizon, Jon Berti's formula can finally come to effective fruition.
For the Sneaky and Savvy
10% Owned
It was definitely a slow start in the MLB for highly-touted prospect Luis Urias, but with Fernando Tatis Jr. now shut down for the season and Ian Kinsler on the IL, the Padres have continued to deploy him with promising results. After coming up completely flat in separate stints through April and July, Urias has blossomed at the turn of August with three doubles and a .308/.426/.385 slash in 47 plate appearances (now appearing at shortstop and second base).
Urias has been knocking for a dirt-heavy 2.38 GB/FB ratio (off of 60.7% grounders), and an oppressive 20.7% soft contact rate on batted balls. However, those drawbacks feel minor when compared to the massive strides he has made. His 48.3% hard contact rate (in stark contrast to 22.2% in July) has allowed him to maintain a .414 BABIP, and his has shown discipline at the plate of a player well beyond his experience with a manageable 21.3% strikeout rate and beefy 12.8% walk rate. Following his 19-dinger, .998 OPS in a 295 AB run with Triple-A El Paso, this run of rhythm to begin the month could signify a strong finish for Luis Urias.
10% Owned
Although he has only racked up three home runs and one stolen base (in a mediocre three attempts) through 195 AB in 2019, if Luis Arraez had a full helping of plate appearances under his belt, his .349 batting average would be tops in all of baseball by a considerable margin. Not only that, but he has yet to have a sub-phenomenal month on offense for the surprise Minnesota Twins, most recently hitting up opposing pitchers for four XBH (one HR, one triple, two doubles) and a .327/.377/.455 slash in 55 August AB.
His power is modest, but he has still swung for a tolerable 33.3% hard contact and 16.7% soft contact on batted balls this month en route to an underwhelming ISO of .127. In spite of this, his razor-sharp plate discipline has become even more acute with an 8.2% walk rate and virtually non-existent 3.3% strikeout rate, and has scored his best GB/FB ratio since May (1.00) in order to sustain a .321 BABIP. Even with limited capabilities as far as power/speed is concerned, if he can keep notching base hits with this elite level of regularity, Luis Arraez is a rock solid asset to own down the stretch.
6% Owned
With a .318 batting average in 381 AB this season for the cellar-dwelling Baltimore Orioles, Hanser Alberto is one of the more surprising names in the hunt for the AL batting title. While it has been a pleasantly surprising campaign for "#Femalta" that has seen him do a little bit of everything on offense, he has really turned up the heat since the start of August with seven extra-base hits (five doubles, a triple, and a knock) and a particularly well-rounded slash of .358/.397/.547 in 58 appearances at the plate.
Although he has walked at an awful clip all year, he has netted a season-high rate this month of 5.2% in conjunction with an excellent 10.3% strikeout rate that gives him every opportunity to find success. What's more, even though he has actually hit for a terrible 25% hard contact and 29.2% soft contact rate this month, he has still produced an ISO of .187 thanks to 68.8% combined line drives and fly balls within the offense-friendly Camden Yards. His natural speed and power are both a bit limited, but in filling the Baltimore batting order in a variety of defensive positions, the Hanser to your prayers could be Alberto in the final month and a half of regular season play.
Just Checking In...
In a split second, Freddy Galvis had been forfeited by the Toronto Blue Jays and picked up by the Cincinnati Reds. Even with Galvis's career year to this point in 2019, it was expected that the Jays would find a way to clear him (and Eric Sogard) out of the way of their slew of young talent. Though he still has competition for playing time in Cincinnati, his hot bat paired with Jose Peraza's persistent problems should keep the window cracked.
Giovanny Urshela had been swinging a nice bat all year, but after a recent uptick in power balls brought his grand total of home runs to 18, his ownership rate has appropriately skyrocketed well into exclusive territory. With a .335/.378/.586 cumulative slash 331 AB into his age-27 season for the contending Yankees, Urshela has easily been one of the best finds of the fantasy baseball campaign (and all of baseball, for that matter).
18 home runs and 347 AB into a fantastic rookie season for the Boston Red Sox, Michael Chavis unfortunately hit the IL with a sprained AC joint and will likely be sidelined until early to mid-September. Chavis was fresh off of an astute month of July at the plate with three dingers and a .786 OPS, but struggled mightily through his time in August with a single homer (his only XBH) and a .456 OPS in 34 plate appearances. Hopefully he can return before the end of the regular season to end matters on a more momentous note.
More Waiver Wire Pickups and Streamers
Check out RotoBaller's entire fantasy baseball waiver wire pickups and sleepers list, updated daily!