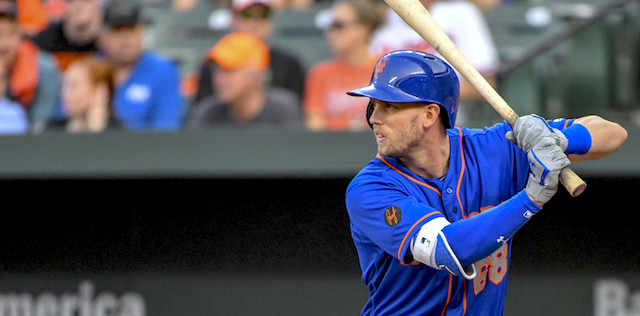 That crucial point in the summer has finally arrived: the St.Louis Blues are Stanley Cup Champions, the Toronto Raptors have been crowned the kings of the NBA in six games (Blue Jay fans can breathe a sigh of relief if Drizzy is ever cheering you on in the World Series), and unless you are tuned in to the Women's World Cup or WNBA, there is only a long stretch of baseball to look forward to. Playing the game at this point in the year can start to feel stale if you fool yourself into falling asleep at the wheel. It can start to feel like we are just mulling over the same cast of characters week after week, and we all know that there are only so many AB that can go around to middle infielders in the MLB. Don't let yourself snooze though: while it's always hard to find a creative means to an end, even a simple or obvious solution is eons above letting a mediocre situation ride as early as mid-June.
As always, the second base and shortstop positions are notoriously lacking in waiver wire depth and are therefore quite fickle to navigate. Each week of the season, we are going to be taking a look at a slew middle infielders who are worthy of acquisition (or strong consideration at the very least) and are owned in less than 50% of Yahoo Leagues. Staying on top of the injury, roster, and statistical trends regarding the middle infield positions will ensure that your team has year-long robust depth and is ready if a crisis situation were to arise.
With that, let's have at it and take a look at a fresh batch of second base and shortstop waiver wire targets for Week 12.
Editor's Note: Get any full-season MLB Premium Pass for 50% off. Exclusive access to our Draft Kit, premium rankings, projections, player outlooks, top prospects, dynasty rankings, 15 in-season lineup tools, and over 200 days of expert DFS research.
Sign Up Now!
Pickups for Most Leagues
44% Owned
Jeff McNeil slowly started to become available after a stint on the IL, and since returning, he hasn't lost a single step from where he left off. He has smacked a home run with a laser-focused slash of .341/.356/.455 over the past two weeks, keeping him among the league batting leaders with a slash of .335/.406/.459 in 209 AB for his sophomore season. While his three homers communicate extremely modest power and he doesn't look poised to repeat his base-running feats from 2018 (he has zero steals in four attempts for 2019), he has been continuously raking at the plate for the Mets, and it's hard to argue with his formula for success.
McNeil's plate-discipline has been top of the line, putting up a 7% walk rate with a meager 11.4% strikeout rate, and his quality of contact applied to pitches makes it easy to see his .375 BABIP riding until September. He mixes up his ball placement with a 1.33 GB/FB ratio and a 45.3% pull rate, and he has been hitting for much improved career-best figures in hard contact rate (38%) and soft contact rate (11.2%), ultimately netting a blistering exit velocity of 90.4 MPH. He may not be a threat to tally a large volume of power or speed figures, but he is giving himself every chance in the world to record a hit (or at least safely reach base) in every plate appearance while still slugging at a respectable level, so it would be wise to take advantage of his availability while the window remains open.
40% Owned
Much like the Minnesota Twins who have shocked the baseball world with a league-leading 411 runs, 135 homers, and an .854 OPS, many of us didn't expect for Marwin Gonzalez to keep hitting at such a Herculean pace. He got off to a a horrendous start to the season through April, but has been nothing but red-hot from that point on. The 30-year old veteran can play nearly every position on the field, which has played a big part in him being able to be a part of the batting order for a squad that is putting fear into the hearts of MLB arms. While it's not like the Twins are short on help, Gonzalez has devastated the opposition over the past two weeks with three home runs and a .351/.400/.703 slash, and he has accomplished this with concrete contact on batted balls.
His GB/FB ratio is 1.45 and his pull rate is 35.4%, but he has consistently found a home with the bat by propelling pitches for line drives at a 25.5% frequency while hitting for career-best figures for hard contact (43.5%) and soft contact (13.5%). Even with an underwhelming cumulative ISO of .161, his stroke is properly personified by his impressive 91.3 exit velocity and 402-foot average home run distance, and he has been walking at a solid rate of 8.4% to help supplement his OBP. He doesn't really try to steal bases anymore (his sprinting speed suggests that this is for the best) and he isn't a pigeonholed power hitter, but he is hitting with effectiveness and ferocity for a club producing out of their mind results on offense. Considering that you can stick him in any slot on any given day, that is a player you want to be a part of.
38% Owned
Between Vladimir Guerrero Jr., Eric Sogard, Freddy Galvis, and Cavan Biggio, it may make you sweat thinking about another infielder seeing significant time in the batting order, but Lourdes Gurriel Jr. has found a consistent home in the outfield and made a huge contribution over the last two weeks with his bat. After an explosive, albeit short stint in May, Gurriel has hit for two homers and a well-rounded .286/.362/.500 slash in the past 42 AB. While his team may not be doing as well as his brother's club, he has strung together an extended stretch of exemplary work on offense, and the Jays continue to call on him as a result.
There are a couple of nagging issues present. For example, though he is walking at a better clip of 7.7% in June, he has hindered himself considerably with a 26.9% strikeout rate thus month. Another obstacle is the fact that, while he sports power-friendly tendencies such as his 0.97 GB/FB ratio, it doesn't translate well when you produce soft contact as often as 26.5% like Gurriel has for the season. Fortunately, even with those demons looming, Gurriel has been hitting the ball too frequently and too hard for it to matter. He produced 50% hard contact on batted balls for May and has been hitting for an also impressive figure of 45.5% for June. His value lies in a steady stream of well-rounded bat work and possibly a few stolen bases to boot. Even with the mixing up that has occurred in the Toronto lineup and the scattered sample we have of Lourdes Gurriel Jr. as a result, he isn't just warming up anymore: he's hot.
21% Owned
From an aerial perspective, Kolten Wong's .250/.337/.397 paints a pretty humdrum portrait, and it's been a roller coaster season to say the least for the second baseman of the offensively questionable Cardinals. After a fast start to the year, Wong limped through May with a .510 OPS, and saw his ownership rate plummet as a result. However, all throughout the season to this point, he has added a healthy volume of home runs to a top-tier base-running approach. He has already hit for seven bombs and is tied for eighth in the league in stolen bases with 13, and he has yet to be caught in the attempt despite relatively modest sprinting speed.
What's more, Wong has put his May troubles behind him, and has been tuned in at the plate during June. He's knocked a single ball into the stands, stolen five bases, and boasted a .364/.396/.500 slash in 44 AB. His poor play of May could be in part due to misfortune, as he was applying a 37% hard contact rate to a 0.97 GB/FB ratio, but ended up with a BABIP of .183. Otherwise, he has made continuous, effective contact on batted balls with each month while also walking at a helpful clip of 10%. St.Louis may be struggling in June, but Kolten Wong has really turned things around while running the base-paths like he never has before in his major league career. That's quite a valuable bundle if he can hit two or three dingers per month. If only we could cash in on those sweet diving catches in the shallow outfield.
For the Sneaky and Savvy
13% Owned
David Bote has flown under the radar all season long, but he has quietly put together a solid body of work. He has hit eight home runs and produced an .842 OPS in 176 AB, and he has even been heating up over the last two weeks to the tune of two home runs, his only stolen base of the campaign, and a slash of .286/.342/.543. His defensive versatility has earned him consistent time on the field in a near-even split at second and third base throughout the year, while his dialed-in work at the plate has helped keep him there. Bote has boasted some impressive figures that speak to his high-quality contact in 2019, namely his 41.4% hard contact rate, 10.2% soft contact rate, .210 ISO, 406-foot average HR distance, and 90.7 MPH exit velocity. It makes it easy to believe that his .342 BABIP is sustainable and he isn't a threat to fizzle out in the strong Cubby offense.
6% Owned
The Pittsburgh Pirates have had to do a bit of reshuffling in the infield this season, but they have continued to call on organizational prospect Kevin Newman to fill the void while others like Cole Tucker have been demoted. The 25-year old former Arizona Wildcat has held up well so far in 2019, putting up two home runs, three stolen bases (in four tries), and a slash of .314/.366/.429. Though his mix is practically even, Newman hasn't ever profiled as a power/speed infielder and is most known for his ability to hit for average, reach base, and commit robbery on the base-paths. He stole 35 bases in 48 attempts through 633 AB at Triple-A, and has stolen two bases alone in the past week with the help of a sprinting speed of 28.3 feet per second. Even with iffy hard contact figures and power-game in general, Kevin Newman's demonstrated plate-discipline (he hasn't even struck out in a week) and ability to generate stolen base volume carries value in deeper formats.
1% Owned
Jose Altuve's return may be impending, but Tony Kemp has certainly taken full advantage of the opportunity allowed by the perennial All-Star's injury. He has racked up five home runs, four steals, and a .752 OPS in 125 AB this year, and he has shined particularly bright in the past two weeks with three dingers, a swipe, and a slash of .278/.357/.611. The 27-year old Vanderbilt alumni has proven to be a moderate power/speed combo in his MLB career when allowed an ample amount of AB, but this year has been turning in some career-best figures to help carry his work with the bat. He is striking for 34% hard contact and a solid 16% soft contact with proper placement in the form of a 54.7% pull rate and 1.05 GB/FB ratio in hitter-friendly Minute Maid Park. With a nice foundation of plate-discipline, Kemp can do a little bit of everything, and can do damage for the Astros around the field even with Altuve soon to return.
Just Checking In...
It hasn't been a long time back for Didi Gregorius, but in that time he has hit for an encouraging clip and wasted no time in smacking his first home run, and his ownership rate has appropriately risen to 65% as all of the eager lay-and-waits attempt to cash in on what could be left. That appears to be the move to make even with a still-crowded Yankees infield.
Asdrubal Cabrera has fantastically maintained the work on offense that led to his turnaround, and his .327 BA and single dinger over the last two weeks for Texas have led to him being owned in 51% of leagues. Even if the batting average doesn't persist, the peripherals suggest that this could end up being a career-best power season for the veteran infielder.
Another player that got right to cracking once get returned from the IL, Scott Kingery has crushed four pitches into the stands over the past two weeks, and has been a powerful force in a burgeoning Philadelphia batting order. With his ownership rate now at 47%, time is running out to buy a share in the defensively versatile, power/speed friendly former Arizona Wildcat.
More Waiver Wire Pickups and Streamers
Check out RotoBaller's entire fantasy baseball waiver wire pickups and sleepers list, updated daily!