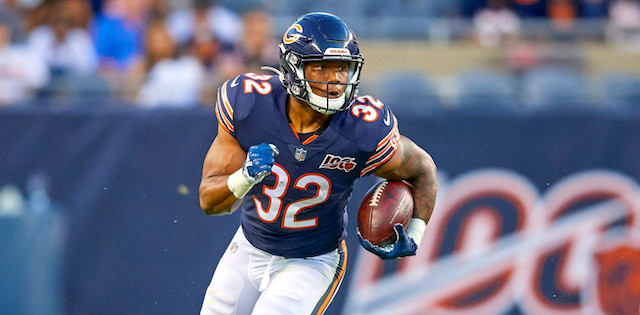 The NFC North has been predominately known as the defensive division in the conference. But in recent seasons, we have seen the less great play from the defenses which has opened the door to increased opportunities for fantasy scoring. In 2019, those offenses took a step back, whether it be due to injuries (Minnesota Vikings/Detroit Lions) or poor offensive play-calling (Chicago Bears/Green Bay Packers). As a result, this division was sixth in the NFL in scoring. Much was expected from these teams from a fantasy standpoint a year ago, but alas they largely disappointed. Can there be a turnaround beginning in 2020?
From a dynasty perspective, there several young and exciting players that have entered the league recently in this division. Guys like Dalvin Cook and Kenny Golladay have already solidified themselves as top options at their respective positions. So what does the NFC North bring on the horizon for dynasty owners to get excited about? The strength of this division in recent seasons has been strong quarterback play, but that trend seems to slowly be fading away as the offenses in the NFC North have begun implementing strong running games. If you can move on from QBs in this division in dynasty, it would be a wise move, but they are steadily losing value. The strength of this division now solely resides on the running back position and should be where owners focus their efforts on acquisitions.
Let's jump into the NFC North and see just where the dynasty market lies on some of the players. As you prepare for upcoming drafts or potential trades, having that insight leaves you better prepared.
Featured Promo: Get any full-season NFL Premium Pass for 50% off and win big in 2023. Exclusive access to our Premium articles, 15 lineup tools, new Team Sync platform, Lineup Optimizer, Premium DFS tools and cheat sheets, and much more!
Sign Up Now!
Green Bay Packers
The first year under Matt LaFleur, we saw the Packers turn from a team that needed Aaron Rodgers to shoulder the load to a team that tried to become a more balanced attack. Aaron Jones flourished and finished as one of the top backs in fantasy, while Rodgers struggled to maintain QB1 value. His value should once again hover around the low-end QB1 area with the offense being the way it is, while Davante Adams should flourish yet again due to the team's inability to add talent around him.
TRENDING UP
A.J. Dillon- Dillon was a workhorse back at Boston College that routinely found the end-zone (40 career scores). Sure, Aaron Jones (let's not forget Jamaal Williams) is ahead of him on the depth chart after a career year. But LaFleur loves to implement committee rushing attacks and has possibly found his version of Derrick Henry from his Titans' days in Dillon. With Jones in a contract year, it's feasible to think that the team moves on from him in 2021, leaving the backfield solely in Dillon's hands. He may not provide much punch in 2020, but Dillon should be viewed as a back-end first-round pick in rookie drafts with the value he could bring to the table over the next few seasons. He loses a bit of spark in PPR formats, but the touchdown potential raises his floor.
Allen Lazard- With the Packers' refusal to add a receiver in what was one of the best draft classes in recent memory, it has to help a player already on the roster right? Don't try and sell me on Devin Funchess as I believe that Lazard has every chance to win the WR2 job in 2020. He started to gain steam down the stretch in 2019 as the rapport with Rodgers improved. His three WR3 or better weekly finishes in the final six games could be a momentum that is carried over into the 2020 season. As far as his dynasty stock, Lazard is a player that you could acquire at the moment for next to nothing. But his ability to perform in the right matchup could give you a key cog on your roster as a fill-in.
TRENDING DOWN
Aaron Rodgers- Rodgers is a player that is starting the downhill of his career. The perennial elite fantasy QB has played a full slate in each of the last two seasons but has only managed a QB7 finish (2018). The first year under LaFleur was a bit sketchy as his week-to-week value was all over the map. With the team running a more balanced attack, and an extreme lack of weapons, Rodgers could only muster six QB1 finishes during the 2019 season. The team's surprising addition of Jordan Love in the NFL Draft spells the end to Rodgers' days as the Packers QB and in dynasty formats now may be the time to pull the trigger on moving him while he maintains some value. He should still be considered a QB1 over the next couple of seasons, but the return value in a deal decreases by the day.
Aaron Jones- I know, how do you consider a player that finished just behind Christian McCaffrey as trending down? That is how I am looking at it. It all boils down to his scoring efficiency. The gigantic jump in scoring (173.4 in 2018 to 318.8 in 2019) was largely contributed to the success rate of getting into the end-zone (19 total TDs). The smart owner would say that regression is coming for Jones in 2020. Of course, with him being in a contract year, there is an incentive to play well. But the truth is, the future for Jones past the 2020 season seems uncertain. especially with A.J. Dillon firmly entrenched as the possible back moving forward. If I am a Jones owner in dynasty, I would look to capitalize on his 2019 numbers and sell high.
Minnesota Vikings
The Vikings are the most run-heavy team in this division, which is easy with a back as talented as Dalvin Cook in the backfield. Rumors of his contract situation aside, as long as he is on the field he is one of the most sought after backs in all of fantasy. Running the ball at a 50.5% rate has left Kirk Cousins in a situation where he has to limit mistakes and become increasingly efficient. Losing Stefon Diggs and his 93 targets may be considered a loss, but promising rookie Justin Jefferson should fill that void early on. But something to watch for with the Vikings in 2020 is the losses in the secondary. This could mean more points on the board for the defense, putting the offense in a situation to throw more.
TRENDING UP
Adam Thielen- People see the year-end numbers for Thielen for 2019 and assume that the decline is happening. But injuries were a major factor for him a season ago (missed six games). Thielen is just a year removed from being an elite PPR asset as he was for the 2017 and 2018 seasons. Now back fully healthy and missing the departed Stefon Diggs, he has a chance to once again produce great value. He is largely going overlooked by owners at the moment, but expect to see him rise up draft boards before the season starts. In dynasty, he may be a player that you could acquire at the moment for a lesser deal as the 2019 stigma is fresh in people's minds.
Alexander Mattison- With all the contract squabbling going on at the moment with Dalvin Cook, the price for Mattison is going up by the day. Owners are striking while the iron is hot to off-load him for maximum gain. Meanwhile, other owners are acquiring him in hopes that they are striking gold with a player that could spearhead the Vikings ground game if Cook were to be absent. He played well in 2019 while firmly behind Cook (one week of RB2 scoring) and could have had much more success had he not been shut down at the end of the year. But in dynasty, if you are a Cook owner, it is almost vital that you have Mattison on your roster. If the relationship sours between Cook and the team, Mattison is a player that could return RB1 value.
TRENDING DOWN
Kirk Cousins- A quarterback that we were accustomed to seeing as a QB1 for several years, Cousins took a major step back in 2019 (QB17). The completion percentage (69%) and touchdowns (27) were extremely efficient, but the lack of opportunities in this high-powered rushing attack lowered his ceiling. The same case could be for him moving forward. No longer will he be the high-volume passer, instead vying to be more of a timely passer that helps feed the run game. He has firmly moved into QB2 territory in dynasty and should be treated as such.
Kyle Rudolph -Another player that suffered from the change in philosophy is Rudolph. After three straight years of being inside the top-ten, he saw the offense change, the team drafts another tight end (Irv Smith), and his value falls to TE14 last season. After seeing his snap share being surpassed by Smith at season's end, it is safe to say that Rudolph could be viewed as the backup in the team's plans moving forward. As he continues to lose value, his dynasty stock plummets with it.
Detroit Lions
It was a lost season for the Lions in 2019 once Matthew Stafford went down with an injury. And at nearly the same time, the team lost it's starting running back in Kerryon Johnson. The fantasy value of the remaining Lions was lost as the team finished out the season. Now with all players back and healthy, the team will need to rebound if Matt Patricia wants to keep his job. This team quietly has some nice options in fantasy with a number of them being young and viable dynasty commodities.
TRENDING UP
Kenny Golladay- Oddly, Golladay continues to go largely overlooked in both redraft and dynasty leagues. But even with the horrible QB play in the back half of the season, he managed to finish as WR9 in 2019. A lot of that damage was done with Stafford as the starter and with the duo back together again, Golladay could be primed for a huge season. With the new blood entering the NFL at the position over the next couple of seasons, Golladay could be a player to target with dynasty offers. Everyone wants the new, shiny toy and you could come away with a steal in an offer to the Golladay owner.
D'Andre Swift- Swift comes in with lofty expectations from fantasy owners after being drafted by the Lions. He has the skillset to succeed at the next level but has a couple of obstacles in his way. First, he will have to compete with Kerryon Johnson for touches in the backfield. Second, there is always the issue that the Lions have historically had trouble producing quality fantasy talent at the position. But at the end of the day, in dynasty formats, Swift will be a player that provides a strong value in any format for years to come.
TRENDING DOWN
Kerryon Johnson - Speaking of the other back in the Lions' rotation, it is all but said an done that Johnson will eventually be out of the equation. He has missed multiple games in his first two seasons, a fact that is surely not missed by the coaching staff. His PPG in 2018 (14.1) may wind up being a career-high as I don't expect to see him get the volume he'll need to achieve that production. Look for Johnson to move on to another team once his rookie deal with the Lions is up. If you have him rostered in dynasty, it would be a smart move to see if he pops a big game early in 2020 then try and sell off of that.
Chicago Bears
What a difference a year makes for the Bears. A powerhouse team in 2018, then an afterthought in 2019. The team found struggles on defense and the offense was just not potent enough to pick up the slack. The lone bright spot was the excellent play from Allen Robinson (WR8 in 2019). A player that showed he is back to full health once again and should be on the radar of any dynasty owner. The true test of this offense in 2020 and moving forward will be if they can finally solidify the QB position. That will go a long way in improving the overall efficiency of the Bears.
TRENDING UP
David Montgomery-  A lot of hype was surrounding Montgomery heading into the 2019 season, and many owners felt that he failed miserably. But by season's end, he was starting to find his stride and managed to finish as RB24. Even in an offense that sees Tarik Cohen handling most of the receiving duties, Montgomery still was able to haul in 25 receptions in his rookie year. With the question marks around the QB position, the Bears should look to make Montgomery as the focal point of their offense moving forward. He is a player whose value should only go up from here. If he exceeds 250 carries (242 in 2019), he is all but locked into a top-twenty finish at the position. I still think he has the skills to produce at an RB1 level and in dynasty, Montgomery is a player I would ask about if the current owner is disgruntled.
Anthony Miller- A player that I have long be a proponent of, Miller may finally on the verge of breaking out. He has been consistent each of his first two years in the league while playing limited snaps behind Allen Robinson and Taylor Gabriel. But once Gabriel went down towards the end of last season, Miller showed what he could do (WR23 over the final five games). With Gabriel now departed, Miller is locked in as the WR2 for the Bears and the increase in snaps and targets should pay off bigtime. He would be a player that I am targeting in dynasty formats. The third-year breakout could be on the verge, but all of it is dependent upon the Bears finding consistency from their QB.
TRENDING DOWN
Mitchell Trubisky- Trubisky took a major step back in 2019 (down from 301.25 FP in 2018 to 238.2). So much so that the team decided to bring in a quarterback to compete with him in camp (Nick Foles). Trubisky became skittish in the pocket as he kept his eyes closer to the line of scrimmage (6.1 YPA down from 7.4). The Bears may finally realize they need Trubisky at his best to make this offense go. But is his best good enough? I lean towards the negative on that question as I think the Bears will be looking yet again for a franchise QB. Making Trubisky not only expendable by NFL circumstances, but in dynasty formats as well.