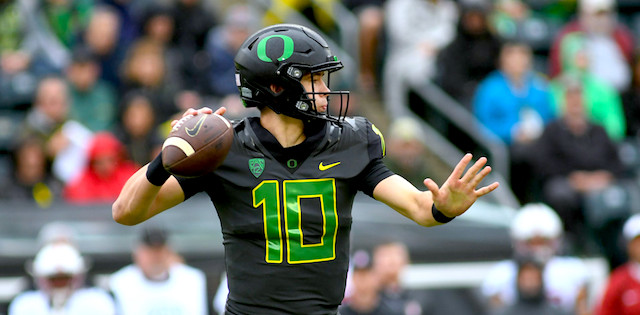 With the injury suffered by Tua Tagovailoa in Alabama's recent game against Mississippi, it feels like a good time to evaluate the top tier of college quarterbacks who are preparing to enter the NFL.
While one or two of these players may not declare, it's more likely the injury to Tua nudges more of them -- such as Jacob Eason and Jake Fromm -- to do so. That one injury could drastically change the landscape of the 2020 quarterback draft class, causing a rise in draft stock for some QBs who may not have been thought of as highly before.
We will focus exclusively on top tier players, the ones we expect to be drafted in the first two rounds. So while a player like Jordan Love out of Utah State is interesting, he's been having a dreadful season and will likely return for his senior season to improve his draft stock. We'll look at their biggest attributes and try to project where they'll end up.
Editor's Note: Get any rest-of-season NFL Premium Pass for 50% off. Our exclusive DFS Tools, Lineup Optimizer and Premium DFS Research through the Super Bowl.
Sign Up Now!
Joe Burrow, LSU
There are only two things that could keep Joe Burrow from going number one to the Cincinnati Bengals in this year's draft. The first is that Cincinnati "pull a Bengals." They are the most mismanaged team in the league. So they might convince themselves that Ryan Finley could actually a good quarterback or that after some rest, Andy Dalton is worth another shot next season.
The only other scenario that could keep Burrow out of Cincinnati is if they pivot to the top defensive prospect, Chase Young. We know the Bengals Defense is terrible. Geno Atkins is getting old and they need to develop a pass rush again. Young could be the best pass-rushing prospect to come out of college in many years, which could make him tough to pass on.
If Burrow is not the number one pick, he will certainly go in the next pick or two. Someone will trade up for him much as they will for Justin Herbert should Burrow be taken first overall. This means he should be a starter from jump street and could have a solid rookie season similar to Kyler Murray or Baker Mayfield.
In Superflex or two-quarterback dynasty leagues, Burrow should be a top-two or top-three pick in rookie drafts. In standard dynasty leagues, he should still be scooped up in the back half of the first round. Although there are concerns about him being a one-year wonder, these worries need to be put to rest. Unlike past LSU quarterbacks, like JaMarcus Russell or Matt Flynn, he is strong as a pure passer and should transition well to the NFL. While others at the position failed at LSU due to lack of good coaching, Burrow has had two seasons of great offensive coordinator tutelage and this means a bright future for him. Draft him in the first round and be happy you did.
Jacob Eason, Washington
I am not going to spend much time on Eason for two reasons: 1) More than any of these quarterbacks, he needs to stay in college one more year, and 2) He provides the least upside of the group.
Eason has perhaps the strongest arm of the bunch, but his decision-making has been severely lacking in big games. The team, which came into the season with Pac-12 title hopes is now just hoping to get to a decent bowl game, and much of that falls on Eason. Another year in the program could help hone his judgment in those key moments.
If he were to declare and become a starting quarterback out of the gate, he likely wouldn't last long. Eason could have a good game or two, based strictly on his physical gifts, but it's more likely his bad play and mental lapses earn him a relatively short stint as the starter.
Supposing he's drafted in 2020, he'll likely be taken in the second round. And while that's still high draft capital, let's not forget Christian Hackenberg was also a second-round draft pick. Eason could very well follow Hackenberg's career trajectory if he doesn't take another year at LSU to become mentally stronger.
At that point, he'd only be worth a pick as a late-round flier in traditional dynasty leagues.
Jake Fromm, Georgia
Should he declare for the 2020 NFL Draft? Probably not. Will he? Most likely.
Fromm does not have the arm talent of Eason or Herbert, let alone the size.No one is going to confuse Fromm with a Josh Allen or Patrick Mahomes on the field. But he is a very cerebral quarterback, which can often make up for lackluster physicality. No one would accuse Peyton Manning of having the strongest arm in the world, at least not toward the end of his career. But he was smart and accurate with the ball. Those traits can sometimes outweigh pure arm strength. Just ask Jeff George and Jamarcus Russell.
According to Matt Miller of Bleacher Report, the overwhelming sentiment among NFL executives is that Jake Fromm looks like a long-term backup. But as Miller stated on his Stick to Football podcast, a lot of players labeled as such this early in the process eventually transition into long-time starters.
I don't think Fromm is destined to be a first-round selection. But if entering the NFL this year means not having to compete in the draft in 2021 with Justin Fields and Trevor Lawrence, he may want to take that leap now. If he goes to a team such as the Patriots to learn from Tom Brady who is much the same type of player, his future could be huge. (Consider previous Patriots backups Jacoby Brissett and Jimmy Garoppolo.)
Where you draft him for fantasy purposes is solely predicated on his landing spot. While the others listed should have a chance to start almost from day one, Fromm will need to find the exact right situation. If that in fact happens, he is worth a first-round pick. But if he ends up on a rough spot -- for instance, backing up Aaron Rodgers -- he's likely not worth a pick whatsoever in fantasy drafts.
Justin Herbert, Oregon
6'5" and 240 pounds with a rocket arm and the ability to run at a moment's notice. What is there not to like about Herbert?
After smartly deciding not to enter the 2019 NFL Draft, it appears the gamble to return to Oregon for another season has paid off. Granted, he had a rocky start to this year and some have questioned his toughness, but he has shown in recent games the traits which make him coveted by NFL teams who haven't yet found "the guy" at the QB position.
Herbert has the prototypical size and arm strength for the position. Expect multiple NFL teams to fall in love with him pre-draft. If Burrow goes number one like expected, there may be a bidding war to move up and grab Herbert. We don't expect Washington to draft another quarterback with the second overall pick after going all-in on Dwayne Haskins last year. But teams hoping to get in front of the Dolphins (currently at Pick 4) may shell out a lot to jump ahead.
If a trade is not made, however, you can expect to see him headed to Miami. The offensive line would be a gigantic downgrade, as Oregon's is elite whereas Miami's is...there. That would likely mean a long and frustrating rookie season for Herbert, similar to Josh Rosen's experience in Arizona.
In superflex or two-quarterback leagues, a high first-round pick is warranted. In standard leagues, you should feel comfortable taking him in the mid-to-late second round. With no injury concerns and more talent, he is a safer pick than Tua. Even without the injury, I would choose him over the Alabama quarterback for my teams.
Tua Tagovailoa, Alabama
Here's your wild card. Before the hip injury, he was seen as a surefire top three pick in the upcoming draft. With a three-to-five-month recovery in store for Tua, he's likely to fall. The only question is by how much.
Some players have slipped out of the first round due to injury concerns -- Jaylen Smith and Miles Jack are two recent examples -- while others draft stock remained unchanged. But at the quarterback position, there's a greater inclination by teams to avoid potential landmines. Whiffing on a quarterback can be almost impossible to overcome, and therein lies the problem with quarterback-needy teams drafting Tua. The talent is there, however, which should propel a team to take a chance on him somewhat early.
For dynasty purposes, if you're sitting comfortably with someone like Drew Brees, he could be a great pick for you in hopes he flourishes in year two and beyond. And if he happens to be drafted by a team like the Chargers -- who could very well move on from Philip Rivers and tryout Tyrod Taylor for a season -- with the 12th overall pick, Tua could be a stealthy stash. Granted, the Dolphins could still scoop him up if they want to commit to tanking for another season or actually tryout Josh Rosen for a full season.
If you are in superflex or two-quarterback dynasty leagues, Tua is still in consideration if you have a pick in the back of the first round. In other formats, I would be waiting until the third round or later to make a move for him.
More Dynasty League Strategy