If Rotoballer's first mock draft of the 2018 fantasy football (redraft) season is any indication of what things will look like in August, balance is the operative word. Yet sleepers still lay waiting in the grass.
Through three rounds, sixteen running backs and sixteen wide receivers were drafted in the 16-round 12-team PPR draft. Despite the even flow of running backs and wide receivers, there are still some sleepers that slipped through the cracks and could provide major dividends for the fantasy owner who decides to believe to dream.
Editor's Note: Our incredible team of writers received five total writing awards and 13 award nominations by the Fantasy Sports Writers Association, tops in the industry! Congrats to all the award winners and nominees including Best NFL Series, MLB Series, NBA Writer, PGA Writer and Player Notes writer of the year. Be sure to follow their analysis, rankings and advice all year long, and win big with RotoBaller!
Read More!
(Note: Most data referenced was sourced from ffstatistics.com)
Early Sleepers
Last year's Washington receiving corps was a complete disappointment. Terrell Pryor was taken early in most drafts and to call him a bust would be disrespectful to fantasy football's busts. No wide receiver had more than two double-digit scoring weeks. Josh Doctson was the team's leading touchdown-getter with six.
With those rough stats, it's no wonder many are a little sheepish on going Washington wide receiver early. That mindset should be abolished with Alex Smith coming into the fold and Crowder still there to gobble up a lot of targets. The fact is what Smith does best and what Crowder does well are one and the same. What Smith is to throwing to underneath routes is what Crowder is to running routes in that same space.
When you combine NextGenStats stating free agent signee Paul Richardson, was the sixth biggest deep threat last year, and Crowder creating the eighth best separation on routes, the window for Smith to find Crowder should be roomier than a high-rollers' suite in Vegas.
It's easy to point to Marlon Mack's 3.8 yards per carry last year and be hesitant to pull the trigger on the second-year back. With Frank Gore in Miami and upgrades to the offensive line through the draft, however, there is no reason to believe Mack can't be a RB1 or RB2 candidate.
There are plenty of numbers to support Mack as a sleeper candidate. The most obvious is the 299 targets up for grabs with the departure of Gore. Looking specifically at Mack, his explosiveness and big play ability have been greatly undersold. Last season, Mack gained 80 percent of his yards after contact.  The Colts spent two of their first three draft picks on interior lineman which should help improve 30 of his 93 rookie carries going for no gain or negative yardage. According to Pro Football Focus, Mack ranked third in breakaway percentage, as well as having another 20 carries go for six or more yards, finishing 12th out of 53 qualifiers in elusive rating.
With only two rookie running backs behind him on the depth chart, Mack can be a vital cog on your fantasy team, especially if Andrew Luck is able to return and keep team's honest on defense.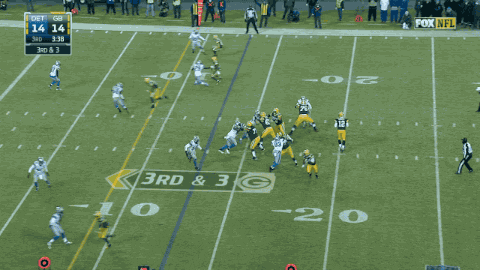 We'll make this quick and easy. Aaron Rodgers is the best fantasy quarterback in the league today. Randall Cobb is unchallenged as the secondary target on the Packers. He had 92 targets last year. Jordy Nelson's 88 targets from last year will be picked up by someone. Despite everyone's excitement on Jimmy Graham's arrival in Green Bay, Rodgers' highest fantasy ranked tight end is ninth in 2011. Even if Graham takes every single target from Nelson, plus the tight end targets from last year (almost impossible), Cobb will still be valued in the top 40 wide receivers.
The 40th wide receiver taken in our mock draft went in the eighth round.
It seems like fantasy owners have been waiting a decade for Dixon to finally live up to the sneak peek potential he offered at the end of his rookie year. In the second half of 2016, according to Pro Football Focus, "Dixon led the league in touches per missed tackle, forcing one once every 3.4 touches and ended up ranking 22nd in PPR fantasy points per opportunity (0.48)" – the same rate as top-three fantasy performer, Le'Veon Bell.
Baltimore's offense was a mess last year. Dixon was expected to be the starting running back position before a torn meniscus ended his 2017 campaign. Danny Woodhead was brought in to provide a receiving threat, but was hurt in Week One. No Raven wide receiver played all 16 games. Despite all of those inconsistencies, Baltimore still averaged a little over 35 passes per game, the 11th most pass-happy team in the NFL. Out of the chaos emerged Alex Collins as the de facto starting running back heading into 2018, and an almost entirely new wide receiver group.
Even if Collins holds on to the starting role--Dixon is more athletic and showed more explosiveness in comparison--there is still a huge role to carve out in the passing attack. With Marty Mornhinweg as offensive coordinator, Baltimore has targeted running backs out of the backfield 26.9 percent (2016) and 26.5 percent (2017).  The last three years under head coach John Harbaugh, Baltimore's top running backs have finished 20, 23 and 29. The more valuable statistic is that Baltimore's back-up running back or pass-catching back has finished 23, 47 and 41.
If Dixon stays healthy--a big if--he could play a prominent role in fantasy football this season.
While all Jason Garrett comments regarding Rico Gathers have been tethered to how green Gathers is as a football player, there is no denying Gathers' potential given his size and basketball background.
Dallas made some important changes to its red zone offense this offseason. With Dez Bryant's release and Jason Witten's retirement, the top two red zone weapons are gone as well as their 33 targets.
Gathers is still second or third on the depth chart, but at 6-6, 285 pounds it would be foolish for the Cowboys not to utilize that size and ingrained knowledge of how to occupy space in a tight area thanks to his time in the paint as part of the Baylor basketball team. He gave the world a glimpse during last year's preseason when he caught seven balls for 106 yards (15.1 YPC) and a pair of scores in two games.
He would be touchdown dependent, but at a position where the difference between eighth and 16th is less than two points per game, you could do worse than a late-flier on a guy with undeniable talent.
More Fantasy Football Mock Drafts and Analysis
Check out all of RotoBaller's fantasy football rankings. Staff rankings are updated regularly for all positions and include standard formats, PPR scoring, tiered rankings and dynasty leagues.