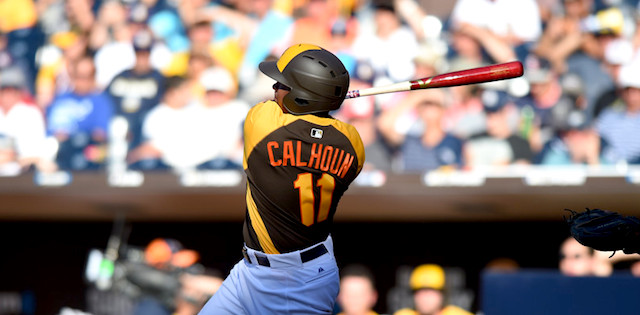 Despite being 5'8", Willie Calhoun is widely regarded as one of the best pure hitters in baseball. However, Calhoun's size and limited defensive abilities have prevented him from earning elite-prospect status and getting the same hype as similarly-talented batters.
Despite his limitations and that perception, the reality is that Calhoun profiles as a potential .290 hitter who could hit 30 home runs at his peak, which might be right now. When the Rangers called him up on May 15th, Calhoun finally looked like he had secured guaranteed playing time in the Rangers' outfield, but six days later, a quad strain landed him on the IL. Fortunately for fantasy owners, his bat is finally back to the majors, again.
And what a bat it is: Calhoun owns a 60-grade hit-tool and 60-grade power. Even though he only had 21 batted-ball events in his first six games, his fly-ball and line-drive exit velocity was a Hunter Renfroe-esque 96.3 MPH. Likewise, during his MiLB career, Calhoun has averaged 27 HR and 95 RBI per 150 games. For fantasy owners and Rangers fans alike, there are plenty of reasons to be excited about his potential.
Editor's Note: Get any full-season MLB Premium Pass for 50% off. Exclusive access to our Draft Kit, premium rankings, projections, player outlooks, top prospects, dynasty rankings, 15 in-season lineup tools, and over 200 days of expert DFS research.
Sign Up Now!
What Can You Do, Young Man?
Calhoun's exceptional bat should be enough to make him an above average left-fielder, where teams usually hide defensive liabilities whose offensive prowess make them everyday starters. For instance, Justin Upton has fit that profile at times. It's not impossible that Calhoun is good enough to generate a .200 ISO this season, but only if he re-secures his full-time job in the Rangers' outfield.
Among other things, Calhoun's defensive limitations delayed his promotion back in 2017, when he hit 31 HR in 128 games as a 22-year-old in AAA. Some of Calhoun's success could be attributed to the offensively-friendly PCL, except that he hit 27 HR in 132 games as a 21-year-old in AA.
Currently, Calhoun profiles as a hitter who feasts when he can pull the ball and who is capable of driving the ball to the opposite field. Calhoun takes few walks, but he should provide a reasonable OBP because of his substantial contact skills. Even with its conservative approach, Steamer still projects Calhoun for a .188 ISO and a .331 OBP. Notably, Calhoun has averaged near even flyball-to-groundball ratios in the minors, and that ratio suggests that, like Ozzie Albies, Calhoun may be able to tap into even more power in the majors.
Again, all of that is contingent on being able to lock in an everyday job. While some Rangers' journalists suggest that the crowded Texas roster will make it difficult for Calhoun to get full playing time, there are indications that leftfield is Calhoun's spot to lose. Delino DeShields has been hitting better in the last two weeks, but he has exactly one extra-base hit during that time, so it doesn't seem like he's found a new approach at the plate.
In many ways, the open-ended opportunity makes sense for Calhoun and the Rangers. As a hitter, Calhoun has been major-league ready for years. The only time he has ever "struggled" against MiLB pitching was last season when he bristled at being left in AAA. Reports of his frustration are a worrisome sign of immaturity, but we saw the same thing from Ronald Acuna last season, and there are plenty of all-stars who have reported similar experiences.
Ready to Return
Calhoun played four rehab games at Triple-A so far, and went 3-for-11 with three RBI. It's not the most inspiring line, but it doesn't really matter. The Rangers' bad run of injury luck continued when Hunter Pence injured his groin on Sunday the 16th, so Calhoun now inherits his spot. He made his return official on Monday, going 0-for-3 with a run scored while batting fifth. All things being equal, the Rangers would prefer an outfield of Calhoun, Gallo, and Mazara if all can stay healthy.
Calhoun is currently owned in just 13% of leagues, but the timeline for buying him might be a bit longer if he struggles to get his timing once he returns. The initial attention has passed, but if Calhoun re-establishes his power stroke in the first week back, he'll re-appear on waiver-wire lists everywhere, and his ownership numbers will jump immediately. In weekly leagues and 12+ team leagues, owners can get a drop on their league-mates by adding him immediately. In shallower formats, you can wait to measure Calhoun against your current assets against Calhoun's upside, which is probably a little below the 2018 version of Juan Soto.
Final Thoughts
If there is season-changing potential in Calhoun's bat, there is also exceptional uncertainty. For starters, muscle strains are never as simple as we want them to be. Secondly, Calhoun's size and approach force him to pull the ball to get to his power, and though he's shown the ability to do that, it also leaves him exposed to pitchers capable of exploiting that if he starts to sell out for power.
Despite improving his plate discipline this season, Calhoun has sometimes struggled to take walks and avoid strikeouts. That pattern, combined with his approach, could leave him prone to unrosterable streakiness.
While the danger of washout is real, Calhoun has hit successfully at every level. In 32 games at AAA this season, he had a .252 ISO and had boosted his walk rate to a career-high 15.9%. The defense is still poor, but Texas needs help in the outfield, and the team is vying for a playoff spot. Unless Calhoun's defense turns into this year's blowout horror film, he should get the chance to show off his bat. He is worth an add if you need an outfielder. It's not clear if he is a season-changing asset, but he has the potential to provide all-star caliber numbers this season.
More 2019 Fantasy Baseball Advice