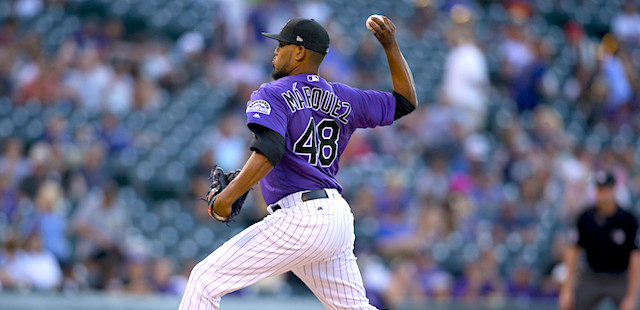 We've officially hit July and while you can try to call the All-Star break the real "midseason checkpoint" of the baseball season, the halfway mark per games played is now in the rearview mirror. All of you who are anxiously awaiting a turnaround need to ask yourselves how much longer you can sit on your current roster without shaking things up. I'll try to help you address pitching needs by discussing some different names than earlier weeks, but rest assured I love me some Dereck Rodriguez anyway.
If you want to chat more about additional arms/bats/whatever, you can find me on Twitter @NMariano53 and ask any follow-up questions.
We're using Yahoo ownership levels and cutting things off around 30% this week. Here are my starting pitcher waiver wire targets for Week 14.
Editor's Note: Get any full-season MLB Premium Pass for 50% off, with exclusive access to our season-long articles, 15 in-season lineup tools and over 200 days of expert DFS research/tools.
Sign Up Now!
Starting Pitcher Waiver Wire Targets
Joey Lucchesi (SD - SP): 28% owned
Lucchesi remains on far too many waiver wires. The rookie didn't allow a ball to leave the infield during his last start, a five-inning shutdown of the Pirates, as he continued to stretch out his arm. The Padres let him go 70 pitches the start before this 85-pitch showing, with both starts resulting in just one hit surrendered. The command isn't there yet -- he's walked seven in those nine innings -- but his stuff is just as nasty as when he first came on the scene. He should be able to twirl 100 pitches on July 6 at Arizona.
Nathan Eovaldi (TB - SP): 24% owned
Eovaldi worked around some soft hits against Miami to turn in his second straight quality start and bring his ERA down to 3.92 through 41 ⅓ innings. Out of 148 starters with at least 40 IP, Eovaldi's 3.57 SIERA checks in at No. 31, right ahead of Dylan Bundy, Blake Snell and Alex Wood. We know SIERA isn't everything (cries in Jon Gray) but it's certainly encouraging given his .211 BABIP. That'll happen when you sport a 21.4% HR/FB rate, second only to Brandon McCarthy's 21.7% mark. There's enough to like here where I'm comfortable using him against lineups that aren't in the upper tier of power, such as Houston, who popped four homers off of Eovaldi. He faces the Mets next, though, so proceed with optimism.
Tyler Mahle (CIN - SP): 22% owned
When a guy posts double-digit strikeouts, we're likely to have a chat about him. Mahle rung up 12 Brewers over 5 ⅔ innings on June 30 but continues to give up contact that's too loud for my liking. His overall 25.1% line-drive rate, 42.4% hard-hit rate and mere 14.1% soft-contact rate each stand as a red flag, and not ones that Cincinnati sells at their team shop. I'd let him go onto some other team and scoop one of these other names.
Zack Wheeler (NYM - SP): 19% owned
Wheeler continues to pick up momentum ahead of the Trade Deadline, with his latest effort resulting in 6 ⅓ innings of two-run ball, allowing three hits with three walks and five strikeouts against Toronto. The 78.3 mph average exit velocity on 16 batted balls was quite impressive. He was set up nicely for his first win since April 29 before the bullpen stomped on his hopes and dreams, something all Mets starters can identify with. Wheeler has now had seven quality starts since then with zero victories to show for it. You'll risk having your Ws stolen off your plate, but Wheeler's slider showed strong bite, his fastball averaged 96.8 mph while hitting 99.1 mph and he faces the Rays at home next.
Steven Wright (BOS - SP): 19% owned
Wright received a PRP injection in his injured left knee on Monday and could rejoin the Red Sox rotation after the All-Star break, especially with Drew Pomeranz's own rehab adventures going poorly. The knuckleballer's 3.38 ERA has danced around his peripherals thus far (4.43 FIP, 4.61 xFIP, 4.73 SIERA) but that isn't too unusual for these unorthodox hurlers. Perhaps it has to do with the change in approach by big-league hitters this year too, but Wright's groundball rate has shot up to 53.2% thus far -- about 10 percentage points higher than the norm. What you're buying into are the wins that come with pitching for Boston, and hoping for roughly six punchouts per start. Don't be afraid to bail if the command goes.
Matt Harvey (CIN - SP): 18% owned
Harvey benefits from having a very recognizable brand and has allowed three combined runs over three consecutive victories, with his latest start seeing him hit 97 mph against Milwaukee. It wasn't just the fastball that did its job, but he racked up six swinging strikes on 18 sliders to give him 12 total whiffs on 68 pitches. Just as much as the whiffs illustrate some potency, the low pitch count is tough to stomach. He has worked over 100 pitches in prior starts, though, but without tallying double-digit whiffs in any previous outing. This was pretty much as good as Harvey is going to get right now, but the ceiling remains modest. I'd hope for one more strong start and look to trade him to someone who buys into the name.
Tyler Anderson (COL - SP): 10% owned
You'll notice a trend here, as Anderson is the first of three Colorado pitchers to be named here. This is largely due to their being routinely ignored and undervalued due to Coors Field, but Anderson deserves more love at the moment. He's shown flashes before (usually then ruined by a DL stint) and has a 2.70 ERA and 1.05 WHIP over the last month with nearly a strikeout per inning. His command was as good as I've ever seen it when he took down the Dodgers in LA on June 29 over eight scoreless innings and he's gone at least seven frames in each of his last three road starts. He'll face the Giants at home on July 4 (today!) and then Arizona in another home turn, so just tuck this away for the road.
Brad Keller (KC - SP/RP): 9% owned
Over the last six weeks, Keller appears on the xwOBA leaderboard at No. 16 with a .329 mark, good for a tie with Luis Severino and right ahead of Miles Mikolas and Blake Snell. Most of that comes from Keller's limiting big hits with a ridiculous 59.4% groundball rate over 56 innings, but the 5.3 K/9 highlights the modest ceiling. The 8.5% swinging-strike rate implies a few more whiffs could come, but it's nothing actionable. Still, the 3.18 FIP behind the 2.09 ERA makes the 22-year-old righty worth throwing while hot, but don't be afraid to move along for higher upside.
German Marquez (COL - SP): 6% owned
Marquez was of particular interest to me last season, but wasn't consistent enough to stay on my roster or truly conquer Coors. That's a tall order for anyone, let alone an age-23 arm. But  Marquez's overall 5.14 ERA and 1.44 WHIP are going scare off many a fantasy owner, yet he owns a 2.76 ERA with an 18.9% K-BB% in 49 road innings after owning the Dodgers with eight brilliant innings. Compare that with the 7.93 ERA with a 10.1% K-BB% in 42 home frames. He'll look to replicate the 99.9 mph fastball he threw in his latest start against the Mariners in Seattle on July 6.
Max Fried (ATL - SP): 6% owned
Fried was on fire this weekend, setting down 11 Cardinals via strikeout over 6 2/3 innings and now has 24 punchouts over 17 2/3 big-league frames this year. That means we pay attention! And don't bite too hard into the 4.29 ERA/1.37 WHIP from Triple-A in '18, as he held a cleaner 3.23 FIP and 3.46 xFIP underneath the hood. With a slot in Atlanta's rotation that gets to face the weaker teams within the NL East, Fried is worth speculating on in almost all 12-team formats.
Edwin Jackson (OAK - SP): 4% owned
Jackson followed up his impressive 2018 debut against Detroit with a victory over Cleveland on June 30, in which E-Jax yielded just two hits, both solo homers, to the Tribe over 6 ⅔ innings. Perhaps most astounding is how he hasn't walked a single batter in either of his Major League outings thus far! I don't think we're at a place where Jackson can be trusted for a rematch with the Indians, but Oakland boasts a pitcher-friendly park and he should be on streaming radars.
Ryan Borucki (TOR - SP): 3% owned
After a lackluster MLB debut where he walked four and struck out three (admittedly against Houston), Borucki looked to confirm most of my fears about his effectiveness from a fantasy standpoint. In 13 Triple-A starts (77 innings), he had a 3.27 ERA in front of a 4.03 FIP/4.16 xFIP and a mere 9.5% K-BB%. Then he faced a right-hander's dream, aka Detroit, and allowed two runs on six hits with eight strikeouts and zero walks. I respect those chasing the next big thing, but I think he's nothing but a streamer. If he looks good against the Yankees at home on July 8 then I'll relent.
Antonio Senzatela (COL - SP): 1% owned
Everyone was (rightfully) going batty over Jon Gray's demotion that very few stopped to wonder if the arm taking his spot would be worth a pickup. Senzatela likely helped Colorado feel comfortable with the move by tossing 7 ⅔ scoreless frames with just three hits and a walk allowed to San Francisco's Triple-A affiliate on June 28 to trim his ERA to 2.15 alongside a 1.09 WHIP on the farm in 2018. He then mirrored the effort by blanking the big-league Giants and scattering just three hits over seven innings. Seven innings at Coors, that is.
People may scoff due to the lackluster numbers from his 2017 rookie campaign and the small-sample-size 6.23 ERA/1.67 WHIP in the bigs that he entered Tuesday with, but mind the 3.90 SIERA behind it, which surely came down with the strong effort. He'll face the Mariners in Seattle next, though he may be out of the rotation if Jon Gray recovers and Chad Bettis' blister doesn't linger.
For what it's worth, Gray pitched on Tuesday as well. He won after allowing two runs on two hits (one homer) and zero walks with six strikeouts, throwing 52-of-80 pitches for strikes. Not bad at all. I highly suggest stashing him if he was dropped.
More Waiver Wire Pickups and Streamers