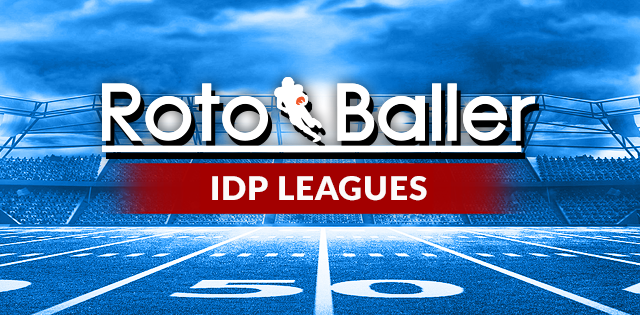 Arguably the biggest question facing many in fantasy football this week is whether Brock Purdy can adequately replace Jimmy Garoppolo. The impact of that issue falls not only on players like George Kittle and Deebo Samuel (who tied his season high in targets) but in how Purdy's presence will impact opposing defenders. Namely, does Purdy offer more IDP opportunities than Jimmy G?
This question is so significant that I will devote the first portion of today's article to answering it as best I can. Throughout this season, the first section of our IDP Streamers column typically addresses a random tier of players relevant to IDP. One week it dealt with offenses whose injuries offered IDP bumps, and another addressed how defenders returning from injury should fare. This week, it will be tailored towards a Brock Purdy deep dive.
If you have no interest in my 49er fandom or the last pick in the NFL Draft (aka Mr. Irrelevant), feel free to skip ahead to our streamers, which are designated below. If you have a particularly unhealthy love or attraction to Jimmy Garoppolo, that may be a particularly good idea. However, if you're interested in my take on the 49ers' offense and how it impacts opposing defenders, read on and let me know how much you hate me or my views.
Featured Promo: The FFPC Playoff Challenge #2 is back for the Divisional Round with a massive $100,000 grand prize and $260k total prize pool. Here's the deal: no salary cap, no draft, no pickups, no subs. Choose 8 players, and as NFL teams get knocked out so will your players, so choose your team wisely. The 1,500 entries will sell out quickly, and registrations will close on Saturday January 21st at 4:30 pm ET . Don't wait - get your team now and end your fantasy football season with a shot at $100,000!
Sign Up Now!
Is Brock Purdy's Offense One to Target in IDP?
Let's start with the obvious. We have less than one full game of real NFL film to study on Purdy. That's fewer than four full quarters of NFL football on which to judge an entire offense's potential. So, we caution you against making any hard determinations about Purdy or his long-term impact on the 49ers' offense off of just one game… even though that's exactly what we will try to do right now.
Will Purdy Offer More Turnover Opportunities for DBs?
Since Trey Lance went down, the 49ers run close to a 55/45 pass-to-run split, and most of their throws travel short of the markers. A look at the film showed that Jimmy G was very quick and safe with those short throws. As a result, Garoppolo didn't throw an interception in his final five games this season, and he turned the ball over just six times all year. Thus, San Fran's formula was bad for opposing defensive backs but good for linebackers.
Purdy's film suggests he will take more risks than Garoppolo, as most rookies do. He attempted five "risky" throws into tight or double coverage on Sunday, which Garoppolo has usually avoided this year. That said, Purdy's ball placement on those throws was excellent, save for his lone interception. At the risk of offending Garoppolo truthers, I'd argue Purdy's ball placement was actually better than Jimmy G on Sunday. While Garoppolo is a solid passer, his ball placement has long been overrated.
Overall, Purdy's film and pedigree suggest he will offer opposing DBs a few more chances at turnovers. Garoppolo was on a career-best track regarding turnovers, and his ability to diagnose the open receiver early or throw it away had become his greatest asset. No rookie will be as quick, decisive, or comfortable throwing it away as Jimmy G. Thus, Purdy will look for more of those big plays, and he will commit more turnovers, even if his ball placement remains better.
Will Purdy Take More Sacks?
From a pass-rush perspective, Garoppolo was a mixed bag. While the handsome one was never elusive, his release and comfort with throwing the ball away helped him avoid taking too many sacks. That said, Garoppolo had four multi-sack games this season and surrendered four turnovers to opposing pass rushers. On film, the threat of sacks was also increasing over the past two weeks. Jimmy G looked particularly uncomfortable against the Saints, who got pressure on him 14 times.
Meanwhile, Purdy appears more elusive and mobile than Garoppolo on film. That served him well against Miami, allowing the rookie to avoid a sack and complete a pass on at least three occasions where Garoppolo would've thrown it away or taken a sack. However, Purdy's drive to extend plays did cause him to roll into a sack late in the game, and it should lead to SF more sacks in the future. Purdy's mobility will help him extend plays, but rookies don't always know when to give up and throw it away.
Overall Verdict
Looking at the game script from last week's game, Kyle Shanahan didn't change his run-pass ratio when Purdy came on the field. The coach seemed to trust the seventh-round rookie more than most would expect, and so far, the former Cyclone has rewarded that trust. As long as Purdy continues to play like a league-average quarterback, which Garoppolo has always been, the 49ers should continue with a 55/45 pass/run game script.
That game script and CMC's presence as the safest weapon on the team should continue to make San Francisco a top target for opposing linebackers in fantasy. Purdy's presence should also turn the 49ers into less of a wasteland for opposing pass rushers and defensive backs. However, we aren't projecting a massive leap in turnovers or sacks with the rookie. Give a bump to DLs and DBs playing against Purdy, but the bump shouldn't be huge as long as the rookie keeps playing like a league-average vet.
Casual IDP Streamers and Fades for This Week
Stream: Chad Muma, LB, Jacksonville Jaguars
Let's make it two weeks in a row to stream Muma, shall we? This week we even elevate Muma to a Casual streamer after an outstanding Week 13 that saw him put up 11 tackles and a sack. Now the Wyoming product draws a Titans offense that gorges opposing linebackers like an overweight toddler swimming in a vat of pudding. Muma has immense upside, even if there's always the risk of Lloyd cutting into his snaps and opportunities.
Stream: Jeff Okudah, DB, Detroit Lions
In their last meeting, Okudah was on Justin Jefferson for 78% of Jefferson's routes. Okudah visibly followed the Vikings' star around the field for much of the game, limiting him to three catches. Expect the Lions to use the same strategy this week since it worked last time. Expect the Vikings to continue peppering the fourth-most-targeted player in the NFL, too.
Fade: Drue Tranquill, LB, Los Angeles Chargers
There was a point when Tranquill was regularly flirting with our LB1 tier this season. He still has the potential to get back there in the right situations, too. The Dolphins aren't the ideal situation, though.
Despite having a head coach who is a former run game coordinator, the Dolphins average the third-fewest rush attempts in the NFL. That fact didn't even change with the addition of Jeff Wilson Jr. to the mix. What's worse, Miami is coming off a humiliating loss to Mike McDaniel's former employer and should be looking to put up a lot of points this week. If Tua Tagovailoa is healthy, expect Miami to remain a pass-heavy attack that largely avoids Tranquill.
Fade: Ryan Neal, DB, Seattle Seahawks
Ryan Neal was a hot name in IDP for a minute. That's likely why he's still starting in more leagues than Jeremy Chinn and Jevon Holland. However, Neal is dealing with several injuries as of late, and his fantasy ceiling has yet to prove particularly high. He also has a low-volume matchup against a Panthers offense running the fewest offensive plays in the NFL. We don't love starting a gimpy defender with a relatively low ceiling against a very low-volume attack in shallow IDP leagues.
Premium Scoring & Deep League Streamers and Fades for This Week
Stream: Micah McFadden, LB, New York Giants
Micah McFadden was one of my favorite late-round prospects in this year's NFL Draft. The kid was a well-rounded playmaker capable of impacting the game in all facets, including as a tackler and pass rusher at Indiana. He was a big reason why Justin Fields' Ohio State team struggled against the Hoosiers.
McFadden has been seeing regular snaps for the past two weeks. Sunday saw his highest snap share of the season, culminating in a sack and nine tackles. The Giants need LB help, and the hope here is McFadden will fill that need. He's worth a look in deeper IDP formats.
Stream: Deion Jones, LB, Cleveland Browns
In the two games that Jones has started for the Browns, he's totaled 13 tackles and 1.5 sacks. One of those games came against the same Bengals offense he faces this week. While Jones' stats and snaps fell off a cliff once Sione Takitaki and Jeremiah Owusu-Koramoah were both healthy, Takitaki is on now IR. That should open opportunities back up for Jones, who is rostered in just 2% of IDP leagues.
Fade: Malcolm Rodriguez, LB, Detroit Lions
Despite having Dalvin Cook and Alexander Mattison in their backfield, only two teams call run plays at a lower clip than the Vikings. While that trend changed a bit last week, there's little to suggest that was the result of anything other than Kirk Cousins looking noticeably off.
This game has the makings of a surprising shootout, with the Lions sitting sixth in the NFL in scoring and the Vikings ranking eleventh. If this does become a shootout, expect the Vikings to lean heavily into their passing tendencies. The Lions tend to rotate Rodriguez out on some passing downs, which could limit his snaps in a game that doesn't favor his skillset.
Defensive Tackles to Consider for This Week
Fletcher Cox, DT, Philadelphia Eagles
Jonathan Allen and Daron Payne obliterated the Giants' interior this past Sunday. Now it's Javon Hargrave and Cox's turn to shine. While we usually dig deeper for these DT streamers, Cox's matchup is just too attractive not to note here. He's typically a high-end DT2, but he's got the potential to lead all DTs in fantasy scoring against the Giants.
Andrew Billings, DT, Las Vegas Raiders
Billings has been extremely productive in two straight favorable matchups before missing this past Sunday with an undisclosed leg injury. Assuming Billings can recover and play his normal snaps this week, the Rams offer a premium option as a team that cannot protect the interior and is finally trying to establish the run. Los Angeles should offer the Raiders' defensive line plenty of fantasy opportunities.
Cornerbacks to Consider for This Week
Jonathan Jones, DB, New England Patriots
The New England Patriots roster three corners named Jones, and Jonathan may be the least well-known. After turning in a huge touchdown on offense last week, Marcus Jones has earned the most attention recently. Meanwhile, Jack earned interest earlier in the year as a former elite recruit who turned in a highlight touchdown in Week 4. They have both failed to match Jonathan's consistent play on the field, though.
Jonathan Jones has emerged for the Patriots in the past four weeks. During that time, he's had two games with 7+ tackles while totaling five PDs, two interceptions, and a touchdown. Now Jones faces off against an Arizona offense that averages the third most pass attempts in the NFL. Considering Jones is rostered in just 1% of IDP leagues, he's a fine option for those needing a fantasy CB this week.
Martin Emerson, Cleveland Browns
We told you to stash Emerson for this week, so we'd be remiss if we didn't tell you to play him as a cornerback streamer. While the rookie's playing time can fluctuate with the health of Denzel Ward and Greg Newsome, there should be plenty of opportunities for all three to see fantasy points against the Bengals. Emerson isn't the smashing start he would have been had Newsome remained out, but he remains a viable streamer in deep leagues.
Download Our Free News & Alerts Mobile App
Like what you see? Download our updated fantasy football app for
iPhone
and
Android
with 24x7 player news, injury alerts, rankings, starts/sits & more. All free!
Win Big With RotoBaller
Be sure to also check out all of our other daily
fantasy football articles
and analysis to help you set those winning lineups, including this new RotoBaller YouTube video:
More Fantasy Football Analysis