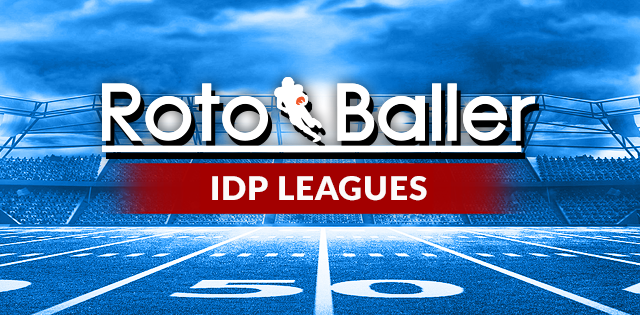 There are just a few precious things that we must remember on this eve of Thanksgiving. None of them are about family, friends, or being thankful. That's because fantasy football managers don't have time for that stuff. To commit to this hobby, you must eat, drink, and breathe football. Things like loved ones and eating are mere distractions. The truly devoted shun those frivolities, instead strapping an IV full of beer to their arm and a TV remote to their fist for the entirety of this holiday…. Right?
I mean, really, who amongst us isn't excited to watch Daniel Jones throw for 150 yards? Who isn't itching to see Jamal Williams vulture two late touchdowns in a Bills blowout? And really, aren't we all eager to see if Mac Jones' offense can score nine total points this week, despite playing two full games in that span?! With teams like the Giants, Lions, and Patriots on tap, it's easy to forget all about your family and a big meal. Mediocre offenses like these are our true meal, right?
Of course, some of you aren't sad enough to agree with these statements. For those people, we recommend setting your lineups tonight, knowing you'll miss at least one window on Thanksgiving thanks to a disagreement or dessert. For you sad people, we publish this article early!
Featured Promo: Our friends at RIVAL Fantasy have created fun and unique DFS games including over/under contests and Fantasy Bingo. Use promo code BALLER to get a free year of RotoBaller Premium access ($199 value), and a $50 risk-free deposit.
Play Now!
NFL Backups Playing Like Fantasy Starters
Kaden Elliss, LB, New Orleans Saints
We are getting mixed reports from the Saints and their reporters regarding the health of star linebacker Pete Werner. Beat writers confirmed he had ankle surgery last week, but the player has not been put on IR, and some outlets (including CBS) are reporting there's optimism he will play against the 49ers. That kind of turnaround would be impressive, even two weeks after minor ankle surgery.
Elliss is in the LB2 conversation in IDP leagues as long as Werner is out. He's been taking all of Werner's snaps and performing well. Elliss has a sack in each of the past three weeks and is averaging nine tackles per game in his two starts. Elliss is worth a speculative add if you have the bench space.
Alex Singleton, LB, Denver Broncos
Yes, it's this guy again. And no, he isn't exactly a backup right now. However, Singleton is a career backup who has won the starting job and lost it multiple times in his career, despite elite tackle production. It happened twice in Philadelphia, and it happened again in Denver. Singleton popped this summer and as Josey Jewell's injury replacement, but twice he was benched when Jewell returned from injury.
With Jonas Griffith done for the season, Denver's coaching staff has finally elected to play Singleton and Jewell together. On Sunday, that decision led to starter production for both. Singleton jumps back onto the fantasy starter ranks thanks to this change. Given his history and the short attention span of the Broncos' coaching staff, that position could be short-lived, but it's worthwhile while it lasts.
Packers Backup LBs
Two weeks ago, it was Isaiah McDuffie who filled in for the missing De'Vondre Campbell. One week later, it was Krys Barnes who filled in against Tennessee. Both racked up LB1-caliber fantasy stats when they saw their snaps. It's unclear whether either will see much action when Campbell is healthy, but Campbell remains questionable and his spot in the lineup could be open for another week as a result.
Cameron Taylor-Britt, CB, Cincinnati Bengals
The rookie from Nebraska has stepped into the role of Chidboe Awuzie, taking nearly all of the starter snaps since Awuzie's season-ending injury. Last week that translated into Taylor-Britt notching double-digit tackles. Don't expect that kind of production every week, especially against a low-volume Titans attack. However, the former Cornhusker should be on your fantasy CB radar, considering he has the Bills and Buccaneers on his fantasy playoff schedule.
Dawuane Smoot, DL, Jacksonville Jaguars
Smoot hasn't started a single game this season and has crossed the 50% snap share threshold just once. Despite that, he leads Jacksonville in sacks by a 40% margin. His playing time is slowly increasing, as well. For now, he is a deep-league consideration, but Smoot is earning more opportunities.
Casual IDP Streamers and Fades for This Week
Stream: Chris Jones, DL, Kansas City Chiefs
After a relatively slow start to the season, with just one elite fantasy performance in his first five games, Chris Jones is on a tear. He has at least a half-sack in each of his past five contests, which is great in sack premium scoring. He now faces a Rams interior that is in tatters, and a backup QB with almost no experience. Elevate all Chiefs pass rushers and defensive backs, accordingly.
Stream: Marcus Williams, DB, Baltimore Ravens
When our rankings were first published this week, the Ravens believed Williams would return in December. However, he has since been activated off IR and has returned to practice. There's a chance he plays this week, and this is a reminder he was one of the top DBs in fantasy before he was injured. Most will wait to see if Williams is healthy and back to his old self before plugging him into lineups, but he's a DB2 candidate if he plays against the Jags.
Fade: Aaron Donald, DL/DT, Los Angeles Rams
Let's get crazy with a Thanksgiving fade and name the best defender of the past five years, shall we? Mind you, this is a first-world problem, and you are only realistically benching Aaron Donald if you are absolutely stacked at DL. He's simply too gifted, even when his entire team is fading. That said, the odds of a typical Donald blow-up are lower than usual against the Chiefs.
The Kansas City Chiefs currently have the fourth-best Adjusted Sack Rate in the NFL, and they've given up the fourth-fewest sacks. The interior of their line is particularly strong, with arguably the best center in the NFL (Creed Humphrey) giving up just 1.3 pressures per game. Overall, the Chiefs' starting interior has given up just two sacks and 48 pressures all season long. That's impressive.
Donald plays the A or B gap on 89% of his snaps. That means he will regularly deal with Kansas City's talented interior, with help from a tackle. Factor in Patrick Mahomes' mobility and ability to improvise, and it's easy to see why Donald is at the back of our DL1 ranks this week. You aren't benching him in most situations, but we are fading expectations and considering higher upside options if you face an uphill battle this week.
Fade: All Dolphins Defenders Except Christian Wilkins
The Houston Texans average the third-fewest offensive plays and yards per game. Their pass blocking is below average but not abysmal, ranking 20th in sacks allowed and 21st in Adjusted Sack Rate. Their turnover rate is also near the league average, with 13 total turnovers, which is good for 20th in the NFL. Put that all together, and the Texans are a low-volume offense that doesn't give away sacks or turnovers at a particularly high rate.
You shouldn't expect much change in defensive opportunities with the Texans switching from Davis Mills to Kyle Allen, either. Allen has averaged 0.8 interceptions, 2.6 sacks, and 0.7 fumbles per game for his career. Mills has averaged .09 interceptions, 2.56 sacks, and 0.39 fumbles per game. Those numbers are nearly identical, and the game script for Houston isn't likely to accelerate or change just because Allen is under center. The Texans are a run-first team, even when losing.
Meanwhile, the Miami Dolphins' defense isn't setting the IDP world on fire, either. They rank third worst in the NFL in turnovers created and ninth worst in sacks. Those numbers include five games against high-volume offenses (i.e., teams that run 64+ plays per game). Put together Miami's inability to regularly register big plays on defense with Houston's bland but safe offense, and you have a recipe for IDP disappointment.
Premium Scoring & Deep League Streamers and Fades for This Week
Stream: Krys Barnes, LB, Green Bay Packers
As of Wednesday, De'Vondre Campbell wasn't practicing in any capacity, suggesting he could miss this week. In Campbell's absence against the Titans, Barnes played 44 snaps and delivered 12 tackles and a sack. If Campbell is out again, Quay Walker is obviously the player to start against these run-heavy Eagles. However, Barnes is a viable alternative if Walker isn't available and you need an LB streamer in deep leagues.
Stream: Roger McCreary, DB/CB, Tennessee Titans
The Titans have faced just three offenses all year that average 35 or more pass attempts per game. McCreary has averaged 9.7 tackles per game in those contests while registering two PDs and an interception. The Bengals average 37.6 pass attempts per game, and they could be even more pass dependent if Joe Mixon is unavailable. This week, McCreary is an excellent streaming option, thanks to elite potential volume.
Fade: Ahmad "Sauce" Gardner, DB/CB, New York Jets
The injury to Justin Fields is a problem for fantasy managers like me, who he carried into the Scott Fish Bowl playoffs (camouflaged brag). It also presents complications for IDP managers. If Fields plays this weekend, the Bears could restrict his movement and keep him in the pocket. That could mean more volume and interceptions for the Jets' corners, such as Sauce. That would be a good thing.
What could also be good for Gardner is Trevor Siemian starting, as the immobile backup will surely elevate the Bears' league-low pass attempts per game. The Bears average a miserable 20.8 pass attempts per game, and their leading wideout has just two games with more than six targets this season. So, Fields throwing more or Siemian starting should translate to more cheddar for Sauce.
The downside of this situation is that Siemian isn't particularly turnover prone, with a career 2.6% interception rate, and getting Fields to throw more may be easier said than done. If you watched Fields in the second half against the Falcons, you saw his hamstrings were really bothering him, but it didn't impact his rushing attempts. In fact, that issue arguably led to his injured shoulder.
Thus, there's a good chance the Bears remain the lowest volume passing attack this week, even if Fields plays hurt. There's also a good chance turnovers don't come, even if Siemian starts and the passing volume increases. Those prospects and the likelihood we simply see more of David Montgomery make Sauce a risky play in most IDP formats.
Fade: Nicholas Morrow, LB, Chicago Bears
Contrary to our hopes, Morrow has not played a bigger role for the Bears since Roquan Smith left town. Rather, Smith's vacated role has been filled with gusto by our other big winner of that trade: Jack Sanborn. It is the former Badger who is ascending our ranks, while Morrow remains a borderline LB3 option most weeks.
Factor in the fact the Jets average five more passes per game with Mike White than they do Zach Wilson, and this matchup loses fantasy upside for Morrow quickly. In three of the four games White has played for the Jets, he's averaged over 40 attempts per game. That's consistent with the 39.4 attempts per game Gang Green averages with Flacco. To put it succinctly, the Jets have been a pass-first offense when anyone other than Wilson is their starter.
Defensive Tackles to Consider for This Week
Christian Wilkins, Miami Dolphins
We told you to fade expectations for almost every Miami Dolphins defender you can. Wilkins is the lone Miami defender for whom we are raising our hopes this week. While many may already be starting Wilkins, he's currently slotted to play in just 6.5% of IDP leagues. That's despite the fact 66% of his snaps should come against a guard (Kenyon Green) who has surrendered the second most QB pressures amongst all interior blockers this year.
Davon Godchaux, New England Patriots
The Patriots specialize in taking away an opponent's top weapon, and Justin Jefferson is already struggling with a toe injury. If New England succeeds in neutralizing Jefferson like Dallas did last week, that could mean Minnesota reverts to plenty of rushing between the tackles. A limited Jefferson could also cause Kirk Cousins to hold onto the ball too long.
The Vikings' two starting guards rank first and third in the NFL in QB pressures allowed this season, which is a bad thing. However, they also grade positively as run blockers. Their jobs are made harder with Christian Darrisaw out, though. Godchaux should have several chances at a big play this week, making him a deep-league DT sleeper.
Cornerbacks to Consider for This Week
Cameron Sutton, Pittsburgh Steelers
Matt Ryan leads all qualified passers in interception rate this season. The Colts also throw far more with Ryan under center than they do without, proven by their 32 pass attempts last week despite holding a lead over the Eagles for most of the game. Jeff Saturday wants to run the ball, but the one game we saw his staff call had plenty of passing. Sutton has more upside than one would initially think against Ryan, making him a viable deep streamer.
Trent McDuffie, Kansas City Chiefs
Last week saw the Rams run the ball more than they had all season… and they still attempted 28 pass attempts. This week they should find themselves down big and early against the Chiefs, forcing Los Angeles' backup quarterback to throw more. Right now, that backup is projected to be Bryce Perkins, who has just 11 professional pass attempts in the NFL. How could you not like the upside of McDuffie this week?
Download Our Free News & Alerts Mobile App
Like what you see? Download our updated fantasy football app for
iPhone
and
Android
with 24x7 player news, injury alerts, rankings, starts/sits & more. All free!
Win Big With RotoBaller
Be sure to also check out all of our other daily
fantasy football articles
and analysis to help you set those winning lineups, including this new RotoBaller YouTube video:
More Fantasy Football Analysis