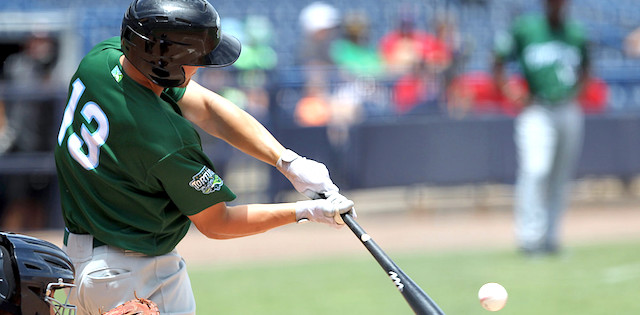 Hey, RotoBallers. We have already started breaking down prospects in dynasty leagues, by position, beginning with catcher, outfield, and starting pitcher. Today I'm writing about my top-10 second basemen prospect rankings for 2019 dynasty baseball leagues.
The second base position is a difficult spot to find natural players raised in the position. Most are positional migrants, kicked off their position to a foreign land. While sometimes, it could be the lack of vacancy at the major league level, often times it is because things didn't work out at their primary position. Usually, that position is shortstop. Whether they lack range or arm strength, the team saw fit to move the player to a position they felt best maximized their strengths.
Unlike most years, there is a decent-sized contingent of players nearly big-league ready at the second base spot. Let's dive right into the dynasty positional prospect rankings for second basemen.
Featured Promo: Get any full-season MLB and DFS Premium Pass for 50% off. Exclusive access to our Team Sync platform, Premium articles, daily Matchup Rating projections, 15 lineup tools, DFS cheat sheets, Research Stations, Lineup Optimizers and much more!
Sign Up Now!
ETA: 2019
Drafted out of college, Senzel was the second overall selection in the 2016 draft. He was destined to become the future for the Reds at the hot corner. However, Eugenio Suarez had a breakout season and projects to occupy the position at the big league level for quite some time. Therefore, Senzel is forced to seek alternate routes to the big league, which starts with time at various other positions, primarily at the keystone. Despite his versatility and usage in the field, Senzel's performance at the plate remained unchanged. At Triple-A Louisville, he had a slash line of .310/.379/.509 with six homers and eight stolen bases in 193 plate appearances.
There is little doubt he is skilled enough to be an actual five-category contributor in the big leagues. The one question thus far in Senzel's professional career has been health. He missed time yet again in 2018 with episodes of vertigo. Also, Senzel's season was also cut short due to surgery to repair a tendon in his finger. Assuming health, Senzel can be a dynamic hitter with the added benefit of a hitter-friendly park. If you own him and are concerned with the vertigo issue becoming an ongoing problem, you can trade him to maximize his value.
ETA: 2019
Hiura came out of the 2017 draft with the biggest hit-tool available. Unfortunately, he had health concerns regarding his elbow, which relegated him to designated hitter for the 2017 year and even for the start of the 2018 season. Once healthy, he shifted back to second base where he finished the year, including his play in the Arizona Fall League (AFL). Across two levels of the 2018 season, Hiura hit .293 with 34 doubles, 13 homers, and 43 RBI. He also had 15 stolen bases, however, he was inefficient on the base paths; he was caught 11 times.
Hiura's performance at the AFL put a stamp on what was already a very good campaign. He hit .323 with five homers and 33 RBI. He also stole seven bases and was caught twice, all of which earned him the AFL MVP award. Hiura is a premier bat that will hit atop the lineup for many years. He is not a burner but will steal some bases, assuming he can improve with his base-stealing skills. Despite all his success, a stop at Triple-A will likely be on the forecast for Hiura to start the 2019 season.
ETA: 2020
Coming out of the draft, Madrigal was known to be the best pure hitter on the board. Somehow, he fell to the fourth overall pick. Hopefully, his size (5'7") wasn't a factor for teams passing on him. This smaller-statured individual has exceptional bat-to-ball skills as well as tremendous speed. He isn't known for being a power hitter, but who knows if that will change once he gets to the big leagues as hitters seem to crush the ball in the majors. In his first season of professional baseball, he made quick work of rookie ball and Low-A, eventually finishing the year at High-A ball.
This is expected of a young man drafted out of college. Through three minor league levels, he only had five strikeouts in 173 plate appearances. He also had a slash line of .303/.353/.348. Madrigal is a table-setter ahead of what is expected to become a young, talented Chicago White Sox lineup. He will achieve success with speed and on-base ability. It is not sexy, but he will offer some key components from a position in need of an injection of talent. Expect a .300 hitter that steals 30 bases, and he might even be able to reach double-digit homers.
ETA: 2019
Hampson has the qualities that sound very attractive to fantasy managers. He has speed, which combined with an impressive on-base ability makes for a leadoff man in the making. Hampson does not even attempt to sell out for power; actually, he is adept at using the whole field. He also has the luxury of hitting in the friendly confines of Coors Field. While all of the Rockies minor league locations are hitter-friendly, Coors could actually provide Hampson with more homer opportunities. In Double-A and Triple-A, he had a .309 AVG with 10 homers and 36 stolen bases; he was only caught five times.
Justifiably, Hampson earned some playing time in the big leagues. He got 48 plate appearances with the Rockies at the end of the 2018 season. While it was only a short time period, he made an impression with a .275 batting average and a .396 on-base percentage. He tallied three doubles, a triple, and two stolen bases. Barring an unexpected acquisition, Hampson should be given every opportunity to earn the second base job out of spring training. When that happens, fantasy managers will start salivating over him.
ETA: 2019
Luis Urias was the favorite to win the second base spot out of spring training. However, the signing of Ian Kinsler means the plans for Urias will change. He is, presumably, still the team's second baseman of the future, however, near-term changes will likely see him playing at another position, namely shortstop. Urias is a contact hitter. Throughout his minor league career, he has a .306 batting average and a .397 OBP. While he excelled at getting on base in Triple-A in 2018 (296 AVG and .398 OBP), his major league debut got off to a rocky start.
Urias had a .208 batting average in 48 at-bats before being beset with a hamstring injury. Power and speed aren't really a part of his game; he hit a career-best eight homers at Triple-A and only stole two bases. Urias has the benefit of immediate proximity to the majors. He is an asset in OBP leagues, but might not be anything more than a high-average guy with an outside chance to reach double-digit homers. If he gets a boost in power, as most prospects seem to get in the majors, Urias' ceiling will rise accordingly.
ETA: 2021
A breakout season. A fast guy that can get on base with bat and eye. Few others had a better minor league year in 2018 than Brujan in Low-A and High-A. Brujan hit for a .320 AVG and had a .862 OPS. He also proved he could maximize the opportunity upon reaching first base. Once on the basepaths, he was a menace to opposing teams; he stole 55 bases in 74 attempts. Brujan is not just a one-trick pony.
Although he stands at 5'9, Brujan did hit nine homers in 2018. Brujan impressed at the plate not only with his bat, but also with his plate discipline He had a strikeout rate of 12.7%, and he nearly matched it with a 12.2% walk rate. Brujan has the qualities of a leadoff man that can get on base and challenge the pitcher once he gets there. Also, it is not impossible for him to possess a little pop. Brujan should be able to provide a high average with five to ten homers, and 30 stolen bases annually.
ETA: 2020
Jones is a pure athlete that leans more towards physicality that finesse. That could translate into a unique commodity for fantasy. Jones was moved from the outfield to second base at the start of the 2018 season. He spent the season familiarizing himself to a position he played in high school. Potentially stemming from the move, Jones struggled at the plate in 2018. He had a .239 batting average across two levels (High-A and Double-A).
He did have 10 homers and 24 stolen bases though. There is no doubt that Jones has raw power. The question will be his ability to hit well enough to take advantage of it. What separates Jones from the rest of prospects is that he should be able to hit 20 homers and steal 10 bases. At the second base position, this would be extremely valuable.
ETA: 2019
The Rays are known to slow-play their prospects, yet somehow Lowe (not to be confused with teammate Nate Lowe) forced them to contradict their own style. Eight homers in Double-A and 14 in Triple-A, combined with 31 total doubles with a .297/.391/.558 slash line was more than enough for the Rays to promote him all the way to the majors. Upon his arrival to the majors, Lowe continued his power display.
He hit six homers in 129 at-bat, which was one at-bat shy of relinquishing his prospect eligibility. Lowe's batting average at the major league level (.233) was not impressive. It took him a bit to get acclimatized in any amount; in the month of September, he hit .247 with five of his six homers. Lowe should find success as a big-league second baseman and will likely provide a little power with an above-average batting average.
Esteury Ruiz, San Diego Padres
ETA: 2021
Ruiz will get overlooked in a Padres minor league system that is loaded. At 19 years old, the svelte young man from the Dominican Republic can primarily be described as having plenty of tools. He spent the 2018 season at Class-A Fort Wayne where he displayed power and speed with 12 homers and 49 stolen bases (60 attempts). While some people could dream on these stats and the five-category contributor that Ruiz could become, keep in mind there are improvements that need to be made.
Ruiz will need to make advancements in his plate discipline if he is to realize any of these ambitions as he struck out 141 times (28%). He finished the season with a .253 batting average which is lower than his short minor league career average of .291, but might be closer than the eventuality. Ruiz will also need to improve his base-stealing ability to make up for his lack of elite speed. He is an exciting, young prospect to watch and hope for, but Ruiz is a long way from having his power and speed skills come to fruition in the majors.
ETA: 2019
Speaking of a positional transfer, Kieboom is one such example. Thus far, Kieboom has played his entire minor league career at shortstop since he was drafted in the first round of the 2016 draft. As he progresses closer to the big leagues, a position change needs to be considered if he is to provide for the major league club, as Trea Turner has the shortstop position locked down. It appears decisions have already started to formulate as Kieboom played at second at the Arizona Fall League.
Kieboom finished the season with 16 homers and 31 doubles with a .280/.357/.444 slash line across two levels (High-A and Double-A). He also added nine stolen bases. His performance earned him the Nationals Player of The Year award. In the AFL, he hit .295 with one homer and five stolen bases in 78 at-bases. Although these numbers aren't jaw-dropping, his disciplined approach remains visible while he transitions to a new position; he had 17 walks to nearly match his 18 strikeouts, an improvement over his 2018 performance. Once he arrives, Kieboom should be able to provide 10-15 homers and a handful of stolen bases.
More MLB Prospects Analysis