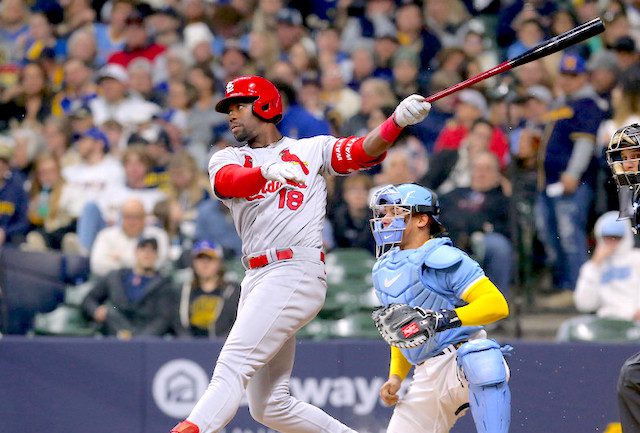 Welcome to "They're Back!" where I will suggest some players who have returned to active rosters and may be worth adding or monitoring. Who has the potential to become a reliable everyday contributor? Who can assist their team during the crucial stretch?
This week, we have a few players to consider, such as Mitch Garver, Jesús Sánchez, Jake McCarthy, Jordan Walker, and Adam Duvall.
Roster percentages have been sourced from Yahoo and are up-to-date as of 06/09/2023. Let's get started with perhaps the hottest of all these hitters down in Miami.
12% Rostered
Sánchez has been on a tear lately. In his last seven games, he has eight runs, seven RBI, and three HRs, including a three-run homer against the Kansas City Royals. The fact that he is only 12% rostered is a head-scratcher. He has a slash line of .294/.363/.559 and .922 OPS for the season. He has a 35.6 Oppo% which means more bases and more runs, which means roster him immediately!
Mitch Garver, Texas Rangers
15% Rostered
After a knee injury in early April, the Rangers have activated Mitch Garver. Since being activated, in his last five games, Garver has a .353 AVG, .421 OBP, and .647 SLG. Per statmuse.com, Garver has a .282 battering average with 11 hits, three home runs, nine RBIs, and nine runs scored in 12 games this season.
In 2022, the Rangers' DHs combined to hit .227, showing weakness in the position. Mitch Garver could be a valuable fantasy asset for the Rangers as their primary designated hitter, with the potential to contribute significantly to their offense if he stays healthy.
Jake McCarthy, Arizona Diamondbacks
56% Rostered
Jake McCarthy went 1-for-3 with a walk, an RBI, and two stolen bases in Tuesday's 10-5 win over Washington. McCarthy has multiple stolen bases in two straight games, stealing 10 in 10 games since being recalled to the Diamondbacks. Despite his issues at the plate, his 12 SBs on the season have been a valuable asset around the bases for the Diamondbacks and would be a solid addition to your roster.
Jordan Walker, St. Louis Cardinals
64% Rostered
As I write this article, Jordan Walker has just hit a 444-foot, two-run homer against the Cincinnati Reds. For the last seven days, Walker's slash line is .292/.370/.542 and a 114 wRC+ for the season.
While in Triple-A Memphis, Walker made mechanical tweaks to his swing, making a massive difference in his second MLB stint with the Cardinals. He has made an immediate impact since returning, and I look for him to continue at this rate for the rest of the season.
Adam Duvall, Boston Red Sox
69% Rostered
Duvall was out of action for almost two months due to a wrist injury. However, he has been cleared for play and activated on June 9. In the first eight games of the season, Adam Duvall had an impressive .455 batting average, with four home runs and 14 RBI.
It's a small sample size, but the Red Sox are 6-3 with Duvall in the lineup, 26-29 without. He would be an asset to any roster based on how well he was hitting the ball for the first few weeks of the season.
Download Our Free News & Alerts Mobile App
Like what you see? Download our updated fantasy baseball app for
iPhone
and
Android
with 24x7 player news, injury alerts, sleepers, prospects & more. All free!
More Fantasy Baseball Advice