Things were supposed to be good in San Francisco this year. The team had a promising young quarterback, a good veteran wide receiver, a highly-talented receiver across from him, and an up and coming tight end, and then they drafted Washington wide receiver Dante Pettis to add to that core. The 49ers were a playoff sleeper.
Instead, quarterback Jimmy Garoppolo was lost to a season-ending injury and the top two receivers, Pierre Garcon and Marquise Goodwin are currently sidelined as well. That tight end, George Kittle, is still there, but overall this offense looks a lot different right now, which has opened up a space for Pettis to make an impact.
Let's look at tape from Dante Pettis against the Seahawks from Week 13.
Editor's Note: Get any rest-of-season NFL Premium Pass for 50% off. Our exclusive DFS Tools, Lineup Optimizer and Premium DFS Research through the Super Bowl.
Sign Up Now!
Dante Pettis: The Tape Tells All
Background Information
On Sunday against the Seahawks, Pettis caught five passes for 129 yards and a pair of touchdowns. It was his second game in a row where he's found the end zone, his second game in a row with seven targets, and his second game in a row to average over 19 yards per catch.
It's been a bit of a roller coaster season for Pettis in terms of playing time. Per Pro Football Reference, here are his game-by-game snap counts for the games where Pettis has been active:
Pettis opened the season as part of this offense, catching a touchdown in Week 1 and finished second among the team's wide receivers in snaps. But that was aided by a quad injury that limited Marquise Goodwin in the second half, and when Pettis led the team's receivers in Week 2, Goodwin was out. When Goodwin returned in Week 3, Pettis saw his role start to disappear, and then a knee injury kept Pettis out for a little while.
Now, though, he's posted back to back games with 90-plus percent snap counts, and with Goodwin and Garcon out, Pettis has established himself as the team's top target with Kendrick Bourne filling the role of the number two guy.
What a healthy Pettis brings to the football field, and what made him worth the second round investment back in April's NFL Draft, is his efficiency and his big play ability. Some of the stats from his PlayerProfiler page are eye-popping:
third among receivers in yards per reception
fourth in yards per target
seventh in yards per pass route
first in true catch percentage
I'm really interested in that last number, and it's a big reason I'm so high on Pettis in dynasty league since he'll have a better quarterback situation next year. Only 53.6 percent of Pettis's total targets have been deemed catchable, but he's caught 57.1 percent of his targets. His true catch rate, which adjusts for those uncatchable passes, is 106.7 percent, the best mark in the NFL. Pettis has made the most of a bad quarterback situation.
The Game Tape
Let's go ahead and look at all five of those catches and see how Pettis has made the most of this situation.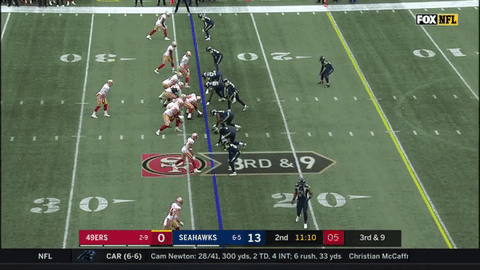 Pettis makes his first catch in the second quarter, just a pretty basic slant over the middle with Pettis coming out of the slot. A lot of the advanced stats point to Pettis being an efficient down-field option, so it's good to see him making a catch like this without much space to work with.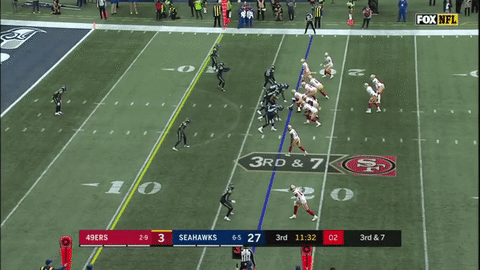 First, let's appreciate this block by Kyle Juszczyk that helps free Pettis up for the touchdown, but also let's admire Pettis for his ability to stop, grab the ball, slide out of trouble, and then get to the perimeter, where he's able to use his feet to get into the end zone. Pettis isn't a particularly fast wide receiver, with his 40-yard dash time ranking in just the 55th percentile among wide receivers, but in this game at least we see him showing the ability to get some burst and make things happen.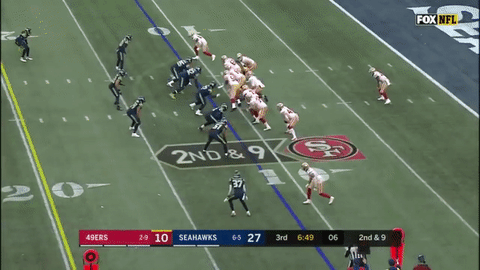 Not too much to say about this one except that what were the Seahawks doing defensively? There are four guys over in the area of Pettis but the zone they're running here gives Nick Mullens a chance to drop one into Pettis since there's no one within five yards of him. Obviously, once the easy catch is made, the defense having so many men over there means Pettis isn't going to get extra yards, but he still got the first down.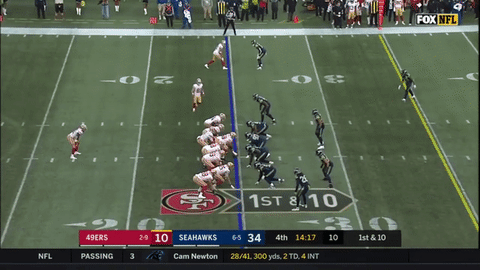 TOUCHDOWN TIME.
This one is made possible by Pettis getting a good little cushion, a good block from George Kittle down the field, a failed tackle, and Pettis finding another gear with his legs. In other words -- the first touchdown is a much more replicable thing. Long touchdowns are always kind of fluky, like Adrian Peterson's 90-yard run on Monday night in a game where he had just 98 rushing yards, but the big encouraging thing here is how far down the field Pettis is getting the ball. Pettis is currently just 67th in air yards per target, but we saw some good signs on Sunday of the 49ers getting the ball to him deeper down the field. More air yards equals more receiving yards if the receiver makes the catch, which ultimately means more fantasy upside. For a guy who already is top five in yards per reception and yards per target, his ceiling is even higher if can add being a consistent downfield threat to his resume.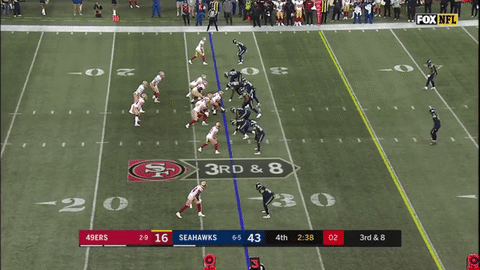 Not much to add here except to again mention that Pettis does a good job making the catch in the space he has, and I'm again encouraged by it being a longer throw.
The Fantasy Impact
So, how much can Dante Pettis be trusted at this point?
His usage has been good, and while Nick Mullens isn't going to be a guy who slings the ball around the field, he seems to have found a connection he likes with Pettis.
It doesn't seem like Pierre Garcon or Marquise Goodwin are in San Francisco's plans for the rest of the season at this point, but you never know for sure, and the looming threat of Pettis returning to a secondary role on this offense is there. But in Week 14 against the Broncos, Pettis should remain atop the pecking order, and with Chris Harris out for Denver, the role of stopping him likely falls on Bradley Roby. Roby ranks 84th among defensive backs in fantasy points allowed per game when he's in coverage and 78th in receptions allowed. This is going to be a good matchup for Pettis, who should have a good shot to find his way into the end zone.
More Fantasy Football Analysis