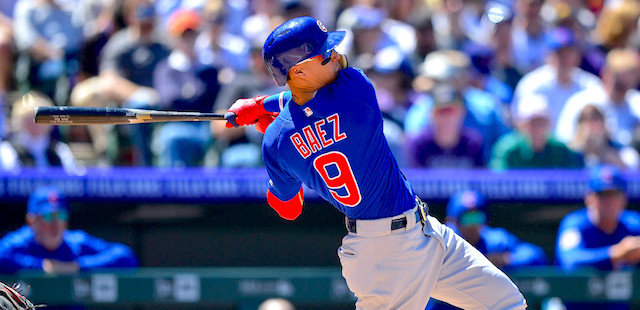 In our weekly feature in collaboration with Inside Injuries, we take a comprehensive look into major injuries and their Fantasy implications.
The medical team at Inside Injuries breaks down each player's outlook from physical perspectives. RotoBaller then provides in-depth fantasy recommendations based on the impact of every injury breakdown. It's an unrivaled combination of medical and fantasy expertise, designed to help you gain a true advantage in your roster management.
Inside Injuries predicts the impact of injuries on player performance by using data analytics, medical expertise and statistical modeling.
Editor's Note: Get any full-season MLB Premium Pass for 50% off, with exclusive access to our season-long articles, 15 in-season lineup tools and over 200 days of expert DFS research/tools.
Sign Up Now!
Baez left Sunday's game early after he appeared to sprain his ankle while making a bare-handed play in the field. He tried to play through it but left an inning later. The Cubs are considering him day-to-day with a heel contusion, not an ankle injury. They aren't planning to place him on the I.L. for now. Inside Injuries has determined that this is a soft tissue injury, so it comes with a short one week Optimal Recovery Time.
Right now his Injury Risk is High (26%), but that will improve quickly by the end of the week. His HPF (Health Performance Factor) is also 48%, which is Below Average. This is a painful injury to play through before it heals, but he should be fully recovered by next week.
Engel's Fantasy Spin
Depending on when your lineup deadline was on Monday in weekly leagues, you had to make a tough call on whether to activate Baez or not. The report on this one seems pretty straightforward. Baez delivered a pinch-hit game-winning single on Tuesday and is uncertain for Wednesday. He is performing as one of the top shortstops in fantasy baseball, and while some advanced indicators point to some regression, he could ultimately be a key cog as you contend for a Fantasy championship in 2019.
Conforto suffered a concussion when he collided with Robinson Cano on Thursday. The Mets placed him on the 7-day concussion I.L., so he can't return until the end of the week. The severity of a concussion is one of the hardest things to predict, but this one sounds relatively minor. Inside Injuries is showing a two-week Optimal Recovery Time. Conforto has reportedly been concussion-free for three days, so he is already making progress. The next step will be slowly starting baseball activities again, and if he can continue to progress without the symptoms while coming back, he could return to the lineup by the weekend.
Once a player suffers one concussion, they become more susceptible to another head injury. Because of that, his Injury Risk is High (55%). He should see that number drop quite a bit once he hits that two-week mark, but Conforto will likely still fall into the High Risk category.
Engel's Fantasy Spin
As indicated by Inside Injuries, diagnosing the effects of a concussion could be very tricky, and it's hard to predict how Conforto responds once he is back in action. In the short term, you should maintain with any replacement option you are using until you see Conforto showing signs of getting back into form when he returns. It is not a bad move to keep him benched until you see actual results or signs of potential results if you can afford to keep him reserved for a bit upon his initial return.
Puig made a great play reaching into the stands on Sunday, but he suffered a right shoulder sprain in the process. The Reds don't plan to place him on the I.L., but our algorithm indicates he needs at least two weeks for his shoulder to heal. Puig was already High Risk due to the many injuries he has had throughout his career, and now his IRC has bumped to 41%, which is very concerning. While our algorithm is considering this a Grade 1 injury because it's a mild sprain, it's his overall risk that is a serious concern going forward.
This specific injury will affect his power and ability to make accurate and strong throws, but if he can make it through the next few weeks without a setback it shouldn't turn into a long-term concern. Unfortunately, it wouldn't be surprising to see him pick up another injury sometime soon. Over the last few seasons, he has missed significant time with everything from an oblique strain to hamstring and other lower body muscular strains.
Engel's Fantasy Spin
Published reports indicate Puig is expected to return to the Reds lineup on Wednesday. Playing through this issue seemingly can affect his power and potential production. Be prepared to have a contingency plan in place should you lose Puig at any time soon. While he remains active, you could see him go cold while he is in the lineup.
Turner fouled a ball off of his shin on Friday and wasn't in the starting lineup Saturday (although he did pinch hit). He returned to the Dodgers' lineup on Sunday but is 0-5 since the injury. Inside Injuries is showing that this is a soft tissue injury, which is the least severe injury designation. The Optimal Recovery Time is just one week. Despite the short recovery time, this is something that can limit a player's mobility and is painful when running or swinging the bat. His Health Performance Factor (HPF) is Below Average (48%), indicating it could be a few more days before he is feeling better and performing at his normal level again.
Engel's Fantasy Spin
This is some reassurance that Turner should make it through this injury problem pretty quickly even if he slumps for a bit. If you have a player of quality value you can replace him with for a few days, go ahead and sit him if you can. Otherwise, ride it out and hope for no setbacks in the meantime.
Healy is on the I.L. after suffering a back strain on Monday night. Healy left the game after his third at-bat when he felt his back tighten up. Any sort of back/core injury can be debilitating for a baseball player, especially at the plate. Anything more than some soreness or tightness should land a player on the I.L. Right now we are showing a two-week ORT for a mild back strain, but this could turn into an even longer absence if an MRI shows a more serious strain. It doesn't take much to aggravate a back injury, so his Injury Risk is now High at 48%.
Engel's Fantasy Spin
Healy was not widely owned. While his batting average was down, there was no question the power production was respectable. If you do need to replace him, there is not much out there in terms of corner infielders on free agency. Ryan McMahon is starting to shown signs of performing better and Brandon Belt offers a similar fantasy profile to Healy right now.
More 2019 Fantasy Baseball Advice