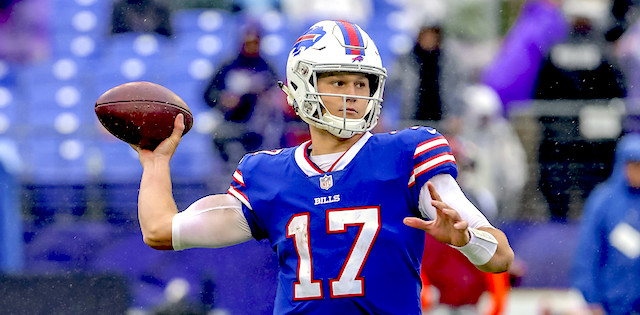 With the best fantasy football league in the world, the Scott Fish Bowl, finishing its 100-division Superflex draft, it is time to answer that age-old question for those of you not lucky enough to be in it. What is the best draft strategy in Superflex or two-quarterback leagues? Well, there really isn't one answer. It all depends on what the league around you is doing.
Late-quarterback drafters may think that strategy won't work in Superflex. Others may think it will. You may both be right (or wrong).
Here we will look at a general strategy to employ during these drafts. Hopefully, they will lead you to fantasy gold.
Editor's Note: Get any rest-of-season NFL Premium Pass for 50% off. Our exclusive DFS Tools, Lineup Optimizer and Premium DFS Research through the Super Bowl.
Sign Up Now!
How to Approach the QB Position
Sure, in most cases quarterbacks will come off the board a lot earlier in Superflex leagues than in standard one-quarterback leagues. Instead of taking Patrick Mahomes in the third round, someone will inevitably pull the trigger on him in round one. But this doesn't mean you have to change your strategy.
The first thing to do is to have a list of quarterbacks you would be willing to start on a weekly basis. In most seasons, this list should consist of 20 to 25 players. Obviously, you will want to make sure you get two of these guys, if not a third late. But it still does not mean reaching for them.
In single-quarterback leagues, a late-round QB may consist of players taken in the 10th round or even later. This number will be adjusted in Superflex. But the theory is not based on what round you grab the quarterback, but it is instead based on what your opponents do and being one of the last teams to grab those QBs. If you stick to this philosophy and draft other positions while your opponents are loading up on quarterback, you will gain a major advantage over them in more important positions.
Remember, whatever quarterbacks you get, you are going to start them each week, barring injury. Turnover at this position is minimal compared to running back. With other positions, the more flexibility you have, the better chances you will have to find hot hands.
Why Not Grab an Elite Passer?
While it is nice to have Patrick Mahomes in the fold, it should not come at the cost of an elite running back or wide receiver. Everyone is throwing around the "r" word when it comes to Mahomes, but that's because it is more than likely to occur. Regression is coming, in some form or another. 5,000 yards and 50 touchdowns are not going to happen again. Even if these numbers only drop to 4,500 and 40 and he is still the number one quarterback, is it really worth a first-round draft pick?
Kirk Cousins, a player everyone said had a terrible season in 2018, is the 21st quarterback off the board. 4,200 yards, 30 touchdowns, and 10 interceptions don't make a bad season, at least not in fantasy. If anything, he is set for positive regression. He finished as QB13 last season, his lowest finish in five seasons. He will again be in the top 12 this season yet he is going so far behind Mahomes and has just as safe of a floor. Yes, I said floor.
In Superflex, you need a safe floor to match with a possible high ceiling guy. Like Lamar Jackson or Josh Allen. We saw them have good fantasy seasons in 2018 due directly to their rush ability. A stat which cannot be predicted for them again this season. But they are still players you can get in a later round. Maybe even taken back to back with Kirk Cousins to solidify your position. Cousins will provide you a weekly baseline while you chase gold with Allen or Jackson. Meanwhile, your receiving group or rushing group is even better because you still didn't waste a higher than needed pick on a quarterback.
Are quarterbacks more important in Superflex leagues? Of course. But you still don't have to reach for them. You may not get a quarterback in the 10th or 11th round, but using the late quarterback strategy which you should deploy? You can still get nearly equal production in the sixth or seventh round while getting higher production from your higher-level players at other positions. This will allow you to hopefully win you championship anyway. Leaving the guy who went QB, QB to start the draft crying in a corner.
More Fantasy Football Analysis