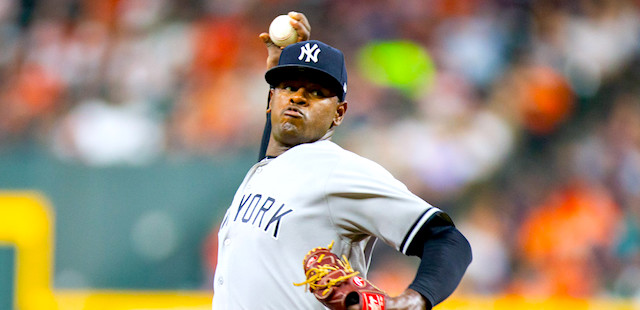 Welcome back to Rotoballer's series using Statcast to extrapolate, dig into, and commiserate over data to examine pitching performances. The weekly series will be dynamic as we fine-tune our findings and enlighten ourselves on the information and tools at our disposal.
It's August and we're firmly in the dog days of baseball season. After a whirlwind trade deadline, the sides between contenders and pretenders have become clearer. Similarly, fantasy owners should know where they stand in their respective leagues and make plans to improve for the final push. Patience is no longer a virtue. Fantasy baseball is a daily grind and it's almost time for all those moves, waiver wire decisions and trades to come to roost.
We'll do our best to help in Week 18 by looking at contact quality against starting pitchers since the All-Star break. Especially for weekly leagues and teams with spare innings, finding and timing the perfect streamer is essential for outperforming your competitors. We'll break down the guys that have surrendered poor contact over the past few weeks and compare them with those that have been getting pummeled.
Editor's Note: Get any full-season MLB Premium Pass for 50% off, with exclusive access to our season-long articles, 15 in-season lineup tools and over 200 days of expert DFS research/tools.
Sign Up Now!
Bound to Pop
All stats as of August 6 for 102 pitchers with over 250 pitches since the All-Star break.
Ryan Borucki, Toronto Blue Jays (1-2, 2.30 ERA, 1.26 WHIP, 6.28 K/9)
Scantily-owned Ryan Borucki is the perfect segue into our discussion. Borucki made his major league debut on June 26 and has fired six quality starts in seven outings. Since the All-Star break, he leads baseball with a 16.5% poor contact rate and is 89th in hard contact (barrels + solid contact) at 1.3%.
Apologies to Blue Jays fans for the redundancy, but Borucki's scouting report is promising. The 24-year-old formerly held fifth-round potential before Tommy John surgery derailed his draft prospects and early career. Borucki finally got going in 2016 and rocked a 2.93 ERA between three levels in the minors in 2017, landing as the Jays 12th-ranked prospect. After getting his chance this season, the southpaw has lived up to his reputation, combining a solid fastball-changeup combination with excellent control (2.30 BB/9). A dependable groundball pitcher, his low 33.1% FB% should sustain the soft contact and limit the damage when he finally surrenders his first big league homer.
Of course, a 0.0% HR/FB won't last forever and the Jays face daunting AL East opponents down the stretch. Borucki's strikeout figures are lackluster, but it provides opportunity for managers enamored with the K to bypass him on the wire. Here's a clue, his K/9 in the minors last season was 9.4. A couple more strong outings and the secret on Borucki might be out.
Wade Miley, Milwaukee Brewers (2-1, 2.10 ERA, 1.25 WHIP, 5.77 K/9)
Wade Miley has never been a personal favorite and a 5.48 ERA between 2016-17 makes him extremely forgettable in fantasy circles. But while he's battled injuries most of the season, Miley's trotted out every fifth day since July 12 and holds a 15.2% poor contact rate since the break, fourth-best in the majors.
Miley missed over two months to a dreaded oblique injury but has allowed three or less runs in each start since returning, and against formidable opponents (LAD twice, COL). A perusal of Miley's year-over-year arsenal reveals a newfound cutter that he's used 34% of pitches. Having abandoned a historically poor fastball and sinker, Miley's cutter has induced a measly opponent batting average below .170. If he qualified, his wCT/C (1.40) would rank sixth. Despite the uninspiring strikeout returns, his 8.8% SwStr% is pacing ahead of his career average.
For a lifetime 4.31 ERA (4.09 FIP) pitcher, there are some hairs to the fantasy story. Miley holds an atrocious 4.72 BB/9 and has only given up one long ball this season (4.0% HR/FB). The clear risk is that he devolves into some semblance of the disastrous starter of recent memory. However, Miley did have some strong seasons yesteryear with the Diamondbacks and there could be something working with the new pitch approach. He's a reasonable gamble for teams looking for streamer magic.
Other possible risers: Tanner Roark (16.0% post-break poor contact rate), Nathan Eovaldi (BOS, 15.1%), Trevor Williams (PIT, 14.4%)
Due to Drop
Luis Castillo, Cincinnati Reds (6-9, 4.91 ERA, 1.33 WHIP, 8.40 K/9)
When a hyped player like Luis Castillo shows signs of an inflection point, the bulls typically come roaring back. Since July 1, Castillo has posted a superb 2.43 ERA and 1.11 WHIP. This column has hated on Castillo before and while we wanted to avoid tripling down, his 4.4% hard contact (second highest) and 9.1% poor contact rates (91st) were impossible to overlook.
Castillo's diminished velocity year-over-year hasn't budged. His 96.2 MPH fastball in July is still 1.5 MPH slower than last year. He grooved the four seamer a season-high 8% last month and 11% in his latest start. To his credit, its usage has declined, giving way to a slider and changeup that gave fans glimpses of hope in May (3.48 ERA). Profiled as a strikeout wizard, Castillo's whiff rates for his fastball and sinker loiter in the single-digits while slider and changeup results are widely volatile. The youngster is highly inconsistent, fanning four or less in 11 of 23 starts.
Castillo's stock should have been downgraded long ago but owners who held on now have reason to gloat. But a pitcher with only six quality starts and less than a strikeout per nine should belong in the waiver discussion instead of owned in almost two-thirds of leagues. Unless Castillo rediscovers his velocity or commits to executing his secondary pitches, this could be an opportunity to sell high before another crash.
Luis Severino, New York Yankees (14-5, 3.08 ERA, 1.11 WHIP, 9.98 K/9)
My beef with Castillo isn't a mano-a-mano affair. Likewise, there's no personal vendetta against the name Luis. I own Luis Severino in the majority of my leagues and was blindly in denial of his recent swoon. Unfortunately, the data pegs Severino with the 18th-highest hard contact (2.9%) while his poor contact rate sits at a paltry 10.1% since the break.
In his last three starts, the All-Star has been anything but (9.60 ERA). While he still owns one of the game's best sliders, hitters have slugged its cover off in July (.579) and August (.800). After yielding just six round-trippers in the season's first three months, he's relinquished eight in his last six outings. Severino's fastball velocity has gradually declined since June, leading to a whiff rate of just 3% in his last start. Uh-oh.
As a biased owner, I'm wishing the normalization of his FIP to 3.05 suggests the worst is over. But from an agnostic fantasy analyst's perspective, Severino's recent performance has been devastating for his owners. Pitching like a stud and validating his early-round value right out the gates, Severino's wallowed amongst the likes of Sam Gaviglio and Austin Bibens-Dirkx over the last month. For managers pressing up against innings limits, sitting Severino for a couple starts isn't irrational. A rebound could ultimately be a key piece to a fruitful stretch run, or otherwise a season-killing death knell.
Other possible fallers: Jon Lester (CHC, 3.4% post-break hard contact rate), Kenta Maeda (LAD, 3.2%), Jacob deGrom (2.9%)