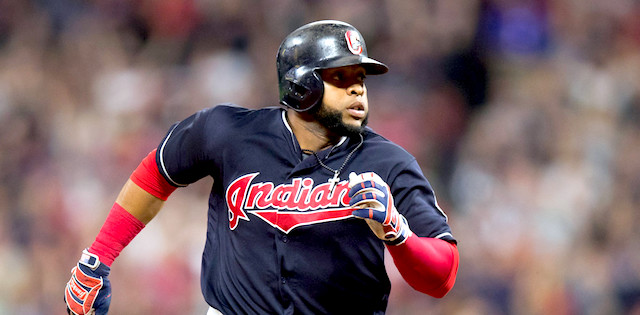 In this week's version Statcast Risers and Fallers for Hitters, we're going to examine a newer metric called Sweet Spot percentage. It may seem like a simple colloquialism but Statcast now measures how frequently a batter truly hits the sweet spot, at least according to ideal launch angle. Simply put, this stat measures any batted-ball event with a launch angle between eight and 32 degrees.
Launch angle in of itself can't tell us what happens with a ball once it's struck. This must be used in conjunction with exit velocity and hard-hit rate in order to paint a picture of how well a hitter is performing. Barrels do just this, but sometimes it is useful to dig deeper into the isolated statistics in order to find potential risers and fallers who are one adjustment away from making gains or regressing to the norm.
As usual, we won't be stating the obvious by regurgitating the names of league leaders and big-time busts. Instead, we will look for unexpected players who might be worth your attention on the waiver wire, trade block, or chopping block. Now, let's get into the hitters who are finding the sweet spot (or not) as we prepare for Week 5 of the MLB season.
Editor's Note: Get any full-season MLB Premium Pass for 50% off. Exclusive access to our Draft Kit, premium rankings, projections, player outlooks, top prospects, dynasty rankings, 15 in-season lineup tools, and over 200 days of expert DFS research.
Sign Up Now!
Surprising Chart Toppers
All stats current as of April 28, 2019 and display leaders among hitters with at least 25 Batted Ball Events (BBE).
Before we delve into the highlighted players, I should note that the top two Sweet Spot leaders at the moment are light-hitting backup infielders Ehire Adrianza (53.8%) and Jordy Mercer (53.1%). I'm not sure what that means but I know there's no way to convince me they will be fantasy-relevant any time soon so we'll ignore them for now.
50.0% SwSp% in 30 BBE
This seems like an irrelevant name to mention as well but those in NL-only and 14+ team leagues can at least pay attention. Gamel has seen a pair of starts in the last week, driving in a run in each. It's mainly been to spell Ryan Braun in left field, who is off to a terrible start with a .196/.245/.391 slash line. On Sunday, he entered the game after Christian Yelich left early on a HBP. If the reigning MVP is forced to miss time, then Gamel will likely take his place in right field. The Brewers lineup would be far less potent without Yelich but playing time could still bring value for Gamel.
His 36.7% hard-hit rate isn't working well in conjunction with his sweet spot rate, nor do his numbers from the past couple of years inspire much confidence. He is still just 26 and could benefit from a move to Miller Park instead of Safeco. He's only worth a look in deep formats but if you're forced to find a replacement for Yelich, maybe don't stray too far.
47.9% SwSp% in 48 BBE
The Rays have been one of the bigger surprises of the 2019 season thanks to nobody in particular on offense. While Yandy Diaz continues cranking out homers, there isn't an early MVP candidate or star player in the making. Choi is one of a cast of characters that might not find his way off the bench (or on the 25-man roster) for another club but has been a solid contributor in Tampa. The other reason it's surprising to see him on the leaderboard here is the fact he only has one home run on the year. If he's hitting the ball just right nearly half the time, why isn't it bringing better results?
Don't blame his hard-hit rate - he's at 41.7% this year and might actually see positive regression if it lines up with his past two seasons' results of 45.5% and 42.3%. Choi could stand to do better than his 93.5 MPH exit velocity on fly balls and line drives, as that ranks smack dab in the middle of all hitters, along with his barrel rate. His exit velo is above average at least and his expected stats are in the 88th percentile, so it's possible he starts to bear some fruit sooner than later.
45.7% SwSp% in 46 BBE
Another lefty under the age of 27, Tellez is part of the youth movement underway in Toronto headlined by the son of a Hall of Famer you might have heard of. Lesser-heralded prospects like Teoscar Hernadez and Tellez are going to be important to the team's future success as well, but what about fantasy owners? Hernandez was a Statcast darling last year who is struggling to repeat his success so far in 2019. Tellez may just take up the mantle though.
Tellez has only strung together three multi-hit games, which is why his average sits at .233. The power is clearly present, though. If you missed his 505-foot moon shot to right field in Fenway Park a couple weeks ago, it's worth watching. He is 45th in Barrel rate at 9.1 Brls/PA and his 47.8% hard-hit rate places him 53rd. The area he stands out most is exit velocity, where his 93.1 MPH average on all BBE is 19th, good for the top sixth percentile. Tellez is capable of scorching the ball and may benefit from Vladimir Guerrero Jr. hitting just behind him, as he did on Saturday, or a couple spots ahead of him if he can get on base regularly to provide RBI opportunities.
Alarming Bottom Dwellers
All stats current as of April 28, 2019 and display leaders among hitters with at least 25 Batted Ball Events (BBE).
It goes without saying that many players don't want a high launch angle because they rely on speed rather than power. These players are in a bad place because they aren't in the position to benefit from low launch angle.
20.9% SwSp% in 43 BBE
The Reds' center fielder is hitting .132 after collecting just two hits in his last 32 at-bats and is owned in 2% of fantasy leagues. It should go without saying he's at the bottom of several leaderboards but why should we care? Well, it's not so much about his fortunes but those of prospect-in-waiting Nick Senzel.
Originally an infielder, Senzel was moved from third base to second and now to the outfield because of the roster makeup of these Reds. He's blocked by Eugenio Suarez and Scooter Gennett (when he returns from the IL), so Senzel has been playing CF in the minors. It appears there may soon be an opening for him to take over as an everyday player there with the way Schebler has scuffled. It's only a matter of time, so get your waiver bids ready for Senzel soon.
21.8% SwSp% in 55 BBE
While Hunter Dozier is stealing all the thunder in KC these days, O'Hearn may not be far behind if he can just lift the ball more. O'Hearn has the 14th-lowest Sweet Spot rate among those with at least 25 batted ball events, despite the fact his 11-degree launch angle average, while certainly low, isn't terrible. It's unfortunate because he's one of the league leaders in hard-hit rate early on, ranking 21st with a 52.7% mark.
O'Hearn has shown plus power throughout his young career, hitting 23 homers between Triple-A and the majors last year and 22 HR in each of the previous two minor league seasons. He's shown he can rake the ball at the highest level, is walking 14.3% of the time, and isn't striking out a ton. It may be a matter of time before O'Hearn starts hitting the ball in the right spots and turns his miserable .175 average around. He's worth watching for now.
22.1% SwSp% in 68 BBE
Although he's got eight years of experience on O'Hearn, they profile almost identically this season. Santana is also posting a top-20 hard-hit rate and has an exit velocity in the 98th percentile. He's hitting .300 and reaching base via walk at an extremely high 17.1% clip as usual but has just two jacks on the year. Santana owners got used to 20-HR power with a low average and now he's flipping things around. Will this trend continue?
It's unlikely, as his current 56% ground ball rate is a full 15 points higher than last year and much more than he's ever finished. His pull rate is also depressed at 29.4%, far below his usual. You could argue he is changing his game to boost his OBP while sacrificing power but a hitter in his mid-30s isn't likely to have such a dramatic shift in profile. Eventually, Santana should see an uptick in power but the high average may not stay with it -- his career-high for a season is .268. If you are a Santana owner, you can feel good holding on because his overall value won't shift dramatically.
More Statcast & Fantasy Baseball Analysis