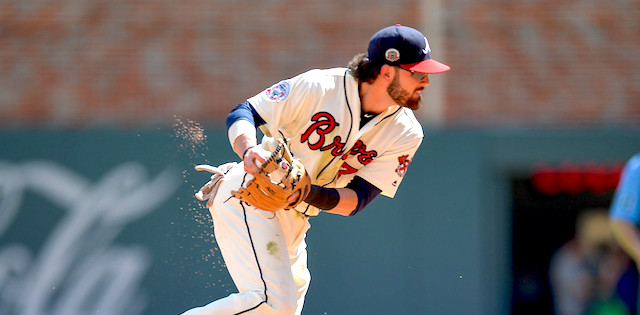 In the latest edition of Statcast Studs and Duds for offense, we're going to shorten the range of outcomes. I will look at leaders in hard-hit balls over the past month only. Also, rather than simply isolating Hard% as a metric, I am looking at the total leaders in batted ball events that qualify as either Barrels or Solid Contact. The reason for this is simple - percentages can be misleading.
If a rookie comes up and homers in his first two Major League at-bats, his ISO and Barrel% will be through the roof after one game. A week later, if he sees just three more at-bats and gets one well-struck ball for a double, his percentages will still be extremely high but his actual contribution to fantasy owners will have been minimal. This is an extreme example but as always, context matters.
Let's look at this specific set of data in order to find buy/sell/add/drop candidates for 2019 fantasy baseball leagues as we get into the 10th week of play.
Editor's Note: Get any full-season MLB Premium Pass for 50% off, with exclusive access to our season-long articles, 15 in-season lineup tools and over 200 days of expert DFS research/tools.
Sign Up Now!
Surprising Chart Toppers
All stats current as of June 3, 2019 and display leaders of hard-hit batted balls since May 1.
21 Hard-Hit BBE since May 1
Now here's a name nobody expected to see on any leaderboards, which is odd since he was the top overall pick of the 2015 draft. After hitting .232 and .238 in his first two full seasons, including an xwOBA that was in the bottom 6% of the league last year, Swanson is finally coming around. He did pop 14 homers in 478 at-bats in 2018 but he's in another gear altogether this season with 12 homers in 216 at-bats already. He is fourth since the calendar turned to May in hard-hit balls.
The main thing that jumps off the page is his exit velocity, which has ramped up four points to 90.7 MPH. His hard-hit rate has increased by eight points, up to 42%. He's also cut down on strikeouts and increased his barrel rate significantly. Take a look at his hard-hit heat map on balls in play and you'll see that he isn't restricted to any one part of the plate:
He did fade a bit during the middle portion of May, which caused some to jump ship on him. He's picked it back up again lately though and is still well above the MLB average in Hard%.
Swanson is due for a 25-HR season and should continue to pile up R+RBI now that he's moved up to the second spot in the order, which accounts for his May production. If anyone is still skeptical about Swanson, they shouldn't be.
20 Hard-Hit BBE since May 1
There aren't too many surprises in the top 10 of this particular search query but Jones stood out first. He is tied for 10th with players like Cody Bellinger and Freddie Freeman. That means that over the past month, Jones has either made solid contact or barreled the ball 20 times, on 5.1% of all pitches he's seen. It seems his fast start in the first week of the season has carried over to the following month.
Curiously, for the season Jones is all the way down at 232nd in hard-hit rate at 33.9% yet his 8.8 Barrels per PA are in the top 50. As a player who neither walks nor whiffs a whole lot, Jones simply puts the ball in play more often and when he gets a hold of a ball, he does it with authority. If anything, he's proven that there's still plenty left in the tank and move out of Baltimore, shockingly, didn't hurt his fantasy value. Consider him a solid OF3 in 12+ team leagues going forward.
20 Hard-Hit BBE since May 1
Soler is another player that has always had the talent but didn't put it all together in long stretches. This year, with everything to prove and nothing to lose on a Royals team on the rebuild, he's cutting loose, literally. Soler has seen his plate discipline drop in order to get harder contact and it's working for the most part. His 24.4 K-BB% is a far cry from last year's 15.9 K-BB%. Although his swing rate is at a career-high 49.4%, it's led to a jump in contact rate and a career-best 43.3% Hard%.
With an xSLG in the 76th percentile, Soler's power is certainly sustainable. The problem is that you're going to have to be comfortable with a .239 batting average that sits right near his .240 xBA. There is always the chance he becomes more disciplined and still finds a way to barrel the ball consistently but I wouldn't bet on it. At this point, he is what he has become - a slugger.
Surprising Bottom Dwellers
All stats current as of June 3, 2019 and display leaders of hard-hit batted balls since May 1.
6 Hard-Hit BBE since May 1
Is this really a surprise though? Only 1.3% of Votto's batted balls have gone for solid contact or better. That ranks 356th among all batters. The fantasy eulogy for Votto should have been written back in April, as he is not contributing in any category other than maybe runs scored due to his high walk rate.
Sadly, Votto ranks below league average in every major Statcast category, especially hard-hit rate (20th percentile). He's chasing more often and making far less contact when he does. We could have seen this coming, as his barrel rate has gone down every year of the Statcast era, down to 6.2% this year. It pains us all to admit, but he isn't even worth owning as a bench stash.
7 Hard-Hit BBE since May 1
Murph missed some time on the IL but he still saw 363 pitches over the past month and has now been reintegrated into the lineup. Despite the presence of Brendan Rodgers, Garrett Hampson, and Ryan McMahon, Murphy is finding semi-regular playing time. While May wasn't kind to him, there are signs of life recently with seven hits in the past four games.
While he's brought his average back up to .250 in the process (woo hoo!) the power has been lacking. Murphy has only gone deep three times all year and once since May 1. His 27% hard-hit rate is putrid, ranking in the ninth percentile. It's not a launch angle issue either, as that has held steady. His exit velo has steadily gone down the last couple of years, so wear and tear and/or age may just be catching up with him. It's still best to sell, even at a depressed market price. The Rockies have plenty of young pieces in place to take his spot.
7 Hard-Hit BBE since May 1
I am highlighting Meadows because he's been an overwhelming draft-day success by all accounts. He's batting .357 with 12 HR and 37 RBI despite missing a few games recently. As a 24-year-old top prospect on a team in the hunt for first place, there should be little concern, right?
While Meadows has been dynamite, his hard-hit percentage hasn't been special at 41.3%. His rate of hitting barrels and/or solid contact ranks 272nd among all batters since May 1. For perspective, he's tied with Miguel Cabrera in that area and has seen just 16 fewer pitches. If you own Miggy, you know he has provided zilch in the power department. By contrast, Meadows has gone deep 12 times. The key difference is the sweet spot. Meadows has a 43.8% SwSp% that is 11th in the majors. Cabrera is farther down at 38.2%. Cabrera has stroked a lot of really hard singles but Meadows' superior launch angle has led to more balls leaving the yard.
This seems like an odd pair of players to compare but it shows why looking at one metric in isolation can be confusing. Meadows has put together a high exit velocity, superior sweet spot numbers, and excellent sprint speed in order to rack up extra-base hits, whereas future HOFer Cabrera is content with reaching first. Meadows may not have many barrels on his resume but it goes to show that he doesn't need them to get the job done. Hold firm, even if he doesn't keep up his electric pace at a .357/.429/.656 clip.
More Sabermetrics & Statcast for Fantasy Baseball