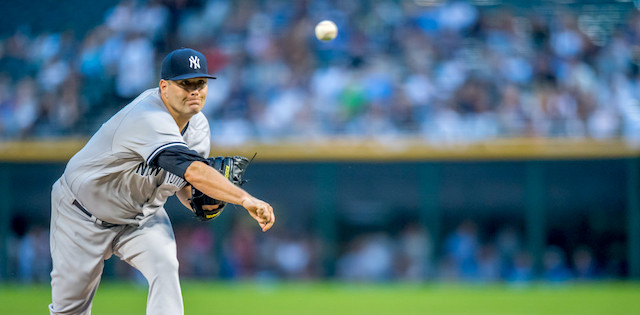 Every fantasy team needs starting pitching to compete, and this year's crop offers an exciting mix. There is a clear top-three in a tier alone, with 12-15 more names claiming to be "fantasy aces." Past the top few tiers, the pitching pool turns into a mixture of similar options, with small differences that could amount to drastically different production.
Below are pitchers with the chance to separate themselves from the fold, and while ace-status is off the table, SP3 would be the realistic endpoint for these arms if health and form return. Every option on this list has a shot at a permanent starting role this year, and that alone is worth the research, or follow, to start the year.
Read along to see who to target late in drafts, and what stock you should be buying this year. With any pitcher comes risk, but the injury risk for most of these arms is already built into the draft price.
Editor's Note: Our incredible team of writers received 13 award nominations by the Fantasy Sports Writers Association including Baseball Writer of the Year, Football Writers of the Year, Golf Writer of the Year and many more! Be sure to follow their analysis, rankings and advice all year long, and win big with RotoBaller!
Read More!
Yu Darvish, Chicago Cubs (152 ADP)
If he is healthy, Darvish is one of the best arms in the game. With a four-pitch mix and a fastball that can touch 97, the stuff is elite and will post positive returns for fantasy owners if last year was a mirage. Chicago was never a fun place for Darvish with injury concerns, and pressure taking its toll over the long season. And yet, there are plenty of reasons to be optimistic.
Command was the main issue last year, with an 11.7 BB%, up from a career average of 8.7%. If this can return to a career norm, then Darvish will keep runners off base, and deflate that 1.43 WHIP. The other good news is that the stuff still played with an 11.1 SwSt%, right at the career expected mark. The Cubs are a good team in general, offering value in support for the pitcher. Assuming injury was the main culprit, there are five good years of value that should matter more to owners than one down campaign. At a sunk-cost price of 152 in TGFBI, the cost is low enough to risk a 12th-round selection.
Jon Gray, Colorado Rockies (219 ADP)
Gray owners have been waiting for the breakout since his rookie debut and were disappointed with a dud of a 2018 campaign. The good news is that he looked better after a demotion to the minors, with an ERA that improved to 4.37 from the early season 5.77 mark. Ks are never the concern, with a 24.6 K% throughout the full season. Gray might be the best of the starting option in Colorado, as while fantasy owners will always need to deal with some run inflation, the stuff plays.
On a good Rockies team, with a chance to win close to 90 games again, Gray will be the pitcher of record with an opportunity to benefit from the run environment as well. Even if he gives us four per six, that means that the Rockies are in games. Owners should avoid him if they need an ERA anchor, but in terms of raw counting stats from the pitching bump, Gray is a reliable target.
Sonny Gray, Cincinnati Reds (328 ADP)
The move to Great American is not ideal, but moving out of New York is. The splits were wild, and away from home last year Gray was a top-40 pitcher. The stuff and track record are there for a return to form, but much like the other Gray, owners should not be counting on five-category additions.
Gray's second-half ERA dropped to 3.66, after a 4.42 to start, and this was coupled with a surging ground-ball rate from 48 to 54. Velocity was good, sitting a 93.3 for the campaign, higher than he was throwing in Oakland by half a mile or so. All signs are there that Gray is not much different than the pitcher the Athletics dealt two seasons ago.
This is the type of profile where owners need to ignore the negative talk about Gray and look to the overall production to see a valuable pitcher. While I will not be owning many shares, in a draft and hold, or seven-bench league, Gray deserves a shot to return to form.
Lance Lynn, Texas Rangers (447 ADP)
What a year for Lynn with a contract holdout to start, and then, after the trade to the Yankees at the deadline, a bit of a rebound. The xERA dropped from 4.26 to 3.92, and the WHIP from 1.16 to 1.44 after the move, so trending in a better direction. The main issue for Lynn last year was contact in general, as he allowed with a season-long WHIP of 1.53. That's not the type of profile that owners want from a pitcher who will give up homers, with an 11 HR/FB%, and therefore Lynn's stock has dropped.
And yet, part of the decline can be tied to Target Field and Yankee Stadium, but the move to Arlington will not ease owners' homer concerns. A full offseason to prepare, without the distraction of a late signing could be all that is needed to get Lynn back to a top-60 starter. The Ks were still good with close to one per inning, and the ground-ball rate was also up, limiting some damage. Lynn has the track record to return value, and a full-time gig is only good news.
This might not be the typical "bust" profile, but Mendgen certainly was not a regular with the Athletics due to early season performance. Over 115.2 innings Mengden posted a 4.05 ERA, but when looking to his late-season move to the follower role, the numbers look much better. Throughout the second half, the ERA dropped to 3.21 with a 1.07 WHIP. Even with a jump in flyballs to 46% from the previous 37%, the Hr/F% fell to 9% from 14%.
n fact, after the recall, Mendgen earned owners auction value after the slow start. Again, not a bust, but a pitcher who underperformed what limited expectations he already had, and now looking to be a draftable option. If he starts the year in the rotation, owners should stay away. If he takes on a long relief role or returns to the follower, then there is a break-out to watch here.
* after writing this piece it was announced that Mengden would start the year at Triple-A. Expect him to be up early in the year, and while this might limit value, owners should still add him in leagues with deep benches. With the other news that Jesus Luzardo will start the year injured, there will be some flexibility in that rotation.
More Fantasy Baseball Analysis