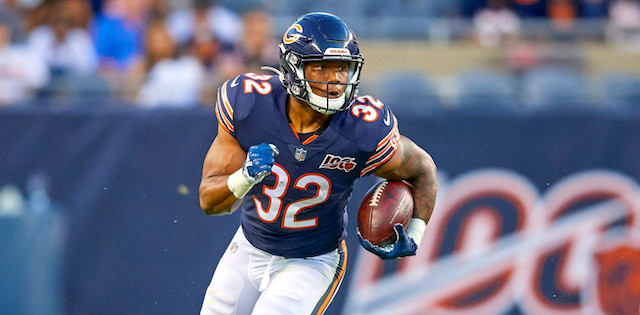 The general gist of this entire article is that matchups matter and there are several teams that have faced either a gauntlet of defenses through the first half of the season and will see a much lighter second half or have dealt with touchdown variance that will regress. Sometimes players/teams get unlucky and that is okay. It does not take the savviest player out there to know that someone has just dealt with some brutal luck early on and it is not incorrigible to be concerned about those that do struggle.
All that matters is that you take it all in as part of the process and instead of panicking, think/read about why things have gone wrong and then evaluate what to do. More often than not, the best move is to do nothing at all and trust your guys, particularly your studs.
Let's look at a few players whose early-season struggles should bloom into second-half surgers.
Editor's Note: Get any rest-of-season NFL Premium Pass for 50% off. Our exclusive DFS Tools, Lineup Optimizer and Premium DFS Research through the Super Bowl.
Sign Up Now!
The Jets
Brighter days are ahead for the Jets! Not all is dim for the gang green. Sam Darnold is healthy and Robby Anderson is still in town. Their schedule also opens up in the second half and as long as they stay healthy/mono-free, there is hope for their notable fantasy-relevant players. Sam Darnold, Le'Veon Bell, Robby Anderson, Chris Herndon, and Jamison Crowder are all set up for resurgent second-halves. Their opponents until Week 15 are all in the bottom half of the league in defense by all metrics, and for the most part, are bottom-of-the-barrel. They face the Dolphins, Giants, Redskins, Raiders, Bengals, and then the Dolphins again. Every Jets player is startable going forward, even in shallower leagues. Crowder is more of a PPR option but that is neither here, nor there.
There is a lot to like about the skill players on this Jets' offense along with the man supplying the targets. Darnold is a capable, young QB who has a lot to prove after these last two weeks. We saw him show out in the last month of 2018 (when he had graded out as PFF's best QB that stretch) and during the Cowboys game just a few weeks back. He has the ability and will not be under as much duress going forward. The Jets' OL is the biggest hole on their roster, as it is arguably the worst unit in the league. If their stink is negated by the opposing defenses' incompetence, that bodes well for everyone else involved. Le'Veon Bell is still Le'Veon Bell, do not give up on him. He has had some amazing runs over the past few weeks as he continues to stand around the top of the league in broken tackles. Robby Anderson has shown the ability to supply high-end WR value on occasion on even limited opportunities. Chris Herndon is ready for a breakout campaign if he can just stay on the field.
Entering Week 7, Le'Veon Bell has broken 18 tackles this season, 3rd most among NFL RBs.#TakeFlight pic.twitter.com/NrDTLw7Okv

— Inside Edge NFL (@IE_NFL) October 21, 2019
This is not much of a take after his dominant performance against the Chargers this past Sunday but Montgomery is still someone a lot of owners are hesitant on halfway through the year. Montgomery's usage fluctuation, Trubisky's dismal play, Nagy's abominable play-calling, and the Bears' poor game-scripts are all interrelated and have resulted in a rough year for the rookie running back that Chicago traded up for in round three of the 2019 NFL Draft. Montgomery faces a tough test against an impenetrable Philadelphia run defense on Sunday but has a clear road afterward.
Reminder, David Montgomery has the second easiest remaining schedule for fantasy RBs.

His breakout is refreshing but it only reinforces how moronic Matt Nagy has been. Inexcusable misuse.

— Brad Evans (@YahooNoise) October 27, 2019
From Week 10 on, the Bears will face just one defense that is above-average, by DVOA, in stopping the run (the Rams). Although game-scripts may deter Montgomery's usage, he has a chance to build on his Week 8 performance and prove that he was worthy of reaching up for. For owners, it is unfortunate that Tarik Cohen gets as many snaps as he does but Montgomery's targets are promising, however, he has not produced much, if at all, with them. He will remain second fiddle to Cohen on passing downs unless something unfortunate occurs.
If Chicago takes a somewhat of a commanding lead in games going forward, they will feed Montgomery and allow him to create with his dynamic, multiple-cut run style.
George Kittle is getting the short-end of the stick on a lot of reversed touchdowns.
George Kittle has just one touchdown this season (he's had three negated by penalties, if memory serves). That could change Thursday. The Cardinals have allowed a league-worst eight touchdowns to tight ends. #49ers

— Chris Biderman (@ChrisBiderman) October 30, 2019
Getting unlucky is not a knock on a player whatsoever. He is firmly in the buy/hold category given his incredible ability after the catch along with this target share. Although the 49ers are run-heavy, they will be forced to throw in games down the line. Five of their seven matchups thus far have been against teams below .500. As things currently stand, they are scheduled to face a team above .500 every week going forward, aside from their matchup against the Falcons. The matchups will be more competitive going forward. There will be more instances where they have to throw the ball to score in the red zone rather than nonchalantly pounding it in with a massive lead.
Kittle has the targets/receptions, he has the yards, he just needs the touchdowns to be a full-fledged stud for this season. Kittle will lineup against some of the worst defenses against TEs through these next few weeks. With the returns of Mike McGlinchey and Joe Staley on tap, this 49ers offense could perform almost as good as its defense going forward.
Non-WRs that lead their team in targets:

Mark Andrews
Travis Kelce
Darren Waller
Zach Ertz
Evan Engram
George Kittle
Aaron Jones

— Ian Hartitz (@Ihartitz) October 28, 2019
The above tweet is also applicable to Kittle's case on this list but for the sake of Zach Ertz, we will keep the attention on him. Ertz is having a doozy of a year. He is still a favorite target of Carson Wentz and has been targeted heavily in the endzone (nine thus far). Somehow, he has fallen flat and been an uninspiring fantasy option, especially for someone drafted around the third round. Ertz's value has always been his floor. The target share he commands, his rapport with Wentz, and consistent health are all positives that have not mattered in 2019.
Dallas Goedert has become the shiny new toy that is producing real fantasy value of late, however, I expect that to flip. Goedert is awesome but still plays fewer snaps, runs fewer routes, and is targeted less than Ertz. Goedert has just had the luxury of converting his targets into touchdowns more recently. Defenses will key in on Ertz less and shift some attention to Goedert with this recent surge and that should open up opportunities to thrive. The matchups going forward are a mixed bag but more bad than good. The New England matchup is clearly rough and so is the fact that they have an upcoming bye. Hopefully, Ertz performs this coming week to cushion the blow of what is to come the two weeks after.
Ertz's luck will change in the second half but it might be closer to the fantasy playoffs. This is still the perfect time to buy after a three-game stretch in tough road environments where Ertz only saw two targets in the most recent outing. Do not overpay but definitely sniff around if your league mate has soured on him and hold if you have him.
More Fantasy Football Analysis