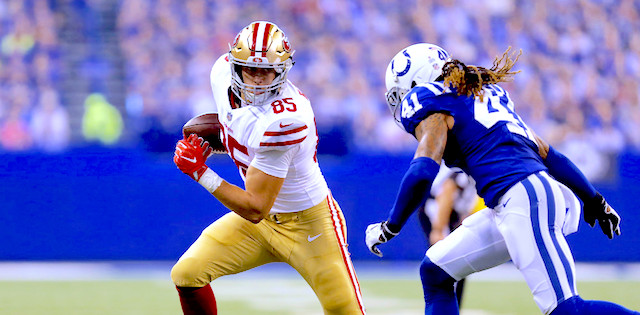 The San Francisco 49ers made an incredible turnaround in 2019, going 13-3 after only going 4-12 in 2018. This was sparked by the emergence of a dominant defense that led them all the way to the big game. The Bay Area team was on the brink of a Super Bowl victory before faltering against a high-octane Chiefs offense.
Nevertheless, the team has a bright future, and their most difficult opponent last season seemed to be pesky division rival Seattle Seahawks. San Fran once again hopes to be an NFC heavyweight in 2020, though that won't come without division and conference rivals.
Their offense returns intact for the most part, and there could be several fantasy studs emerging on this roster if things go right. Who are they? Well, let's find out for Jimmy G's team:
Featured Promo: Get any full-season NFL Premium Pass for 50% off and win big in 2023. Exclusive access to our Premium articles, 15 lineup tools, new Team Sync platform, Lineup Optimizer, Premium DFS tools and cheat sheets, and much more!
Sign Up Now!
Quarterback
After signing a lucrative contract following the 2017 season, quarterback Jimmy Garoppolo was injured early in the 2018 season and was forced to sit out for the remainder of it while the team limped to the finish line. In 2019, the Illinois native returned and led the team all the way to the Super Bowl.
Despite his remarkable achievement, good old Jimmy sometimes sat back and watched the defense or running game take over last season. This resulted in his fantasy value fluctuating weekly.  The Eastern Illinois product still finished 14th among fantasy QBs last season but was clearly not an elite option to start weekly.
In his first season as a full-fledged starter in the NFL, the 28-year-old ended with 3,978 yards, 27 touchdowns, 13 interceptions, 10 total fumbles, 248.6 yards per game, 62 rush yards (32nd among NFL QBs), and one rush touchdown. The QB had a 13.7 percent poor throws per pass attempt rate.
At this point, Jimmy G. can only be considered a backup in redraft leagues, as you are still taking a chance on him to be successful week in and week out. He is too streaky to rely on weekly. An example of this is last season when he threw for 424 yards and four touchdowns in a win over the Cardinals on November 17th only to throw for 165 and one touchdown two weeks later in a loss to Baltimore.
When looking at it, the QB brings some pros and some cons. Some pros include being 12th in total pass yards and being tied for fifth in pass touchdowns last season. However, he tied for the eighth-highest picks thrown, and ranked 19th in pass yards per game.
Running Back
The 49ers banked on their running game throughout much of last season and it worked to success. The team had Matt Breida, Tevin Coleman, and Raheem Mostert split carries and they thrived individually. The situation becomes more unsaturated now as Breida was shipped off to South Beach in a trade during the draft. Now, Mostert and Coleman lead this backfield. The 28-year-old Mostert should be considered the RB1 on this team, and his performance against the Packers in the NFC title game (220 yards, 4 TDs) was quite legendary.
The Purdue product was also more productive compared to Breida and Coleman despite receiving a similar number of rush attempts (137 for Coleman and Mostert, 123 for Breida). The RB finished with 772 rush yards, 5.6 yards per rush, eight rush touchdowns, 14 receptions, 180 receiving yards, and two receiving touchdowns. He had 2.2 rush yards after contact per rush and 197 rush yards after contact. The only competition for Mostert is Coleman, so he should remain a capable RB2 or RB3 on redraft league rosters.
In his first season with the 49ers, RB Tevin Coleman proved to be an asset on the offense. The former Falcon had 544 rush yards, 4.0 yards per rush, six rush touchdowns, 21 receptions, 180 receiving yards, and one receiving touchdown. Like Mostert, Coleman's value should increase with Breida now gone. Nevertheless, he should not be considered more than a flex piece/bench depth in redraft leagues. For both 49ers RBs, game script could vary any given week, so it's best to evaluate both for a bit of time before deciding if they are legit fantasy starters weekly.
Wide Receiver
The 49ers didn't have much of a WR1 until Emmanuel Sanders came via trade from the Denver Broncos during the season. Nevertheless, the veteran is now gone seemingly within the blink of an eye as he is now on NFC rival New Orleans. WR Marquise Goodwin also left for Philly via trade.
Now, the team enters with a young and mostly unproven group of wideouts headlined by Deebo Samuel, Kendrick Bourne, rookie Brandon Aiyuk, Dante Pettis, and Trent Taylor.
Out of this group, Samuel is the best option to draft and should be considered the "WR1." The South Carolina product finished his rookie season with 57 receptions, 81/478 targets (16.9%), 802 yards, 14.1 yards per catch, three touchdowns, along with 159 rush yards and three rush touchdowns. His dual-threat abilities as a wideout make him a great fantasy option when picking from this unit. He only finished second to TE George Kittle in receptions, targets, and receiving yards. Samuel is a solid WR2 or WR3 in redraft leagues.
The rest of the unit is where it gets tricky. Brandon Aiyuk out of Arizona State was drafted in the first round (Pick 25) to help bolster the group. The receiver played two seasons at ASU and had a great 2019 campaign. He finished with 65 receptions, 1,192 yards, 18.3 yards per catch, and eight touchdowns. Bleacher Report called Aiyuk a great receiver who can break tackles, has speed, and is dependable. He was coincidentally compared to his teammate Deebo Samuel.
We don't know how the 49ers WRs after Samuel on the depth chart will perform considering the team is known for loving to run the ball. For now, Aiyuk is a roster depth player in large redraft leagues over 12-14 teams until owners can see his role on the offense.
The only other potential fantasy-relevant player is Kendrick Bourne. The 24-year-old finished last season with 30 receptions, 44/478 targets (9.2%), 358 yards, 11.9 yards per catch, and five touchdowns. Nevertheless, the running backs, Samuel, and TE George Kittle will chop into targets and production for Bourne. His value also takes a hit because he will be competing with Aiyuk for a bigger role. Therefore, the Eastern Washington product is also nothing more than a roster stash in large redraft leagues.
Tight End
There is no question tight end George Kittle is a likable dude off the field and an absolute monster on it. The Iowa product led the 49ers in nearly every receiving category. He finished with 85 receptions, 107/478 targets (22.4%), 1,053 yards, 12.4 yards per catch, and five touchdowns in 2019. He averaged 75.2 yards per game.
The tight end was a massive fantasy asset for owners and has emerged as one of the top fantasy players at his position. He ranked second among NFL tight ends in receiving yards per game, fourth in total receptions, and third in total receiving yards en route to a third-place finish among fantasy tight ends in 2019.
Kittle is easily a top- two or three tight end for fantasy and is a solid TE1 on any team.
More Fantasy Football Analysis