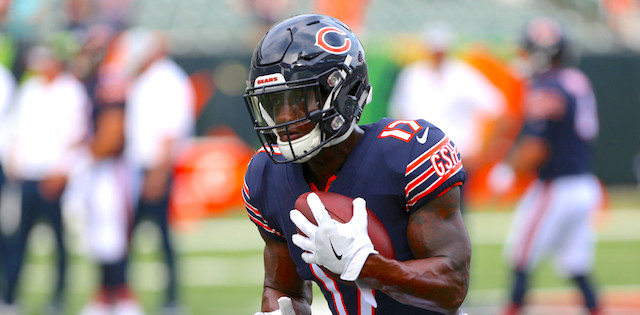 Each week, we will look at rookies who have either performed well the previous few weeks or who have a favorable matchup in the upcoming week. These may be high-profile names or under-the-radar depth players; the only thing that matters is that they are first-year pros ready to make a name for themselves.
Ideally, some of these names will help fantasy players get some roster depth which can minimizes the negative impact of injuries and bye- weeks.
For Week 5, we have included a couple of players that may be immediate fantasy help and some players that could be fantasy help later this season or in seasons to come.
Editor's Note: All you early birds can get a full-season NFL Premium Pass for 50% off. Our Draft Kit, In-Season tools and over 150 days of Premium DFS.
Sign Up Now!
Rookies To Watch
The One To Wait On
D.J Moore, WR, Carolina Panthers
D.J. Moore is the first round draft pick of the Carolina Panthers and was the first wide receiver selected in the 2018 draft. Moore is off to a relatively slow start in the Panther's first three games of the season- Moore only has two receptions for 54 yards and two rushes for 10 yards. Despite the slow start, Moore seems to be fitting into the Panther offense well and could be bigger factor in the future. However, the Panthers have numerous experienced pass- catchers that will continue to limit Moore's production and will prevent him from being a consistent fantasy producer. Moore doesn't hold much fantasy value but could be an option if the Panthers have injuries at the top of their wide receiver depth chart. For now, Moore should be avoided.
The Perfect Backup
Lamar Jackson, QB, Baltimore Ravens
Lamar Jackson was selected at 32nd overall in the 2018 draft by the Baltimore Ravens and has proven to be a dynamic player that has helped to keep opposing defenses on their toes. Jackson is the back-up quarterback for the Raven with veteran Joe Flacco getting the vast majority of offensive snaps. However, the Ravens have been using Jackson for option and wildcat type plays. Jackson has one completion for 25 yards and 13 rushes for 62 yards so far this season. Although his snaps are limited, Jackson has significantly improved the Ravens offenses- even when he is not on the field, the offense seems to always have a hand-up on defenses. Jackson isn't a fantasy option for now but could develop into an elite quarterback when he moves into a starting role. If Flacco goes down with an injury, Jackson's stock will rise quickly.
The Sleeper
Dallas Goedert, TE, Philadelphia Eagles
Previous years have shown that the Philadelphia Eagles love to utilize the tight end; selecting Dallas Goedert in the second round was proof that they plan on continuing their ways. Goedert is the second tight end on the depth char behind Zach Ertz who has been a top three tight end this season. Despite Ertz getting the majority of tight end touches, Goedert has still been able to rack-up 10 catches for 90 yard and a touchdown this season. Goedert is an excellent pass-catch; his 10 catches have come on only 12 targets. If Goedert's targets increase he can be considered a reasonable waiver-wire addition. If Ertz gets injury, Goedert becomes playable in nearly all formats.
The One To Watch
Anthony Miller, WR, Chicago Bears
Selected at 51st overall by the Chicago Bears, Anthony Miller has been a solid addition to the Bears offense with eight catches for 60 yards and a touchdown so far this season. Unfortunately, Miller was absent from the Bear's Week 4 offensive breakout game with a shoulder injury. The Bears put up 48 points and quarterback Mitchell Trubisky threw for six touchdowns; it would have been very interesting to see how involved Miller would have been. Regardless, Miller should be returning for injury soon and has a chance of being a solid fantasy option. Miller is owned in only about 10% of leagues so there is no need to add him yet but a big week (which presumably will occur sometime soon) will shoot his stock way up.
More Fantasy Football Analysis