We'll be doing this roundup of points leagues every week here at RotoBaller, with waiver wire targets and streaming pitchers being evaluated in terms of the different scoring systems of ESPN, Yahoo!, CBS, and Fantrax.
Player values can vary wildly from platform to platform, so we'll make sure to highlight where players are the best and worst fits. We know points league players get neglected and we're here to help.
These fantasy baseball waiver wire pickups are for the week of May 2nd - May 8th, looking at players below 50% rostered for ESPN, Yahoo!, or Fantrax. Position eligibility is taken from Fantrax and players are grouped by their most valuable fantasy position, using a hierarchy of: C > 2B > OF > 3B > 1B > SS. Stats and rankings are calculated using games through Saturday, April 29.
Featured Promo: Want a free RotoBaller Premium Pass? Check out these sports betting promo offers from the top sportsbooks! All new sign-ups get a free bonus offer on their first deposit, and a free year of RotoBaller's Premium Pass for all sports ($450 value)!
Sign Up Now!
Know Your Scoring System
You know what I'm going to say, right?  You must account for, as precisely as possible, how a player performs under your particular scoring system. Don't be fooled into believing you can just make rough adjustments in your head, bumping up guys with high on-base percentages and low strikeout rates. Every point, in every category, counts.
For example, ESPN and Fantrax are virtually identical in their scoring for hitters and roster size. The only difference is that stolen bases are worth one more point on Fantrax and ESPN subtracts one point per strikeout. That's the difference between Trea Turner being a top-five hitter versus a top-25 hitter.
If your league uses standard settings, then great! Turn to page 94 and you can skip ahead to the leaderboards. If you play with custom settings, it'll still be fine. Go back to page 43 and look below at the scoring systems of the four major platforms. I bet there's a chance that you'll find that your league's scoring is very similar to one of the four (well, not Yahoo!'s), even if it's not the platform you actually play on.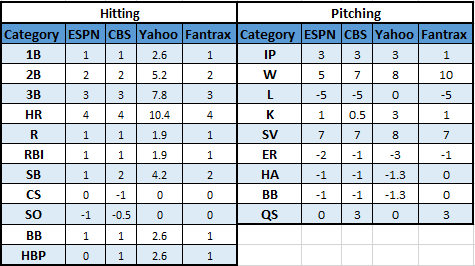 If you look above, you'll likely find a suitable mirror to your own system. While every point counts, as long as they aren't seismic changes you can get away with some "close enough" calls. IE. If everything is the same except for HBP (or something similar), you're probably fine.
Week 4: Waiver Wire Leaderboards
In addition to our overall waiver wire leaderboards, once we're deep enough into the season we'll also start doing a 14-day leaderboard, as well, giving us a window into recent production. All charts are updated prior to Saturday's games, on stats and ownerships, and clicking on a chart will open a new page with a magnified version.
*APR = Average Platform Ranking - the average platform ranking between ESPN, CBS, Yahoo, and Fantrax (standard point settings)
Before we crack on to the positions, a quick word. Normally, every week, we'll go position-by-position and group players according to "Must Adds", "Can Adds" and "Desperate Adds". But we're less than a month into the season and while I'll generally advocate for plenty of player churning at the bottom of your roster, now is not the time to be quickly dropping players only just (relatively) recently drafted.
My general guidance on hitters for early in the season is to stick with what you drafted barring significant changes to their playing time and/or injury. But also be on the lookout for players that have already been rage-dropped by any of your opponents not heeding this advice. With that said, consider all of these groupings to be very loose until we have some more solid performance data to base decisions on.
Translation: Almost all players this time of year will fall under "Can Adds", with most of the "Must Adds" consisting of players that probably should've already been drafted/not dropped already. With that said, let's get some players.
First Base Waiver Wire Pickups
Must Adds
Eric Hosmer, SD - You can only ignore a .457 wOBA (.381 xwOBA) for so long and Hosmer is doing his best to get our attention. He's batted fifth for the past six games, hitting a home run in two of his past four, while still showing ridiculous plate discipline. Hosmer now has a 13.0% K% and 11.7% BB% through 77 PA.
Can Adds
Daniel Vogelbach, PIT - Pittsburgh keeps letting Vogelbach hit leadoff and he keeps rewarding him. Over his past 10 games, Vogelbach is slashing .324/.390/.541 in 41 PA, collecting three muli-hit games.
Ji-Man Choi, TB - Choi is returning from an elbow injury and is a solid fill-in for those looking for a roster plug. Over 53 PA in 2022, Choi has a .472 wOBA (.457 xwOBA) but a 32.1% K% will limit his production in leagues with a strikeout penalty. Though, a 20.8% BB% has helped buoy some of that weight.
Christian Walker, ARI - Walker has a 109 APR and a .274 wOBA is backed by a much more impressive .352 xwOBA. If you need someone to go 1-for-4, he's your man.
Desperate Adds
Jesus Aguilar, MIA - I don't know if his struggles are related to still working his way back from offseason knee surgery but Aguilar has yet to be worth rostering. He has a 164 APR but is only slashing .226/.346/.274, with a .294 wOBA and 94 wRC+. Wake me up when he does.
Rowdy Tellez, MIL - Tellez hasn't hit a home run in eight games and is still in a platoon with Keston Hiura. He's only useful in leagues with daily moves.
Notable IL
Second Base Waiver Wire Pickups
Must Adds
Adam Frazier, SEA - Frazier is riding a five-game hit streak and has a 54 APR while leading off every game for the Mariners. A .241/.308/.325 slash line doesn't look very impressive but Frazier's compiler-power is strong while batting first for the Mariners, so far racking up 13 runs and 11 RBI over 91 PA.
Wilmer Flores, SF - As long as Flores is playing every day (and batting in the middle of San Francisco's lineup), he's a points monster and is worth an add under most scoring formats. Flores has a 61 APR on the season and over his past nine games is slashing .361/.395/.500, with a .399 wOBA, with just a 14.7% K% on the season.
Can Adds
Desperate Adds
Joey Wendle, MIA - He's in a platoon with Brian Anderson and his 74 APR is built upon a six-game stretch that saw him collect nine hits. I remain, uninterested.
Sheldon Neuse, OAK - Neuse has a 90 APR but is on a desolate Oakland offense and has had his point total temporarily boosted by some speed that isn't really in his profile.
Notable IL
Third Base Waiver Wire Pickups
Must Adds
Alec Bohm, PHI - Bohm's profile might end up rounding him into a really excellent points star, with an excellent BB/K ratio (10.2% BB%, 15.3% K%) and enough pop for his crackerjack home park. The Philly offense is stacked at the top and Bohm is now slashing .306/.356/.469 over 59 PA, with a .356 wOBA and 129 wRC+
Can Adds
Yandy Diaz, TB - Diaz has very quietly had a really nice April, slashing .309/.441/.400 and posting a 103 APR over his first 68 PA. And all without a negative average launch angle!
Maikel Franco, WSH - He's doing it on a bad Washington offense but has yet to turn back into the Maikel Franco that we all know (and love) to leave on the wire. After a four-hit night in San Francisco on Friday, Franco is now slashing .293/.322/.427, with a .332 wOBA and 113 wRC+.
Miguel Sano, MIN - Sano is close to returning from a balky knee but, as we've covered before, is basically box office poison in any league with a strikeout penalty.
Desperate Adds
Jeimer Candelario, DET - I'm a big candy man but the only thing Jeimer currently has going for him is an everyday role.
Notable IL
Shortstop Waiver Wire Pickups
Must Adds
Umm...No. Part of the dearth at shortstop, however, is just mechanical, as many SS-eligible players are grouped at second base. Unfortunately, Ha-Seong Kim is probably the best of that bunch.
Can Adds
Isiah Kiner-Falefa, NYY - There's no pop but Kiner-Falefa is playing almost every day and slashing .311/.338/.377 over 65 PA, with just a 16.9% K%. The 118 APR isn't that special but his counting stats should rise as (if) the New York offense rouses from its April slumber. The Yankees have only scored 17 runs in their past five games but IKF has gone 7-for-19 over that stretch, with six runs scored.
Desperate Adds
Elvis Andrus, OAK - You need to be fairly desperate to try and find Elvis but mostly I just wanted to list him to bring up that he's somehow still only 33-years-old.
Notable IL
Outfielder Waiver Wire Pickups
Must Adds
We're packed on the grass as there are currently a lot of widely available outfielders that probably shouldn't be. Hopefully, it makes up the hot fantasy garbage that is mostly around at the other positions.
Taylor Ward, LAA - Taking over the leadoff spot for the past five games, Ward is officially on a heater, posting a 12 APR for the year. He's hit four home runs in those last five contests and is now slashing .404/.517/.830 over his first 58 PA of 2022, with a .569 wOBA and just a 17.2% K%. I don't know when this ride ends but considering he's leading off in front of Shohei Ohtani and Mike freaking Trout, you need to hop on until it does.
Max Kepler, MIN - "Hi, I'm Nicklaus and I sat Max Kepler on three teams in NFBC (where you can only change hitters on Monday and Friday) for the first period because he was set to face LHP (against whom he's been sitting) in two of his three matchups." Instead, he started all three games and hit three home runs. Bully for me.
Brandon Nimmo, NYM - What, you thought there wouldn't be any Nimmo propaganda? For shame! Nimmo is still compiling plenty of points from the top of the Mets order, posting a 63 APR over 71 PA. But please, keep rolling out the likes of Mark Canha instead.
Robbie Grossman, DET - Grossman has dipped below 50% rostered for the first time this season but is starting to light things up after a rotten start to April. The lack of counting stats is still holding him back but over his last 10 starts, Grossman is slashing .421/.500/.473 over 46 PA. If you're in a league where he got rage-dropped, I'd suggest picking him right up.
Austin Hays, BAL - I'd say Hays is heating up but he basically has been since the season started, now running a 62 APR over an impressive 81 PA.
Can Adds
Tommy Pham, CIN - The problem (like with other Reds) is that Pham plays on baseball's worst offense. But his profile is very points-friendly and he has been heating up recently, slashing .474/.545/.789 over his past five games, with a .574 wOBA and 272 wRC+.
Andrew McCutchen, MIL - As we talked about last week, McCutchen might not be sexy but he's easy money in points, starting every day for the Brewers, and batting either leadoff (vs LHP) or cleanup (vs RHP). McCutchen has an 83 APR for the year and has hit a home run in back-to-back games.
Brandon Marsh, LAA - Marsh won't usually hurt you but when he'll help is sporadic. The 74 APR is good but he's still sharing some duties with Jo Adell and has a 26.2% K% that'll hurt in strikeout penalty leagues.
A.J. Pollock, LAD - I'm still betting on the talent but Pollock has done absolutely zilch since returning from the IL on April 22, going 0-for-17 while collecting just one little sad RBI.
Harrison Bader, STL - There's no need to rush out and grab him (and his 124 APR) but Bader does have a points-friendly, compiler profile that plays fine as a fifth outfielder when (if) he's playing well. But he also needs the Cardinals offense to rev up in order to provide the counting stat opportunities that compilers tend to be reliant on. And after scoring 24 runs in their past three games, maybe they are!*
*This is how I'm tricking myself into believing that the Cardinals offense isn't the top-heavy mediocre mess that I've spent the past three seasons shouting at the St. Louis clouds about...Just let me have it, ok!
Desperate Adds
Josh Lowe, TB - Lowe has not been what was promised since taking over an everyday role following the trade of Austin Meadows, slashing just .175/.242/.316 over 63 PA. Hopefully, the home run he jacked off of Dylan Bundy on Friday will wake up the potential that caused many to blow out their FAAB wallets on him (Nicklaus said, thinking about how he blew out his FAAB wallet on Lowe in an NFBC league where he was desperate for offense).
Akil Baddoo, DET - "Here lies former Rule-Five standout Akil Baddoo, who bewitched the fantasy community into thinking he was a future star, even though he posted atrocious numbers versus LHP, and is now being sat in favor of Derek Hill. You should've listened."
Notable IL
Alex Kirilloff, MIN (wrist) - Please note that Kirilloff is set to come off of the IL shortly and is definitely worth an add.
Mike Yastrzemski, SF (COVID-IL)
Catcher Waiver Wire Pickups
Must Add
No-oooooooooo. Catcher is currently even more of a wasteland than usual. Basically what's going to be available to you are either part-timers with ho-hum numbers or (mostly) full-timers with sky-high strikeout rates. We wish you safe passage.
Can Add
Austin Nola, SD - Nola is playing a lot and leading off against LHP. Those PAs might be useful in your league but a .282 OBP won't typically work out under most point formats.
Alejandro Kirk, TOR - Kirk hasn't done much in the absence of Danny Jansen and his bat has been mired in the doldrums of April. The best version of Kirk would excel in points but we've yet to see it in 2022.
Desperate Add
All catcher adds are desperate adds. Now and forever.
Notable IL
Download Our Free News & Alerts Mobile App
Like what you see? Download our updated fantasy baseball app for iPhone and Android with 24x7 player news, injury alerts, sleepers, prospects & more. All free!


More Fantasy Baseball Waiver Wire Advice