We'll be doing this roundup of points leagues every week here at RotoBaller, with waiver wire targets and streaming pitchers being evaluated in terms of the different scoring systems of ESPN, Yahoo!, CBS, and Fantrax.
Player values can vary wildly from platform to platform, so we'll make sure to highlight where players are the best and worst fits. We know points league players get neglected and we're here to help with all of the best streams for the week.
These fantasy baseball waiver wire pickups are for the week of May 23 - May 29, looking at players below ~50% rostered for ESPN, Yahoo!, or Fantrax. Rankings are calculated using games through Saturday, May 21.
Editor's Note: Our incredible team of writers received five total writing awards and 13 award nominations by the Fantasy Sports Writers Association, tops in the industry! Congrats to all the award winners and nominees including Best MLB Series, NFL Series, NBA Writer, PGA Writer and Player Notes writer of the year. Be sure to follow their analysis, rankings and advice all year long, and win big with RotoBaller!
Read More!
Know Your Scoring System
You know what I'm going to say, right?  You must account for, as precisely as possible, how a player performs under your particular scoring system. Don't be fooled into believing you can just make rough adjustments in your head, bumping up guys with high on-base percentages and low strikeout rates. Every point, in every category, counts.
For example, ESPN and Fantrax are virtually identical in their scoring for hitters and roster size. The only difference is that stolen bases are worth one more point on Fantrax and ESPN subtracts one point per strikeout. That's the difference between Trea Turner being a top-five hitter versus a top-25 hitter.
If your league uses standard settings, then great! Turn to page 94 and you can skip ahead to the leaderboards. If you play with custom settings, it'll still be fine. Go back to page 43 and look below at the scoring systems of the four major platforms. I bet there's a chance that you'll find that your league's scoring is very similar to one of the four (well, not Yahoo!'s), even if it's not the platform you actually play on.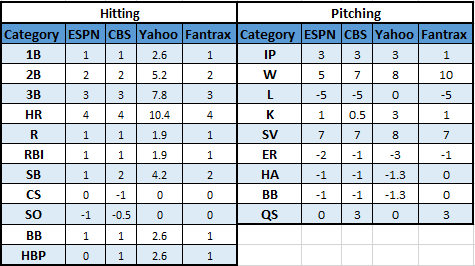 You'll likely find a suitable mirror to your own system if you look above. While every point counts, as long as they aren't seismic changes, you can get away with some "close enough" calls. IE. If everything is the same except for HBP (or something similar), you're probably fine.
Waiver Wire Leaderboards
In addition to our overall waiver wire leaderboards, once we're deep enough into the season, we'll also start doing a 21-day leaderboard as well, giving us a window into recent production. All charts are updated prior to Saturday's games, on stats and ownerships, and clicking on a chart will open a new page with a magnified version.
*APR = Average Platform Ranking - the average platform ranking between ESPN, CBS, Yahoo, and Fantrax (standard point settings)
Two-Start Pitcher Waiver Wire Options
Starting Pitcher Waiver Wire - Best Choices
Nick Pivetta, BOS (vs BAL, @ CHW) - After a disastrous start to the year (7.84 ERA over his first five starts) Pivetta has now turned in three excellent starts in a row, with the most recent being a complete-game gem vs the Astros (1 ER, 8 K). Both of his matchups are really good (BAL is 22nd in wOBA vs RHP, and CHW is 28th) but just be aware that just when you start to trust Pivetta is usually the moment he transforms back into his human gas can alter-ego.
Tyler Anderson, LAD (vs WSH, vs ARI) - Don't be fooled by Anderson's 4.04 ERA, almost all of that is driven by a 7 ER outing vs Philadelphia. Throw that out and Anderson is rocking a 2.12 ERA over his remaining 29.2 IP. He lines up for a great twofer in Week 7, facing Washington (24th in wOBA vs LHP) and Arizona at home, with the latter being fairly terrible vs LHP - the Diamondbacks are 26th in wOBA, 30th in xwOBA, and 27th in K%.
Martin Perez, TEX (@ OAK) - In the middle of a career year, Martin Perez is clearly an interdimensional wizard. It's the only thing that makes sense. And if there is one rule in fantasy baseball that I live by, it's to never cross a wizard. Perez takes his 1.64 ERA and 19(!) APR into a juicy matchup with Oakland, who are bottom-10 in both wOBA and K%, and bottom-five in xwOBA.
Adrian Houser, MIL (@ SD, @ STL) - Houser has probably been better than you realize (3.22 ERA, 3.15 FIP) and has two matchups that are better on paper than you might have expected. The Padres are 25th in wOBA and 29th in xwOBA vs RHP, while the Cardinals are 18th in wOBA but 28th in xwOBA.
Chad Kuhl, COL (@ PIT, @ WSH) - Kuhl gets a sweet double-tap, with both coming outside of Coors and against one pretty soft and one really soft opponent. The Pirates are 26th in wOBA and 28th in K% vs RHP, while the Nationals are 14th in wOBA - though, only 8th in K%.
Hunter Greene, CIN (vs CHC) -After getting rocked by Milwaukee for 8 ER in 2.2 IP (hence his unsightly 5.49 ERA) Green has looked dominant over his last three starts (18.2 IP, 1.93 ERA, 21 K). He'll face a Cubs offense that is 21st in wOBA, 24th in xwOBA, and 30th in K% vs RHP.
Justin Steele (@ CIN) - He might be last on the list but Steele is coming off of back-to-back excellent starts against Arizona (11 IP, 1 ER, 19 K) and now gets another juicy one vs CIN, who are 30th in wOBA, 24th in xwOBA, and 25th in K% vs LHP.
Starting Pitcher Waiver Wire - Next Choices
Yusei Kikuchi, TOR (@ LAA) - The Angels haven't been as good vs LHP as they've been vs RHP but still have a top-10 wOBA against them. However, they also have a bottom-five strikeout rate and Kikuchi continues to be excellent, only allowing a total of 3 ER over his last three starts.
Alex Cobb, SF (vs NYM, @ CIN) - Prior to getting lit up in Colorado last time out, Cobb had been pretty decent and gets a two-step in Week 7 with one hard (NYM: 6th in wOBA, 1st in K% vs RHP) and one soft (CIN: 23rd in wOBA, 23rd in K%).
Brady Singer, KC (@ ARI) - Singer went full ham in his return to the Royals rotation, striking out nine over seven shutout innings against the White Sox. He got recalled to face the Twins on Sunday and is next lined up for a good matchup against the Diamondbacks, who have the 16th-highest wOBA vs RHP but the 25th worst xwOBA and 27th-highest K%.
Johnny Cueto, CHW (vs CHC) - Keep an eye on what he does against the Yankees on Sunday but Cueto gets a great matchup against the Cubs (21st in wOBA, 24th in xwOBA, 30th in K% vs RHP) following a terrific season debut against the Royals (6 IP, 0 ER, 7 K).
Jon Gray, TEX (@ OAK) - Gray has been inconsistent this season but picking on Oakland is generally a good idea. The A's are 30th in both wOBA and xwOBA vs RHP, with the 22nd-worst K%.
Zach Logue, OAK (vs TEX, @ SEA) - Both Texas (15th in wOBA, 12th in K% vs LHP) and Seattle (17th in wOBA, 16th in K% vs LHP) are solid matchups, and Logue has been really impressive in his debut season (2.04 ERA, 3.83 FIP), albeit with a low-strikeout game (18.9% K%, 9.8% SwStr%). But with Oakland's offense behind him, don't expect many win bonuses.
Dane Dunning, TEX (@ LAA, @ OAK) - Dunning is a great choice if you can only start him vs OAK (30th in wOBA/xwOBA, 27th in K% vs RHP) but I want nothing to do with a matchup against the Angels (3rd in wOBA, 6th in xwOBA).
Drew Smyly, CHC (@ CIN, @ CHW) - Smyly is another double-starter who is in a, one good (CIN: 30th in wOBA, 25th in K% vs LHP)/one bad (CHW: 5th in wOBA, 16th in K%) situation.
James Kaprielian, OAK (vs TEX, @ SEA) - He got lit up in his season debut (2 IP, 4 ER) but Kaprielian has been solid in his three starts since, posting a 2.81 ERA over 16 IP, with 14 K. Texas has struggled vs RHP (27th in wOBA, 20th in xwOBA and K%) but Seattle has not (11th in wOBA, 7th in xwOBA, 14th in K%).
Dylan Bundy, MIN (vs DET, vs KC) - My poor, sweet Dylan got lit up for a total of 15 ER in 9.2 IP before hitting the CV-IL but managed to hold the A's scoreless for 3 IP in his return. The mess that is Detroit's offense is 29th in wOBA vs RHP, while the Royals are 24th.
Starting Pitcher Waiver Wire - Desperate Choices
Zack Greinke, KC (@ ARI, @ MIN) - Greinke is a perfectly fine choice if you're looking for a decent floor, as he lines up for two decent starts and rarely gets tons of damage done against him. But with just a 3.7 K/9 and a bad Royals offense supporting him, the ceiling is really low.
Marco Gonzales, SEA (vs OAK, vs HOU) - It's no surprise that the gap between his 3.08 ERA and 5.91 FIP is so large, as the crafty leftie has a low strikeout rate (5.7 K/9) with a 3.79 BB/9 and 1.89 HR/9. Oakland has been better vs LHP but still only has the 20th wOBA and 25th xwOBA against them. And Houston has the 2nd wOBA vs LHP but the 14th-highest wOBA, 7th-lowest K%, and 4th-highest walk rate says there could be pain in the forecast.
Chris Archer, MIN (vs DET, vs KC) - Archer continues to win the matchup lottery, with the universe basically daring us to buy in again. Detroit is 29th in wOBA, 26th in xwOBA, and 21st in K% vs RHP, while Kansas City isn't much better (24th in wOBA, 22nd in xwOBA, 12th in K%). Counterpoint: He's still Chris Archer, who is still virtually a two-pitch pitcher that doesn't get that many strikeouts and is unlikely to pitch more than 4 IP because he generally gets crushed facing the lineup for the third time.
Kyle Freeland, COL (@ PIT, @ WSH) - Freeland gets a double-start on the road against non-scary opponents but it's always a question of which version of the right-hander you'll get.
JT Brubaker, PIT (vs COL, @ SD) - One more in the good start/hard start club. Brubaker and his 5.50 ERA (4.18 FIP) take on the Rockies at home (10th in wOBA, 6th in K% vs RHP) and the Padres on the road (25th in wOBA, 29th in xwOBA, 18th in K%).
Taijuan Walker, NYM (vs PHI) - I've never been a big fan but Walker has been solid when not injured, lining up to face the Phillies (11th in wOBA, 14th in xwOBA, 17th in K% vs RHP) for the fourth time in seven starts. The previous three have not gone great (11 IP, 4.91 ERA, 5.28 FIP, 7 K).
Jeffrey Springs, TB (vs NYY) - Springs is coming off of his best (and longest) start of the year (5.2 IP, 0 ER vs BAL) but faces a Yankees team that is 5th in wOBA and 2nd in xwOBA vs LHP.
Michael Wacha, BOS (@ CHW) - Wacha was fine in his return from the IL and the White Sox are 28th in wOBA vs RHP but I'm hesitant to trust someone who rarely goes 5 IP and has a 4.30 FIP backing a 1.76 ERA.
Jose Quintana, PIT (@ SD) - The magic is wearing off and Quintana faces a Padres offense that is 7th in wOBA, 6th in xwOBA, and 9th in K% vs LHP.
Brad Keller, KC (@ MIN) - Keller has a 3.20 ERA for the season but a 5.49 ERA over his last three starts - including his last one, allowing 4 ER over 7 IP vs these same Twins, and striking out just two.
Aaron Civale, CLE (@ DET) - Civale might still be rostered a lot and faces a soft Detroit offense (that he just faced: 6.1 IP, o ER, 3 K) but I'm still considering him basically radioactive (7.84 ERA, 4.93 FIP) until he strings a few good ones together.
Jordan Lyles, BAL (@ NYY, @ BOS) - No way I'm rolling him out against the Yankees (2nd in wOBA, 1st in xwOBA, 10th in K% vs RHP) and Boston is no pushover (15th in wOBA, 12th in xwOBA, 5th in K%).
Starting Pitcher Waiver Wire - McMahon Choices
No chance. No chance in hell I'm rolling out these starting pitchers at the higher end of Roster% threshold.
Patrick Corbin, WSH (vs COL) - Corbin has allowed 5 ER in each of his past two starts and faces a Colorado team that has the second-highest wOBA vs LHP.
Josiah Gray, WSH (vs LAD, vs COL) - Gray takes his 4.36 ERA (5.12 FIP) into a tough two-start week vs LAD (1st in wOBA, 2nd in xwOBA, 7th in K%, and 1st in BB%) and COL (10th in wOBA, 16th in xwOBA, 6th in K%, 18th in BB%).
Bruce Zimmerman, BAL (@ NYY) - I still like Zimmerman's streaming future but he gets a tough matchup with the Yankees for the second start in a row. In their last meeting, Zimmerman allowed 5 ER in 5 IP, striking out just two.
Madison Bumgarner, SF (vs LAD) - His 2.76 ERA still seems shiny but Bumgarner has a 4.42 ERA over his last three starts and faces a Dodgers team who are top-10 in wOBA and xwOBA vs LHP.
Relief Pitchers Waiver Wire
Unless you're in a very deep league and/or have a lot of dedicated RP-only slots, most of the relievers you're going to want are the ones who are closers, have a chance to close, or elite setup guys. But I do mean elite because most scoring structures are weighted in a way that relievers almost necessarily have to get saves in order to be valuable. Although, long relievers whose usage you can reliably predict, can be useful in leagues with daily moves. But for a majority of leagues, sticking to closers is the way to go.
With that in mind, here are the best relievers on the wire for Week 7, ordered by Yahoo roster%:
Closers (and co-Closers) on the Wire
Tanner Rainey, WSH - After blowing a one on Wednesday (with Victor Arano eventually picking it up), Rainey has now gone over a month since picking up his last Save.
Emilio Pagan/Jhoan Duran, MIN - Pagan picked up a Save on Friday, with Duran getting the Hold. Tyler Duffey picked up a Save on Monday, as well. Is it bad that I'm actively rooting against Pagan because I just want to see Duran's ridiculous whiffery more often?
Committees on the Wire
Boston Red Sox - Hansel Robles, Jake Diekman, and Matt Barnes are still a mix-and-match outfit. Barnes got a Save on Saturday and Diekman blew one on Monday, with Robles eventually picking one up. Avoid.
Cincinnati Reds - It's still a hot mess in the 'Natti. Tony Santillan picked up a Save on Thursday and Alexis Diaz got one on Tuesday after Art Warren blew the original chance. Avoid.
Kansas City Royals - After Scott Barlow picked up a Loss on Monday, it was Josh Staumont getting the opportunity on Tuesday, converting his third Save of the season.
Miami Marlins - No Save chances for Miami last week, with Anthony Bass, Anthony Bender, and Tanner Scott the current options at the end. Avoid.
Seattle Mariners - After another week without any Save opportunities, Seattle remains firmly in Avoid land but Paul Sewald has a high enough Pts per IP rate that he might be useful to stream in leagues with daily moves.
Download Our Free News & Alerts Mobile App
Like what you see? Download our updated fantasy baseball app for iPhone and Android with 24x7 player news, injury alerts, sleepers, prospects & more. All free!


More Fantasy Baseball Waiver Wire Advice