We'll be doing this roundup of points leagues every week here at RotoBaller, with waiver wire targets and streaming pitchers being evaluated in terms of the different scoring systems of ESPN, Yahoo!, CBS, and Fantrax.
Player values can vary wildly from platform to platform, so we'll make sure to highlight where players are the best and worst fits. We know points league players get neglected and we're here to help with all of the best streams for the week.
These fantasy baseball waiver wire pickups are for the week of July 11 – July 17, looking at players below ~50% rostered for ESPN, Yahoo!, or Fantrax. Rankings are calculated using games through Saturday, July 10.
Featured Promo: Get any full-season MLB and DFS Premium Pass for 50% off. Exclusive access to our Team Sync platform, Premium articles, daily Matchup Rating projections, 15 lineup tools, DFS cheat sheets, Research Stations, Lineup Optimizers and much more!
Sign Up Now!
Know Your Scoring System
You know what I'm going to say, right?  You must account for, as precisely as possible, how a player performs under your particular scoring system. Don't be fooled into believing you can just make rough adjustments in your head, bumping up guys with high on-base percentages and low strikeout rates. Every point, in every category, counts.
For example, ESPN and Fantrax are virtually identical in their scoring for hitters and roster size. The only difference is that stolen bases are worth one more point on Fantrax and ESPN subtracts one point per strikeout. That's the difference between Trea Turner being a top-five hitter versus a top-25 hitter.
If your league uses standard settings, then great! Turn to page 94 and you can skip ahead to the leaderboards. If you play with custom settings, it'll still be fine. Go back to page 43 and look below at the scoring systems of the four major platforms. I bet there's a chance that you'll find that your league's scoring is very similar to one of the four (well, not Yahoo!'s), even if it's not the platform you actually play on.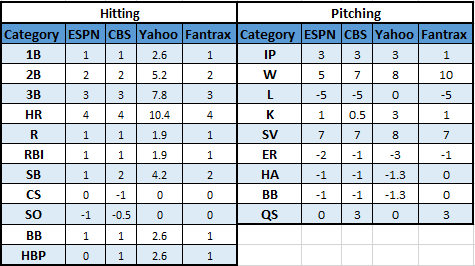 You'll likely find a suitable mirror to your own system if you look above. While every point counts, as long as they aren't seismic changes, you can get away with some "close enough" calls, i.e. If everything is the same except for HBP (or something similar), you're probably fine.
Week 14: Waiver Wire Leaderboards
All charts are up before or before Thursday's games, on stats and ownerships, and clicking on a chart will open a new page with a magnified version. Players on overall leaderboards are ordered according to their current Roster% on Yahoo.
*APR = Average Platform Ranking - the average platform ranking between ESPN, CBS, Yahoo, and Fantrax (standard point settings)
The 21-Day Leaderboard, Presented by Hansel
Overall Leaderboards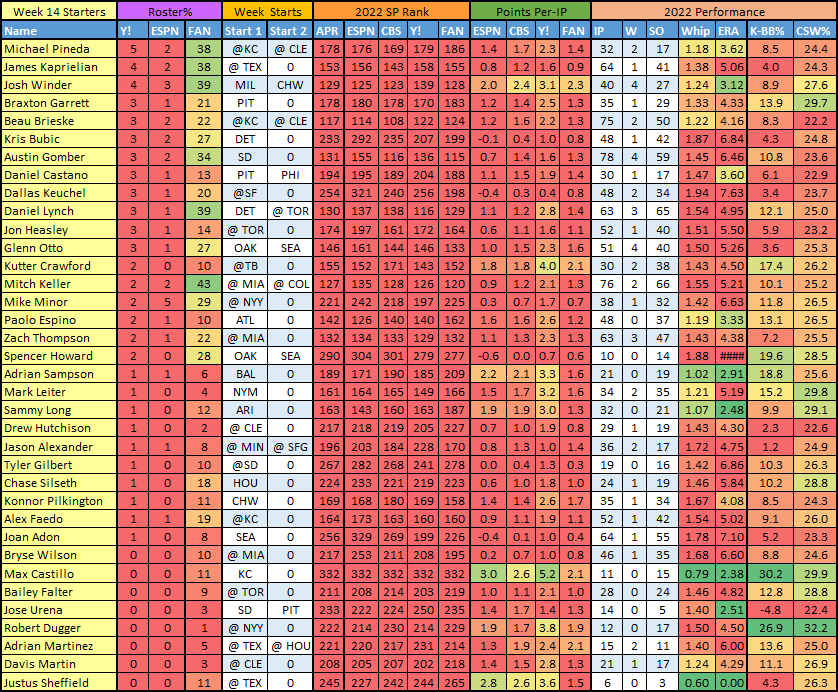 Starting Pitcher Waiver Wire - Best Choices
Dean Kremer, BAL (@ TB) - After a blowup against Texas (4.2 IP - 5 ER), Kremer dominated the Angels in his last start, striking out seven over five shutout innings and picking up the win.  This is a really juicy start for the Kreme-team in Week 14, going to a pitcher's park to face a Tampa Bay offense that is 24th in wOBA, 26th in xwOBA, 27th in K%, and will now again be without Wander Franco.
Ross Stripling, TOR (vs KC) - It wasn't spectacular but Stripling's two-step last week was at least palatable, posting a 4.66 ERA over a total of 9.2 IP, striking out nine. But he still has a 3.48 ERA/3.29 FIP over the past two weeks and a start against the Royals is just the thing to get him back on track.
Keegan Thompson, CHC (vs BAL) - Thompson was dominant against one of baseball's best offenses in his last outing, allowing just one unearned run over 5.2 IP in a no-decision against the Dodgers, striking out eight. He'll face a Baltimore team that has been average vs RHP all season but has had strikeout- and walk rates against them that are in the bottom-five since the start of June.
Glenn Otto, TEX (vs OAK, vs SEA) - After allowing a total of 10 ER in losses to the Nationals and Mets, Otto turned in a solid effort in a loss on the road in Baltimore, allowing 1 ER (2 R) and striking out five over 5 IP. Seattle has been a mid-range offense vs RHP in 2022 but the Athletics are anything but. Oakland is 30th in wOBA and xwOBA vs RHP, with the sixth-highest K%.
Braxton Garrett, MIA (vs PIT) - Garrett was so-so in his last start against the Mets but was excellent in his first start of Week 13, allowing just 1 ER over 7.1 IP against the Nationals, walking one and striking out four. The results have been up and down but I continue to be intrigued by the evolution of the left-hander's stuff. Not only has his four-seamer velocity ticked up from 90.3 mph to 91.6 mph (with less rise but four more inches of break) but his sinker has also increased in velocity (89.1 mph to 91.0 mph) and is getting substantially more sink (-1.6 inches vs Avg to +4.4 inches vs Avg). His non-fastballs are also evolving, with the slider being thrown harder and with more horizontal break, and the changeup adding a tick of velocity but gaining five inches of drop, moving it from -0.4 inches vs Avg to an elite +3.9 inches vs Avg. Stay tuned for how these changes continue to work out but for now, Garrett has a juicy matchup with a Pirates team that is 27th in wOBA and 25th in xwOBA vs LHP, with the 29th-highest K% and lowest BB% in baseball.
Kutter Crawford, BOS (@ TB) - Since joining the rotation, Crawford has a 2.33 ERA over 19.1 IP, striking out 24 and allowing 1 ER or less in three of four games. In Week 14, he'll take on a Tampa Bay offense that is not only bottom-five vs RHP but that Crawford shutout for five innings on July 4, striking out eight while only walking one. Crawford's four-seamer averages 95.1 mph and gets elite movement on both planes while his cutter is getting 102% more horizontal break than the league average. That's a seriously potent combo.
Starting Pitcher Waiver Wire - Next Choices
Dylan Bundy, MIN (vs CHW) - Bundy has a 1.88 ERA over 24 IP in his last four starts but only picked up one win and 16 strikeouts. He'll face the White Sox again after allowing just 1 ER over 5 IP in his most recent start.
Aaron Civale, CLE (vs CHW) - Civale looked sharp against the Royals, allowing just 1 ER over 7 IP, striking out six but failing to pick up the win. The White Sox have the sixth-lowest wOBA vs RHP for the year but are 13th since the start of June and have had a top-five K% all season.
Jordan Lyles, BAL (@ CHC, @ TB) - Since allowing a total of 10 ER in 10.1 IP vs Toronto and Kansas City, Lyles has been solid, running a 2.81 ERA over his last four starts, going at least 6 IP in each. Tampa Bay has been a bottom-tier offense vs RHP all season but the Cubs have been 8th in wOBA and K% since the start of June.
Hunter Greene, CIN (@ STL) - Greene struck out nine in his last start against the Rays but also walked four batters, with Tampa Bay only capitalizing for one run. He'll take on a reeling Cardinals offense that has now lost six of their last seven games while getting shut out four times.
Alex Cobb, SF (vs ARI, vs MIL) - We'd started to see the good version of Cobb but then he hit a hiccup against a mediocre Arizona offense in his last time out, allowing 4 ER over 6 IP, striking out only three. This Week 14 two-step looks dicey, with Cobb first getting a rematch with Arizona before taking on a Milwaulkee offense that is top-10 in wOBA and xwOBA vs RHP.
David Peterson, NYM (@ ATL, @ CHC) - Peterson totally lost his control in his last start, walking five batters and only lasting 3.2 IP after allowing 3 ER. But he still struck out seven batters, making it four straight starts that he's at least reached that number, with a total of 32 K over his last 22 IP. A start against the Cubs looks juicy but going to Atlanta is dangerous, especially if Peterson's command is off again - the Braves have the third-highest wOBA vs LHP and the fifth-highest BB%.
Adrian Sampson, BAL (vs BAL) - Sampson has actually been solid since his return, with a 3.05 ERA over his past four games only marred by allowing 4 ER in 5.1 IP vs BOS. But he bounced back in his last start against Milwaukee (5.2 IP - 1 ER - 5 K) and faces a Baltimore offense that is 17th in wOBA vs RHP since the start of June (21st for the year), with the fifth-highest K%.
Daniel Castano, MIA (vs PIT, vs PHI) - Just about anyone is worth streaming vs Pittsburgh (vs LHP: 27th in wOBA, 25th in xwOBA, 29th in K%) but if you start Castano against Philadelphia, just assume that Kyle Schwarber will hit a few home runs off of him because that's just what Kyle Schwarber does.
Chris Flexen, SEA (@ WSH, @ TEX) - Flexen got bumped out of a tough start against the Blue Jays on Sunday and is now set for a two-step in Week 14. Texas may feel tougher but it's actually the Nationals that are rougher on RHP, sitting 15th in wOBA and xwOBA but with the third-lowest K% against them. You're hoping to steal a couple of win bonuses here because Flexen and his 17.1% K% (23.1% CSW%) aren't going to ring up many bells.
Mitch White, LAD (@ STL) - The upside is limited because White is a 4-5 IP max kind of guy, but he continues to pitch solidly in the rotation, with a 2.93 ERA over his seven starts since joining it. He'll face a St. Louis offense that is 15th in wOBA vs RHP but the numbers have dipped since the start of summer on a team that is struggling.
Brady Singer, KC (vs DET) - He's Mr. Bland but Singer again went deep in a no-decision against Cleveland, allowing 3 ER over 7 IP and striking out five batters. The ceiling might be low on a Royals team unlikely to help him earn a win bonus but Singer has an 18.6 K-BB% and 30.4% CSW% that are both well above-average and he faces a Detroit offense that remains one of baseball's worst, especially vs RHP.
Tyler Wells, BAL (@ TB) - Wells is coming off of a total blah performance against the Angels (4 IP - 3 ER - 3 K) but will have a chance to bounce back against a Tampa Bay offense that is bottom-five vs RHP in wOBA, xwOBA, and K%. But the Rays have had his number in two starts this season, with Wells allowing a total of 7 ER over 6 IP.
Dane Dunning, TEX (vs SEA) - Dunning gets a chance to stay maddeningly inconsistent against a Mariners team that is 17th in wOBA vs RHP this season but 10th in xwOBA and 8th in BB%. The last time he faced Seattle, Dunning did only allow 2 ER over 7 IP, with 7 K but good luck hoping he'll get a win bonus - Dunning picked up his only win of the season way back on April 30.
Madison Bumgarner, ARI (@ SD) - Bumgarner keeps getting crafty and gets a solid matchup against a Padres team that is 15th in wOBA vs LHP since the start of the season but is just 24th since the start of May.
Spenser Watkins, BAL (@ CHC) - Watkins still has middling stuff but he's been pretty sharp since returning from the minors, running a 1.02 ERA (2.25 FIP) over three starts and 17.2 IP. But Chicago has been sneaky-tough vs RHP this season and is 8th in wOBA and K% since the start of June.
Starting Pitcher Waiver Wire - Desperate Choices
Aaron Ashby, MIL (@ SF) - I haven't trusted Ashby since he had reported forearm irritation a few weeks ago and still don't even after his first decent start in a month, allowing 2 ER over 5 IP in a win over the Pirates. For one, do good starts against the Pirates really tell you much? And for two, even with that decent outing, Ashby still has a 7.61 ERA (5.30 FIP) over five starts in June. San Francisco is struggling but has now won two of their past four games after losing six straight. Ashby just remains too risky for me to chance.
Michael Pineda, DET (@ KC, @ CLE) - Pineda has faced Cleveland and Kansas City in his past two starts, going 1-1, with a 4.50 ERA and five strikeouts over 10 IP. So, Michael Pineda things? He'll face the same two, terrible teams again and probably do something pretty similar.
Josh Winckowski, BOS (@ TB) - Winckowski got lit up in his last start (5 IP - 6 ER) but who doesn't get hammered by the Yankees? Too many walks and not enough strikeouts will limit his upside from start to start but an RHP stream against Tampa Bay is generally playable.
James Kaprielian, OAK (@ TEX) - Kaprielian has looked good in his past two starts (@ SEA, vs TOR), allowing a total of just 2 ER over 12 IP. But he also had more walks (6) than strikeouts (5) and will continue to be hard to trust until that relationship gets reversed.
Zach Thompson, PIT (@ MIA) - Did you know that Zach Thompson has a 3.04 ERA over his five starts in June? Well, now you do. Unfortunately, you should also know that it has come with a 6.57 FIP, one win, and a 6.1 K/9.
Brad Keller, KC (vs DET) - The desperate can feel free to throw Keller against Detroit's terribleness (because why not?) but only a masochist would chance him against a Toronto offense that has been top-five vs RHP all season long.
Kris Bubic, KC (vs DET) - As previously covered (today, and every other week), if all else fails you can always stream against Detroit. But Bubic has a 6.84 ERA (5.91 FIP) over the past three weeks and the Tigers are much better vs LHP, with the 11th-highest wOBA and 10th-highest xwOBA against them since the start of June.
Daniel Lynch, KC (vs DET, @ TOR) - Lynch walks too many batters (4.3 BB/9) to trust in his return from the IL (finger) against the hapless Tigers and we all know a start against Toronto has to be avoided. But starts against Detroit can make the desperate live up to their label.
JT Brubaker, PIT (@ MIA) - Brubaker has gotten roughed up by Milwaukee for back-to-back starts (11 IP - 5.73 ERA) but he still struck out six batters in each appearance and a 2.83 FIP tells us just how bad the five walks in his last start hurt. A start against the Marlins is playable but Miami is also a league-average offense vs RHP and Pittsburgh pitchers are rarely in a position to earn a win bonus.
Patrick Corbin, WSH (vs ATL) - Corbin apparently tricked everyone after he struck out a total of 16 batters in two starts against the Pirates and Marlins but things got back to normal in his last start against Atlanta, allowing 4 ER over 4 IP, striking out four. Corbin takes on Atlanta again in Week 14 - the Braves have scored a total of 10 ER over 8.2 IP in two starts against him this season. Don't do this to yourself.
Beau Brieske, DET (@ KC, @ CLE) - Feel like rolling with a rookie pitcher that has been up and down for a bad team but gets two starts against two other bad offenses? Have I got the stream for you!
Kyle Freeland, COL (vs SD) - Magic 8-ball, should I start Kyle Freeland at home after he just allowed a total of 10 ER in two starts on the road? No, fool. No.
Mitch Keller, PIT (@ MIA, @ COL) - Have you heard the latest most hilarious joke on the internet?..."A fantasy player decides to use Mitch Keller in a start in Colorado". This is the end of the joke. And now we all laugh - Ha-Ha-Ha-Ha-Ha.
Relief Pitchers Waiver Wire
Unless you're in a very deep league and/or have a lot of dedicated RP-only slots, most of the relievers you're going to want are the ones who are closers, have a chance to close, or are elite setup guys. I do mean elite because most scoring structures are weighted in a way that relievers almost necessarily have to get saves to be valuable. Although, long relievers whose usage you can reliably predict, can be useful in leagues with daily moves. For a majority of leagues, sticking to closers is the way to go.
With that in mind, here are the best relievers on the wire for Week 14, ordered by Yahoo roster%:
Closers (and co-Closers) on the Wire
Tanner Rainey, WSH - Rainey's job is as secure as anyone on the wire but it's hard to roster a closer that gets so few Save chances.
Lou Trivino, OAK - It's Sweet Lou's job again and Trivino picked up two more Saves this past week. Just know that this will only last until he builds up enough value for Oakland to trade him. Book it.
Hunter Strickland, CIN - Strickland remains the closer (for now) in Cincinnati, blowing his only save opportunity of the week.
Seranthony Dominguez/Brad Hand, PHI - When a team has two closers, you probably don't have one for fantasy. Dominguez and Hand continue to split duties, with each picking up a Save in Week 13.
Committees on the Wire
Texas Rangers - With Joe Barlow being demoted after blowing two more saves this week, chaos now reigns in the Texas bullpen. Dennis Santana blew his opportunity but Brett Martin picked up two Saves over the weekend. Avoid.
Tampa Bay Rays - There continues to be no need to try and figure out the mix-and-matchness in Tampa Bay. Avoid.
Random Save Chances O' the Week
Rowan Wick, CHC - Blew a Save on Saturday
Scott Effross, CHC - Blew a Save on Saturday
Alex Vesia, LAD - Save on Thursday
Brusdar Graterol, LAD - Save on Tuesday
Yency Almonte, LAD - Save on Monday
Lucas Luetge, NYY - Save on Friday
Wandy Peralta, NYY - Blew a Save on Saturday
Joe Mantiply, ARI - Blew a Save on Wednesday
Felix Bautista, BAL - Blew a Save on Tuesday
John Schreiber, BOS - Save on Monday
Eli Morgan, CLE - Blew a Save on Friday
Alex Colome, COL - Save on Friday
Michael Fulmer, DET - Save on Friday
Rafael Montero, HOU - Save on Tuesday
Taylor Clarke, KC - Blew a Save on Monday
Brad Boxberger, MIL - Blew Saves on Wednesday and Saturday
Griffin Jax, MIN - Blew Saves on Monday and Wednesday
Adam Ottavino, NYM - Blew a Save on Saturday
Seth Lugo, NYM - Save on Monday
Diego Castillo, SEA - Save on Saturday
Dominic Leone, SF - Blew a Save on Tuesday
Dylan Floro, MIA - Save on Monday
Joe Jimenez, DET - Save on Monday
More Fantasy Baseball Waiver Wire Advice