We'll be doing this roundup of points leagues every week here at RotoBaller, with waiver wire targets and streaming pitchers being evaluated in terms of the different scoring systems of ESPN, Yahoo!, CBS, and Fantrax.
Player values can vary wildly from platform to platform, so we'll make sure to highlight where players are the best and worst fits. We know points league players get neglected and we're here to help.
These fantasy baseball waiver wire pickups are for the week of June 6th - June 12th, looking at players below 50% rostered for ESPN, Yahoo!, or Fantrax. Position eligibility is taken from Fantrax and players are grouped by their most valuable fantasy position, using a hierarchy of: C > 2B > OF > 3B > 1B > SS. Stats and rankings for charts are calculated using games through Friday, June 3.
Featured Promo: Get your 2023 MLB Premium Pass for 50% off. Exclusive access to our preseason Draft Kit, #1 accuracy rankings, #1 ATC projections, Team Sync platform, Live Draft Assistant, 15 in-season lineup tools, customized rankings and much more!
Sign Up Now!
Know Your Scoring System
You know what I'm going to say, right?  You must account for, as precisely as possible, how a player performs under your particular scoring system. Don't be fooled into believing you can just make rough adjustments in your head, bumping up guys with high on-base percentages and low strikeout rates. Every point, in every category, counts.
For example, ESPN and Fantrax are virtually identical in their scoring for hitters and roster size. The only difference is that stolen bases are worth one more point on Fantrax and ESPN subtracts one point per strikeout. That's the difference between Trea Turner being a top-five hitter versus a top-25 hitter.
If your league uses standard settings, then great! Turn to page 94 and you can skip ahead to the leaderboards. If you play with custom settings, it'll still be fine. Go back to page 43 and look below at the scoring systems of the four major platforms. I bet there's a chance that you'll find that your league's scoring is very similar to one of the four (well, not Yahoo!'s), even if it's not the platform you actually play on.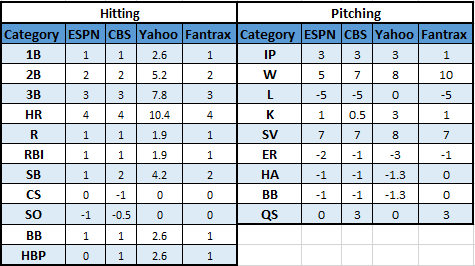 You'll likely find a suitable mirror to your own system if you look above. While every point counts, as long as they aren't seismic changes you can get away with some "close enough" calls. IE. You're probably fine if everything is the same except for HBP (or something similar).
Week 9: Waiver Wire Leaderboards
All charts are updated prior to Friday's games, on stats and ownerships, and clicking on a chart will open a new page with a magnified version. Players on overall leaderboards are ordered according to their current Roster% on Yahoo.
*APR = Average Platform Ranking - the average platform ranking between ESPN, CBS, Yahoo, and Fantrax (standard point settings)
The 14-Day Leaderboard, Presented by Hansel
These players are so hot right now. Here are the players on the wire who are running inside the top-100 of APR over the past two weeks:
Overall Leaderboards
Before we crack on to the positions, a quick word on xwOBA and expected stats, in general. We're still including xwOBA (and xwOBA - wOBA) but do be aware of their currently severe limitations in this new dead-ball world. Remember that expected stats use launch angle and exit velocities to approximate what the typical result has been for balls hit with similar metrics. But right now, the offensive environment is so drastically different that it's hard to make those comparisons by using data from recent seasons, thus rendering the expected stats far too high until Savant has enough data to update their equations, they're hard to rely on.
IE. Until they're updated, x-stats are going to be higher than they probably should be. That's not to say they're worthless but be aware that a 100-pt gap between wOBA and xwOBA ain't what it used to be.
On to the positions!
First Base Waiver Wire Pickups
Best Choices
Christian Walker, ARI - Okay, okay...I'm not going to do, what everyone thinks I'm going to do, and freak out! Walker still existing on waiver wires doesn't bother me at all! I mean, it's not like he has a 33 APR for the season that's driven by elite plate discipline and a power surge backed up by large increases in key exit velocity metrics. And he definitely hasn't hit two more home runs since we last talked a week ago. But even if those things are all definitely true, it wouldn't bother me at all! Because I'm super chill!!!
Next Choices
Luke Voit, SD - Voit has been better as of late (84 APR over the last two weeks), running just a 24.5% K%. But while that's a good strikeout rate for him, it's still going to be a huge drag in leagues with a strikeout penalty. And the .384 wOBA over the last two weeks has a .333 xwOBA behind it that looks suspiciously like his .320 wOBA and .321 xwOBA for the season.
Nathaniel Lowe, TEX - Yes, Lowe has a 72 APR over the last two weeks and has broken into the top-150 for the season. But Lowe still has below-average plate discipline and the high ranking of the past two weeks is being driven by a .421 wOBA that is backed by just a .334 xwOBA - AKA the LoweOBA zone, where the mediocre come to meet.
Desperate Choices
Jesus Aguilar, MIA - Nothing about his season-long performance says "pick me up" and neither does anything about his recent performance. Outside of super-deep leagues, there isn't any reason to roster Aguilar until something changes.
Daniel Vogelbach, PIT - Vogelbach is bach from the IL, and about the best thing you can say is that at least you know what you're getting. He'll walk a lot and go on sudden home run hot streaks but doesn't hit lefties and loves getting injured. If your team needs to start him, your team is likely struggling.
Carlos Santana, KC - He walks a ton and rarely strikes out. He also rarely gets hits. Perhaps this might be something you'll be interested in.
On the IL
Brandon Belt, SF (knee inflammation)
Edwin Rios, LAD (strained hamstring)
Second Base Waiver Wire Pickups
Best Choices
Kyle Farmer, CIN - When streaky guys like Farmer get hot, you need to pounce until the inevitable crash comes. And hot, he is - Farmer has a 45 APR over the past two weeks and at least one hit in 11 of his past 12 games. Over those 12 games, he's slashing .452/.489/.810, with four home runs and a .555 wOBA. Hot-cha-cha-cha-aaa.
Jonathan Schoop, DET - We haven't entered a full-on Schoopening-mode but there have been rumblings. Schoop is on a five-game hit streak and has picked up multiple hits in three of his past six contests, running a .388 wOBA over the last two weeks.
Rougned Odor, BAL - Odor is still playing every day and while he still doesn't walk very often (3.6 BB%), the near 30% K% from the past few years has been kept under control so far in 2022, running at 25.5% K% for the season and at 22.6% over the past two weeks.
Ramon Urias, BAL - It's time to take Urias seriously, at least for however long his current heater lasts. He has a 28 APR over the last two weeks and has two home runs and two doubles in his past four games.
Next Choices
Cesar Hernandez, WSH - No one will ever be impressed when you pick up Cesar Hernandez because compilers just aren't sexy. But Hernandez piles up PAs like no one else and tends to always end up producing like a top-100 hitter, even if his per-PA scoring rates will never seem high-flying.
Jose Iglesias, COL - The recent numbers have been boosted by some Colorado home-cooking but Iglesias already had a 10-game hit streak heading into their current home stand, with seven of those games coming on the road. He finally went hitless on Friday, ending a 13-game streak, over which he slashed .367/.404/.449, with a .378 wOBA and 129 wRC+.
Santiago Espinal, TOR - Depending on the matchup, Espinal has been alternating between the bottom and top of Toronto's offense, mostly batting up against RHP and down against LHP. But Espinal continues to put steady numbers, with excellent plate discipline, and, more importantly, the Toronto offense seems to finally be picking up.
Desperate Choices
Brendan Donovan, STL - Nothing about Donovan leaps off of the page but he's shown the type of elite plate discipline (15.0% K%, 17.0% BB%) that can turn someone into a useful compiler if they get enough playing time (see: Hernandez, Cesar). Fortunately for Donovan, he currently is. The rookie has now started 22 of the Cardinals' last 25 games, picking up starts at every position besides catcher.
Josh Rojas, ARI - Remember when everyone caught Rojas-fever following a 3-HR outburst during a game at Wrigley when the wind was blowing out? Well, he's turned right back into Josh Rojas, lately, running a 218 APR over the last two weeks, with a .346 wOBA being backed by just a .293 xwOBA.
On the IL
Third Base Waiver Wire Pickups
Best Choices
Evan Longoria, SF - When he's not hurt (which is a really big "when"), Longoria has been very, very good for the past two seasons. And since he's healthy now, you should probably pick him up, post haste! Longoria has a 50 APR over the past two weeks and has been absolutely hitting the ball on the screws. He has hit five home runs in his past nine games while running a 22.5% Brl% for the season that is not only a career high by nine points but if qualified, would only trail the marks of Aaron Judge and Giancarlo Stanton. If that's not on the screws, I don't know what is.
Next Choices
Gio Urshela, MIN - He's not generally known for his stick but Urshela has unlocked something in Minnesota as of late, slashing .270/.330/.403 for the season, while continuing the excellent plate discipline he's almost always had. He has a 37 APR over the last two weeks and is playing enough to be useful in most leagues.
Alec Bohm, PHI - Entering the waiver wire clan for the first time, Bohm's recent cold streak has apparently inspired a lot of drops. But Bohm has also been hurt by our spongeball world, and his .362 xOBA deserves a fate better than a .286 wOBA.
Jose Miranda, MIN - I'm a really big fan of Miranda but the fantasy love won't fully come until he's hit enough to play every day. But the bat may be finally coming around and that time might be now - Miranda has collected multiple hits in five of his past nine games (including a 2-HR game on Friday), slashing .357/.357/.786 over 28 PA, with a .487 wOBA and 230 wRC+. Keep in mind that over two levels in 2021, Miranda hit a combined 30 HR in less than 600 PA, with a .344 AVG and .400 OBP. The dude can rake.
Desperate Choices
Yandy Diaz, TB - The best thing about Yandy Diaz is that Tampa Bay continues to bat him near the top of their order, even as his production remains lackluster. But he's on a mini-heater right now, slashing .455/667/.545 over a four-game hit streak.
Emmanuel Rivera, KC - Rivera has cooled off considerably lately, with a .291 wOBA over the past two weeks helping to translate to a paltry 171 APR. But Rivera is still starting at third base for the Royals every day and his .387 xwOBA over the past two weeks speaks of better times to come.
On the IL
Shortstop Waiver Wire Pickups
Best Choices
Yikes. Just yikes. Your best choices can't actually be found among the players only eligible at shortstop. Kyle Farmer, Ramon Urias, Jose Iglesias, and more of the players listed at other positions are all qualified at shortstop too and are all better options than what you'll find below.
Next Choices
See: Choices, Best
Desperate Choices
Miguel Rojas, MIA
Elvis Andrus, OAK - Every long-time points player knows that Andrus will occasionally give you a dead-cat bounce for a few weeks that makes you think there is something still viable there. Well, there isn't. But for right now, Andrus is bouncing and could be useful until he stops.
On the IL
Catcher Waiver Wire Pickups
Best Choices
Alejandro Kirk, TOR - Kirk is currently winning the playing time battle with Danny Jansen and is producing at a level that says it won't be stopping soon. Over the past two weeks, Kirk has a 51 APR that is backed by a .512 wOBA and .529 xwOBA. He also ran an 8.1% K% and 13.5% BB% over that time (9.2% K% and 11.8% BB% for the season), making him a killer in leagues with a strikeout penalty. That's why his hitter rank is between 50-67 on CBS, Yahoo, and Fantrax over the past two weeks but is 23rd on ESPN. Know your system.
MJ Melendez, KC - Even with the return of Salvador Perez, Melendez is still playing, starting each of the Royals' past 18 games and each of the seven games since Perez left the IL. Playing every day and batting in the middle of the order, Melendez's combination of power and plate discipline should continue to make him an excellent points option.
Next Choices
Danny Jansen, TOR - Jansen is still smacking the holy hell out of the ball - his 24.4% Brl%, if qualified, would trail only Aaron Judge in all of baseball. But unfortunately, his lackluster playing time makes him difficult to use unless you're in a daily league with deep benches.
Desperate Choices
All catcher adds are desperate adds. Now and forever.
On the IL
Outfielder Waiver Wire Pickups
Best Choices
Tyrone Taylor, MIL - Taylor has seemingly locked himself into an everyday role with Milwaukee and if he keeps hitting, that won't change even after Hunter Renfroe eventually returns from the IL. Taylor is just hitting too well, and the Andrew McCutchen/Lorenzo Cain combo isn't doing nearly enough to unseat him. Over his past 15 games, Taylor is slashing .273/.317/.618, with five home runs and a .394 wOBA.
David Peralta, ARI - The plate discipline has slacked off some these past two weeks (28.3% K%, 6.3% BB%) but the damage Peralta is doing, has not. He has a .387 wOBA over the past two weeks and is currently on a seven-game hitting streak (with a hit in 13 of his past 15 games), over which he's slashing .346/.393/.577, with a .417 wOBA and 166 wRC+. But do be aware that he'll still ride the pine against the occasional lefty - the Diamondbacks are scheduled to face two LHP out of their seven games scheduled in Week 9.
Garrett Cooper, MIA - I've always had a soft spot for Cooper and he's currently rewarding anyone else who has too. Cooper has a 40 APR over the last two weeks, posting a .478 wOBA and .439 xwOBA. But even if he's playing and hitting every day for the Marlins, unfortunately, he's still playing on the Marlins, which generally isn't a great setup for loads of production.
Tommy Pham, CIN - Clearly distracted from needing to slap Joc Pederson over a fantasy football dispute, Pham has only run a 126 APR over the past two weeks. But his (non-slapping) skill-set keeps him viable in most points structures as long as he's playing every day/not being suspended because he slapped Joc Pederson over a fantasy football dispute.
Next Choices
Hunter Dozier, KC - Dozier continues to be a steady producer, un-flashily compiling points in his everyday role for a bad offense. He has a 104 APR and 339 wOBA (.336 xwOBA) for the season, with a 104 APR and .337 wOBA (.343 xwOBA) over the past two weeks. As unsexy as it gets, but useful, nonetheless.
Trent Grisham, SD - The corpse of Trent Grisham has slowly started to reanimate, as of late, but a 114 APR over the last two weeks doesn't exactly scream "I'm back, baby!". And neither does a .362 wOBA that's backed by a .305 xwOBA.
Desperate Choices
Seth Brown, OAK - If you need to, this is a decent week to use Brown, with Oakland facing RHP in five of their six games.
Jesus Sanchez, MIA - His .392 wOBA over the past two weeks is a positive sign but .318 xwOBA should bring it right back down to earth. As should the 36.1% K% and general Marlins stank that comes with him.
Lane Thomas, WSH - Don't be fooled by the Rojas-esque hype train that gets going after someone has a 3-HR game, prior to it, Thomas was 1-for-27. He is still only going to mostly play against LHP and remains a classic fourth-outfielder type - don't get tricked into thinking he's more.
On the IL
Download Our Free News & Alerts Mobile App
Like what you see? Download our updated fantasy baseball app for iPhone and Android with 24x7 player news, injury alerts, sleepers, prospects & more. All free!


More Fantasy Baseball Waiver Wire Advice