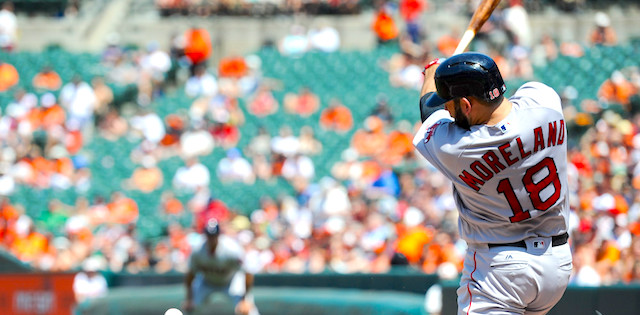 Fantasy baseball fans, the 2020 season is finally almost upon us, which means it's time to start thinking about drafting and valuing players all over again! As I am sure you are all aware, the shortened season and rule changes will impact aspects of your fantasy baseball strategies, some more than others.
One of the biggest impacted areas will be platoon battles or teams with undecided starters for certain positions. With each game, at-bat, or inning pitched significantly more valuable in a 60-game season, fantasy players cannot afford to have a player on their roster who may only see a portion of playing time.
With that in mind, I am going to take a look at a few murky situations that you should steer clear of for fantasy purposes. There is still time for some of these situations to be resolved during summer camp, but I will focus on a few that are still as unresolved as they were when Spring Training originally started.
Featured Promo: Get your 2023 MLB Premium Pass for 50% off. Exclusive access to our preseason Draft Kit, #1 accuracy rankings, #1 ATC projections, Team Sync platform, Live Draft Assistant, 15 in-season lineup tools, customized rankings and much more!
Sign Up Now!
Cincinnati Reds Outfield
The first glaring example of potential platooning for multiple players in multiple positions is the Cincinnati Reds outfield debacle. The team made some big outfield additions this offseason by signing Nick Castellanos and Shogo Akiyama, both of whom are shaping up to be everyday players whether by playing the field or filling the universal DH spot. That leaves Jesse Winker, Phillip Ervin, Nick Senzel, and Aristedes Aquino (who is in the player pool but not training at Great American Ball Park) to potentially fight for playing time, among others.
I was very excited about Jesse Winker as a fantasy asset when he got called up in 2017. I thought his approach to hitting and plate discipline would allow him to hit for average and get on base a ton. However, that potential has yet to come to fruition due to both injuries and platooning. Winker posted a disappointing .269/.357/.473 slash line with 16 HR and 38 RBI in 384 plate appearances in 2019 and missed the last two months of the season with a cervical strain. He's now healthy and the potential is still there, but the big impediment to full playing time for Winker is his inability to produce against left-handed pitchers. He owns a career .176 batting average against lefties and therefore does not get many at-bats against them; only 50 of his 384 plate appearances came against lefties in 2019. I don't see the Reds suddenly letting Winker hit against lefties in a shortened season.
The player who has usually taken Winker's potential at-bats against lefties has been Phillip Ervin. The 27-year-old compiled a respectable .271/.331/.466 slash line with seven HR and 23 RBI in 260 plate appearances in 2019. His numbers against lefties specifically were impressive; he compiled a stellar .349/.411/.628 slash line over 95 plate appearances. However, Ervin struggled against right-handed hitters, managing a meager .227 average. Given their respective performances, the Reds would not be critiqued for starting Winker exclusively against righties and Ervin against lefties in left field, much like what they did last season. Unfortunately, this will limit their fantasy upside since they will be on your bench a good portion of the time.
Now take a look at the Reds center field situation. The player who spent the most time in center field in 2019 was top prospect Nick Senzel, who put forth a respectable rookie campaign. The 25-year-old showed his exciting combination of pop and speed, compiling a .256/.315/.427 slash line with 12 HR, 42 RBI, and 14 stolen bases batting mostly leadoff. This all sounds great, so why are we talking about Senzel as a player to avoid? As mentioned earlier, the Reds signed Akiyama, a true center fielder to a three-year, $21 million contract. Further, manager David Bell mentioned back in March that Akiyama would likely hit leadoff in the games that he starts. The contract size coupled with these types of comments makes me worry that Senzel will take a back seat to Akiyama this season. Senzel is definitely still a high-end fantasy dynasty/keeper value, but his value in single-season leagues is lower given his unknown current playing status.
Finally, I will quickly mention Aristedes Aquino even though he is not currently training at Great American Ball Park. As fantasy players will fondly (and then unfondly) remember, The Punisher burst onto the scene last August, hitting .320 with 14 HR, before hitting a frigid .196 with a 30.9% strikeout rate in September. The inconsistencies in Aquino's batting approach are likely why he is not training with other starters. However, his power seems legitimate (28.3% HR/FB rate, 18.2-degree launch angle, 39% hard-hit rate), so it would not surprise me to see him at the big-league level at some point during the 2020 season, which will only add one more cook to an already crowded kitchen.      
Boston Red Sox CF
I'll next take a look at another potential outfield platoon situation, this one a bit more straightforward. The Red Sox signed veteran defensive whiz Kevin Pillar after a surprise offensive season in which he posted a .259/.287/.432 slash line with a career-high 21 HR and 88 RBI for the Giants. However, the Red Sox already had a stellar defensive center fielder in Jackie Bradley Jr. as well as young talents in Andrew Benintendi and Alex Verdugo. With four valuable outfielders and only three spots, how will this impact fantasy decisions?
There have been talks that Pillar will receive regular playing time against left-handed pitchers; all of the other Red Sox outfielders bat left-handed and Pillar has a career .281 batting average against lefties. While Pillar could hypothetically replace any of the others on a given day, both Benintendi (.277/.354/.442 career slash line) and Verdugo (.282/.335/.449 career slash line) have better overall offensive production and upside compared to Bradley Jr. (career .236/.317/.409), so it looks like Bradley Jr. would make the most sense as the one to yield time to Pillar. Bradley Jr. has never been much of a fantasy consideration given his lack of offensive production. However, Pillar was a useful fantasy option last season and always provides some steals. Unfortunately, his projected value for 2020 (platooning against lefties in a 60-game season) will not be enough to justify rostering him.
Boston Red Sox 1B/2B
I'm going to stick with the Red Sox here but turn my attention to the right side of their infield. The Red Sox have a bunch of decisions to make regarding lineup composition and have three viable 1B/2B player combinations depending on the daily matchup. At 1B they have veteran Mitch Moreland and sophomore Michael Chavis. Both Moreland and Chavis played significant time at 1B for the Red Sox in 2019, with Chavis splitting time between 1B and 2B. While both put up almost identical numbers overall (Moreland: .252/.328/.507 slash line, 19 HR, 58 RBI over 335 plate appearances; Chavis: .254/.322/.444 slash line, 18 HR, 58RBI over 382 plate appearances), Chavis performed relatively better against lefties compared to Moreland (Chavis: .226 average, .481 slugging percentage, eight HR over 111 plate appearances; Moreland: .204 average, .315 slugging percentage, one HR, seven RBI over 60 plate appearances). So while neither are great at hitting lefties, it would make sense to play Chavis at first more often against lefties and Moreland against righties.
Shifting to 2B options, the Red Sox have Chavis as well as newly-acquired Jose Peraza. Peraza had a disappointing 2019 with the Reds but has been a productive player in the past and is a nice source of steals for fantasy. Peraza has had success hitting lefties throughout his career (.297 average, .406 slugging percentage), so it would be a possibility for him and Chavis to platoon at 2B throughout the season, with Peraza starting against lefties and Chavis starting against righties.
There are plenty of interesting possibilities here. If Chavis platooned at both 1B and 2B (1B against lefties, 2B against righties), he could essentially be an everyday player. If Peraza sees positive regression towards his career .273/.312/.374 slash line and starts stealing bases again then he could grab the starting 2B job and be a stealthy fantasy option. Unfortunately, all three of these players' fantasy values are capped until any of this pans out, as fantasy players can't afford to waste a bench spot on a player who may not be able to contribute consistently from the start.    
Braves Closer
The final platoon I will investigate can be found in the Braves bullpen. As most fantasy players are aware, bullpen usage has gotten messier for fantasy purposes over the past several seasons with openers, followers, and closers by committee. However, the Braves back end of the bullpen is particularly puzzling because they have three/four somewhat-proven closers. RosterResource (now on Fangraphs) shows the following hierarchy but it could change throughout the season. Notice Will Smith is absent because of his COVID diagnosis.
Luke Jackson served as the Braves closer through the All-Star break, posting a respectable 3.19 ERA but only converting 17 of his 24 save opportunities. The Braves then bulked up their bullpen, acquiring Tigers former closer Shane Greene (who had 54 saves over the past season-and-a-half when he joined the Braves) and veteran reliever Mark Melancon from the Giants, who had not been closing for the team but had served as an effective closer for both the Pirates and the Giants in the past. Former temporary closer A.J. Minter also looms as a left-handed arm if the situation calls.
Melancon took over as the Braves closer and appeared to be on his game, posting a 3.86 ERA, 1.14 WHIP, and 27% strikeout rate while converting all 11 of his save opportunities. It would reason that Melancon would be the go-to closer for the Braves in 2020, right? Well, think again.
This offseason, the Braves signed former Giants closer Will Smith to a three-year, $39 million contract. Smith was excellent in 2019, posting a 2.76 ERA, 1.03 WHIP, a 37.4% strikeout rate, and a 34/38 save conversion rate. Keep in mind that Melancon was on the Giants with Smith for the first half of the season and did not see save opportunities.
With four competent closers, Smith and Melancon being the top two, it really is anyone's guess as to who will get the ball at the end of each game. There have been talks of both Melancon and Smith taking over closing responsibilities, but nothing has been confirmed yet. While these players would be surefire fantasy options if all on different teams, the fact that they are all in the same bullpen drastically lowers all of their fantasy values. 
More 2020 Fantasy Baseball Advice