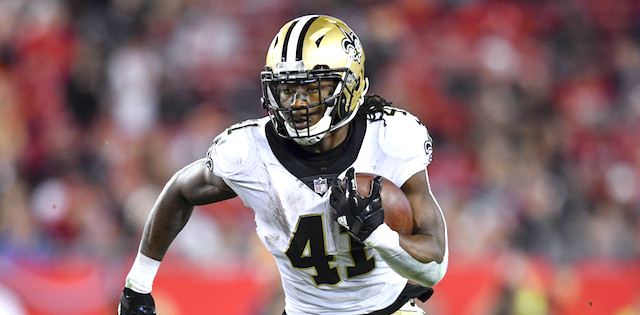 As we head into the playoff weeks of fantasy football, you'll hear many experts preach (correctly) the need to stash high-upside handcuffs or backups at quarterback or tight end. You'll inevitably hear about looking ahead three weeks for favorable playoff schedules and thinking less about what the player has done up until now or whether he's a "safe option" on your bench. However, I'm also going to add one more item for you to think about: Players who are at high risk for getting shut down.
As we head into the final weeks of the NFL season, we also enter a time in which teams get eliminated from playoff contention and wins become less essential. This is especially true if those teams are turning their attention to the upcoming NFL Draft. Teams who have also already clinched playoff berths and seeds may choose to rest their stars or cut down their workload in order for them to be fresh during the playoffs.
While the players who may be rested or "load managed" certainly shouldn't be cut from your team immediately, it's wise to ensure you have a backup option with good matchups in Week 15 or 16 just in case that inevitably shut down happens. Below, I'll discuss the players I think are at the highest risk of being shut down or rested before the fantasy playoffs are over and the guys who could step up to fill that void and become fantasy-relevant in their own right.
Editor's Note: Get any rest-of-season NFL Premium Pass for 50% off. Our exclusive DFS Tools, Lineup Optimizer and Premium DFS Research through the Super Bowl.
Sign Up Now!
Players Who Might Sit or Take a Hit in Value
T.Y. Hilton (WR, IND)
As of now, Frank Reich "is hopeful" that Hilton will play this weekend against the Bucs. However, the Colts' star receiver suffered a setback last week and has admitted that there are times he thought he might miss the whole season. The Colts are currently a game out of the playoffs with upcoming games against the Bucs and Saints. If the Colts were to lose both, they could essentially be eliminated from playoff consideration by Week 16. If that were the case, it would seem likely that they would want to avoid any further aggravation of Hilton's injury and potentially longer-lasting consequences.
Marlon Mack (RB, IND)
Everything said above applies to Mack. He, like Hilton, is battling an injury that has kept him out multiple weeks and has been rumored, at times, to keep him out for the remaining games. He's pushing to come back in Week 14, but if the Colts get eliminated from playoff contention, it would seem likely that he sits.
Adam Thielen (WR, MIN)
The Vikings number one wide receiver is currently battling a hamstring injury that has caused him to miss game time. He has said that he doesn't want to play until he's 100%, so we know that he's not opposed to resting. The Vikings are also a game up on the final Wild Card spot, which means they may have clinched a playoff birth by Week 16. If they have, it wouldn't be surprising to seem them rest Thielen in hopes that he can get back to full strength for the playoffs.
Amari Cooper (WR, DAL)
Cooper is another player that has been battling through injuries. He had a foot injury in the preseason and then a knee injury that required an MRI last week. He's no longer listed on the Cowboys injury report, but anybody who watches him can see that he's banged up. The Cowboys have a crucial game in Week 16 against the Eagles, but they also currently have a one-game lead over the Eagles for the NFC East lead. There is a chance, albeit a slim one, that the Cowboys will come into that Week 16 game with the division all locked up. The Eagles did just lose to the Dolphins after all.
Julio Jones (WR, ATL)
The Falcons star receiver wasn't able to suit up on Thanksgiving, and the team mentioned that his injury was a pain tolerance injury. With the Falcons eliminated from playoff consideration, they could choose to rest their star player for the final two weeks rather than risk him exacerbating the injury and causing longer-term issues. Julio rarely misses games, so it appears unlikely, but it also would only take one bad hit or impact on his shoulder in Weeks 14 or 15 for him to decide its best to forgo the rest of the season.
Alvin Kamara (RB, NO)
Kamara finds himself in the opposite situation from Jones. The Saints are 10-2 and have already clinched a playoff birth. In two games, they may have also clinched a first-round bye. It seems likely that they're still fighting for the #1 overall seed, but there is a chance that they have that sealed up by then as well since they have the head-to-head tiebreaker over the Seahawks.
The Saints have already shown a willingness to limit the punishment Kamara takes, especially since his injury in the middle of the season. After he came back, he saw under 50% of the team's rushes in the first two games and has seen that number climb to 61% the last two. If the Saints have everything locked up, owners should be prepared for the chance, even if it's slim, that the Saints rest their star for the playoffs.
Emmanuel Sanders (WR, SF)
Emmanuel Sanders is currently battling through a rib cartilage injury and his ability to play is almost fully dictated by his pain tolerance. He is gritting through it and playing, but the 49ers, at 10-2, are nearly locked into a playoff spot. They will likely still be competing for seeding in Week 16, so sitting Sanders seems unlikely; however, if the pain continues to worsen for their #1 wide receiver, they may decide to rest him and allow him to get as close to 100% as possible before the playoffs begin.
Mark Ingram (RB, BAL)
The Ravens love to rotate their running back touches. Lamar Jackson already dominates the touches, but Gus Edwards has frequently gotten into games when the Ravens are up big. In fact, Ingram's highest snap percentage in the last five games is only 55%. Baltimore currently sits atop the AFC and owns the tiebreaker over New England with a head-to-head victory.
The Ravens also play a very winnable game versus the Browns in Week 16. If they haven't locked up the first seed by then they can likely do so with a win over the Browns. It's plausible that they take an early lead in that game and choose to rely more on Gus Edwards to hold down the Week 16 victory and ensure Ingram has fresh legs for the playoffs or isn't opened up to an unnecessary injury.
Saquon Barkley (RB, NYG)
Barkley has clearly not been 100% since returning from his high ankle sprain. With the Giants eliminated from playoff consideration, the team may choose to avoid putting their star player in jeopardy of further aggravating his injury. With the Bengals seemingly locking up the top pick in the draft, the Giants currently would benefit from Cincinnati's need for a quarterback and would be in a position to land the draft's top talent in Ohio State's Chase Young. However, more wins, like in their Week 16 contest against the Redskins, could jeopardize that, which only adds a little extra incentive to let their franchise talent get healthy.
Josh Jacobs (RB, OAK)
Jacobs recently admitted that he's playing with a fractured shoulder. The Raiders are also one game out of the last playoff spot. If the Raiders lose one or two of their next two games - against the Titans and Jaguars - they could be eliminated from the playoffs by Week 16. With their star rookie playing through an injury of that nature, it would seem highly likely that the Raiders shut him down the second that they're out of playoff contention.
Le'Veon Bell (RB, NYJ)
Le'Veon Bell has been banged up a few times this year and has proven, last year specifically, that he is willing to miss games if he believes it's in his best interest. With the Jets eliminated from playoff consideration, the Week 16 game will have no impact on the Jets season, other than to potentially earn them a worse draft pick. If Bell suffers any additional setbacks or gets banged up over the next two weeks, it wouldn't be crazy for the Jets to either sit him or dial back his touches while people are playing for their fantasy championships.
Philip Rivers (QB, LAC)
I doubt anybody outside of those in the deepest leagues are considering starting Rivers in the fantasy playoffs. The veteran has been playing like a shell of his former self recently, and there have been reports that the Chargers would consider benching him for Tyrod Taylor. With the Chargers' recent loss all but knocking them out of playoff contention, the Chargers could choose to see what they have in Taylor. Rivers is a free agent after this season, so the Chargers might consider Tyrod as a better one-year bridge quarterback to pair with a potential rookie draft choice.
High-Upside Replacements and Stashes
Latavius Murray (RB, NO) - 10-team leagues
Latavius Murray is likely already owned in most leagues, but somebody may have dropped him during the playoffs for a streaming quarterback or trendy handcuff. If the Saints play well enough over the next two weeks to put themselves in a position to rest Kamara or cut down on his snaps then Murray will become a great Championship Week option against the Titans.
Michael Gallup (WR, DAL) and Calvin Ridley (WR, ATL) - 10-team leagues 
I'm lumping Michael Gallup and Calvin Ridley together because they're both in similar situations and are likely owned in most leagues. If they're available, for whatever reason, you should scoop them up in case the Pro Bowlers ahead of them on the depth chart are shut down for the season. Them being listed here is also a vote of confidence that they shouldn't be the guys on your team dropped for desperate streamers or sexy handcuff fliers.
Jordan Wilkins (RB, IND) - 10-team leagues
When Marlon Mack first went down, I speculated that Jordan Wikins would be the main ballcarrier in Indy. It turns out he wasn't healthy enough for that first week, and Jonathan Williams seemed to run away with the job. Until he didn't. Jordan Wilkins came back last week and dominated the snaps and rushes in the Colts' backfield, with Williams not seeing a carry in the second half. He's the superior talent to Williams and the likely lead back if the Colts decide to rest Mack. That means that Wilkins would carry the load against a Panthers team that just got gashed by the Redskins duo of Darrius Guice and Adrian Peterson. He could win you a championship.
Zach Pascal (WR, IND) - 12-team leagues
If T.Y. Hilton is shut down for the year, Pascal becomes the Colts number one wide receiver. Parris Campbell (more on him below) might also be returning, which limits Pascal's upside a little, but the targets will be there. Pascal saw 10 targets last week with both Hilton and Campbell out and six in a Week 9 game against Pittsburgh when Hilton was out but Campbell was active. With Hilton not in uniform, Pascal would be good for six to eight targets in a game against a beatable Panthers secondary. He could be a rock-solid WR3 during that week.
Gus Edwards (RB, BAL) - 12-team leagues
As mentioned above, Baltimore has a chance to lock down a bye, or maybe even the number one seed, by Week 16. If they do, I'd expected Gus Edwards to take even more carries from Ingram than he normally does. Edwards has been averaging about 40% of snaps and 20% of the team's rushes since Week 7, so he's the natural replacement if Ingram's touches are reduced. Even if the Ravens haven't clinched a bye by Week 16, a win against the Browns that week could do it. It's a game the Ravens should control, so Edwards could see more than his normal allotment of carries against a Cleveland squad that may have given up.
Parris Campbell (WR, IND) - 14-team leagues
As mentioned above, T.Y. Hilton is a prime candidate for being shut down by Week 16. It might be a chance for the Colts to get more of a look at their rookie wide receiver. Even if Pascal has been running as a number one, he is what he is at this point in his career. The Colts would be better off feeding their dynamic rookie to see what kind of upside he might have. Of course, Campbell has been battling a hand injury of his own that has kept him out since Week 9 but he seems to be healthy now. A game against the Panthers in which Pascal might see James Bradbury's coverage could be a prime spot for Campbell to show out if he's ready to return to action.
Mecole Hardman (WR, KC) - 14-team leagues
Hardman has the highest upside of any players mentioned in the 14-team category; however, he's also the one with the healthiest players in front of him. Well, as healthy as Sammy Watkins can possibly be. The Chiefs are in a battle with the Texans for the #3 seed, but the difference between third and fourth likely isn't a game-changer. If the Chiefs have locked up the #3 seed or don't see it as a huge advantage, they may choose to rest their previously-injured star, Tyrek Hill, or his brittle backup, Sammy Watkins, which would free up more snaps and targets for Hardman. It's unlikely, but I'd rather stash a guy like Hardman on my bench in a deep league than a safe but boring option like Demaryius Thomas.
Kendrick Bourne (WR, SF) - 14-team leagues
Bourne has already had a few weeks of production when Emmanuel Sanders left with his rib injury. If Sanders sits in Week 16, an admitted long shot, Bourne could be an interesting play against the Rams in what should be a fast-paced game.
Christian Blake (WR, ATL) - 14-team leagues
When Julio Jones missed the game on Thanksgiving, Russell Gage kept his role as the slot receiver, and Christian Blake stepped up in the 11 personnel looks. Now, Austin Hooper coming back from injury will likely cut into those looks, but there's no reason the Falcons won't shutdown both Hooper and Jones if they have nothing to play for. If that's the case, Blake becomes the number two target on a team that throws more passes than 30 other teams, in a game against a beatable Jaguars secondary.
More Fantasy Football Analysis