Through the first two months of the season, we can start to establish where player performances land in 2018. As we assess our rosters, we can look to fill holes by trading away some overachieving assets.
With Ozzie Albies' (2B, ATL) hot start, he's currently the 18th ranked player in CBS 5x5 mixed-leagues. In CBS 5x5 NL-Only leagues, he's the fourth ranked player and the second-most valuable bat. While keeper-league owners will definitely want to hold Albies, some redraft owners may want to bring back multiple players or another core player in return for Ozzie Albies.
Hard as it may be to stomach, Ozzie Albies may have reached the peak of his performance for 2018, so flipping him now could pay off in the long run. Let's dive into the numbers to find out why.
Editor's Note: Our incredible team of writers received 13 award nominations by the Fantasy Sports Writers Association including Baseball Writer of the Year, Football Writers of the Year, Golf Writer of the Year and many more! Be sure to follow their analysis, rankings and advice all year long, and win big with RotoBaller!
Read More!
The Power Surge
During March and April, Albies slugged nine HR with an impressive .353 ISO. After posting a 1.41 GB/FB throughout his minor league career, he cut his MLB rate in half to 0.73 GB/FB with a 47.3 FB% during the first five weeks of the season. Where did the added loft come from during April?
(Courtesy of BrooksBaseball.net)
Albies added fly balls from pitches at the belt and those up in the zone as a right-handed hitter. His 42% hard-contact rate, 42.0 FB% vs. LHP, and 17% hr/f vs. LHP backed his five home runs against southpaws. As a RHH, he pulls the ball 39% of the time and hits to the middle part of the field 39% of the time. While it's a small sample, he has has a harder time lifting the ball on the outer-third of the plate as a RHH.
When he turns around to the the left-side, he has nine HR. Like a number of left-handed hitters, he is able to get his hands around quickly to provide loft on pitches down and in.
(Courtesy of BrooksBaseball.net)
He has hit the ball in the air more on pitches down and away as a LHH, but his infield fly-ball rate is 15.3% as a LHH. While he has hit the ball in the air on the outside of the plate as a LHH, his slugging has come from pitches at the middle of the plate and inside.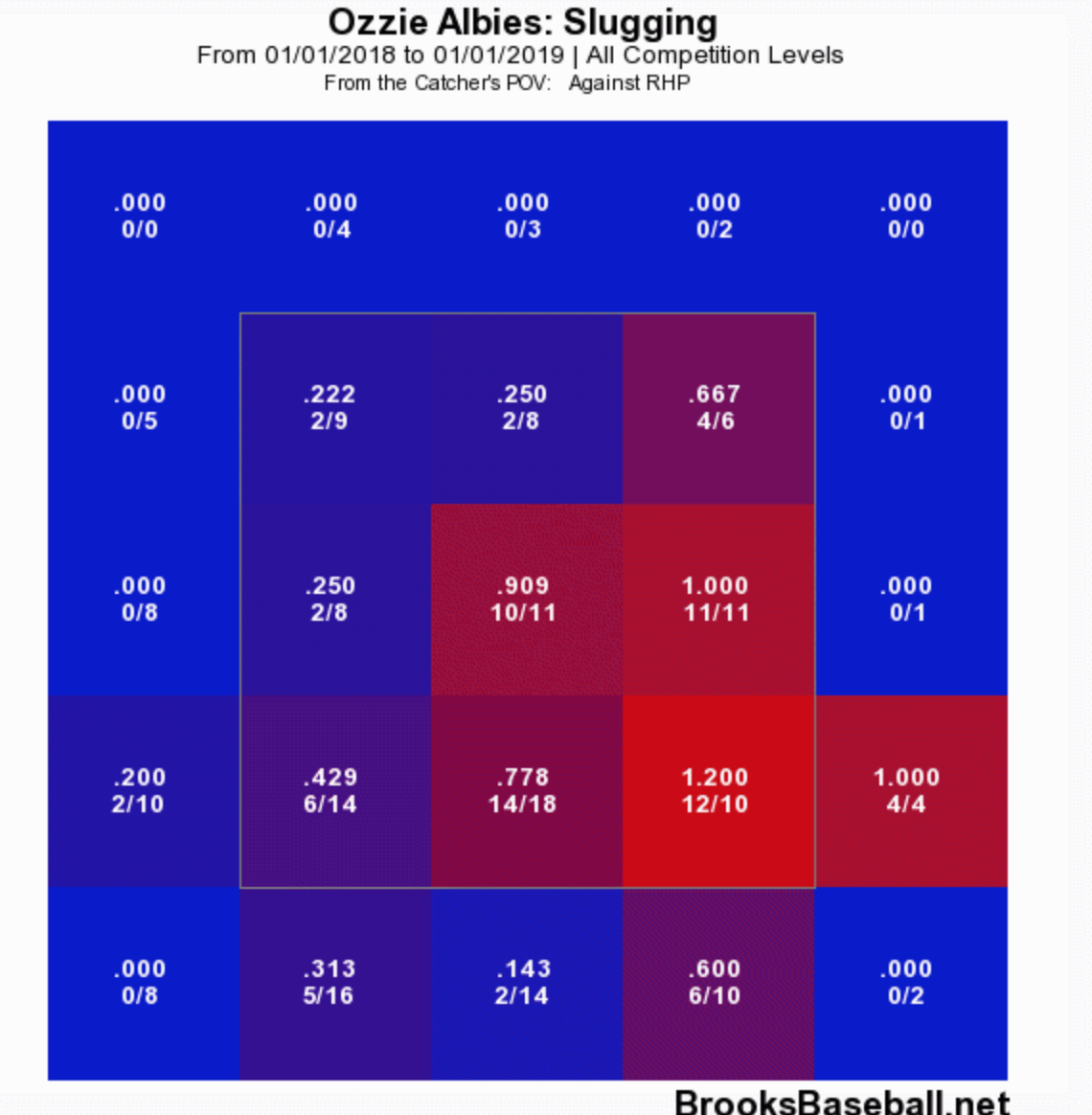 (Courtesy of BrooksBaseball.net)
His success versus those pitches are worth monitoring, as he starts to see the same pitchers again in 2018. Against RHP, his hard-contact rate (32.4%) is lower, and he pulls 46% of the balls-in-play as a LHH. Overall, his .509 OPS to the opposite field demonstrates his lack of slugging when it takes pitches the other way. When he pulls the ball, Albies has had success (1.211 OPS).
His 33% hard-contact rate on fly balls in April supported the increased power, and his average exit velocity on FB/LD increased from 90.0 MPH in 2017 to 93.7 MPH on FB/LD (89th in MLB) in 2018. After posting an 8% hr/f in 2017, his increased hard contact supported some of the jump to his 21.5% hr/f in March/April.
We can use his hard-contact rate as a selling point to interested owners because his 2018 skills have supported his success.
Well, what happened to his power in May? His 13% hr/f played a role, and he traded fly balls (37%) for line drives (25%) and ground balls (37%). Hitting fewer fly balls and his 1.03 GB/FB in May moving closer to his 1.41 MiLB GB/FB also worked against his power. Through four games in June, the trend (1.17 GB/FB) has continued.
His .988 OPS from March/April slid to .738 OPS in May, and he owned a .790 career-OPS in the minors. He became more of an average player in May, as his wRC+ slid from 163 in April to 100 in May. With his current profile, Albies' owners have already stockpiled more than half of his 2018 HR totals, and Steamer projects 11 HR for the rest of the season.
Batting Average and Speed
Coming into the season, owners targeted Albies for his ability to make contact and his speed. His 81.9 Contact% pairs well with his 29.0 (ft/s) sprint speed, which is 42nd in MLB and second at 2B.
A few more reasons to sell-his swings on pitches outside of the zone have increased slightly to 37.3% (O-Swing%) in 2018, and his .293 BA from March/April declined to .264 in May. While Steamer projections have a .270 BA for the rest of the season, fantasy owners have already banked his .320 BA from April.
Even though he crushes two-seam fastballs (1.290 OPS), he has had less success against curveballs, change-ups, and sliders. He has hit sliders on the ground 59% of the time. He has a .638 OPS and 25% K% versus curveballs. Change-ups have him swinging out of the zone 53% of the time with a 10.0 SwStr%, and when he does make contact, it has been on the ground 51% of the time vs. change-ups.
While his speed hasn't slowed down much, his SB totals are lower than some pre-season projections. After stealing 102 bags (with a 78% success rate) in 390 minor-league games, Albies has swiped six SB (75% success rate) in 60 games in 2018. Steamer projects another 12 SB in 2018, which is below what some owners may have expected.
Through 60 G, Albies has posted 8.8 Offensive Batting Runs. If Steamer's projections of a .270, 11 HR, 41 RBI, and 12 SB line is relatively close, that would lead to a disappointing -0.6 Off BRs for the rest of the season.
Maximize his Value
Use positive attributes, and there are plenty, of Ozzie Albies' game to play up his value. Although his skills are not suddenly going to tank, it will be difficult to sustain his high-BA and power numbers from April. Yes, he's a keeper-league gem, but we can maximize his value in redraft leagues if we have holes to fill. As he has provided top-20 value in 2018, aim for an elite return for Albies.
More 2018 MLB Advice and Analysis