As the NHL hits the stretch run, games can become compelling match-ups, even those between contenders and spoilers and that's the case for most of Sunday's action. The New Jersey Devils, Buffalo Sabres, Vancouver Canucks and Philadelphia Flyers are all teams on the outside looking in at the postseason and they are facing playoff teams. The Anaheim Ducks and Florida Panthers are out of the playoffs, though the Panthers are eight points out, which is only highly unlikely, not impossible, to make up.
That leaves us with two, maybe one, game between playoff contenders. The Edmonton Oilers are a long shot to reach the playoffs, seven points behind Arizona after an OT win against the Coyotes Saturday night, but they're still mathematically alive so we can presume that they aren't mailing in the rest of the season just yet. The Minnesota Wild are two points behind Arizona for the second wild card spot in the Western Conference, and they host the New York Islanders. These last couple of games are the ones that should, theoretically, be more competitive since both teams have an obvious motivation.
Keep in mind, however that, no matter what the perceived motivation, this also the time when spoilers do their work. On Saturday night, for example, the Detroit Red Wings beat the New York Islanders, the Chicago Blackhawks shut out the Montreal Canadiens and the Ottawa Senators blew out the Toronto Maple Leafs. So, there is a lot to keep in mind before getting down on today's action. Here are some angles to consider before the puck drops.
Editor's Note: Our friends at Monkey Knife Fight have released the best, most fun, fastest growing DFS props game! It's super simple to play and win real money. Just choose your NBA, NHL or PGA game, and make your picks! Get a 100% instant deposit bonus up to $50 using promo code: BALLER. That's $50 for free - don't miss out!
PHILADELPHIA-PITTSBURGH
OVER/UNDERS
Sidney Crosby OVER 0.5 ASSISTS – This isn't as automatic as it might appear, with Crosby recording a helper in seven of his past 14 home games, but hard to imagine that he won't stick it to the Flyers.
Shayne Gostisbehere OVER 4.5 SHOTS + BLOCKS – While this is a big number for a defenseman, Gostisbehere has a fighting chance because he has picked up his production in these categories, putting up at least five shots plus blocks in 10 of his past 16 road games.
RAPID FIRE
Evgeni Malkin +0.5 points vs. Claude Giroux – Consider this a gift from your friends at Monkey Knife Fight. Malkin is putting up 1.09 points per game at home, while Giroux has 1.03 per game on the road. Getting an extra half point with Malkin is the way to go.
NEW JERSEY-COLORADO
OVER/UNDERS
Erik Johnson UNDER 3.5 SHOTS + BLOCKS – This isn't an unreasonable number, but Johnson isn't generating a lot of shots, and has three or fewer combined shots plus blocks in 10 of his past 14 home games.
RAPID FIRE
Nathan MacKinnon -0.5 points vs. Kyle Palmieri – MacKinnon holds an edge, averaging 1.29 points per home game against Palmieri's 0.63 points per road game, but the Devils are also sinking with a bunch of injuries up front, making it more difficult for Palmieri to produce given the depleted supporting cast.
ST. LOUIS-BUFFALO
OVER/UNDERS
Ryan O'Reilly OVER 0.5 ASSISTS – The return of O'Reilly to Buffalo, and he comes in with a career-high 68 points in 71 games. He has picked up assists in 10 of his past 20 road games, but Buffalo is both a below-average opponent and one in which O'Reilly ought to be extra-motivated to show them what they gave up in last summer's trade.
Jack Eichel OVER 4.5 SHOTS + BLOCKS – Not only is Eichel a driving force offensively, averaging more than four shots on goal per game, but he blocks shots to the tune of nearly three every four games.
ISLANDERS-WILD
OVER/UNDERS
Ryan Pulock UNDER 4.5 SHOTS + BLOCKS – While Pulock does have a big booming shot and isn't afraid to unleash it, that's a big number to reach and he's recorded four or fewer shots plus blocks in eight of his past 20 road games.
Ryan Suter UNDER 0.5 ASSISTS – For as much as Suter contributes to the Wild, he's not a guaranteed offensive contributor. In is past 20 home games, he's recorded an assist in six of those games.
VANCOUVER-DALLAS
OVER/UNDERS
Tyler Seguin UNDER 4.5 SHOTS + BLOCKS – The Stars center has produced four or more shots plus blocks just twice in his past 17 road games. It makes no sense to expect an over.
Bo Horvat UNDER 0.5 GOALS – It's hard to expect a goal from most players, especially from Horvat, who has goals in six of his past 16 home games.
FLORIDA-ANAHEIM
OVER/UNDERS
Ryan Getzlaf OVER 0.5 ASSISTS – This call is going against the numbers, as Getzlaf has struggled to produce this season, recording assists in 12 of 30 home games, but the Panthers aren't a great defensive team and the Ducks are showing some signs of life.
Vincent Trocheck UNDER 4.5 SHOTS + BLOCKS – Coming back from injury this season, Trocheck hasn't been quite as effective as he was last season. His per-game average for shots plus blocks is closer to 3.5 per game so it's tough to bank on five or more.
EDMONTON-VEGAS
OVER/UNDERS
Mark Stone UNDER 0.5 GOALS – While he has started to find the net since joining the Golden Knights, Stone has yet to score in four home games in Vegas.
RAPID FIRE
Connor McDavid -0.5 points vs. Mark Stone – Let's double down on this and take McDavid to score more points than Stone. McDavid has multiple points in seven straight games, putting up 16 points in seven games.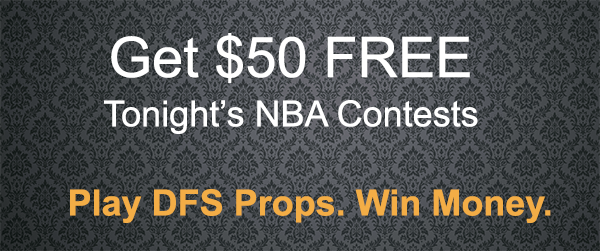 More Fantasy Hockey Analysis