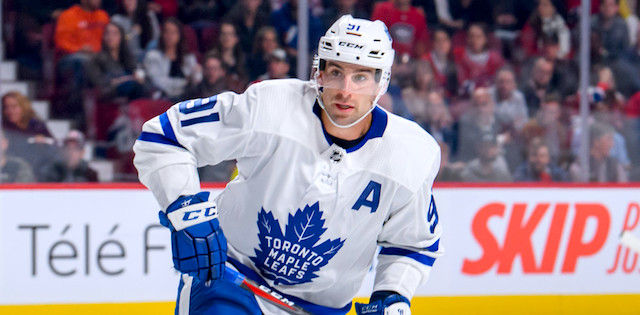 The Toronto Maple Leafs visit the New York Islanders Thursday night, the return of John Tavares to face the team that he played with for the first nine years of his NHL career before leaving as a free agent last summer.
Islanders fans lost it when Tavares decided to go, but that bitterness should be softened somewhat by the Islanders' surprising season. They came into the year with no expectations and are now, somehow, leading the Metropolitan Division.
This seems like a night when there will be a lot of boos, which isn't going to be made any better if Tavares returns to his old stomping grounds with his new team and stomps the Islanders. The good news for the Isles is that they are getting the Maple Leafs on the second half of a back-to-back and Toronto is down a couple of defensemen due to injuries.
Here are some more angles to consider before the monkeys drop the puck tonight.
Editor's Note: Our friends at Monkey Knife Fight have released the best, most fun, fastest growing DFS props game! It's super simple to play and win real money. Just choose your NHL, NBA or PGA game, and make your picks! Get a 100% instant deposit bonus up to $50 using promo code: BALLER. That's $50 for free - don't miss out!
TORONTO-ISLANDERS
OVER/UNDERS
Mathew Barzal OVER 0.5 ASSISTS – Talk about going against the grain. Barzal has gone eight straight home games without recording an assist, but the Leafs are on the second night of a back-to-back and are going into the game with a depleted defense corps.
John Tavares OVER 0.5 GOALS – In the same vein, JT has gone eight straight road games without a goal, but this isn't just any road game. Tavares will be in the spotlight and I reckon that he finds a way to get on the board, which isn't that far-fetched for someone with 19 goals in 30 road games.
https://www.monkeyknifefight.com/game/17/1502111942
PHILADELPHIA-COLUMBUS
OVER/UNDERS
Claude Giroux UNDER 0.5 ASSISTS – Enough of this going against the statistical grain. Giroux has recorded an assist in just one of the past 12 road contests, and this Columbus team is going to be playing some desperate hockey as they battle for a playoff spot.
James van Riemsdyk UNDER 0.5 GOALS – JvR is a consistent scoring threat, but he's also found the net in just three of his past 15 road games. Going to Columbus doesn't seem like the best way to bust out of that rut.
https://www.monkeyknifefight.com/game/17/1502111962
EDMONTON-OTTAWA
OVER/UNDERS
Thomas Chabot OVER 0.5 ASSISTS – Chabot has assists in 16 of 28 home contests, the Oilers are on the second night of a back-to-back, and the leading scorer left on the Senators roster will need to contribute offensively.
Cody Ceci UNDER 4.5 SHOTS + BLOCKS – Even if he's playing a significant role for the Senators, Ceci has had four combined shots plus blocks in six straight home games.
https://www.monkeyknifefight.com/game/17/1502111982
TAMPA BAY-BOSTON
OVER/UNDERS
Nikita Kucherov UNDER 3.5 SHOTS + BLOCKS – As amazing as Kucherov has been this season, he doesn't generate a ton of shots or blocks and that includes a combined three or fewer in seven of his past 11 road games.
Brad Marchand OVER 0.5 GOALS – Home-ice Brad Marchand produces like a Hart Trophy candidate, and he's scored goals in four straight on home ice. Even with a tough matchup, he can get it done against the Lightning on the second night of a back-to-back for Tampa Bay.
https://www.monkeyknifefight.com/game/17/1502112002
VANCOUVER-ARIZONA
OVER/UNDERS
Alex Galchenyuk UNDER 0.5 ASSISTS – He's as much a shooter as he is a playmaker, and Galchenyuk has contributed at least one assist in just six of his past 25 home games.
RAPID FIRE
Derek Stepan -0.5 shots + blocks vs. Kevin Connauton – Stepan is a more consistent threat who is averaging a career-high 2.84 shots on goal per game and plays a bigger part in the Coyotes game plan.
https://www.monkeyknifefight.com/game/17/1502112022
FLORIDA-VEGAS
OVER/UNDERS
Paul Stastny OVER 0.5 ASSISTS – Although Stastny has assists in just nine of 19 home games this season, he's getting an upgrade on the right side, with newcomer Mark Stone taking over from Alex Tuch. Florida is also suspect enough defensively to believe that Stastny can find his way to a helper.
Jonathan Huberdeau UNDER 0.5 ASSISTS – A terrific playmaker, Huberdeau does have trouble generating assists at the same rate on the road and has recorded an assist just once in his past nine games away from South Florida.
https://www.monkeyknifefight.com/game/17/1502112042
DALLAS-LOS ANGELES
OVER/UNDERS
Tyler Seguin UNDER 0.5 ASSISTS – The Stars' top center has recorded assists in 14 of 32 road games, which isn't great, and it gets tougher with Jamie Benn and recently-added Mats Zuccarello out of the lineup with injuries.
Anze Kopitar UNDER 3.5 SHOTS + BLOCKS – It hasn't been a banner season for Kopitar, and the Kings in general. He's been limited to three or fewer shots plus blocks in 11 of his past 18 home contests.
https://www.monkeyknifefight.com/game/17/1502112062