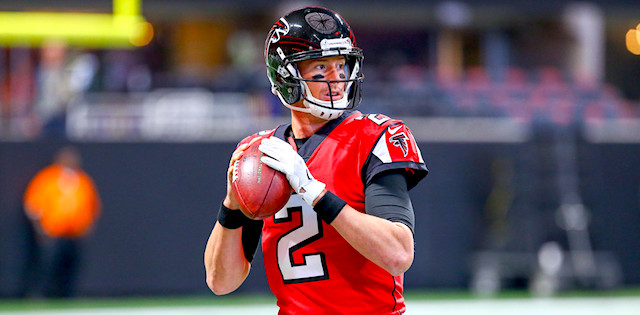 Week 6 wrapped up with the Green Bay Packers giving survivor entries a huge scare. It looked like the Packers were done. Their defense was so bad allowing 7.3 yards per play, yet Aaron Rodgers did it again. He should win the MVP. For those of you saying Pat Mahomes should win, they were a playoff team with Alex Smith last year that also started the season 5-0. Without Rodgers, the Packers would be a dumpster fire.
The other big favorite of the day were the Houston Texans and they did everything they could to lose the game, but Nathan Peterman handed it to them.
With nearly all participants in survivor pools eliminated, you may not find a need to read this column. However, some survivor pools have restated. there's still plenty of good tidbits to help you with your daily fantasy squads. Plus, my best bets against the spread at the bottom of this column.
Editor's Note:
For a limited time,
RotoBaller readers can get $25 off any FFPC Contest
. Just sign up for a new account, join any type of game including
Best Ball or Superflex
,
Dynasty Startup
,
Victory Points
, or FFPC's one-of-a-kind
Terminator contest
, and the $25 voucher will be applied to your account immediately!
Sign Up Now!
Nuggets from Week 6
Baltimore had more sacks, 11, than completions allowed, 10
The Titans have failed to score a touchdown in half their games
Once again, the Falcons don't turn it over, and the game comes down to the last play
One punt in the Chiefs-Patriots game
The Bucs are tied for first in yards per play, but last in opponent yards per play
Survivor League Strategy
For those of you unfamiliar with survivor pools it's very simple; pick a team to win each week. If they win you move on to the next week. But you cannot use that team ever again. There is no point spread involved.
I will also be giving out my three top plays against the spread. I will italicize those three teams. It will look like this: Patriots -7 vs. Jets. The team I like in any given game against the spread will be first.
Before making any picks, look at the point spreads. Vegas has the best minds, smarter than any of us. Use them to get a glimpse at how each team is projected to fare that week.
Teams favored by more than seven in Week 7 per The Action Network app (home team in caps):
Rams -10 @ 49ERS
COLTS -7.5 vs. Bills
If you're reading this article on Thursday or later, these lines are from Wednesday. Check the current spreads and see how the line moved.
Teams on bye: Packers, Raiders, Steelers, Seahawks
Top Survivor Picks for Week 7
In order of my favorite selections:
Rams -10 @ 49ERS
The Niners just played the game of their lives and lost in heartbreaking fashion. Now they're on a short week for a game against the best team in football. Despite being an average defense, the Niners won't be able to stop the Rams. LA has already had their scares against the Seahawks and Denver the last two weeks. This should be a cakewalk.
Rams 37 - 49ers 20
JAGUARS -5 vs. Texans 
This is more about how lucky the Texans have been than how awful the Jags have been the last two weeks. Houston was 0-3 when Frank Reich decided to go for it on fourth down from his own 40. The Texans ended up winning the game. The week after, Jason Garrett decided not to go for it in overtime on fourth-and-1 on the opposing 40. They punted and Houston won. Last week, Nathan Peterman was Nathan Peterman. Those are three of the luckiest wins I've seen.
I can't stand backing Blake Bortles because he is as Mike Lombardi says, "The Great Equalizer." But, Houston struggles to get off the field on third down as they rank in the bottom five. The Jags defense will revert to their old ways and dominate the Texans anemic offensive line. That unit's allowed Deshaun Watson to get sacked 25 times, second-most in the league, and hit an insane 65 times. That's worst in the league and 18 more than the next. The Jags will get pressure and win this one.
Jaguars 23 - Texans 14
FALCONS -6 vs. Giants
Atlanta has had a typical Falcons season. They find ways to lose in different ways and this past Sunday could have been one of the most unimaginable ways to lose on a quarterback draw with some laterals. They've lost four games. The first one because they couldn't score in the red zone, the second to the Saints in overtime, the third to the Bengals on the last play, and the fourth to the Steelers in what was a bad game.
They've turned the ball over a league-low three times. That's better than the Chiefs and Saints, five each, and the Rams, six. We all made fun of their touchdown scoring in the red zone last season, but it's been fixed up this season as they are in the top-five in that stat. They also average the ninth most points per game. The issue is their defense. They've had probably the most injuries, but that shouldn't be an excuse because it's next man up. They're 29th in opposing yards per play, 31st in opponent third down conversion percentage.
I'll try not to let recency bias get in my head after the Giants dreadful Thursday night performance, but it's really hard not to. Eli Manning won't throw it down the field. Odell Beckham Jr. would rather talk and do his usual antics than play. They are average in the important stats, but when it comes scoring they rank 27th. They also rank 29th in red zone touchdown scoring and that's the way to beat the Falcons because they rank 30th in opponent red zone touchdown scoring.
The Falcons are 3-0 in home prime-time games since 2015, and they'll make it 4-0.
Falcons 34 - Giants 24
Plus, here's a great gambling nugget:
It hits yet again. Now the record is 39-12. Next week the #Falcons host the #Giants before Atlanta goes into their bye week https://t.co/oG4QRztduJ

— Seth Finkelstein (@SethFinkTV) October 16, 2018
Bills +7.5 @ COLTS
I originally had this game as an avoid, but then the news came out Josh Allen is going to be out for some time. That means Nathan Peterman gets the start. The Bills defense will keep them in it, but Peterman will throw the game away somehow.
Colts 26 - Bills 20
Top Survivor Picks to Avoid 
Titans +6.5 vs. Chargers (London)
I've learned my lesson enough taking the Chargers as touchdown favorites. They underwhelm when they're getting the respect from the public. The Titans have looked so bad failing to score a touchdown in their last two games and three of their last four. It doesn't make sense the Titans can keep pace with the high-octane offense of the Chargers, but Tennessee has a good defense. They're fifth in opponent yards per play and third in opponent red zone touchdown scoring. The Chargers are 10th in scoring touchdowns in the red zone. That's where this game will be decided. The Chargers will move the ball, but can the Titans hold them to field goals. If so, this game is going to be a lot closer than people expect.
Chargers 23 - Titans 21
The Rest 
Broncos -2.5 @ CARDINALS (Thursday night) - What an awful game. If Vance Joseph sticks to the running game, the Broncos should have no problem winning. They rank 10th in rushing offense, averaging 124 yards on the ground. The Cards rushing defense ranks 31st. The Broncos rank last in rushing defense, but it's not like the Cardinals can run the ball themselves as they are dead last in rushing.
Patriots -3 @ BEARS  - Bill Belichick will design a way to slow down Khalil Mack. The Patriots are rolling and it's foolish to go against them until they lose.
Browns +3 @ BUCS - The Bucs are two completely different teams. They have one of the best offenses and probably the worst defense. That's why they just fired their defensive coordinator Mike Smith. The stat that will decide this game is turnovers. The Browns are tied for first in turnover differential at plus seven while the Bucs are 30th, minus six.
EAGLES -4.5 vs. Panthers - Can the Eagles get pressure on the quarterback as they did to Eli last week? If so, Cam Newton will be in a lot of trouble. I have a feeling the Eagles are about to go on a winning streak.
Vikings -3 @ JETS - Who would've thought the Jets would be one of the hottest offenses in football? Now the Vikings and their ferocious defense comes to town. I think Mike Zimmer will confuse Sam Darnold and force him into several interceptions.
RAVENS -2.5 vs. Saints - I'm always nervous of taking the Saints on the road outdoors. Sean Payton is 7-4 against the spread off a bye, and the Saints are 3-2 straight-up off a bye since 2013. I've been to Baltimore's stadium and it's one of the loudest stadiums I've been to. With an opponent like the Saints coming to town, this will be a raucous crowd. If the Ravens can get half the pressure they got on Marcus Mariota last week on Drew Brees, they'll win. This will be a very tight game.
REDSKINS -1.5 vs. Cowboys - Both of these teams are so Jekyll and Hyde. I just can't trust the Dallas offense especially Jason Garrett to put together two good games in a row.
Bengals +6 @ CHIEFS (Sunday night) - Perhaps the Bengals are overcoming their bad prime-time history after their win over the Ravens in Week 2. The Bengals have a great interior pass rush and that may stymie Pat Mahomes. Six points is a lot to give with a defense as bad as the Chiefs. Plenty of room for a backdoor cover.
*There is no line on the Lions at Dolphins game because of Ryan Tannehill's injury. However, if the Lions are favorite, I love them. I gave out a stat last week about road favorites off a bye.
NFL team ...
+ road favorite
+ 13+ days rest
= 60-22 Against The Spread (73% ATS since 2002)#Bears -3 (at #Dolphins)

— RJ Bell (@RJinVegas) October 11, 2018
Despite the Bears blowing it, I'm going right back to it ONLY IF Detroit is a favorite.
My Running Season Total
Best bet ATS record: 7-10-1
This week: Rams -10, Falcons -6, Lions (ONLY IF ROAD FAVORITE) if not, then Titans +6.5
Last week: 0-2-1

Good luck RotoBallers, and I'll be back next week previewing Week 8.
More Weekly Lineup Prep