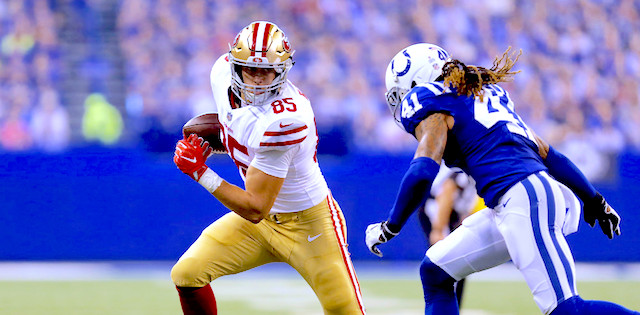 The 2019 National Football League regular season is winding down and Sunday brings a 16-game slate of games, several of which still matter for playoff status.
After beating the Dallas Cowboys last week, the Philadelphia Eagles still need a win at the New York Giants to win the NFC East.
The San Francisco 49ers have the edge for home-field advantage but they are one of three teams at 12-3 – Green Bay and New Orleans are the others – so they still need to win (or tie) against 11-4 Seattle to win the NFC West in addition to trying to secure the top record in the conference.
The Tennessee Titans are in Houston with a chance to earn the last playoff spot in the AFC. If not, the Pittsburgh Steelers could have a chance against a Baltimore Ravens team that has secured home field throughout the AFC Playoffs.
There will be games that don't hold as much meaning which makes the handicapping all the more difficult, particularly when it comes to props that are so dependent on player usage.
Here are some angles to consider before making Monkey Knife Fight prop picks for Week 17 in the NFL.
Editor's Note: Here's a great special offer for all RotoBaller readers from our Monkey Knife Fight friends: New AND Existing Player Bonus. All players receive a 100% matched signup or reload bonus up to $50 with code 'RBNFL19'. Sign up and deposit, and use our prop picks to get off on a winning foot! 
STAR SHOOTOUT - EARLY GAMES
MORE OR LESS
Jameis Winston MORE THAN 317.5 PASSING YARDS – This is a big number to cover, yet one that Winston has gone over in eight of 15 games this season. He goes up against an Atlanta defense that ranks below league average in passing yards per game (248.3) allowed and yards per pass attempt (7.7) allowed so even with a patchwork receiving corps, Winston should be able to keep his entertaining (and monster fantasy) season going for one more week.
Patrick Mahomes LESS THAN 299.5 PASSING YARDS – Mahomes obviously has the potential to put up huge numbers but he did it more often early in the season than he has lately, throwing for less than 300 yards in four of the past five games.
Matt Ryan MORE THAN 293.5 PASSING YARDS – The Falcons have been a lively underdog in the second half of the season and Ryan has put up some big yardage in the process. He has thrown for at least 294 yards in 10 of 14 starts this season, though he did pass for 271 yards against Tampa Bay in Week 12, one of two weeks in the past six in which Ryan was held under 300 yards passing.
Tom Brady LESS THAN 280.5 PASSING YARDS – This is a rather large number for Brady to cover, considering how mediocre the Patriots passing game has been down the stretch. He has thrown for more than 280 yards once in the past six games and twice in the past nine. The Dolphins are among the bottom-ranked teams when it comes to pass defense, which does offer some opportunity, but the Patriots don't seem likely to air it out in Week 17.
RAPID FIRE
Julio Jones +1.5 receptions vs. Michael Thomas – Incredibly, Thomas won this matchup last week despite Jones hauling in 10 passes on 15 targets for 166 yards. It's reasonable to expect a big finish for Jones against Tampa Bay and while it's really hard to go against Thomas, who has double-digit receptions in six of the past eight games, Carolina's pass defense has been a little better than average and the difference in competition gives Jones and edge this week.
Nick Chubb -3.5 rushing yards vs. Christian McCaffrey – McCaffrey's versatility as a receiver makes him a slight underdog in this matchup. He averages 90.7 rushing yards per game, compared to 96.9 rushing yards per game for Chubb. With Chubb going against Cincinnati and McCaffrey taking on New Orleans, the advantage still rests with Chubb.
STAR SHOOTOUT - LATE GAMES
MORE OR LESS
Carson Wentz MORE THAN 269.5 PASSING YARDS – After not doing a whole lot through the air for much of the season, the Eagles quarterback has had a strong finish, passing for at least 300 yards in three of the past four games. He gets the Giants this week in a must-win game for the Eagles to win the tortoise race that is the NFC East and the Giants rank 31st in yards per pass attempt (8.1).
Dak Prescott MORE THAN 261.5 PASSING YARDS – The team results for the Cowboys have been disappointing in every respect but Prescott has thrown for more than 261 yards in five of the past seven games. He's still productive even as the team has gone 2-5 in those seven games. Of course, losing teams throw the ball more so that has given Prescott plenty of opportunity to put up passing yardage.
Derek Carr MORE THAN 239.5 PASSING YARDS – This is a manageable number for Carr, who has passed for at least 240 yards in nine of 15 games thus far, including the past three. Denver's pass defense has been strong, allowing 215.3 passing yards per game and 7.0 passing yards per attempt, so it won't be easy, but the Raiders passing game has been respectable late in the season.
Drew Lock MORE THAN 233.5 PASSING YARDS – Although the Broncos rookie is averaging 210.8 passing yards per game in his first four NFL starts, he could potentially benefit from facing a Raiders Defense that is allowing a league-worst 8.4 yards per pass attempt.
RAPID FIRE
Dallas Goedert -0.5 receptions vs. Michael Gallup – A thinned-out receiving corps for the Eagles has meant more throws to tight ends and Goedert is averaging 6.0 receptions per game over the past five. Gallup has had a strong season for Dallas, going over 1,000 yards last week but is averaging 3.8 receptions per game in the past five.
Courtland Sutton -0.5 receiving yards vs. Amari Cooper – Even with Sutton's production down lately – he's averaging 51.0 receiving yards per game over the past five – that's still better than Cooper, who is averaging 42.8 yards per game in the past five and has had three games under 25 yards in that span.
Saquon Barkley +8.5 rushing yards vs. Ezekiel Elliott – The middle portion of Barkley's season wasn't that productive as he was still recovering from a high ankle sprain, but he's gone for more than 100 rushing yards in back-to-back weeks, including a season-high 189 yards last week. Elliott has one 100-yard rushing game in the past seven.
SAN FRANCISCO-SEATTLE
MORE OR LESS
Jimmy Garoppolo LESS THAN 250.5 PASSING YARDS – Jimmy G has passed for more than 250 yards six times this season but the 49ers haven't needed to throw the ball that much because they have won 12 of 15 games. The Seahawks are allowing 7.2 yards per pass attempt, which is a little better than average, so we'll cling to that as reason to think Garoppolo will stay under 250 yards this week.
Russell Wilson LESS THAN 246.5 PASSING YARDS – The Seahawks quarterback doesn't tend to put up huge yardage totals and has thrown for more than 246 yards once in the past six games. Combine that with a 49ers Defense that is allowing 5.9 yards per pass attempt, the second-best mark in the league, and it doesn't seem like a night for big passing numbers.
RAPID FIRE
George Kittle -14.5 receiving yards vs. Kevin Lockett – Since returning from injury, Kittle has averaged 85.2 receiving yards per game over the past five weeks. Lockett, on the other hand, has been battling injury and is averaging 39.8 yards per game in the past six. The edge goes to the prototype tight end that isn't facing a dominant pass defense.
Deebo Samuel +2.5 receiving yards vs. D.K. Metcalf – An interesting matchup of young players who have emerged as valuable contributors for their respective teams. Metcalf is averaging 54.6 yards per game, compared to 50.0 per game for Samuel, but the 49ers pass defense levels that playing field enough to like Samuel as the underdog.

More Weekly DFS Analysis