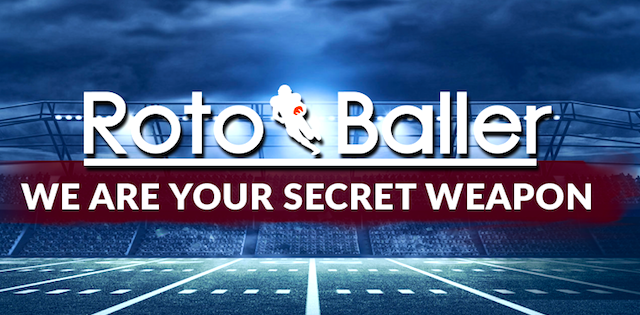 Now that we're into the final few weeks of the college football regular season, we changed the format of this piece. We began looking at a different fantasy position and highlighting some of the key future fantasy stars to watch on Saturday. In order to give dynasty owners and owners in larger leagues a leg up, we're not solely going to focus on the likely first-round picks but also players who could be drafted later in the NFL Draft but emerge as impactful fantasy stars.
This will be the first of two articles on the wide receiver position since it's among the deepest in recent memory. There are many prospects who might be first-round talents in other drafts that will hear their name called late on day two. Which means there are tons of good prospects who won't go until day three.
For this piece, we'll look at some wide receivers playing this Saturday who should be taken in the first three rounds this year. First, let's look at how last week's featured players performed.
Editor's Note: Get any rest-of-season NFL Premium Pass for 50% off. Our exclusive DFS Tools, Lineup Optimizer and Premium DFS Research through the Super Bowl.
Sign Up Now!
Week 12's Featured Players
Jonathan Taylor, Wisconsin – Projection: 2nd Round Pick – Taylor ran all over Nebraska for 204 yards and two touchdowns on 24 carries. He also caught two passes for eleven yards. He doesn't have the open field ability to make him the dynamic three-down back that gets selected in the first round, but he will be a second-round pick and a starter for a while.
Chubba Hubbard, Oklahoma State - Projection: 3rd Round Pick – Hubbard ran for 122 yards and two touchdowns on 23 carries, while also adding 42 yards on two receptions. He's not going to be in the first round discussion and with the way that running backs are currently being values in drafts, lots of top backs will still be around in the 2nd, which is why I think he ends up in round three as a dynamic playmaker.
Najee Harris, Alabama State - Projection: Late Day Two / Early Day Three – Harris showed his all-around gamed with 88 yards rushing and three touchdowns on 17 carries while adding 51 yards and another touchdown on three catches. His versatility and overall talent level should push him into the back of the 3rd round.
D'Andre Swift, Georgia - Projection: First Round Pick – Swift was held in check, relatively speaking, by a tough Auburn defense. He finished with 106 yards on 17 carries but only negative-three yards on two catches. Games like this will keep him in the mid to first round because he's not a guy who seems likely to take over every game, like Christian McCaffrey or Saquon Barkley, who both went much higher.
Travis Etienne, Clemson - Projection: Second Round Pick – Etienne carried the ball 16 times for 121 yards and a touchdown and, importantly, added 37 yards on three catches. Overall, it was a solid day at the office in a blowout and not one that is going to move the needle on his draft stock much.
Eno Benjamin, Arizona State – Projection: Early Day Three Pick – Benjamin disappointed with 70 yards and a touchdown on 15 carries against a mediocre defense. He added 27 yards on five catches, which was nice to see, but I just don't see a starting NFL running back here.
Scottie Phillips, Ole Miss – Projection: Late Day Three – Phillips didn't play due to injury. I just want to see him back on the field.
Michael Warren, Cincinnati – Projection: Day Three Pick – Warren rushed for 134 yards and a touchdown on 26 carries and was also the Bearcats' leading receiver with 30 yards on two catches. He's not going to vault up into the day two conversation, but he might wind up being a 4th or 5th round pick that can carve out consistent playing time. He's a good football player.
Week 13 Matchup to Watch - Saturday Early Games
This series covers players featured in nationally televised games who could likely emerge as fantasy assets after next year's NFL draft.
Western Carolina - Alabama 12:00 PM ET
Jerry Jeudy, Alabama – Projection: Top 15 Pick
Jeudy is an athletic marvel. He has top-end speed, which makes him a deadly deep threat, but he also used deft footwork on his routes to create easy separation. He's a good hands catcher and despite being a little smaller than teams would like for their top wide receiver, he's the clear top prospect in one of the best receivers classes in years.
Are you serious Jerry Jeudy? What a catch pic.twitter.com/aNvl1hXmNZ

— Joe Broback (@joebroback) November 9, 2019
Henry Ruggs III, Alabama - Projection: 1st Round Pick
If Jeudy is fast, Ruggs is faster. He might be the fastest receiver in the draft but isn't limited to being just a deep threat. Alabama uses him a lot in the red zone, despite being only 6'0", because of his leaping ability and his body control after the catch. He's also dangerous with the ball in his hands in the open field, so think more Will Fuller than Robert Foster.
Let's just take a second to acknowledge the difficulty level on this catch by Henry Ruggs:
- Insane vertical
- Running full speed
- One handed grab thrown behind him
- Beat out nationally recognized DB Greedy Williams

— AJ Spurr (@SpurrFM) June 23, 2019
Minnesota - Northwestern 12:00 PM ET
Tyler Johnson, Minnesota - Projection: Late 1st Round Pick
One of the rising stars in this year's draft class, Johnson has tremendous ability to high point the ball and go up and get passes in traffic. He runs solid routes and creates defensive hesitation with his footwork, but he's not going to leave corners in the dust. However, Johnson's strong hands, solid breaks on routes, and ability to go over defenders at 6'2" reminds me of Stephon Diggs. He may lack Digg's top-end speed, but with a 4.46 40-yard dash, Diggs wins with acceleration and quickness more than flat out speed, something Johnson is also able to do.
TYLER. JOHNSON. 😍 pic.twitter.com/jwCMW2OOZ8

— Austin Gayle (@PFF_AustinGayle) November 9, 2019
Penn State - Ohio State 12:00 PM ET
KJ Hamler, Penn State – Projection: 2nd Round Pick
At 5'9" 175 pounds, Hamler is one of the smaller receivers being talked about as an early-round pick, but he also might be the most explosive. He can win on deep routes or simple break people's ankles the ball in his hand. He's a lot like Tyreek Hill in that way. His smaller stature may prevent him from being a primary red-zone target, but he has good strength after the catch and can make a fantasy team's day in just one play, as evidenced by this:
KJ Hamler broke out the high step and cutback move 😱 @kjhamler76 @PennStateFball

(via @CFBONFOX) pic.twitter.com/je68UCeYJ4

— The Checkdown (@thecheckdown) September 28, 2019
Week 13 Matchup to Watch: Afternoon Games
Texas - Baylor 3:30 PM ET
Collin Johnson, Texas - Projection: 3rd Round Pick
At 6'6" 220 pounds, Johnson may be the polar opposite of Hamler. He uses his strength and long arms to win rather than his speed. He's not going to make many people miss in the open field and he sometimes struggled to disengage from corners at the line of scrimmage, but he can make catches in traffic, which makes him an ideal red-zone target. I don't think he'll become a game-breaker at the next level, but he will always carry fantasy value with the high-quality targets he'll get.
Credit Keaontay Ingram with a nice blitz pickup on Collin Johnson's 26-yard catch, setting up the Texas' first points. pic.twitter.com/DBLMkE1cUa

— Brian Davis (@BDavisAAS) October 26, 2019
Denzel Mims, Baylor - Projection: Late 2nd or early 3rd Round Pick
Mims is another receiver who is flying up draft boards. After a slight step back in his junior year, Mims has exploded in his senior season, already totaling 767 yards and 10 touchdowns in 10 games. He has an incredible catch radius and impressive body control to make plays in the red zone and on the sideline. However, he was also an impressive track athlete and has the deep speed and burst to beat defenders deep. Mims is truly a well-rounded threat, and I wouldn't be surprised to see him keep climbing. This catch against Texas Tech was one of the best I've seen:
we're sending denzel mims to the space jam football gamepic.twitter.com/tt2nI1mp4m

— Thor Nystrom (@thorku) November 13, 2019
Indiana - Michigan 3:30 PM ET
Donovan Peoples-Jones, Michigan - Projection: 3rd Round Pick
Peoples-Jones' draft status will be based on upside and raw talent rather than performance. He's been in a Michigan offense that has largely depended on the run and was otherwise chaotic earlier this season as they tried to find an identity under a new offensive coordinator. However, DPJ has the quickness and footwork to beat man coverage and create separation on his routes and the hands to make tough catches in traffic. As a punt returner, he's also shown good open-field ability which could present more yards-after-catch value in the NFL and lead to even more big plays.
Touchdown got called back but Donovan Peoples-Jones still showing off impressive YAC. pic.twitter.com/3x5icdspzz

— Rob Paul (@RobPaulNFL) November 16, 2019
Week 13 Matchups to Watch: Night Games
LSU- Arkansas 7:00 PM ET
Justin Jefferson, LSU – Projection: 3rd Round Pick
With Joe Burrow taking the next step in his development, Justin Jefferson has been able to make similar leaps in his game, already catching 11 touchdowns and 1,010 yards. Listed at 6'3" 195 pounds, Jefferson has the size and strength to win over the middle of the field or in contested situations. He also is another in a long line of natural athletes in this class, which gives him good body control on sideline and red-zone catches. He's not fast, but he's certainly quick enough and deft enough with his footwork to create consistent separation on his routes.
How deep is the Highly-Touted 2020 WR Class? LSU Star Justin Jefferson is Proj. Day 2 and would be first rounder in past drafts. A true athlete, his bro Jordan was an LSU QB; his bro Rickey was recently on the Saints.

Route Running ✅
Contested Catch ✅ pic.twitter.com/jcGTo8ils0

— Maliik 🏁🇳🇬 (@Obee1ne) November 14, 2019
TCU - Oklahoma 8:o0 PM ET
CeeDee Lamb, Oklahoma – Projection: Top 10 Pick
Lamb is the engine that drives Oklahoma's impressive offense. At 6'2" 190 pounds, he has good size for the position and is simply a naturally gifted athlete. He has impressive suddenness in his movements and agility to go up and make tough catches. He runs a varied route tree and sets up those routes well enough to beat any type of coverage. He lacks the deep speed of Jeudy but has enough speed and wiggle to create big plays, which will make him a dynamic NFL receiver and a high-quality fantasy option. Think of him as an Odell Beckham Jr type of receiver: not a burner, but a high-level route runner with ridiculous hands who can beat you in many ways.
Ceedee Lamb so far this season (@PFF):

-Passer rating of 155.9 when targeted (1st among qualifying WRs)
-13 TDs (T-1st)
-18 avoided tackles (4th) ON JUST 44 CATCHES.

Lamb is absurd at the catch point and a threat in the open field 🔥pic.twitter.com/57PeM6BtzZ

— Evan McPhillips (@emcphil) November 14, 2019
Jalen Reagor, TCU – Projection: 2nd or 3rd Round Pick
Reagor has cooled a little bit after a strong start, but that has more to do with his offense than his ability. He's another explosive athlete in this class, who was a record-setting high school track athlete. He's smooth in his routes, setting them up cleanly to create separation or fight through creases. He has the ability to go up and make plays on contested catches despite his 5'11" frame, but he needs to be more consistent in that regard in order to take the next step as a receiver. Still, with his elite speed and fluidity as an athlete, he could be a prospect in the mold of DeSean Jackson – a true one-play game-breaker.
Duggan has been much more effective as a passer out of play action. This play is no exception, as he puts a DIME on Jalen Reagor (@TheJalenReagor) who outruns the Texas Tech corner for 6. Great job to put it in stride by Duggan and maybe an even better catch by Reagor.#WNSFilm pic.twitter.com/LjRSErdLVy

— Alex Katson (@alexkatson) November 20, 2019
More NCAA Football Analysis