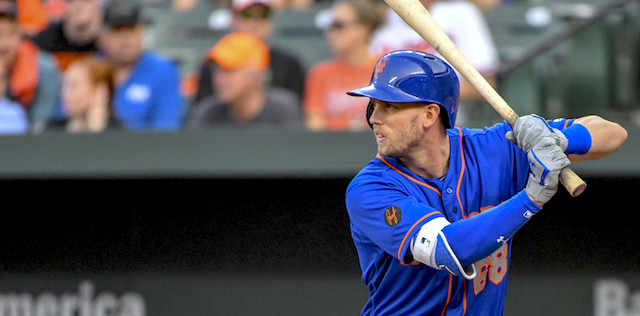 We have already seen several players opt out of the season and others having their outlooks for the beginning of the schedule clouded by COVID-19. There will certainly be more players forced out of action, and some may even elect to walk away when they reach certain service time thresholds or if their team falls out of contention.
It is very important to ensure your roster against possible losses of players for any period of time. Those who qualify at multiple positions have become more important and essential to fantasy baseball survival in this completely unique season of uncertainty. Throughout your draft, you may want to move multi-position eligibility types up your board a smidgen more than usual. These versatile performers can ease some roster concerns when players suddenly become unavailable, especially in leagues with limited reserve spots.
Some of these hitters will start for your team regardless, yet will make lineup maneuverability easier when you inevitably have to deal with players becoming unavailable. While we feature some of our favorites that can qualify at three or more positions based on 20 games logged last year, do not forget there are many players who can qualify at two positions, and that also helps your flexibility. If a player qualifies at both first base and outfield, for example, he can essentially play 1B, OF, and slide in at corner infield. Those types can be quite valuable as well this year.
Editor's Note: Our incredible team of writers received 13 award nominations by the Fantasy Sports Writers Association including Baseball Writer of the Year, Football Writers of the Year, Golf Writer of the Year and many more! Be sure to follow their analysis, rankings and advice all year long, and win big with RotoBaller!
Read More!
In this shortened season, you want to put an increased emphasis on hitters who can deliver a higher batting average, as they may tend to be less streaky. McNeil is one of the best all-around combinations of versatility, BA, and some power. He hit .337 last year with 23 homers and his .385 WOBA was in the top 8 percent of the league. McNeil had an xBA of .290 and an xWOBA of .355, so he won't fall too far off from last season's levels. His K% of 13.2 was in the top nine percent.
McNeil hit 14 homers in 57 games at Double-A ball and the HR/FB rate of 15.4% is not extremely unusual. McNeil is a superb hitting technician and a very valuable piece for 2020. The ADP of 81 is a bit low when you consider the all-around appeal of eligibility and somewhat safe production.
He can fill any corner infield and two middle infield spots. Muncy is a risk to get streaky, but he could also give your team a significant power boost if he gets hot for awhile during the reduced schedule. Muncy dropped his K% a bit to 25.3 last year and his HR output is consistent, as he has hit 35 in each of the past two seasons. Muncy's xWOBA of .385 was in the top eight percent of MLB last year and his BB% was top four percent, making him even more valuable in OBP leagues (.364).
He scored a career-best 101 runs last year and fits well in the second slot in the Dodgers lineup. Pitchers will be more fidgety on the mound against him this year with Mookie Betts in the Los Angeles leadoff spot. The ADP of 65 is very fair.
You may have to wait a bit for his return from quarantine, but LeMahieu will be so important when he does come back. He is coming off a career season and like McNeil, he should be reliable and possibly less prone to cold streaks while also supplying some power. LeMahieu hits at the to of a superb lineup in a great hitter's park which seems to suit him even better than Coors Field did.
His XBA of .322 was third-best in MLB last year and the xWOBA of .379 was in the top ten percent of the league. The Exit Velocity of 91.1 was Top 8 percent and the Hard Hit% of 47.2 was in the Top 10 percent. LeMahieu's move to New York has boosted his fantasy allure to new heights and much of the advanced numbers indicate his 2019 season was no fluke. Don't pass on him at an ADP of 62, as he is just the kind of hitter you need when he returns because of the versatility and dependability required in 2020. He may not miss much time.
He just misses being eligible at 2B in many formats, playing 17 games at that position. In Yahoo leagues, however, he qualifies at every infield position other than catcher. His true value, though, is because he can qualify at corner infield and outfield, plus he provides a power/speed combo at an ADP of 133.
Santana was a pleasant surprise last year and you can get him at a bargain because of lingering skepticism. Santana's Exit Velocity of 91.4 was top 10 percent in MLB last season as his launch angle jumped from 9.4 percent to a new career-high of 13.4. The Hard Hit% of 43.4 was also a new career standard. The Sprint Speed of 27.7 was not great nor bad. But base stealing has always been an element of his skill set. The BABIP of .353, outlier HR/FB% of 24.3 and K rate of 29.5% point to concerns for regression, but considering the ADP of 133 it's worth the gamble to still get some pop and SB and the ability to move him around in your lineups.
Health concerns could conceivably force him to be popped in anywhere for the Rangers at any time, possibly stretching his eligibility range wider.   Santana should hit fifth for Texas but had his most at-bats in the No. 2 hole last year, so he can also jump around in the Rangers lineup as needed.
In terms of pure versatility, it does not get much better than Berti, as he can qualify at corner infield, middle infield, and the outfield. Seemingly headed for a career in the minor leagues, his scrappiness impressed Don Mattingly last season and he stuck. Considering the Marlins are always looking to patch a hole, he is on the right team to continue getting opportunities to play often.
Berti is a great later pick for cheap speed, as he stole 17 bases in just 256 plate appearances last season. His Sprint Speed of 29.8 was fifth in MLB last year. He also popped six homers and you had to like the Hard Hit Rate of 39.0%. Berti does not have a solid position or lineup spot entering the season, but Miami lacks depth and has a few projected starters that could easily flame out quickly and open up a place for Berti. Plus, the addition of the DH to the N.L. can help create more lineup room. He is totally worth the late flier, as his ADP is 267.
The Top 20 MLB players in Sprint Speed for 2019, with Jon Berti at 13th. Leaderboard via baseballsavant.com
He is an unheralded late target in terms of roster flexibility. Heck, Goodrum qualifies just about everywhere except for 3B, but he can man a corner infield spot for you. What you see is what you get with Goodrum, as both his surface and batted ball numbers are very similar over the past two seasons. He will deliver a mediocre batting average and respectable power and speed totals as he plays often for a bad team. Goodrum's 29.2 K% was in the bottom eight percent of the league, but he still produces those decent power and speed numbers.
He is off the fantasy radar in many leagues at an ADP of 313, yet you should take him as an insurance pick in the final rounds. You may end up appreciating him when you need to plug some roster holes during this unusual season.
| | | | | | | | | | | |
| --- | --- | --- | --- | --- | --- | --- | --- | --- | --- | --- |
| Season | PA | HR | R | RBI | SB | BB% | K% | BABIP | AVG | OBP |
| 2018 | 492 | 16 | 55 | 53 | 12 | 8.50% | 26.80% | 0.312 | 0.245 | 0.315 |
| 2019 | 472 | 12 | 61 | 45 | 12 | 9.70% | 29.20% | 0.338 | 0.248 | 0.322 |
| | | | | | | | | | | |
Niko Goodrum's standard and some advanced batting stats over the past two seasons have been very similar. Stats via fangraphs.com
| | | | | | | | | |
| --- | --- | --- | --- | --- | --- | --- | --- | --- |
| Season | LD% | GB% | FB% | HR/FB | Pull% | Cent% | Oppo% | Hard% |
| 2018 | 22.80% | 44.20% | 33.00% | 15.50% | 40.40% | 31.20% | 28.30% | 36.60% |
| 2019 | 40.10% | 40.10% | 40.10% | 40.10% | 40.10% | 40.10% | 40.10% | 40.10% |
Much of Goodrum's Batted Ball stats have also looked similar over the past two seasons. Stats via fangraphs.com
Download Our Free News & Alerts Mobile App
Like what you see? Download our updated fantasy baseball app for iPhone and Android with 24x7 player news, injury alerts, sleepers, prospects & more. All free!


More 2020 Fantasy Baseball Advice