Even bad Major League Baseball teams can offer potentially valuable players on any given night.
Consider Matthew Boyd, Detroit's left-handed starting pitcher who has recorded six wins in 23 starts this season, but the 28-year-old has busted through as a strikeout pitcher, averaging 12.2 K/9, a massive jump from his previous career best, the 8.4 K/9 he had last season.
There are some other pitchers to consider tonight, too. Veteran lefties Cole Hamels and Madison Bumgarner remain effective in their mid-thirties.
Kyle Gibson has been solid enough for the Minnesota Twins, with a career-high strikeout rate of 9.1 K/9.
This is all to say that perception can affect value. Boyd doesn't get much notoriety because the Tigers are awful. Hamels and Bumgarner are well-known but they are beyond their peak years so not as appealing as they once were. Gibson has slowly improved his strikeout rate over the years so it has taken some time to solidify his fantasy or prop value.
Here are some more angles to consider for Thursday's MLB schedule.
Editor's Note: Our friends at Monkey Knife Fight have released the best, most fun, fastest growing DFS props game! It's super simple to play and win real money. Just choose your MLB, NBA, NHL or PGA game, and make your picks! Get a 100% instant deposit bonus up to $50 using promo code: BALLER. That's $50 for free - don't miss out!
N.Y. YANKEES-TORONTO
RAPID FIRE
Aaron Judge +0.5 runs + RBI vs. Mike Tauchman – After doing nothing in 52 games with the Rockies over the past two seasons, 28-year-old Tauchman has busted out with the Yankees, and he's red-hot right now, hitting four home runs with a .500 batting average in the past six games. Judge is still an imposing hitter, too, so getting a half run plus RBI in this situation still makes Judge a worthwhile underdog.
CHICAGO CUBS-CINCINNATI
RAPID FIRE
Cole Hamels -0.5 strikeouts vs. Alex Wood – Making his second start since coming back from injury, Hamels has been a strong strikeout pitcher recently. Discounting the June 28 start when he got hurt and lasted just one inning, Hamels has 38 strikeouts in his past five starts. Wood is making just his third start of the season and has recorded nine strikeouts in his first two starts.
KANSAS CITY-DETROIT
OVER/UNDERS
Matthew Boyd OVER 7.5 STRIKEOUTS – The Tigers southpaw is a bright light on a bad team but gets to take on a bad Royals lineup too. Boyd has recorded at least eight strikeouts in each of his past seven starts and the Royals lineup has a strikeout rate of 25.0%, the fifth highest in the American League.
ATLANTA-MIAMI
RAPID FIRE
Ronald Acuna Jr. +0.5 runs + RBI vs. Freddie Freeman – Both Braves sluggers are very productive but that's why it's worth grabbing Acuna as the underdog. Freeman has .340 runs plus RBI per plate appearance on the road, compared to Acuna's .304 which is an advantage but not enough to bank on Freeman as the favorite.
L.A. ANGELS-BOSTON
RAPID FIRE
Mookie Betts +0.5 total bases vs. J.D. Martinez – Boston's star hitters are slugging at a similar rate at home, while Martinez holds a bit of an advantage (.578 vs. .522) in slugging percentage against right-handed starters. That's not enough to like Martinez against Mookie.
CLEVELAND-MINNESOTA
RAPID FIRE
Kyle Gibson +1.5 strikeouts vs. Mike Clevinger – Although Clevinger has the much higher ceiling as a strikeout pitcher, he's also had much more success at home this season. On the road, he has a 5.47 ERA and is averaging 6.4 strikeouts per start. Gibson is averaging 5.5 strikeouts per home start and since both teams are among the better clubs when it comes to not striking out, grabbing Gibson plus 1.5 strikeouts seems like an advantageous play.
PHILADELPHIA-SAN FRANCISCO
RAPID FIRE
Madison Bumgarner +0.5 strikeouts vs. Aaron Nola – Bumgarner doesn't have the strikeout ceiling of Nola but is averaging 6.3 strikeouts per home start while Nola is putting up 6.0 strikeouts per road start. That's good enough to like Bumgarner as the underdog plus a half strikeout.
COLORADO-SAN DIEGO
OVER/UNDERS
Nolan Arenado UNDER 1.5 HITS + WALKS – The Rockies aren't nearly as dangerous on the road and Arenado has a dramatic drop-off in performance from home to the road, going from a .409 on-base percentage at Coors Field to a .326 on-base percentage away from home.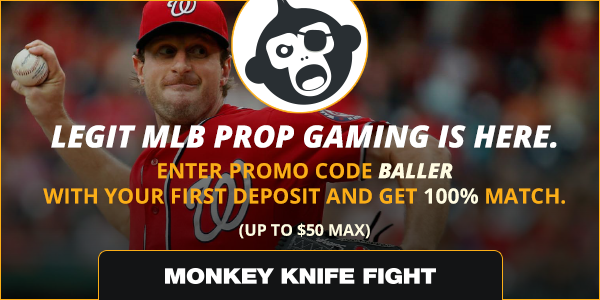 More 2019 Fantasy Baseball Advice