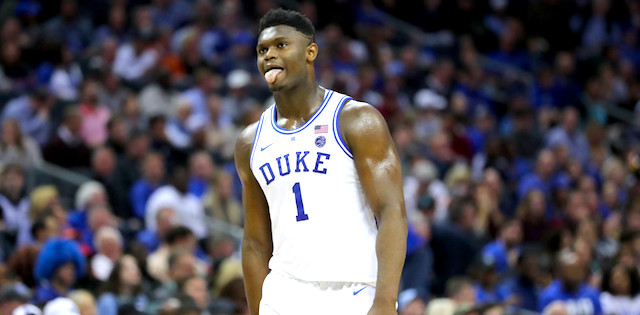 Welcome back Rotoballer! On Tuesday, I previewed Thursday night's Sweet 16 games including all the betting information you need. You can read that here.
Today, I'm here to give you a preview for Friday night's four games. That will feature the East and Midwest regions.
We will see the blue-bloods like Duke, North Carolina, Kentucky, and Michigan State all on Friday night.
East Region - Betting Guide
No. 2 Michigan State -6 vs. No. 3 LSU (7:09 on CBS)
I did not think LSU would make it out of the first weekend and they made sure to give all their backers a real scare. The Tigers led Yale by 16 at the half and nine against Maryland, but then were outscored by 11 and seven points in the second half. That could be due to the fact that LSU is without their head coach Will Wade and the other team's head coach makes adjustments at the half that LSU can't match. Michigan State's head coach, Tom Izzo, will make real second half adjustments and exploit the absence of Wade.
Even though Sparty only goes six deep, the coaching advantage is major. I think both teams will battle for the first 30 minutes and then Izzo's adjustments will be the difference factor. But the six points is a lot so I'd just take LSU first half. 
If you're wondering, smart money is on LSU.
No. 1 Duke -7.5 vs. No. 4 Virginia Tech  (9:39 on CBS)
These teams split during the regular season. However, when Tech beat Duke, Tech was without Justin Robinson and Duke was without Zion Williamson. So you shouldn't account that game too much because Duke is a different team without Zion.
Duke beat UCF by the skin of their teeth last week while the Hokies cruised to victory against Saint Louis and Liberty. Despite Duke's outside shooting struggles, they will be too much for Virginia Tech. This line may seem too high, but Vegas knows best and I'd lay the points here. I think Duke comes out firing after they almost lost to UCF. They will be focused and locked-in on defense.
Midwest Region - Betting Guide
No. 1 North Carolina -5 vs. No. 5 Auburn (7:29 on TBS)
These two teams are hot. Carolina has won 10 of 11 and Auburn 10 in a row. This game's over/under is set at 165, 17 more points than the next highest game. Even Bruce Pearl has said to take the over. So if you like track meets, buckle up because this game will be a show.
Playing fast plays right into Carolina's hands. The Tar Heels love to run and do it better than anybody. For that reason, I'm taking Carolina and the points. Five points for Carolina is like a basket to other teams. I wouldn't worry about laying the points.
I must note, smart money is on Auburn.
No. 2 Kentucky -3 vs. No. 3 Houston (9:59 on TBS)
The major storyline swirling around this game is if Kentucky's best player, PJ Washington, will play. He's been hampered by a sprained foot and I don't think we'll see him Friday night, and if they win, Sunday.
If Washington plays, I'd be taking Kentucky, but without him, I'm a tad nervous. However, this line has went from 2.5 to three despite 55 percent of bets being on Houston. That's signalling the sharps are on Kentucky and I'l follow the sharps over the public every single time.