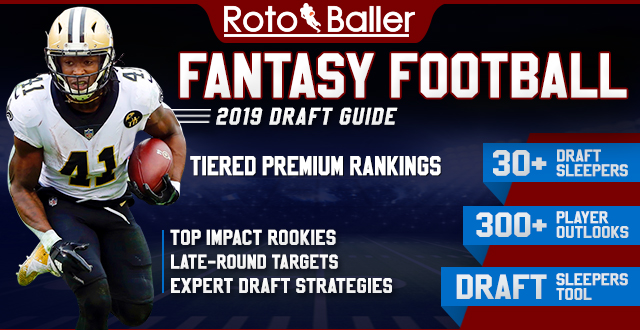 The 2019 NFL Draft is over, and the preparation for your fantasy football league's upcoming season should be starting now, not in late August.
In standard year-to-year fantasy leagues or keeper leagues where you can only hold onto a minimal amount of players, you are not going to find many late-round rookie running backs on rosters once the league's draft concludes. There is just no reason to waste a roster spot on a sixth-round longshot when you only have room for 17-20 players and cannot hold onto most or any of them the following year, especially when the player projects to be nothing better than the third-best back on his NFL team.
The story is much different in dynasty leagues, though, where fantasy players can draft a late-round rookie and stash him with the hopes that in a year or two he will be a bell-cow back that can rack up several 1,000-yard seasons. Look no further than the 2017 draft that produced Green Bay's Aaron Jones (5th round) and Seattle's Chris Carson (7th round), or the 2016 draft that Philadelphia's Jordan Howard (5th round) came out of. Here is a look at the late-round rookie runners fantasy owners in dynasty leagues should target in 2019!
Editor's Note: Get any full-season NFL Premium Pass for 50% off. Our exclusive In-Season Lineup Tools, Lineup Optimizer and over 150 days of Premium DFS Research.
Sign Up Now!
Ryquell Armstead, Jacksonville Jaguars (5th round)
 Armstead is a run-first back who was no Le'Veon Bell when it came to making plays in the passing game during his time at Temple (29 receptions in four college seasons). While his college numbers do not look very overwhelming on the surface compared to other drafted backs, he impressed scouts at the NFL combine with his size and 40-yard-dash time.
Armstead is the epitome of a downhill runner, and his rushing style fits perfectly with Jacksonville's offense and offensive line. It is not like the Jags will suddenly turn into a run-and-shoot squad with Nick Foles as their quarterback. Jacksonville's roster is still built to rely on running and short passes and the offense should be suited for Armstead, at least when he is on the field during early-down situations.
Jacksonville's franchise back is Leonard Fournette, who is a risk due to his well-known injury history and checkered off-the-field history. The Jaguars have little in the depth department behind Fournette as Alfred Blue, a five-year veteran backup with a career yards-per-carry average of 3.6, and Benny Cunningham, a journeyman who has never had more than 66 carries in a season, are the duo ahead of Armstead on the depth chart. Armstead has one of the most appetizing situations of the late-round runners drafted this year and should be focused on by dynasty owners thinking about the long-term as much as the short-term.
Darwin Thompson, Kansas City Chiefs (6th round)
 If Thompson was selected by Kansas City during the 2018 draft, his fantasy outlook would have been as murky as an ocean after an oil spill because of Kareem Hunt and Spencer Ware being K.C.'s top two at RB, but now with Hunt in Cleveland and Ware in Indianapolis, the path for playing time is much more open for Thompson.
Ahead of Thompson in the pecking order of Kansas City's debatable backfield is Damien Williams and Carlos Hyde. While Williams was fantastic after replacing Hunt as the top tailback last season (10 touchdowns over final four regular-season games and two playoff games), does his super stretch make you forget about his four forgettable seasons with Miami? The sample size is too small to make Williams a lock for 1,000 rushing yards, 500 receiving yards and 12 touchdowns, that's for sure. Meanwhile, Hyde is on his fourth team in less than two years, so he cannot be counted on to be a sure bet for a solid season, either.
Thompson only played one season at Utah State, but he showed that he can play on all three downs (averaged 6.8 yards per rush and 15.3 yards per catch) and that he can score inside the red zone (16 touchdowns). His one year of college experience and the below-average defenses he faced in the Mountain West conference might scare off some fantasy owners not willing to take a chance on a late-rounder, but Thompson could be a fantasy force in future years in this Patrick Maholmes-led offense if everything breaks right.
Travis Homer, Seattle Seahawks (6th round)
You look at Homer's collegiate career and his numbers do not jump out and grab you like how Ray Lewis used to jump out and grab running backs looking to turn upfield. Homer never had a 1,000-yard rushing season, he only scored 13 touchdowns over two full years and he only caught 37 passes out of the backfield. These sound like the stats of a sixth-round running back.
Homer has home-run potential when he is handed the ball, however. He is under six feet tall, so he can get lost behind his offensive linemen and before defenders know it he has turned the corner and turned tail towards a 30-yard gain. He also sticks his hat in between the tackles just enough to keep front sevens honest, which opens up big plays for him off tackle when defenses overcommit.
Seattle has a strong top two at running back with 1,000-yard rusher Chris Carson and 2018 first-round pick Rashaad Penny, so Homer is going to need some things to fall perfectly into place for him to make any fantasy noise in 2019. Do not be shocked if Homer makes his mark in 2020, just like Indianapolis' Marlon Mack, Pittsburgh's James Conner and Carson himself did last year in their second seasons.
Myles Gaskin, Miami Dolphins (7th round)
 Some might consider Gaskin a seventh-round steal after the Washington product posted four straight 1,000-yard years and scored 62 touchdowns during his college career, but many teams probably passed on him because of smallish size (5'9", 205). The jury is out on whether he can consistently stick his hat in the middle of NFL front sevens and come away unscathed. He looks like more of a third-down, change-of-pace back who could turn out to be a poor man's Darren Sproles if used correctly at the NFL level.
Gaskin enters a Miami backfield that is far from filled with steady and capable performers. Kenyon Drake might have scored on the Play of the Year against the New England Patriots, but the man only had 10-plus carries in five of Miami's 16 contests last season, so he is not a proven workhorse and most likely better suited in a RB-by-committee backfield.
Kalen Ballage is No. 2 on the Dolphins depth chart at tailback and all he has to his credit is one very good game at Minnesota towards the tail end of last year. A rookie runner could not have entered a better situation than Gaskin did, so take him in the late rounds of your dynasty draft and by the time 2020 and 2021 come around you might be happier than Bill Belichick is every offseason when he hears Tom Brady isn't planning to retire.
More Dynasty League Strategy