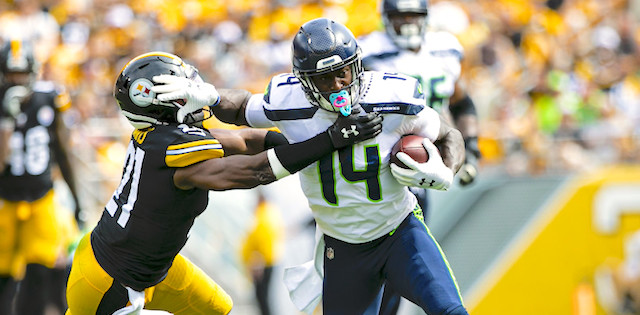 With a break in the postseason NFL action, it is time to reflect on what we have seen in the playoffs so far and how certain performances will affect fantasy football outlooks in keeper and dynasty formats. How players respond and what they deliver at the most intense and critical times of the season can further indicate what we expect from them going forward.
Some notable young players made a significant mark in the postseason, affecting how we may view them as keepers or long-term options. But there were disappointing performances as well.
Let's see how the playoffs could come into play when making dynasty decisions.
Editor's Note: Get any rest-of-season NFL Premium Pass for 50% off. Our exclusive DFS Tools, Lineup Optimizer and Premium DFS Research through the Super Bowl.
Sign Up Now!
NFL Postseason Analysis: Keeper and Dynasty Insights
Devin Singletary ready to rise: With 134 yards from scrimmage in the AFC Wild Card Game, Devin Singletary further signaled that he is ready to fully assume the role of being Buffalo's lead RB and a versatile Fantasy contributor. He has the look of a high-end RB2 in fantasy for 2020. Keeper leaguers should consider him as a second or third holdover after their most elite superstars. Dynasty owners should hold off on trading him unless they get an offer that simply can't be refused.
Allen a work in progress: Josh Allen rushed for 92 yards in the loss to Houston, which makes him more alluring as a dynasty QB. Those kinds of rushing numbers are obviously not easy to come by at his position. But 46 pass attempts for 264 yards against a shaky defense with no TD passes indicates that there will continue to be ups and downs. Allen's inconsistent accuracy is an issue and he is not a comfortable fantasy starter. If you can only keep two or three players you may have to toss him back into the player pool. Dynasty league owners can afford to have patience with him as he progresses.
Down on Brown?: A.J. Brown had five receptions for 64 yards in three playoff games. He earned a lot of defensive attention because of an impressive regular season, and the Titans obviously ran the ball a lot. His rather quiet NFL postseason should temper expectations just a bit for 2020, but if the Titans acquire another quality pass-catcher to work with him, that can only help Brown's outlook. He should be considered a high-end fantasy WR3 for 2020 and a potential third keeper. If it comes down to a close decision between Brown and another more proven player, pick the more established performer. There is a lot of upside here, though, so it won't be an easy call.
Slipping Saint?: Alvin Kamara finished with just 54 yards in an NFC Wild Card game loss to Minnesota. It was a somewhat unsurprising ending to a disappointing year for Kamara. Most notably, he went from 18 total TDs in 2018 to just six in 2019. His receiving yards also fell from 709 to 533 on the same amount of receptions (81). Kamara did miss two games this season because of an ankle issue and never quite looked as explosive as he did in his first two pro seasons. You should not lose confidence in him, though. A healthy Kamara can still be a premier fantasy RB and should still be considered as a first or second keeper. If his current dynasty owner is concerned about Kamara, you should try and deal for him now.
Soaring 'Hawk: D.K. Metcalf set all kinds of records when he caught seven passes for 160 yards and a TD against the Eagles in the NFC Wild Card Game. Metcalf made a breakthrough, as two of his biggest receptions were on contested catches. Being able to win in those types of situations further bolsters his promising outlook for 2020. Metcalf had four catches for 59 yards in the Divisional Round, as he commanded more defensive attention. But his overall postseason body of work was impressive, and you can consider him as a third keeper this offseason. Don't deal him away in dynasty leagues. He has an ideal QB situation and his Wild Card performance was a hint of more big things to come.
Get Him Some Help!: It was an up-an- down regular season for Marquise Brown, but when the Ravens actually had to play from behind in their AFC Divisional Round loss to the Titans, he caught seven passes for 126 yards and a TD. Brown was overmatched this year as the No. 1 WR for the Ravens. If Baltimore can acquire another established pass-catcher to work with Brown next year, you should see more frequent upside performances. But he is not worth keeping just yet.
Rodgers and Out: Please, do not ask me if you should keep Aaron Rodgers this offseason. After an erratic and often disappointing regular season in which he finished as QB9 overall, Rodgers threw for just 243 yards and two TDs in the NFC Divisional Round. He did throw for 326 yards in the NFC Championship Game with two TDs, but was intercepted twice. For more on the recent fall of Aaron Rodgers from the fantasy elite, read my recent breakdown here. These are no longer Mike McCarthy's Packers. These guys rely more on the ground game and defense than their predecessors. Rodgers may get some offseason help at receiver, but his job is to now be a cog in the wheel, rather than carrying the team. He can no longer be counted on as a regular fantasy starter. There is no big rebound year coming.
Cook Isn't Always Hot: We saw some of the best and some of the worst of Dalvin Cook in two postseason games. He had 130 yards from scrimmage and two TDs in the Wild Card upset of the Saints. But the 49ers held him to 24 total yards in the Divisional Round. When you look at his regular-season production, Cook's performance against San Francisco seems to be an anomaly. But he is a major focal point of the Minnesota offense, and was not even a contributor as they played from behind. He also missed the final two regular-season games as he was injured again. When healthy, Cook can be the best fantasy RB in the game outside of Christian McCaffrey. But durability will continue to at least be a minor issue, and you have to hope the Niners did not set a blueprint for containing him. Cook is a fantasy RB1, but he falls just a notch below the elite and should only be your first keeper if you do not have another surefire superstar to retain.
More Dynasty League Strategy