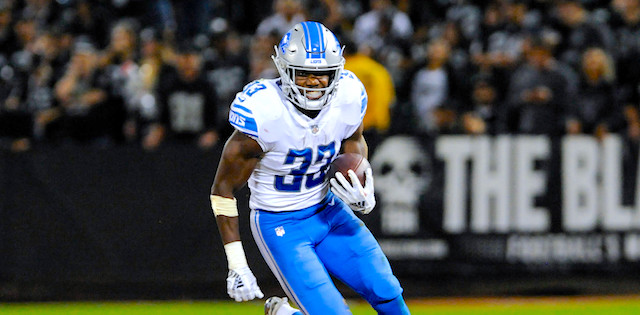 At RotoBaller, we can't stress enough the importance of keeping up with injuries and playing your best lineup week after week. Players are going to get injured, that's an unavoidable fact. What's avoidable though is making the wrong roster decisions based on the injuries surrounding your fantasy squad. If you want to dominate your leagues and win some dough in daily contests, you have to be proactive with injury research.
That's where I come in to serve you guys, the readers! I'm Aaron Burger, a third-year Doctor of Physical Therapy student, graduating in May. About a year ago, I decided to combine my love, fantasy football, with what I've been learning for three years now, injuries and the human body.
Each week, I'll be checking in on fantasy's biggest injuries to keep you informed. Be sure you also have RotoBaller bookmarked and follow us on social media to catch all the latest breaking NFL news and updates.
Editor's Note: Get any full-season NFL Premium Pass for 50% off. Our exclusive In-Season Lineup Tools, Lineup Optimizer and over 150 days of Premium DFS Research.
Sign Up Now!
Inside the Tent Updates
Sony Michel, RB - New England Patriots
Michel and the Patriots are coming off their bye and have the New York Jets in their sights. The Jets are missing QB Sam Darnold so the Patriots could score early and often and protect their lead with Michel. He was limited in practice all week but got an extra week to rest the MCL he sprained earlier in the year. Expect Michel to return to form this weekend, especially with Tom Brady banged up.
Chris Thompson, RB - Washington Redskins
Thompson missed the Redskins' Thanksgiving Day game against the Cowboys and had not played since Week 8 with a rib injury. Adrian Peterson seems to have turned back the clock and looks like his explosive self, but the Redskins certainly miss their change-of-pace back out of Florida. It looks like a lost season as Thompson owners have likely already moved on.
Royce Freeman, RB - Denver Broncos
Freeman toted the rock seven times for 23 yards and a touchdown in his return in Week 11 during a massive win against the Chargers. He also caught his only target for seven yards. Freeman touched the ball seven fewer times than Phillip Lindsay, and these two will continue to limit each other's ceilings.
A.J. Green, WR - Cincinnati Bengals
Green is questionable for Week 12 against the Browns. Last week he was doubtful because of this toe injury, so this is a step in the right direction. He has now missed two games due to his toe injury, and it seems like he could miss another. The toes are sensitive to re-injury and aggravation so the Bengals might let him rest and rehab one more week. Tyler Boyd would be in for a high-volume role but could see attention from the Browns' defense given the lack of other weapons.
Keke Coutee, WR - Houston Texans
Coutee delivered in Week 11 and looked great coming back from his hamstring strain, reeling in five of his nine targets for 77 yards. Demaryius Thomas will still steal some production from Coutee this year, although he was only targeted once in Week 11.
Marvin Jones, WR - Detroit Lions
Jones was sidelined for the Lions' Thanksgiving Day game against the Bears with a bone bruise in his knee. When ligaments are stretched but do not sprain or rupture, the bone where they attach can become bruised and is very painful. It's being reported that he may play in Week 13 against the Rams. If he is not able to suit up, Kenny Golladay will continue to feast.
Week 11 Injury Updates
Alex Smith, QB - Washington Redskins
Injury: Yeah... that wasn't good. Smith suffered a compound and spiral fracture of both his tibia and fibula, the two bones of the lower leg. Compound fractures involve the bone piercing through the skin, and spiral fractures indicate there was a rotational force involved with the injury.
News: Smith was obviously placed on IR Monday and underwent surgery immediately following the injury to stabilize the fractures. Smith will be out anywhere from 8-10 months, and his 2019 Week 1 availability is not a given at this point.
Outlook: This is a tough break for the former #1 overall pick. Smith was looking forward to his new opportunity with a new team, and this is just a gruesome injury. With Smith out, Colt McCoy will lead the Washington offense. On Thanksgiving Day against the Cowboys, McCoy completed 24 of 38 passes for 268 yards, two touchdowns, and three interceptions. He frequented looked towards tight ends Jordan Reed and Vernon Davis.
Marcus Mariota, QB - Tennessee Titans
Injury: Mariota suffered a stinger in the Titans' Week 11 loss against the Colts. Stingers are the result of the head being bent sideways or backward, and the subsequent stretching of a bundle of nerves in the necks called the brachial plexus.
News: Mariota turned in limited practices on Wednesday and Thursday but was able to practice in full on Friday, meaning he will start for the Titans on Monday Night Football against the Texans.
Outlook: This is the best case scenario for the Titans and their fantasy implications considering Blaine Gabbert is a significant downgrade. The Texans defense has been quite stout this year so expectations should be tempered.
Kerryon Johnson, RB - Detroit Lions
Injury: Johnson suffered a sprained knee ligament in Week 11 against the Panthers. It has not been reported which ligament was involved, but sprains of knee ligaments often take at least two weeks to heal. Obviously, with more severe sprains, more time is needed.
News: He missed the Lions' Thanksgiving game against the Bears, and LeGarrette Blount ran for 88 yards and two touchdowns in Johnson's absence. His status for Week 13 is up in the air, much like his teammate Marvin Jones.
Outlook: If Johnson misses another game, Blount and the Lions will be going against a Rams defense which is giving up 120 yards per game on the ground. The Rams have the potential to get out in front early though so if Johnson misses Week 13, Theo Riddick is the play if you insist on playing a Lions RB.
Devin Funchess, WR - Carolina Panthers
Injury: It is being reported that Funchess is dealing with a back injury leading up to Week 12. There are plenty of structures in the back that can be injured so hopefully this can be clarified. If it is a muscle strain or ligament sprain, he could be out a few weeks. If he injured a disc, then this could hold him out for a more extended amount of time.
News: Funchess did not practice at all this week and is doubtful to suit up on Sunday. According to the Charlotte Observer's Jourdan Rodrigue, head coach Ron Rivera said there's a "little glimmer" of hope Funchess could play in Week 12.
Outlook: Funchess did not have the best game in Week 11, dropping five passes. D.J. Moore had a great game though, catching seven of eight targets for 157 yards and a touchdown. With Funchess likely missing Week 12, look for Moore to continue his success as well as Greg Olsen and Curtis Samuel to be involved. Christian McCaffery will also obviously be involved in the passing game against a tough Seattle defense.
O.J. Howard, TE - Tampa Bay Buccaneers
Injury: Howard suffered both foot and ankle injuries in Week 11 against the Giants. The specifics of the injuries have not been released yet, but the injury was quite serious.
News: He was unfortunately placed on IR on Tuesday, the 20th and is safe to drop in redraft formats. Howard got a second opinion about his ankle, but the news was not good enough to avoid the IR.
Outlook: With Howard now out, it is Cameron Brate's time to shine in Tampa. He has a rapport with Jameis Winston already, and although Peyton Barber has shown some promise as of late, this is still a passing team. Also, they are either getting beat, or in a close game, so they often have to air it out. Brate is an upside TE2 the rest of the year.
Jimmy Graham, TE - Green Bay Packers
Injury: Graham broke his right thumb in Week 11's matchup against the Seahawks. It may be difficult for Graham to not only catch passes but block effectively if he gives it a go in Week 12.
News: He did not practice on Wednesday but was able to turn in limited practices on Thursday and Friday which puts him in the position to play on Sunday.
Outlook: I will honestly be shocked if Graham can play and be effective this week. He will likely have an "attachment" on his right hand to play according to Packers.com. Graham has not been effective as of late, and the Packers have not been as prolific as we thought they'd be. Lance Kendricks is the next man up at TE, but he should not be fantasy relevant.
P.S. - I will talk about Mitchell Trubisky in next week's Inside the Tent since the Bears already played this week!
Give me a follow on Twitter at @FFAchesAilments - Check back next week and all season for insight regarding fantasy's biggest injuries!
More NFL Injury Analysis